Desert Dreamscape: 30+ Glimpses Into The Spirit Of Burning Man
By Jhoana C September 19, 2022
---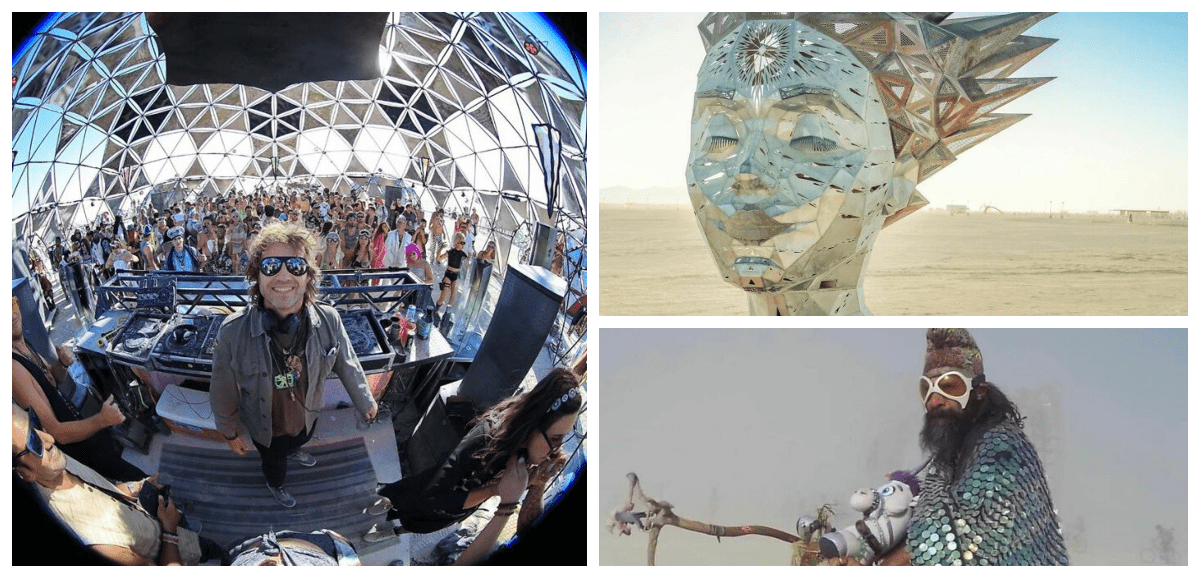 The Burning Man festival is a week-long celebration that originated on a beach in San Francisco in 1986. Jerry James and his friend Larry Harvey came up with an improvised wooden figure, which they dragged down to Baker Beach on Summer Solstice. They lit it up, and a curious crowd gathered to watch it. The festival has since evolved and become one of the most popular in the world and one of the most attended.
The festival now takes place yearly in Black Rock City, in the Nevada Desert, and in 2014, more than 65,000 people attended the event. This last year, 2022, at least 80,000 people trooped to the desert for self-expression, creativity, catharsis, community, and celebration of identity. Fret not if you are yet to attend this iconic festival because we have here 35 photos that will satisfy all your Burning Man cravings.
Trippy As Can Be
We have heard and read that the Burning Man festival is a trippy place, but you don't know how trippy it can get until you attend it personally. The picture below is a structure that's called The Afterlife, and isn't it something you want to see with your own eyes?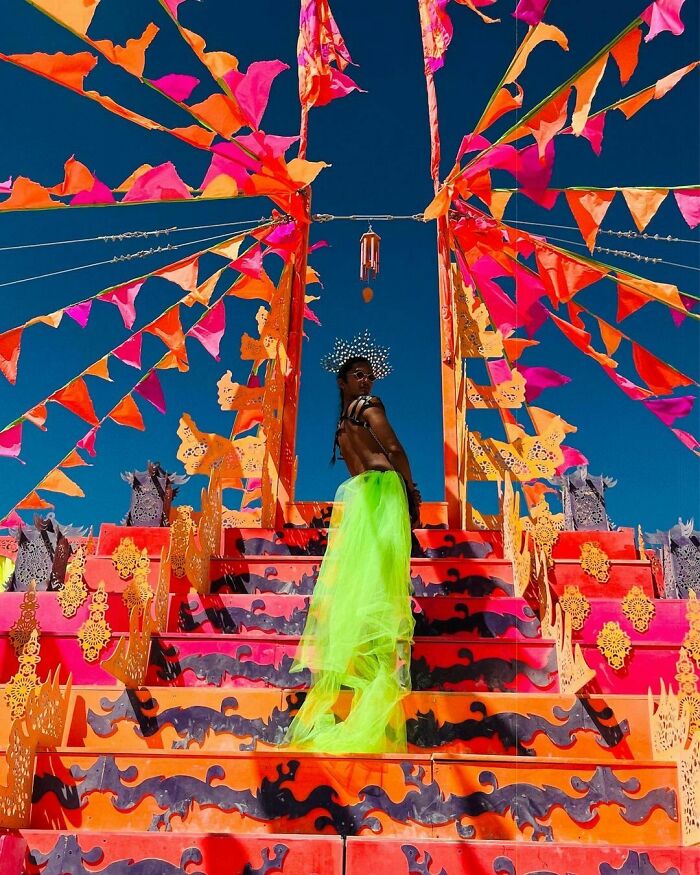 This art temple was vibrant, whimsical, and such a dreamy place. Of course, it's also something that has graced countless Instagram photos because you need to post pictures, or else it didn't happen, right? And that's exactly what festival goers did.
It's A Vast Playground
Many people consider the Burning Man festival an event for adults. It's more like an artsier version of Halloween where you get to wear anything you feel like wearing and pretend that you are someone else, someone more fun and interesting.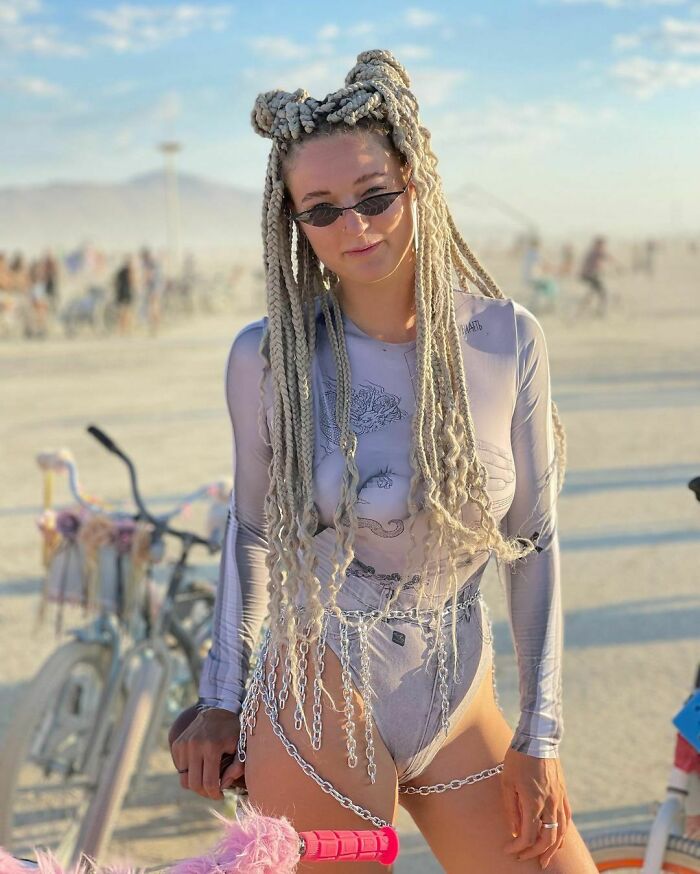 Most ensembles tend to be daring. Clothes that you wouldn't wear when you're meeting friends or when you're just going to a regular music festival. A case in point is the lady in the photo. Would you wear something like that on the streets?Neons And Other Eye-Catching Colors Are A Must
You're not in Burning Man if you're not around nearly naked people, people with weird hairstyles, and people wearing eye-catching colors. Neons are almost always the trend because the more vibrant you are, the better. See the photo below for a good example.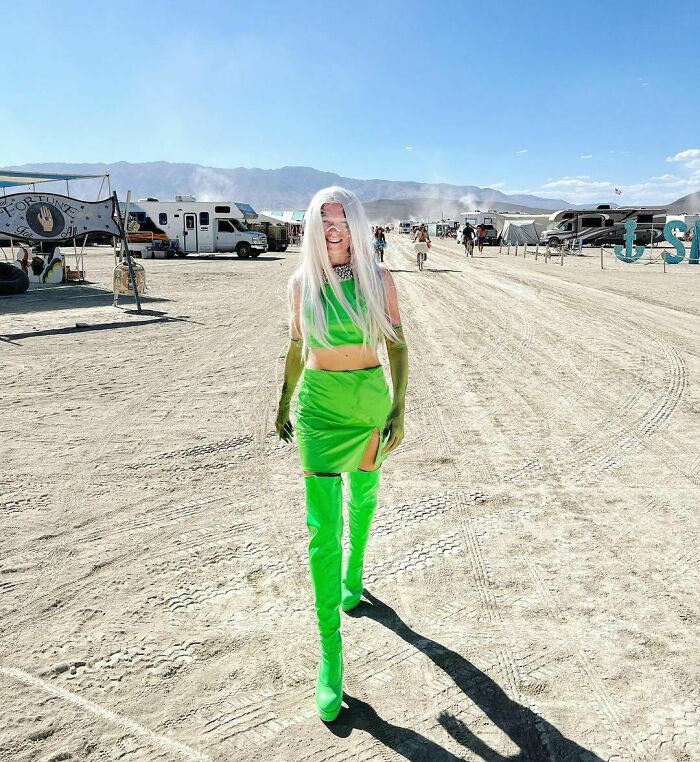 It doesn't matter if you're in the middle of the desert and if it's sweltering hot, you should wear boots for maximum impact. See the long gloves and the green that screams for attention? That's precisely what we've been saying.
When You're A Bookworm But Still Want To Join In On The Fun
What to do when you're a bookworm but still want to socialize with people during music festivals like Burning Man? Simple! Bring a small bookshelf with you and your favorite books, and let your love of reading and books shine through.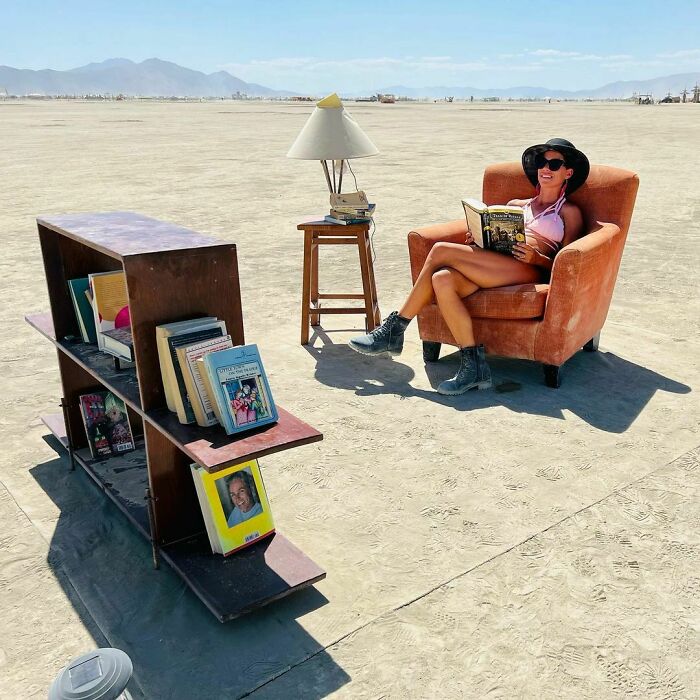 Not only will it make you unique, but you also get to read your favorite books during downtime while rubbing elbows with stars and spending time with friends. Neat, right? Why didn't people think of this before? Kudos for originality.
Our Paris Dreams
Paris Hilton is one of the world's most recognized faces and most photographed women. Most people know her as an heiress to the Hilton hotel chain, but she is also a DJ, an actress, and a socialite, and she helped push a federal law for troubled teens.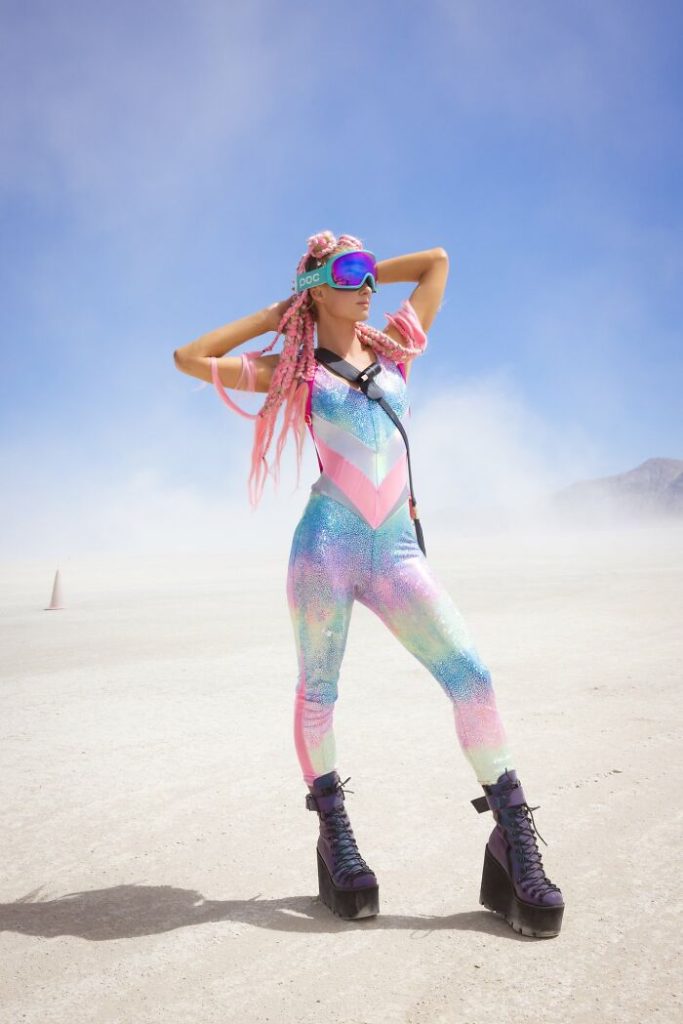 She is a married lady, but she's still a party animal. Burning Man is one of the events she simply couldn't miss or stay away from. Here she is, sporting something tight and pink, two of her favorite things. And let's not get started on those wild boots!
Angels Of Light And Darkness?
Provocative is an understatement when it comes to the Burning Man festival. Self-reliant and an avenue for self-expression, the party in the desert packs a lot of fire and dust, so make sure you come equipped with goggles and a dust mask.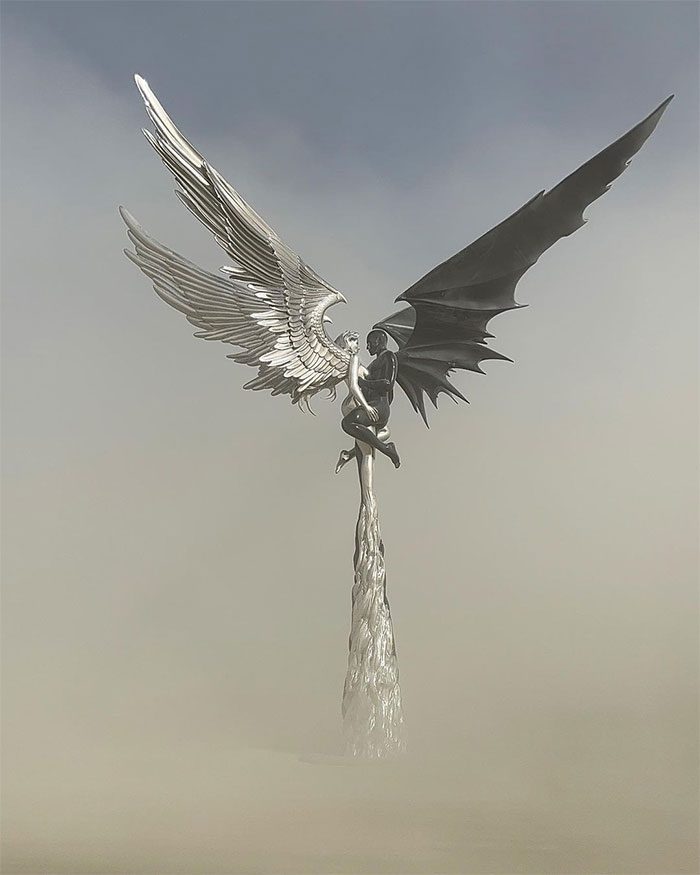 One of the creations in 2022's Burning Man is this sculpture of what we think is an angel and a devil. Do you see the epic dust storm gathering in the playa? That's exactly why you need goggles and a dust mask.
The Girl With The Spiky Hair
Imagine being this girl in the middle of the desert, fully exposed to the sun. Good luck with rashes and sunburns! Always bring enough sunscreen with you when you join the festival, or you risk getting burned or fried to a crisp.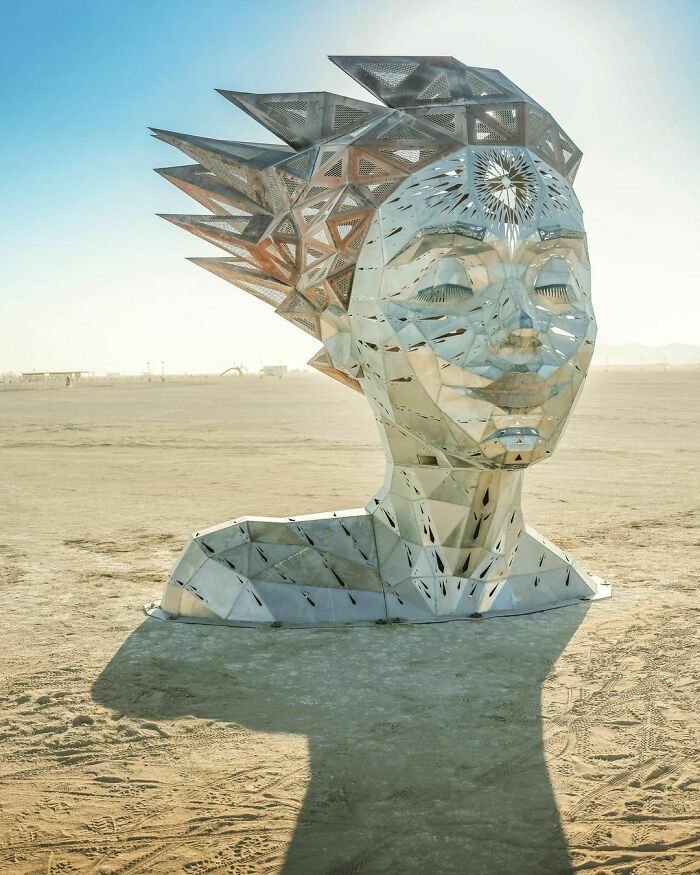 People who could not attend this year's Burning Man are delighted that at least they can see pictures like these on the Internet. It makes them feel as if they were also in the desert, meeting like-minded people and making new friends.
Wow!
Look at that elaborate creation! All we can say is "wow" because that's something you don't see every day. As elaborate and wild as the creations are, the one good thing about the festival is that attendees will leave nothing behind.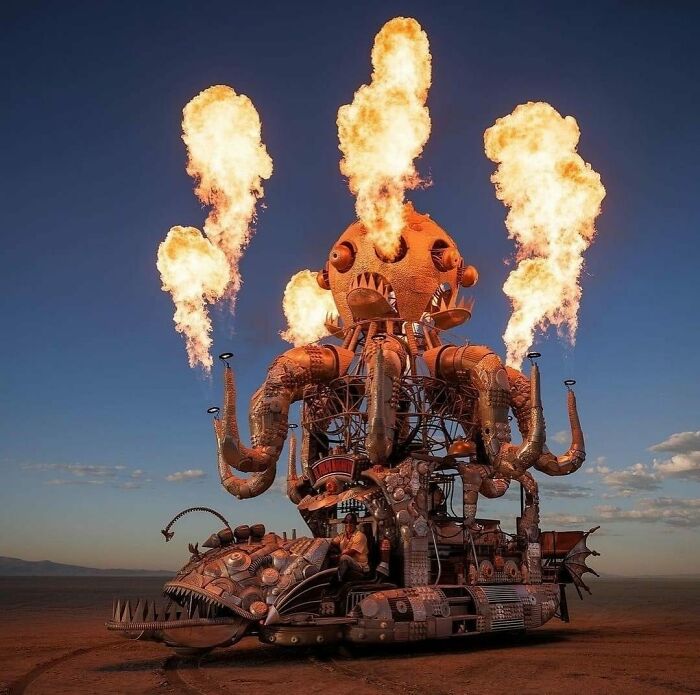 It might be a challenge to believe that a massive party city with camps and installations can suddenly disappear into the desert in a few days. Still, the festival organizers have promised they will leave the place in its original form, which is quite admirable.
A Place Of Worship In The Middle Of The Desert
This looks very much like a temple or a place of worship. This installation is called the Empyrean Temple, and Laurence Renzo Verbeck made it. Huge and eccentric installations like this don't go to the trash after the festival, that's for sure.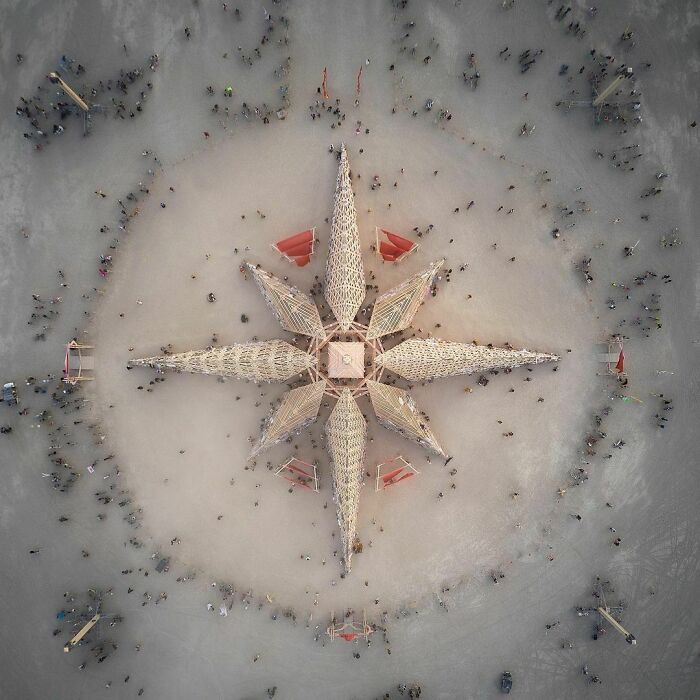 Many artworks get a new purpose once the festival is over. They travel to exhibitions and museums where people get a chance to take a look and analyze them. Some sculptures and installations are even rented out to parties, festivals, raves, and other cultural events.
The Tree Of Death
The "tree of death" is not the actual name of this installation, but we'll go with this one because what else can you call it when all those skeleton thingies? As you may already know, self-expression is valuable in the festival.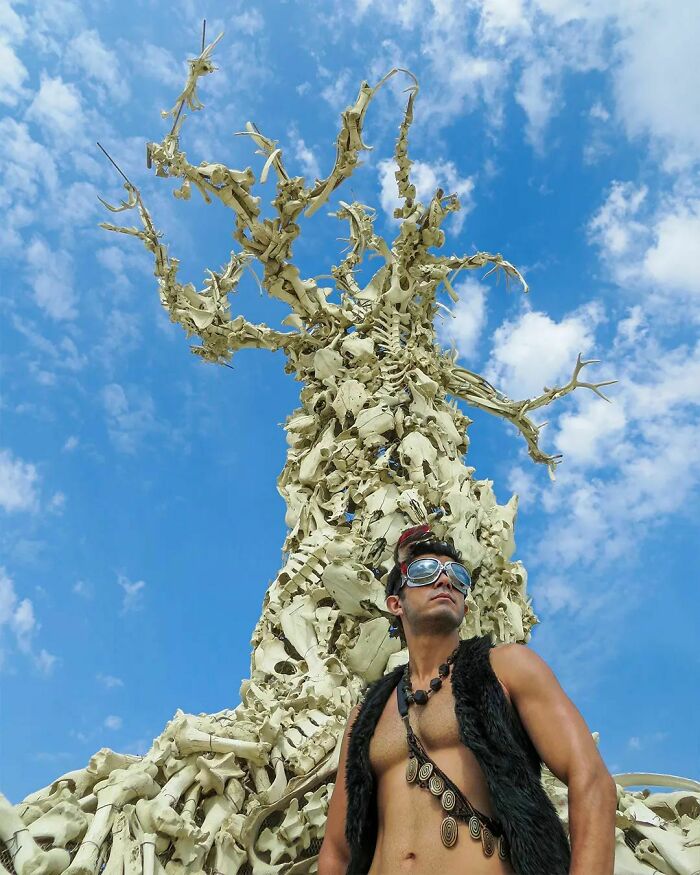 Creations such as this one help people convey their emotions, what they believe in, and what they hope for in their art. Everyone has the freedom to express their creativity, and festivals like Burning Man are a good place to showcase one's talents and unique imagination.
The Elephant With The Long Legs
Contrary to what most people believe, art at the Burning Man festival isn't just mammoth and unusual; world-class and internationally-known artists create some of the art pieces. Local artisans descend upon the playa annually to create some of the most impressive structures.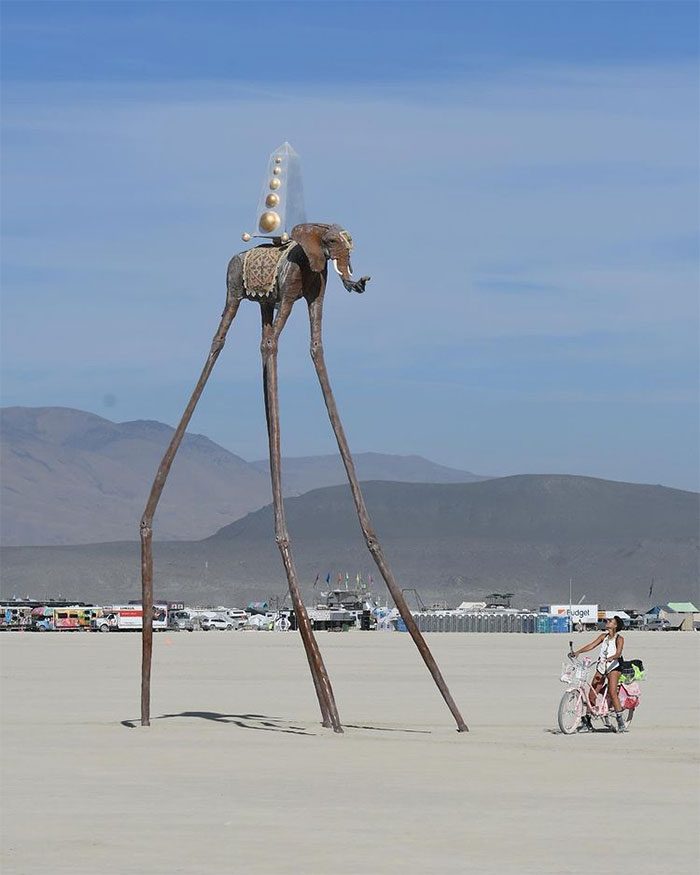 This is an excellent example of another impressive artwork: an elephant with the longest legs we have ever seen! It kind of looks like a giant insect. Some people even pointed out that it looks like Salvador Dali himself designed it.
Cool Costumes And Accessories Are A Must
Some people may think that the festival is all about over-the-top costumes and out-of-this-world accessories, such as the lady in the photo, but it's an emotional journey as well. You get to express yourself through your outfit and all the accessories you choose.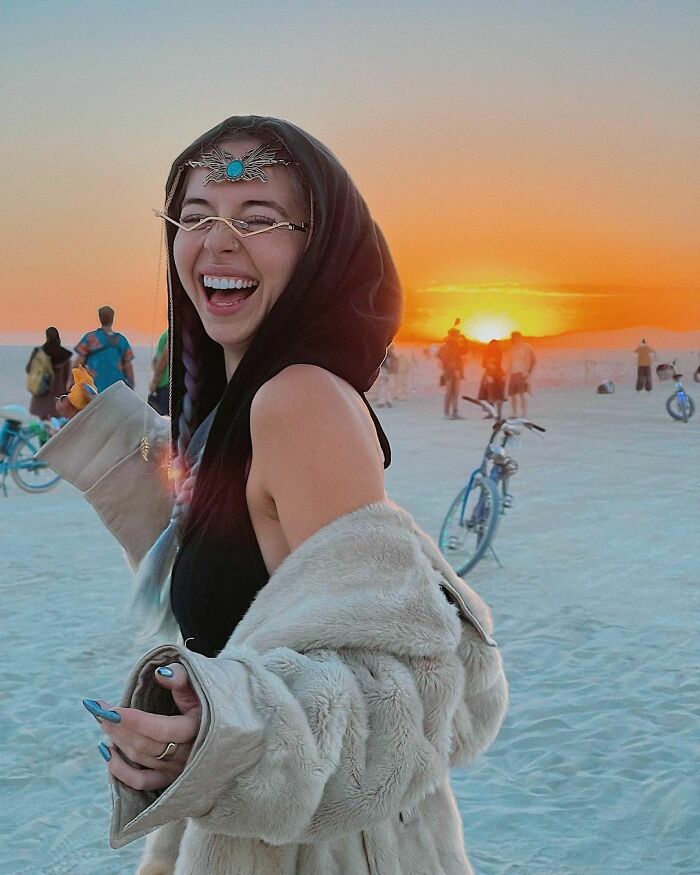 You can also express your feelings with the help of some structures at the festival. There's one where people are encouraged to leave a written message to their loved ones before a "temple" is burned in a cleansing and ritualistic ceremony.
Sexy Outfits For The Way!
The outfits during the festival are not only extravagant and colorful, but they're also sexy AF. It's not really Burning Man if you don't see semi-naked people strolling around the gigantic structures in the desert, basking in the sun and all the attention.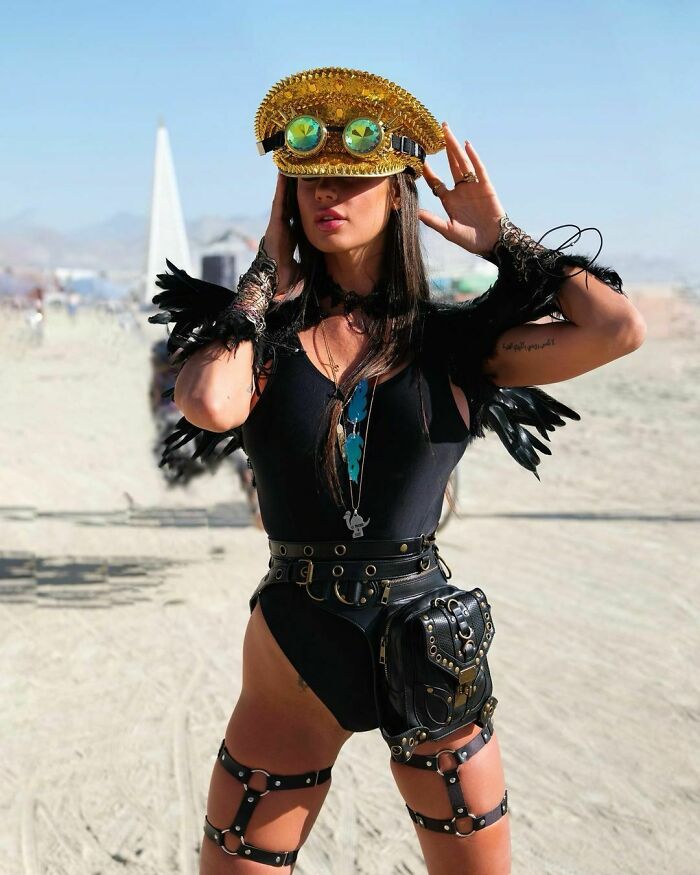 This dominatrix police officer outfit is mad sexy and is sure to set a lot of hearts on fire. It won't be surprising at all if some people spontaneously combust because of the combination of sexy outfits and the hot desert climate.
The Alien Cats Have Come To Get Us
The alien cats have landed and are coming to perform a variety of scientific experiments on us earthlings. One of the most popular installations in 2022's Burning Man is this "Space Cat Capsule," complete with the crew in red cat masks.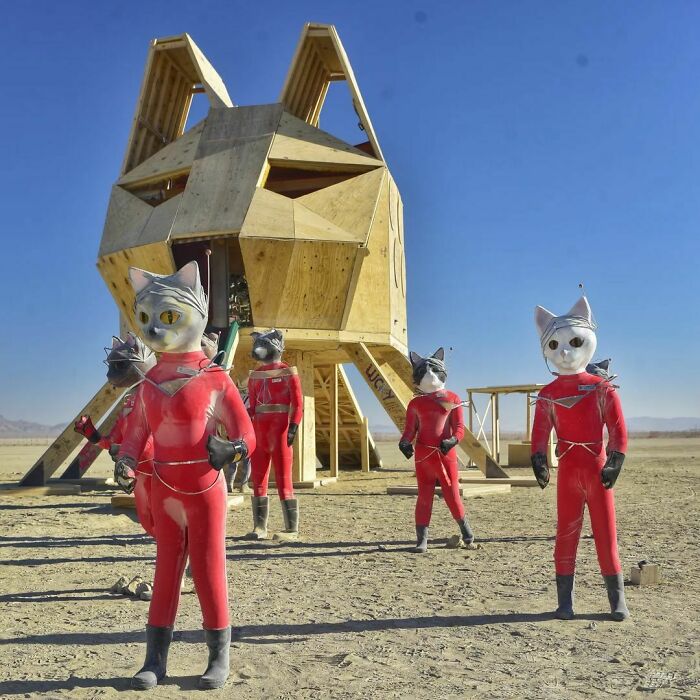 This is definitely something original that you don't usually see at festivals. If they are our new overlords, we can only hope that they treat us the same as cat lovers treat their pets. We hope they give us quality tuna as well.
When In The Desert, You Better Shimmer And Shine
It can be difficult to stand out among hundreds of thousands of people in the desert. Every attendee is wearing outfits that aim to capture attention! When you attend the festival, you have to shine and shimmer with beads, sequences, and whatnot.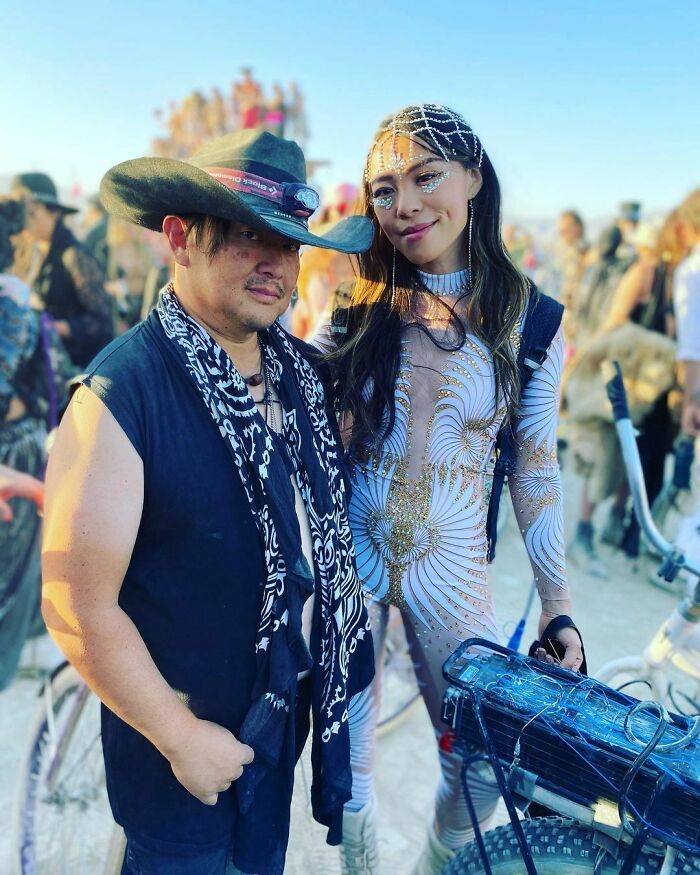 This lady is a good example of such an outfit. Not only does she look beautiful in white, but her figure-hugging outfit also has everything that can get a person's attention. These are a sexy pair of people. Don't you love them?
In Conclusion…
There's no question about this. The image below sums up exactly what happens during the festival! Dust gets in all the crevices and orifices of your body, so you better scrub yourself clean once you get home. We'd like to look at this as the motto of the people who attended the festival.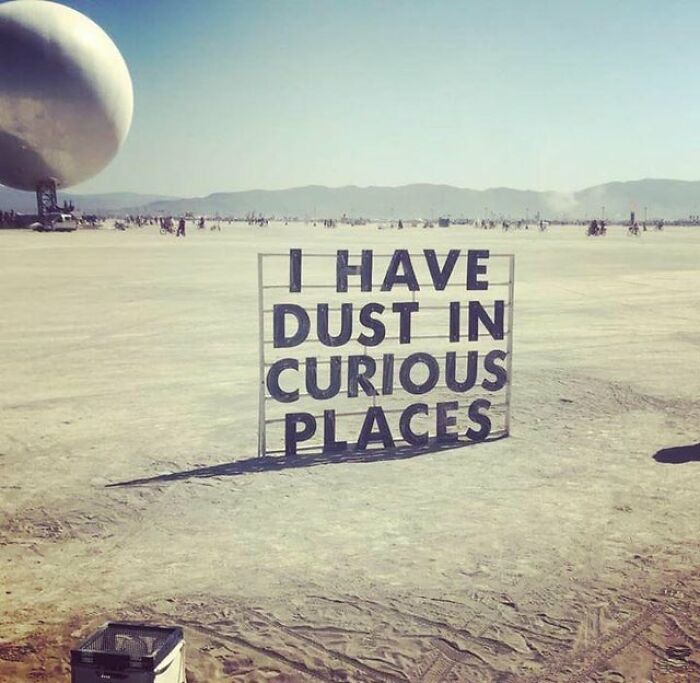 This is the price you have to pay if you want to attend the prestigious event. It's not easy; it's dirty, sticky, and dusty – but people will willingly submit themselves to such a situation just to get the chance to have the experience of a lifetime.
The Sleeping Lady With The Curly Hair
We're not such fans of futuristic art installations. We're more into things that look realistic and artsy, and that's why this structure got our attention. This is called "Gaia," and Marco Cochrane is the genius artist behind it. It is beautiful, isn't it?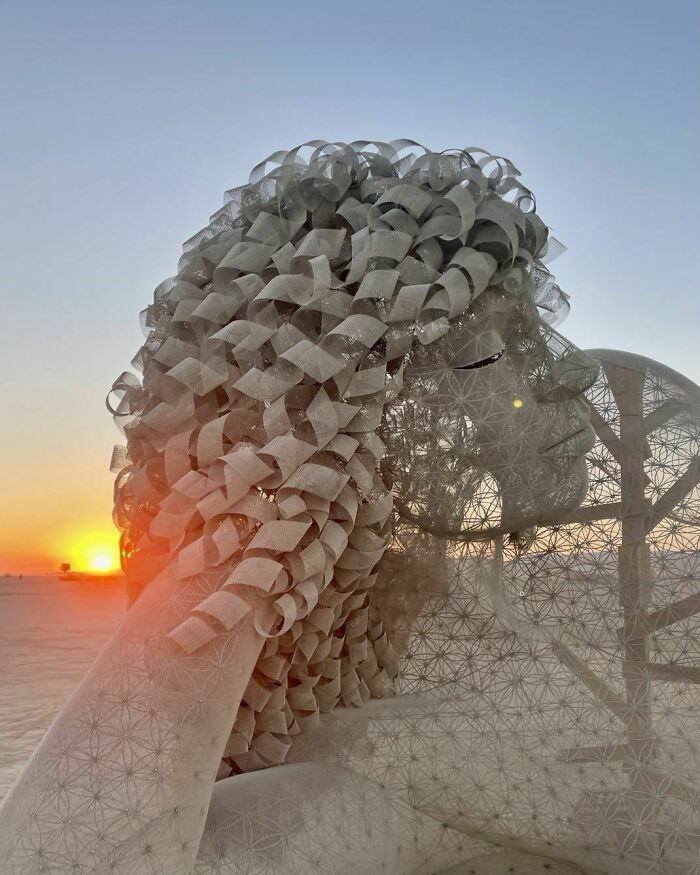 Look at her cascading curly hair! She seems pretty relaxed and oblivious to all the commotion going on around her. She doesn't seem to mind all the noise and the activity; she's just out there in the desert, basking in the sun and positive energy.
Exodus!
This is a photo of the people going to the beach to witness and attend the Burning Man festival. This is an amazing aerial shot, and we're pretty sure the original poster either had a high-quality drone or took this photo from a helicopter/plane.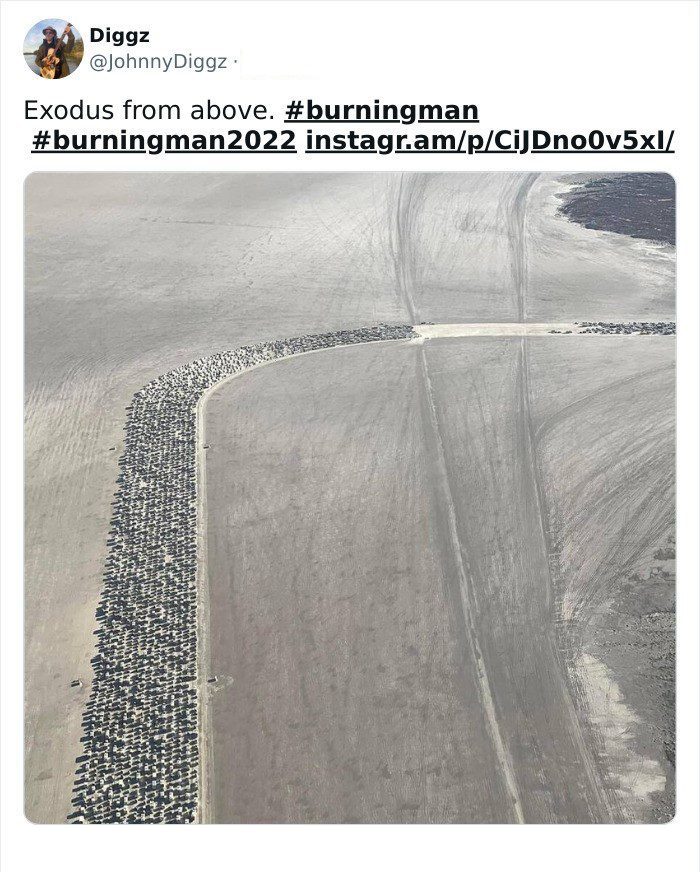 The traffic is astounding, and we can only imagine the amount of gas these people spent to get to the festival location. It does look like some modern exodus! These people would go to any lengths just to be able to attend Burning Man.
That's Pretty Hard!
As much as you'd like to exercise control during music festivals or any kind of festival, it's something that can't be guaranteed. People can get rowdy, and they can get carried away by all the positive vibes. Most have a YOLO mindset.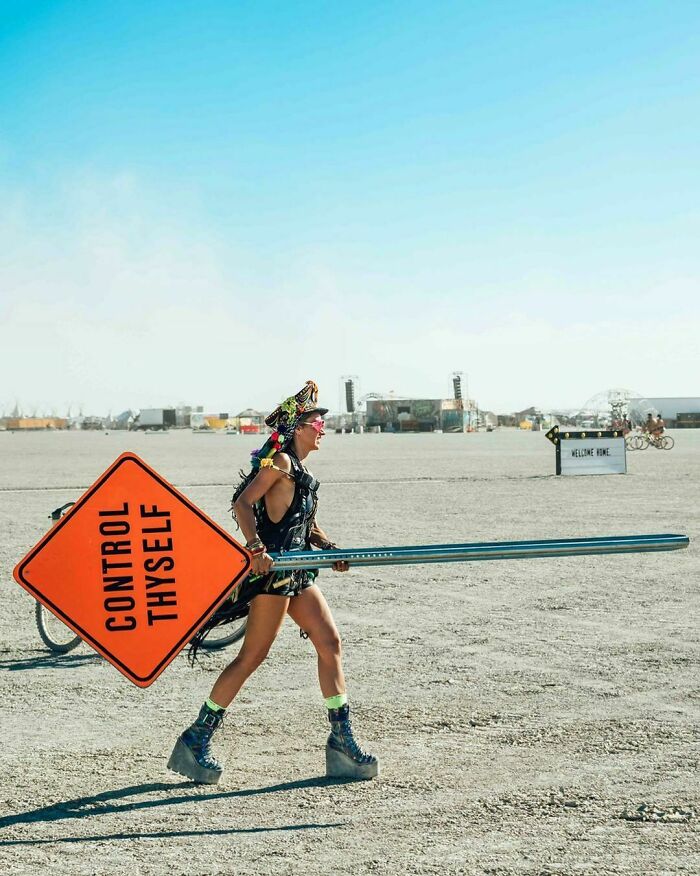 So carrying this sign doesn't serve its purpose. It will only make her arms and hands ache, but we think she is just trying to prove a point. We only wish people to control themselves during whatever kind of event, festivals or not.
What A Sight!
Tell us your reaction if you saw such a sight in the desert. Surprise? Amazement? For those who are worried about the hazards to the environment and to people: this isn't a real fire. Rest your anxious heart because this is just digital art.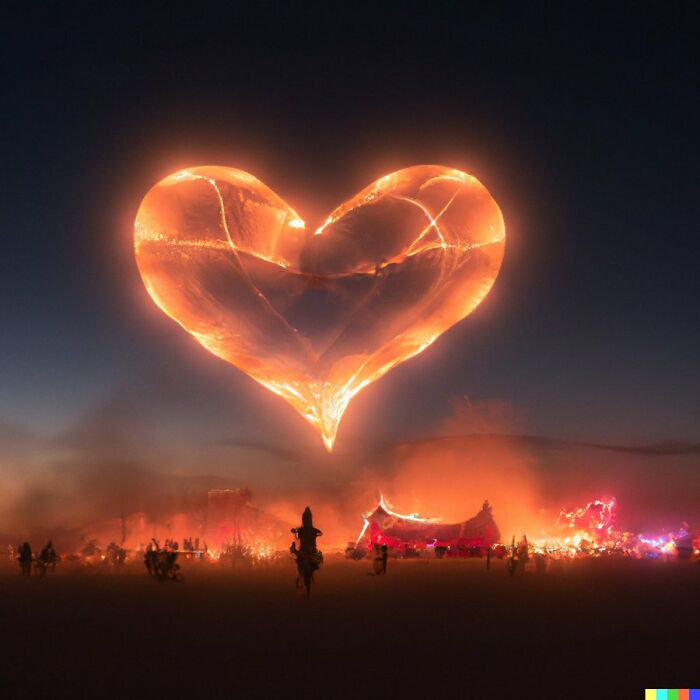 People on the Internet wondered how they were able to do such a thing and how the organizers were able to put it up in the sky. We won't attempt to answer these questions as we don't know a thing about digital art. All we know is that this is a sight to behold!
The Flying Octopus
People would be very happy to see such a colorful octopus in the sea and even happier, or maybe horrified, to see such a creature flying in the air. Such an apparition is a welcome sight in the desert, though.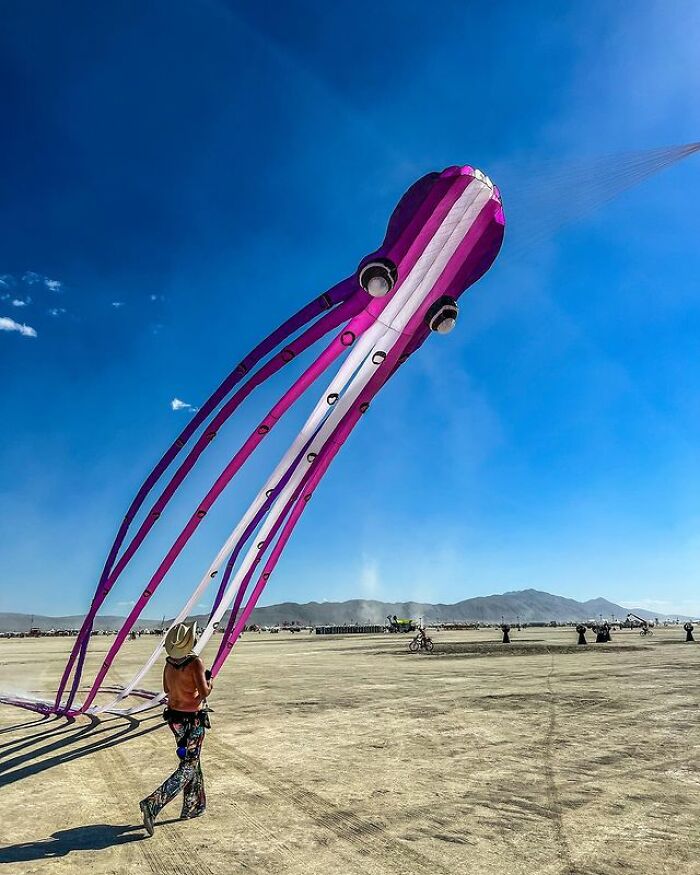 During Burning Man, people pull out all the stops to create the most creative, appealing, and wildest art pieces. Imagine taking this home after the festival and putting it in your backyard. Do you think it would make for a good Halloween decoration?
She Can Pass For A Member Of Heilung
This photo reminds us of a member of the band Heilung; the experimental folk music band made up of members from Germany, Denmark, and Norway. Well, that is an elaborate headdress, and this is not something everyone can pull off.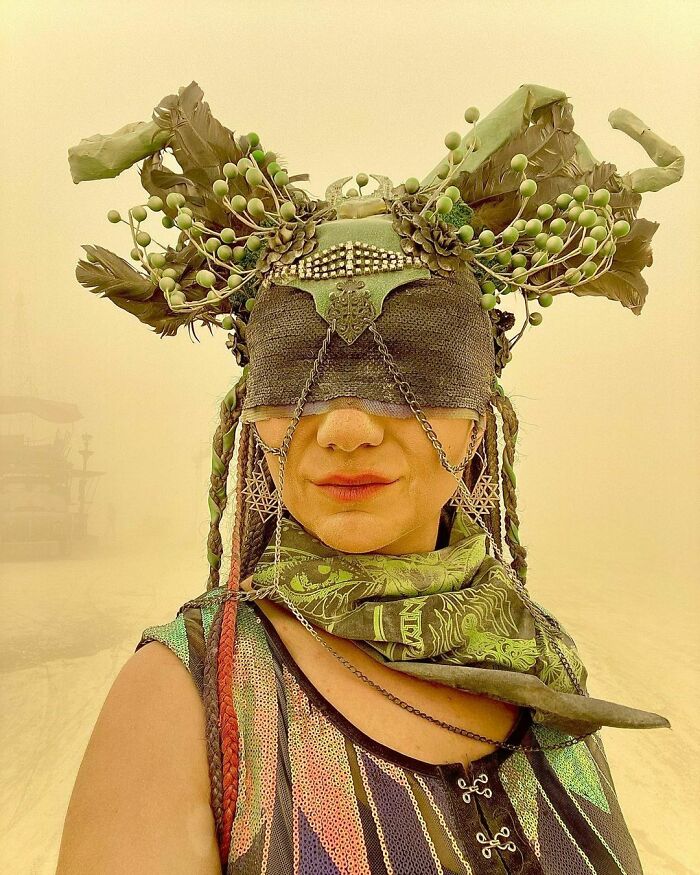 This lady said that the people she met during the festival kept asking her whether she could see anything while she wore the headdress. She was happy to reply that yes, she could see everything. She also mentioned that she was protecting her eyes from the dust with this accessory.
Did She Ride It To The Festival?
Only one question comes to mind after seeing this photo. Did the poster ride this bike to travel to the festival? It would take a lot of legwork to travel to the location, and with the scorching heat of the sun, we think it'd be near impossible.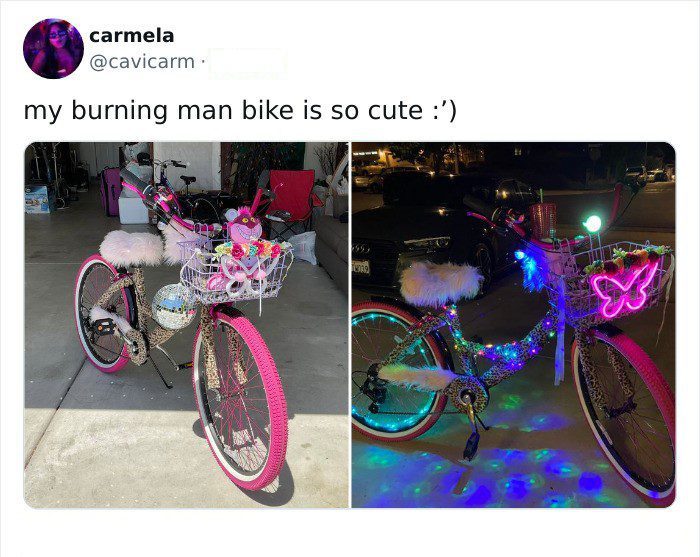 Nevertheless, it doesn't take away from the fact that the bike is cute, and a lot of people on the Net agree with us. Maybe they can put this in a van, drive to the desert, and ride the bicycle just for fun at the festival location.
Broken
Yes, "Broken" is the name of this art piece, and it is the figure of a man and a woman holding hands with broken and missing fragments. What do you think is the message it wishes to convey? Is it about the troubles some couples have?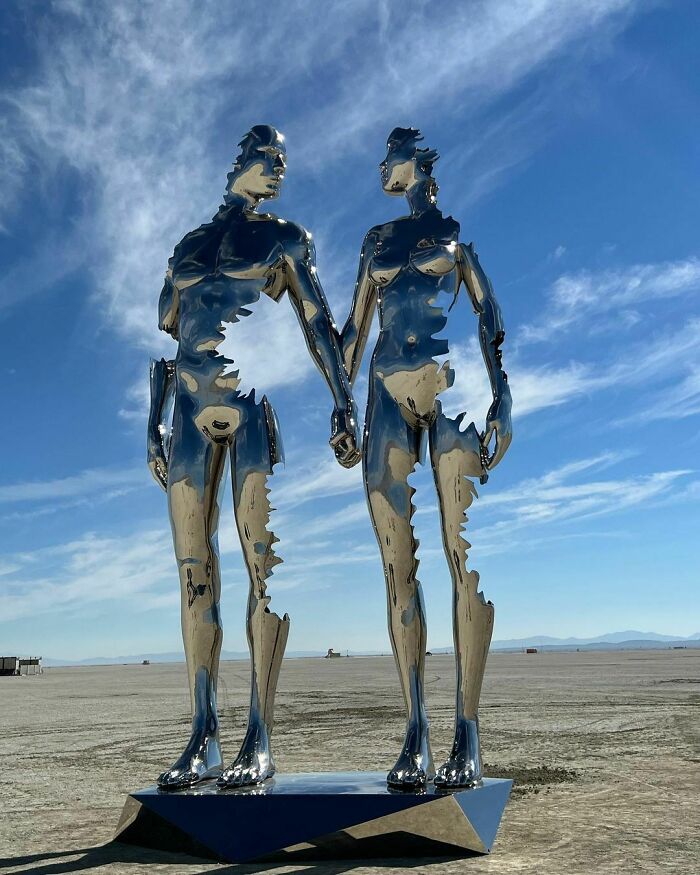 The message is subjective and can differ from one person to another. Some people take it literally, but others can be more figurative about it. People do agree on one thing, and that is they all wish to be there to see the art.
We're Getting Mad Max Vibes!
This picture reminds us of the dystopian movie Mad Max. The leather outfit, goggles, and chains all contribute to this. Do you get the same vibes? The next thing we thought about after seeing this was how hot it must have been underneath all the leather.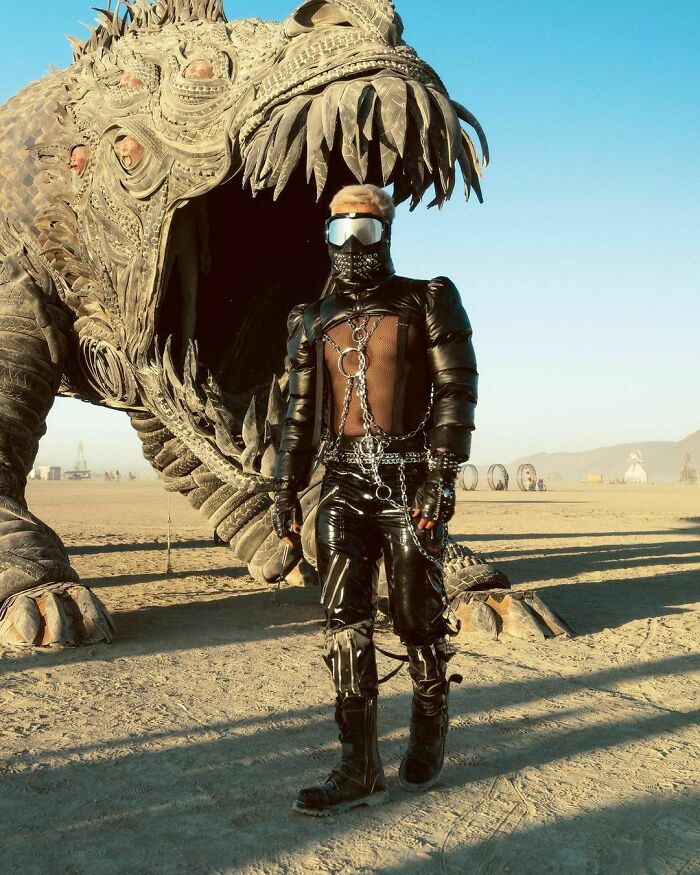 Remember that this is the desert, and the sweltering heat during summer can be too much. He must have been sweating bucketfuls down there, which is not pleasant when coupled with dust. We just hope he was able to take a long hot bath after.
Is That Umbrella Even Doing Anything?
This lady was thoughtful enough to take a little green umbrella with her to the festival, but we don't think it's going to help her at all. For starters, it's too tiny, and the sun is too hot. It can only serve its purpose as an add-on to the costume.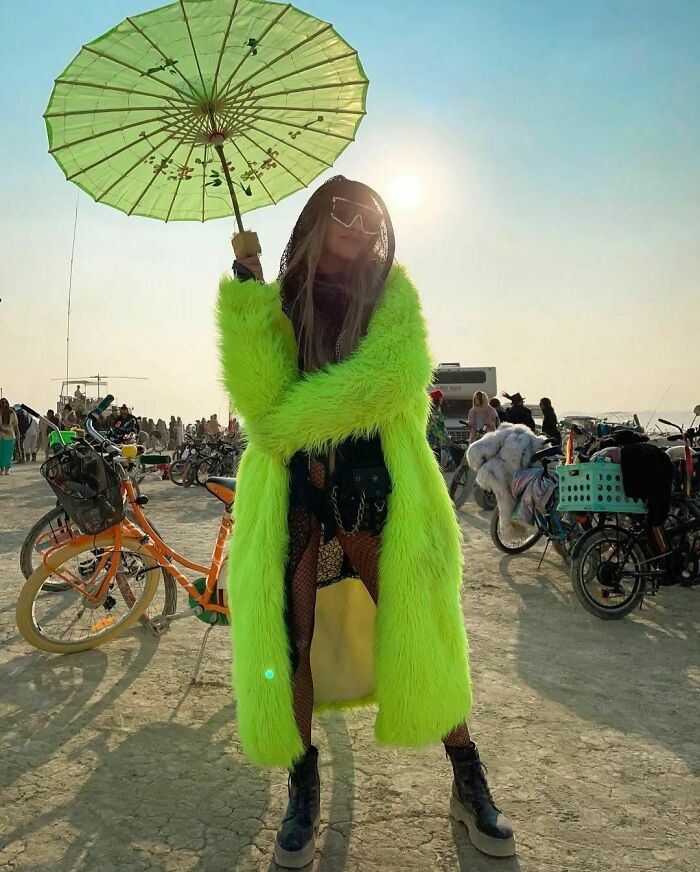 But we don't quite get the look she was going for. She is standing with a little Japanese-like umbrella, yet she's wearing a green furry jacket in the middle of the desert with leather and chains underneath. Well, we suppose this kind of outfit is on brand for the festival.
Wheels And Fishnets
Wheels are a must when attending the Burning Man festival. It can either be wheels that you can actually drive to the site or giant wheels such as this one. These ones make for excellent backdrops in your Instagram-worthy pictures.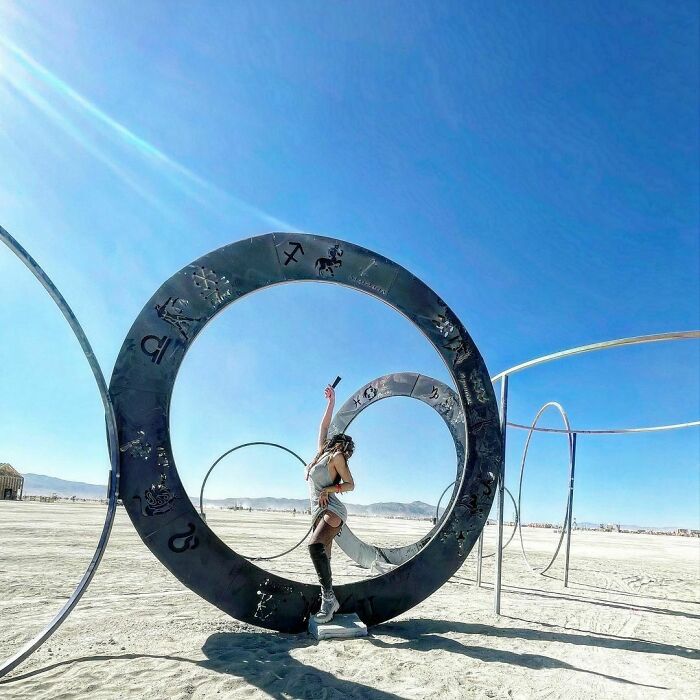 This lady found the perfect pose for this sculpture. If you look closely, you'll see that the giant wheel is engraved with zodiac signs. We guess the woman is pointing to her own sign, which would be Sagittarius. Zodiac signs are crazy popular these days, so this sculpture was definitely a hit.
Plush Toys Are A Must As Well
Aside from the plush toy in the following picture, the thing that caught our eye was the stick the guy was carrying. Is that a staff? If that is a staff, it will be way too cool. He is wearing a cape with sequins and riding a bike with plenty of adornments.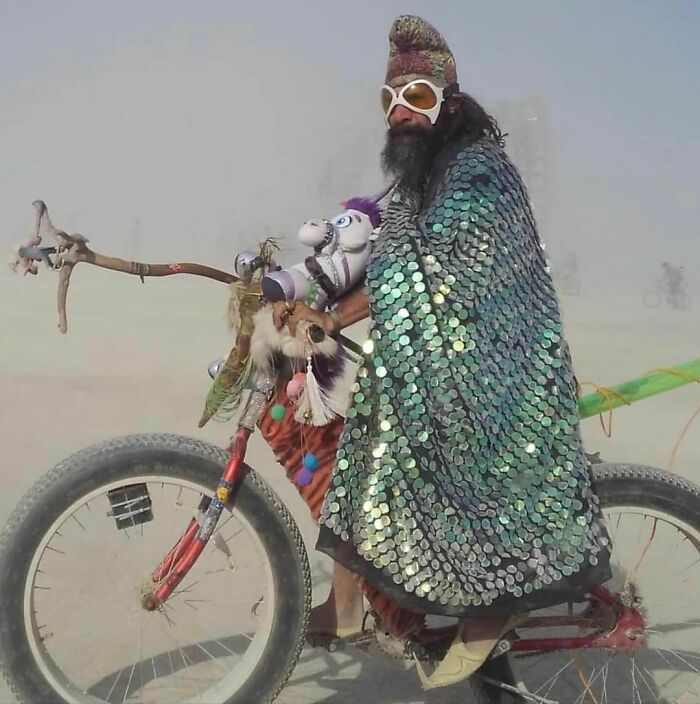 People on the Net have been calling this guy "Merlin," and naturally, he is on his way to attend one of the most magical festivals in the world. Not to mention that it's also one of the hottest and one of the dustiest. But who cares, right?
She Even Brought Her Own Sunflowers!
We love this lady because she brought enough protection from the dust with her hat, eyewear, and scarf, and she also brought her own flowers. No need to bring her own sunshine – the desert has plenty of that already.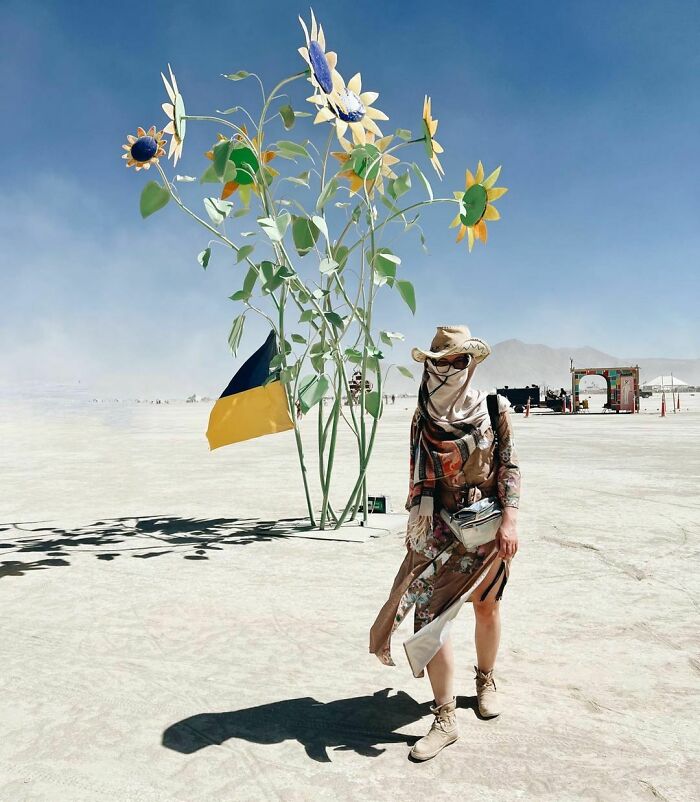 Aside from a bunch of sunflowers, she also brought a Ukrainian flag. The Burning Man festival is indeed a place and time where you meet all sorts of people from all over the world and all walks of life. Who knows, you might even make friends for life!
The Human Crop Circle
For some people, the fear of missing out on the festival has been very real this year, what with the events that have changed the world over the last two years. Virtual events and sessions took the place of the real festival, but that wasn't satisfying for many folks.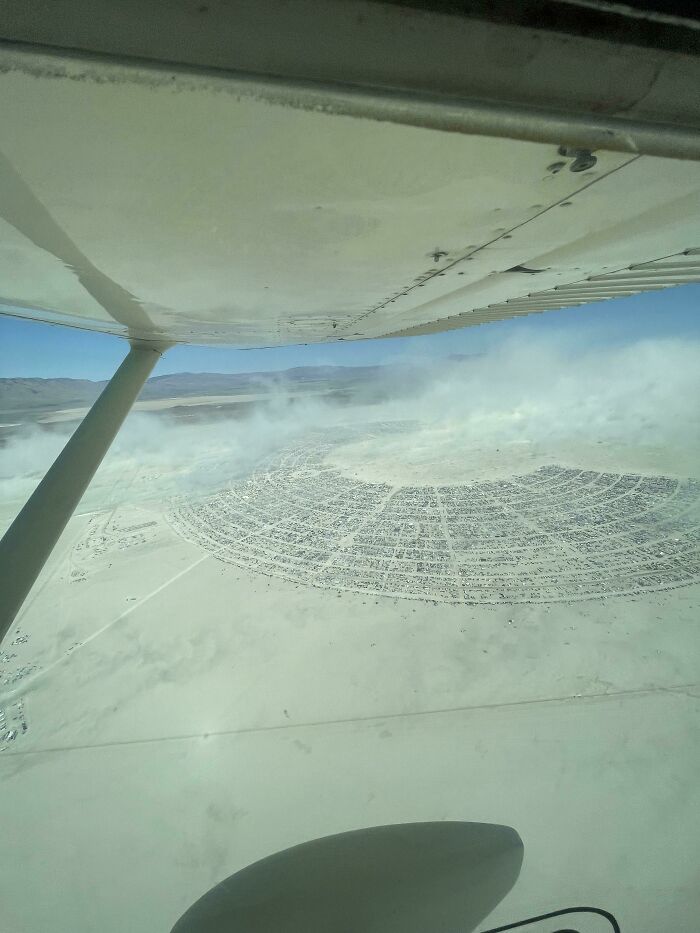 Do you see that picture of what looks like a crop circle? Those are the people who attended the event this year. That's a LOT if you ask us. These folks must have missed the festival so much that they made their way to the desert this year.
Barefoot In The Desert
They say that walking barefoot on sand strengthens and stretches your toes and feet and gives your calves an excellent workout, but does that also apply when you're in the desert? We're curious to know, but only this guy can give us an answer.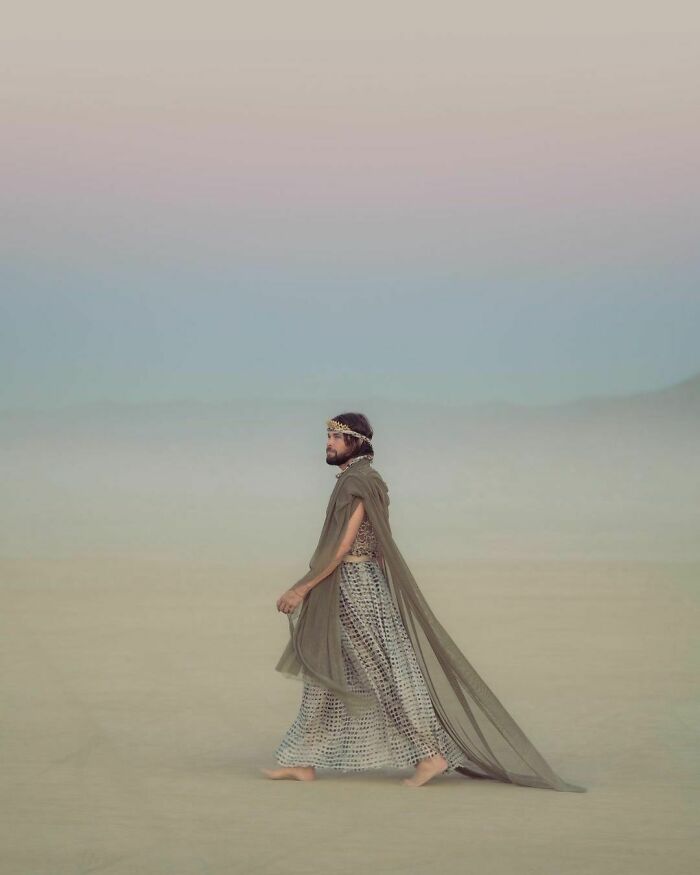 He looks at home with his loose robe, painted nails, veil, and that crown. He also seems to be popular in the community, and people love his look. Though we must say that it takes a lot of courage to walk barefoot in the desert without being scared of getting sick!
Another Member Of Mad Max's Crew
We reckon that this man must be another member of Mad Max's crew. He's wearing the same mask and goggles, and he's sporting the same dirty look. Seriously, though, this guy was in the festival and shared with the outside world that there were relentless dust storms and blistering heat.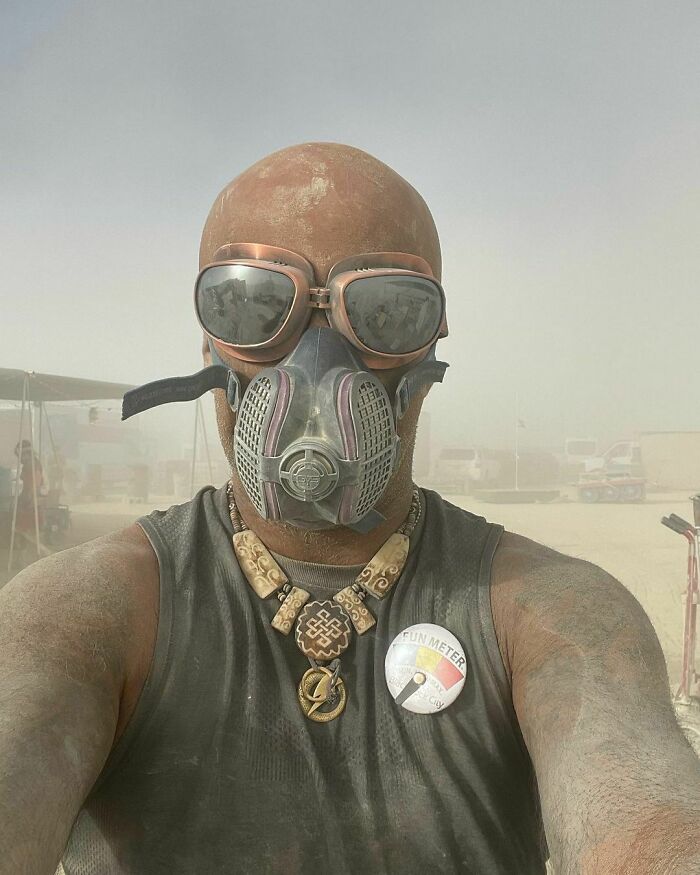 But that didn't stop people from staying in the desert for the six-week-long celebration. They still counted themselves fortunate and even said that it felt strangely fulfilling to be in the desert. The Burning Man festival really has a vibe of its own.
Happy To Be Attending The Event.
This is a photo of Argentinian DJ Hernan Cattaneo proudly smiling and happy to be busy entertaining people in the desert. It doesn't matter if it's terribly hot, or that the sand can get in your eyes at times, or that you'll get parched.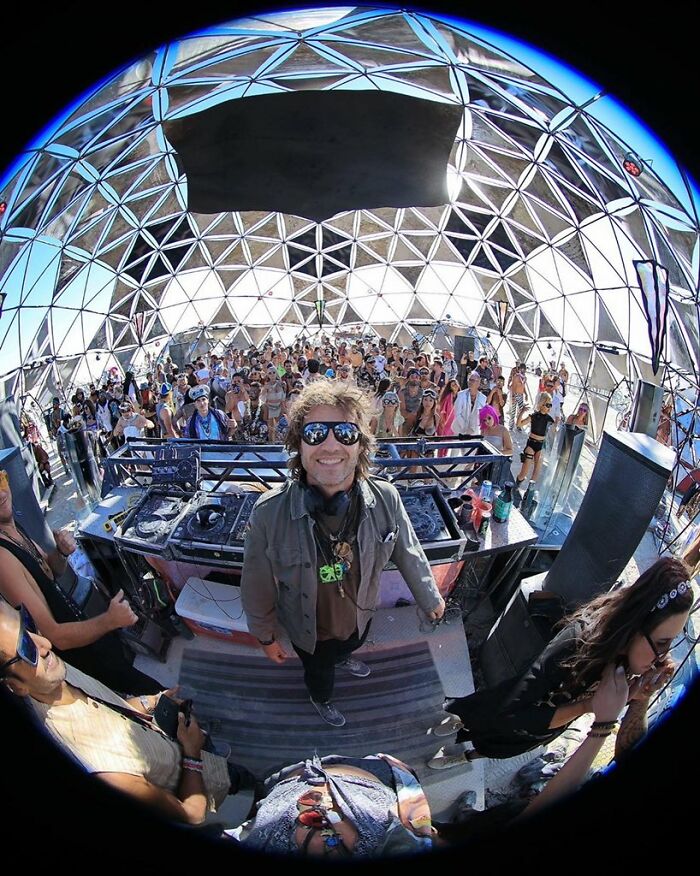 If you thought that the Burning Man festival only attracts people in the United States, you couldn't be more wrong. This is proof that an international community looks forward to the event every year and is willing to spend money to get there.
Total Whiteout
Here is a photo of one person thoroughly covered up and another who's wearing quite the revealing outfit. In the background, you'll see a total whiteout, and this is during the daytime! Apart from the gusting wind, you can't even see where the sun is.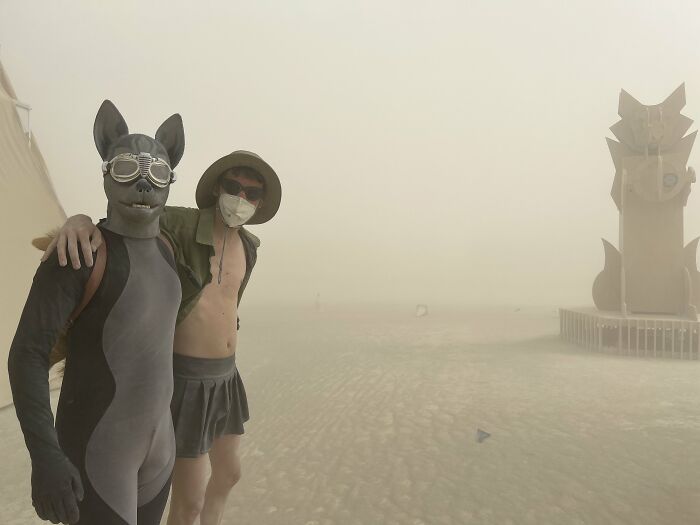 These are the conditions that people have to deal with, but they don't care. We're just hoping that the guy wearing the crop top and skirt doesn't suffer much from the dust storm because it will do a number on his skin!
Another Impressive Structure!
This structure is made of stainless steel discs that have been welded together, and people have called it the "Mayan Warrior" or the "Mirrored Statues," although neither of those is the real name. It's an understatement to say that this is an incredible sculpture.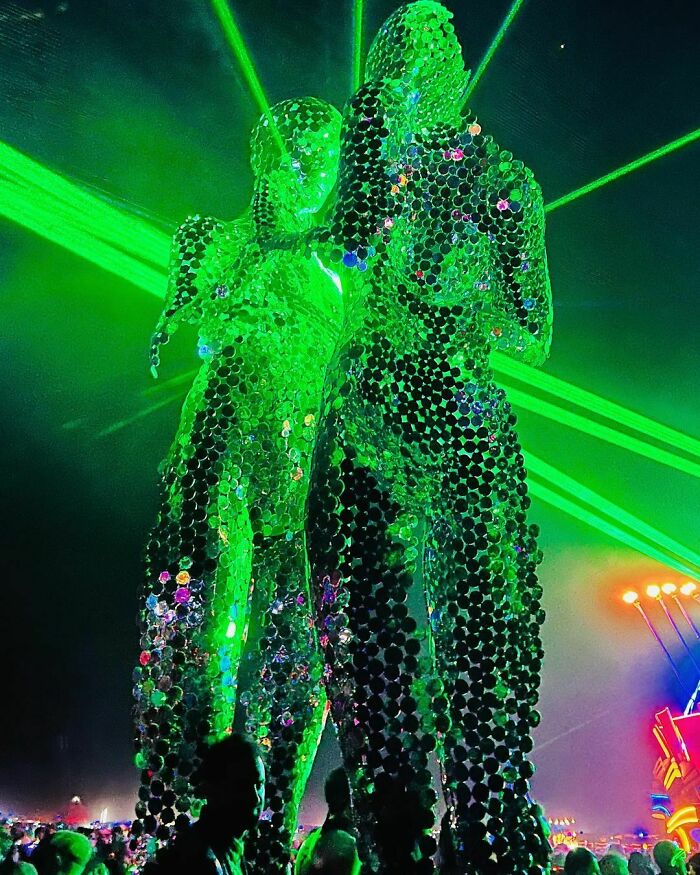 If you enjoy art, architecture, festivals, and creativity, Burning Man is something you need to attend at least once in your life. There won't be a shortage of impressive stuff for you to gawk at and take photos of. Just don't forget to dress appropriately and bring a mask and goggles!