40 Humorous Spotify Playlists That Are Oddly Specific
By Jana I May 19, 2022
---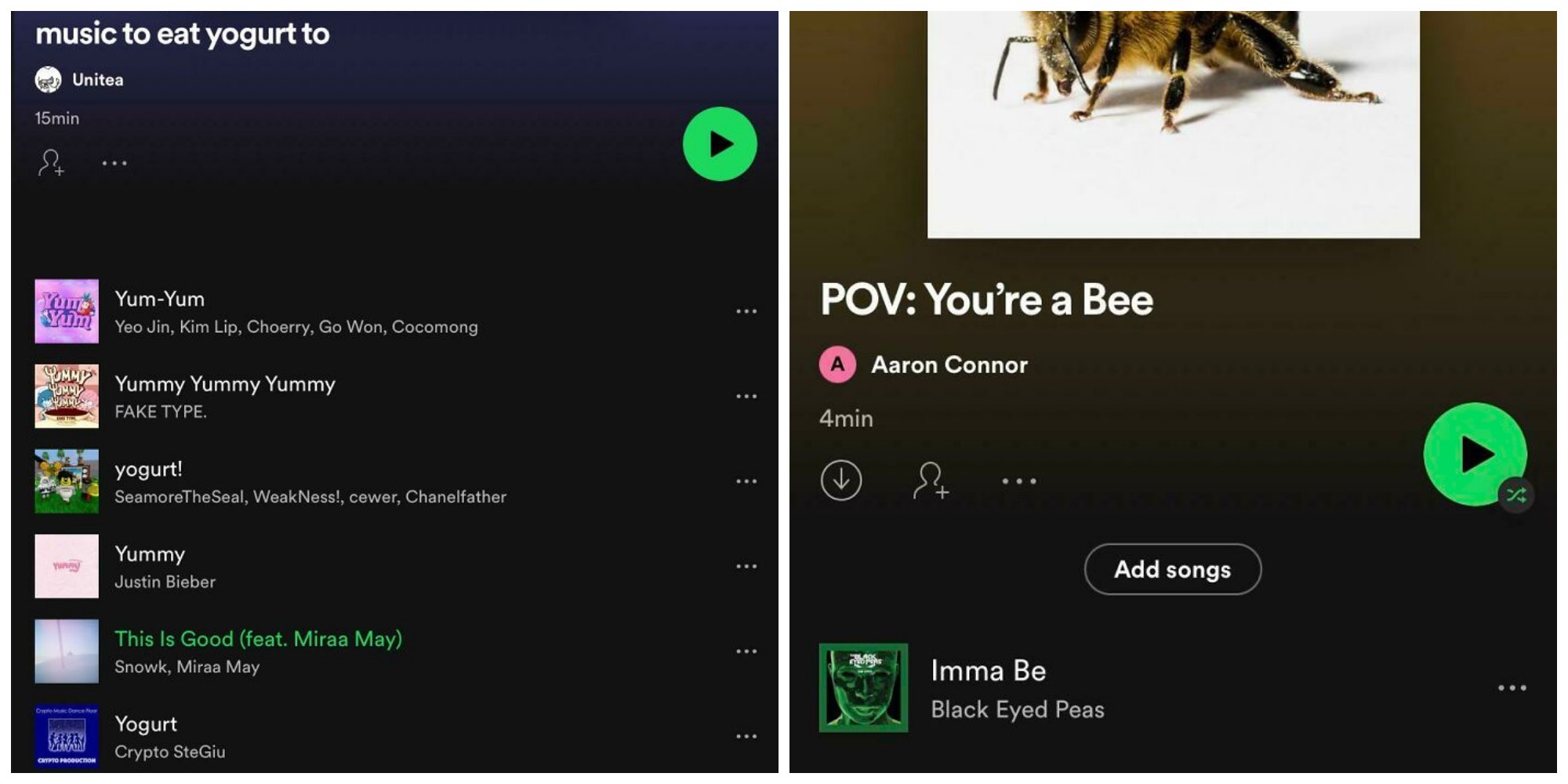 People are funny beings. We love taking things and giving them our spin. Spotify has been the go-to place to find fantastic music and podcasts for a while. It still is, don't get us wrong. It's just that people have found another way of using it. It's simple yet hilarious. Now, users use the app to create playlists with songs that don't necessarily match a common theme, artist, or genre but with their titles. Sometimes, the titles of the pieces make a sentence, a story almost. Other times it's as random as a grocery shopping playlist. Today, we've gathered 40 of the best Spotify playlists we've found. We laughed our brains out over them and definitely followed a few. Check them out for yourself!
#1 Where Do You See Yourself in 10 Years
Predicting what will happen months from now is tough, let alone years or even a decade from now. We live fast, and life is faster than it ever was. It goes by in a split second. This cheeky user made a: Where do I see myself in 10 years? playlist, and it's iconic.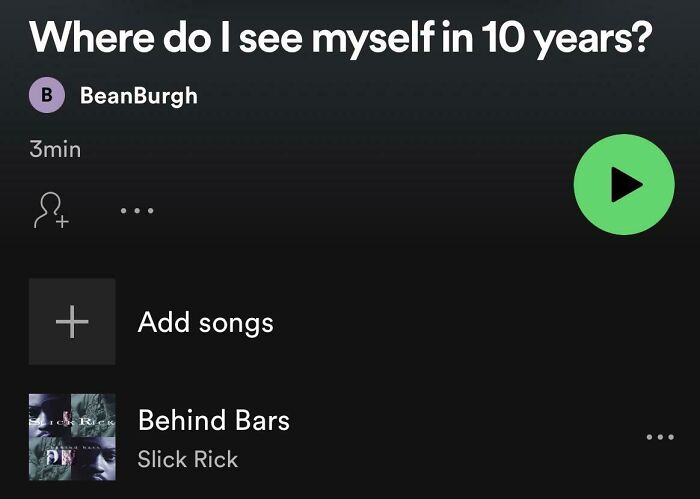 The playlist only lasts for three minutes since there is only one song titled Behind Bars by Slick Rick. This is so short yet so precious and has great comedic value. We don't know why the user BeanBurgh thought to be behind bars in a decade, but we hope he is okay.
Tough Crowd
We all know those people who use professional vocabulary to sound more intelligent and more informed. For example, if they say ratio, they think their point is unbeatable, set in stone, etc. Take a look at this iconic playlist based on the meme in the top left corner.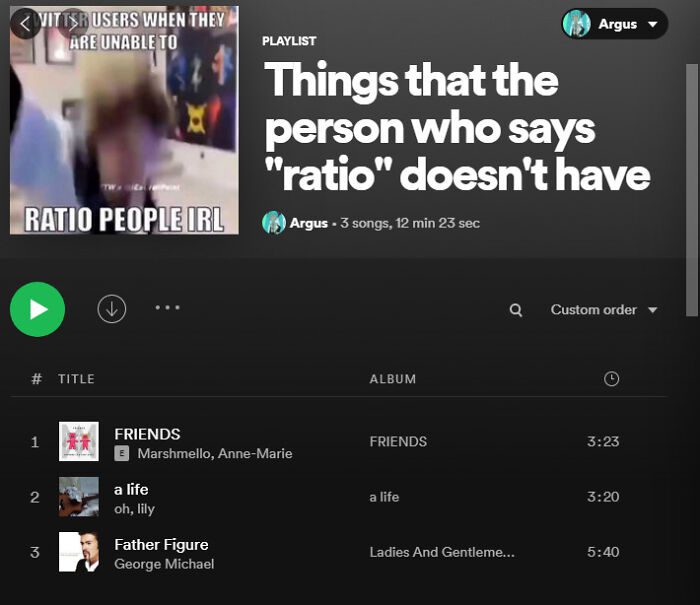 This user believes that a person doesn't have friends, a life, or a father figure if they say ratio in their daily, random conversations. This observation is so interesting and funny that we had to share it with you! Do you agree?
Not Again, Richard!!!
This one is one of the shortest yet funniest ones we've found. It's not that it makes much sense either. If your name is not Richard, that is. If you know an annoying Richard, this is a perfect playlist for them. Take the opportunity to send it out.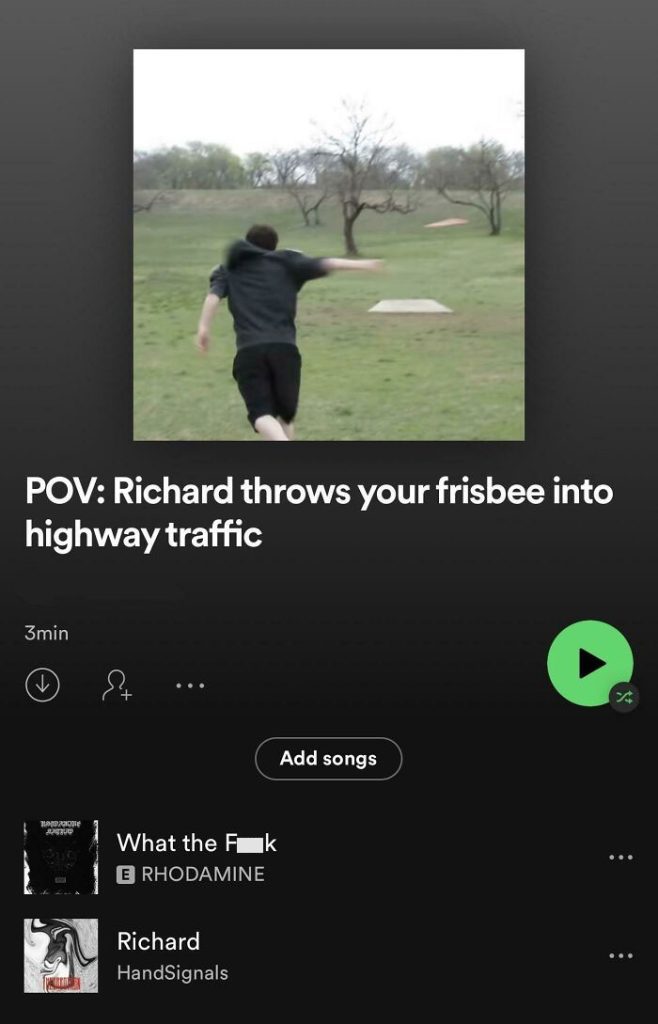 Whenever a Richard in your life makes a stupid decision or does something inappropriate, just yell the titles of these songs to him. Or even better, play this for them at any given opportunity. It will grind their gears in the worst possible way.
Hotel Transylvania
If you never watched Hotel Transylvania, you are missing out! Not on an original trope necessarily, but on a damn good time. It's an excellent, chill animated movie about a Dracula and his vampire daughter. She, as per usual, falls in love with a mortal.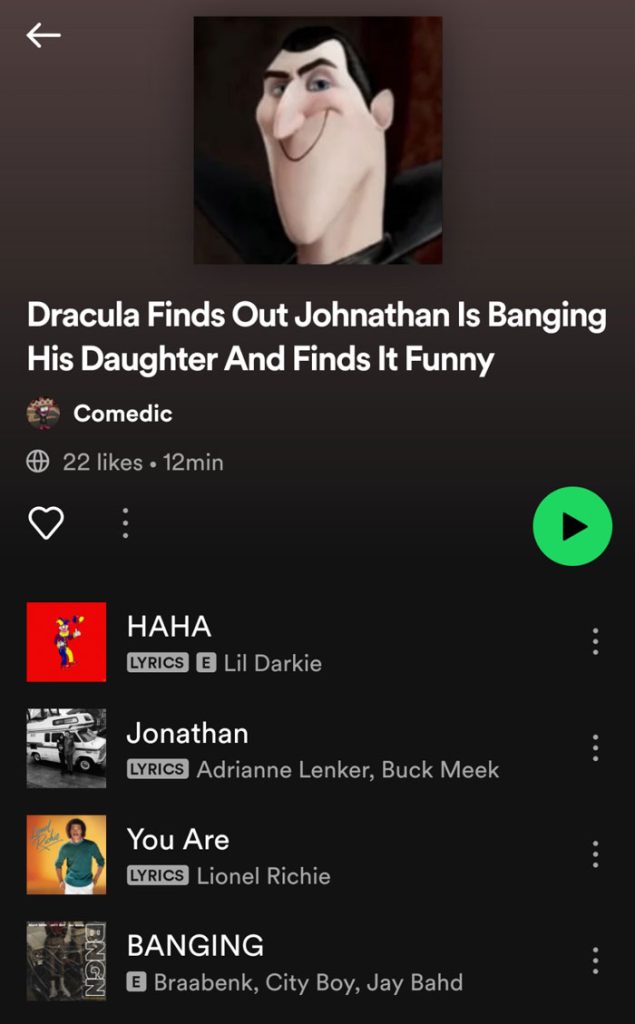 This playlist was made in case Dracula found Jonathan being with his daughter remotely funny and entertaining. We, honestly, chuckled way too hard when we saw this. It's golden. It's also hilarious because, you know, in your gut, he reacted the opposite way completely.
Rainbow
If you are a fan of color, or you just love representing yourself and your orientation, this little gem might be for you. We've found a playlist that has all the colors of the rainbow in the titles. Take a look!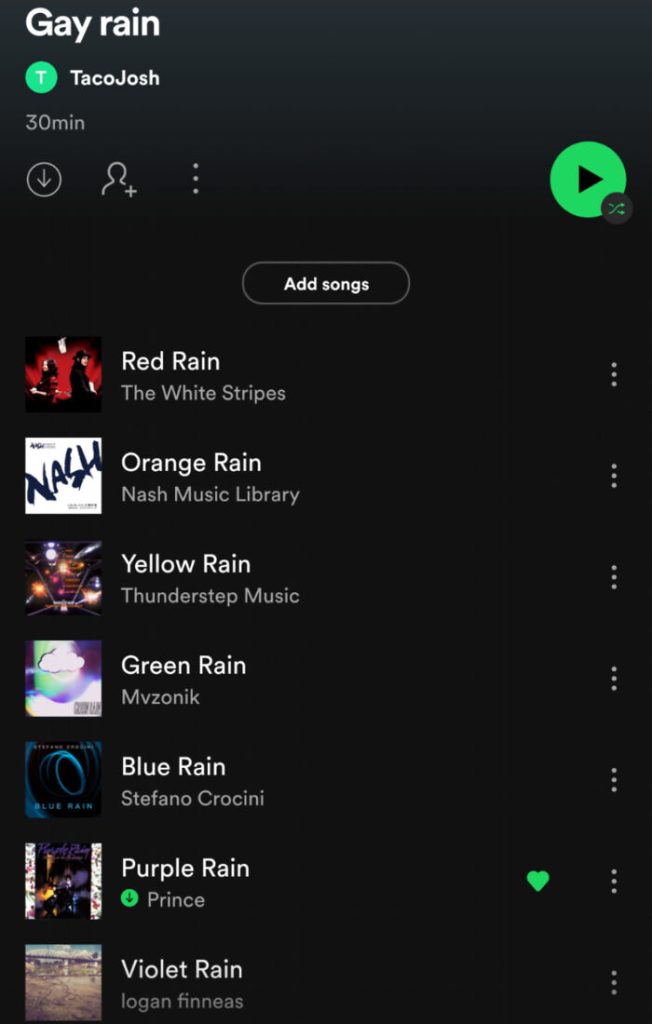 Some might argue: aren't purple and violet the same? Uh-huh, honey. They have different undertones; one is cool, the other warm. We also love how all the songs are meticulously placed correctly. So the user had to add them to the playlist very carefully. What a champ!
Oh, Hi O
They say Ohio is as disappointing as the heading for this playlist… We're just kidding! We've never visited Ohio before, but we love how a user decided it was the most boring place on Earth and decided to roast it by making a playlist on Spotify.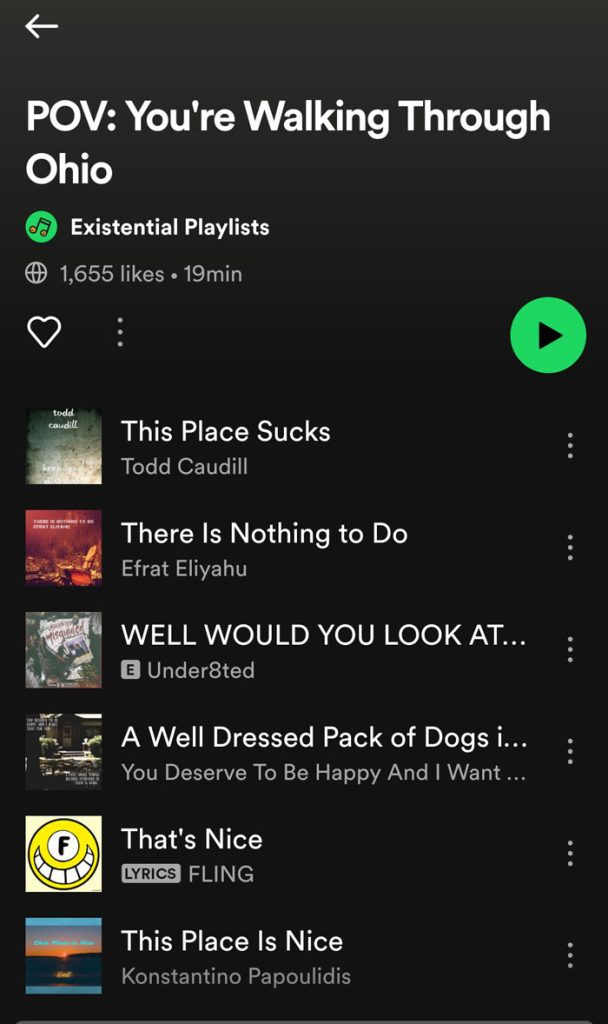 We are positive there are wonderful places and people in Ohio, but this playlist and the way it's matched together is phenomenal. Sorry to all the people from Ohio; please don't get offended. We would laugh the same if it were about any other place.
8 Deadly Sins
This hilarious user was fantastic enough to make a playlist of the deadly sins. But, we are used to them being seven deadly sins; however, here are eight. If you want to know how and why, we recommend you find this list or look at the picture below.

Pride, greed, lust, envy, gluttony, wrath, sloth, and Kanye West. Why is Kanye West a deadly sin? We are not so sure. Yet, we love the randomness and absurdity of it. It has the essence of that vine humor we all loved before Vine died.
Little Gamer
If you didn't have a gamer sibling when you were growing up, you don't know what's real chaos. These little misfits would stay up until ungodly hours, play Counter-Strike or GTA while ten years old, and yell their brains out when they die.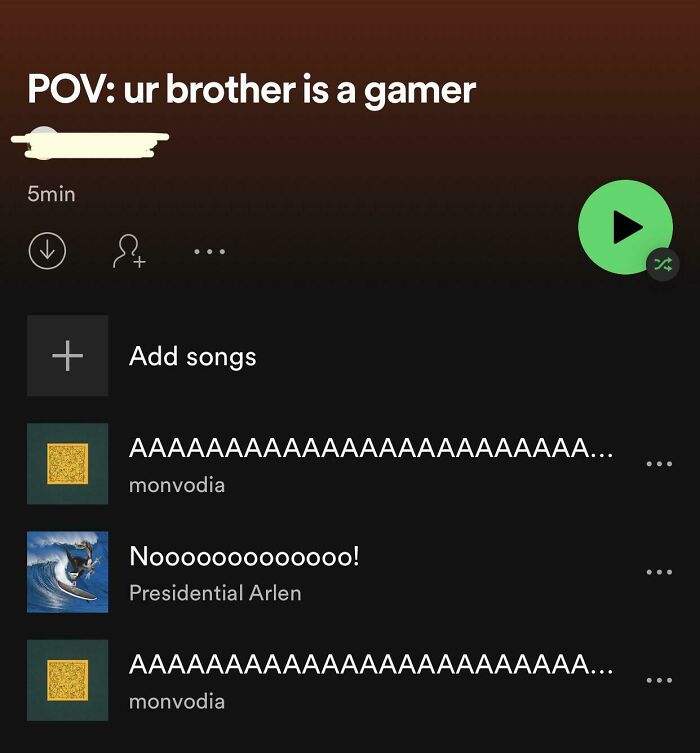 This is a perfect pov (point of view) of a gamer. AAAAAAAAAAAAA! Noooooo! AAAAAAAAAAA! Along these lines, there are usually harsher ones, like curse words or slurs we won't mention today. Next time someone loses a game, play this for them, please. Enjoy their suffering.
Vegan Diet
This one is perfect. If you are a vegan or have someone in your life that follows a vegan or plant-based diet, you can send them this as a joke, with a text: haha, this is so you! We bet they'd get pissed off, or they'd actually love you even more and laugh out loud.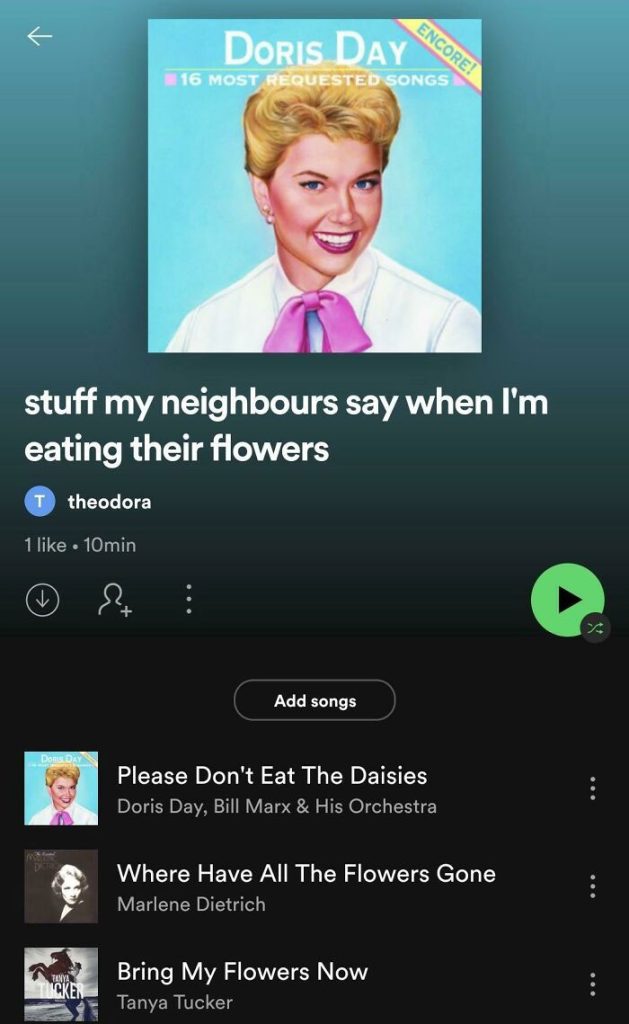 Do you think there are people that eat their neighbor's flowers? Because we wouldn't be surprised at all. Some of them might've heard that flowers are natural probiotics that are good for your hair; who knows. Either way, this is a great playlist. Well done, Theodora!
Quentin Tarantino Called Out!
If you are not familiar with how Quentin Tarantino loves feet, especially female feet, we can safely say you haven't watched a single movie he produced. From Kill Bill to his latest hit Once Upon a Time in Hollywood, Tarantino doesn't budge.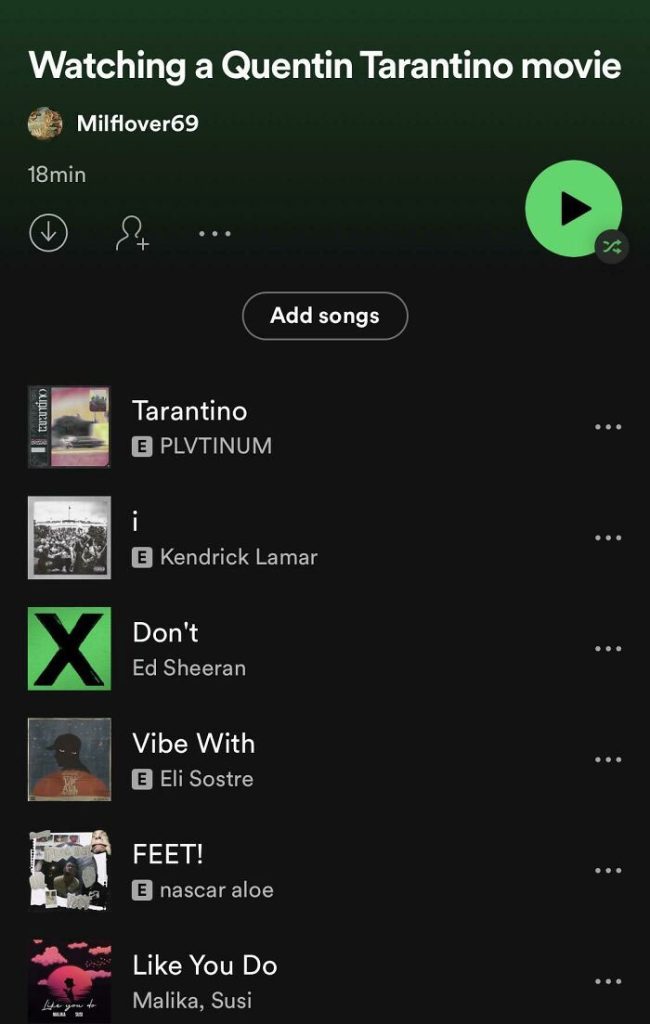 The man loves feet, and he doesn't hide it! As he should! True king. However, other people don't share the enthusiasm such as this user, for example. They concocted the perfect response to Tarantino's love for feet. We appreciate you, user Milflover69. You are a real one…
Trendy
Are you familiar with how now people love to state their pronouns in their Instagram and TiIk Tok biographies? We like that equality and difference are supported and welcomed, yet we aren't sure why would anyone care about anyone's pronouns and identity? Alas!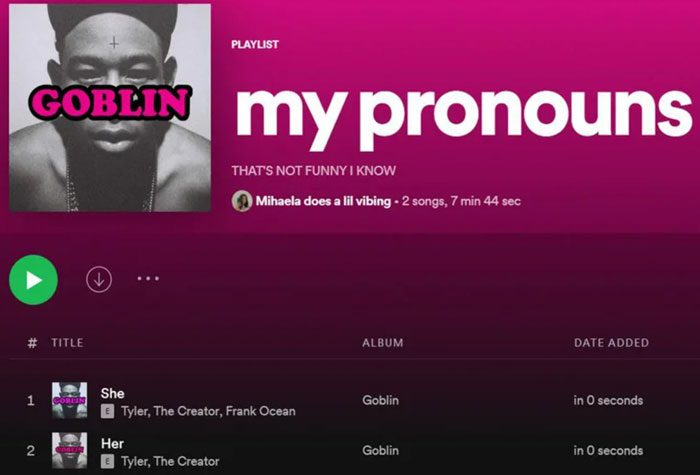 This person made their pronouns playlist, announcing they identify as she/her. This is, we have to admit, a cute way to come out of the closet. At least it's not like one of those YouTube video cliches where a Youtuber dramatically comes out, even though no one has asked. This is more private and kinda adorable.
WOOOW
If you are somewhat of a movie buff, you know who Owen Wilson is. If, by any chance, you can't remember the face that goes with the name, he is that guy that says: woooow – in a very nasally way. Now you know? We thought so.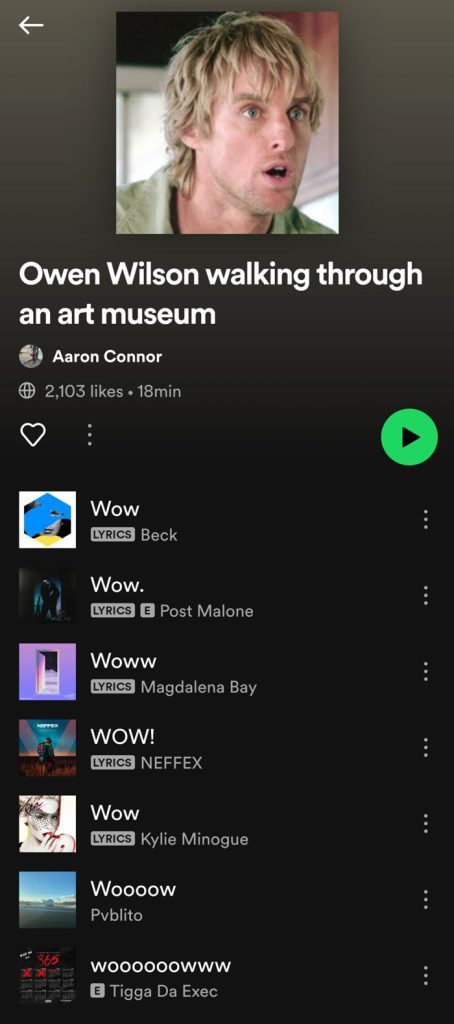 This Spotify user created a playlist: Owen Wilson walking through an art museum. All the songs are a variation of wow – and we are living for it! What makes it even funnier is that Wilson acted in a movie: Night at the Museum.
The Periodic Table
Someone was witty enough to create a whole playlist dedicated to the Periodic Table of Elements. Remembering the elements and acing your chemistry tests will never be a struggle anymore. All you need to do is put music into it!

Although we'd prefer to see Lithium by Evanescence on there instead of Nirvana (we know, shocking), this one still works! It would've been amazing if this was available when we had science exams. Yet, now, all the scholars can reap the benefits themselves!
Tough Luck
Some people just lack some luck in their lives. Or they don't have any game. You have to have one of the two if you want girls to like you. Just kidding! The right one will like you despite not having game, charm, or luck. Trust the process.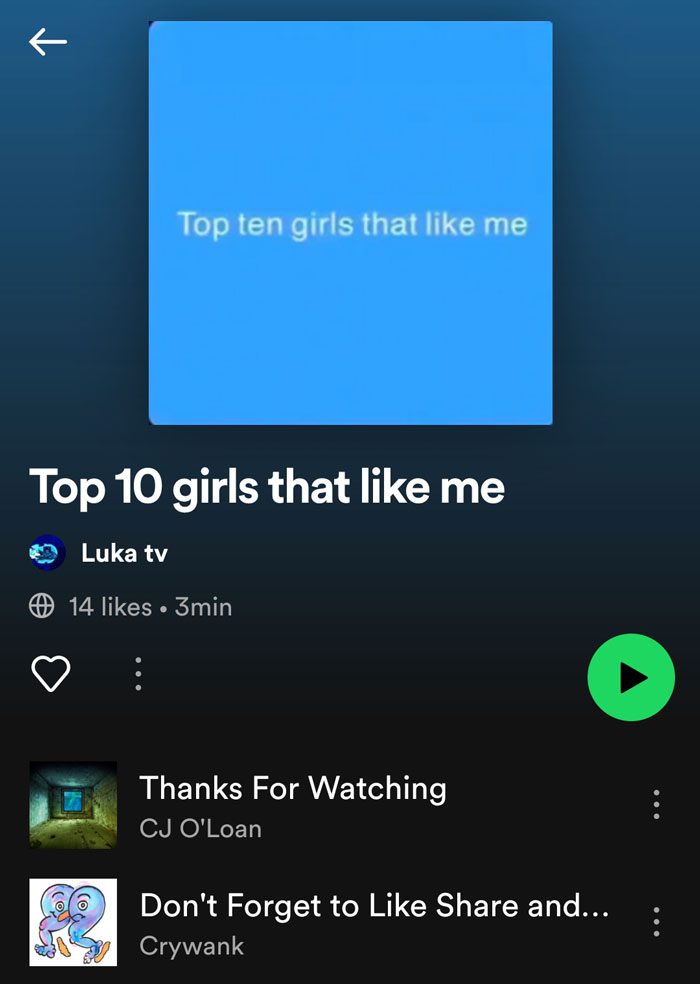 This user, Luka tv, made a playlist of all the girls that like him, and he put in song title's that sound just like any Youtubers video outro: 'if you liked this video please, like, share and subscribe, it means the world to me!' Hang in there, brother, don't lose hope!
Recipe
Are you one of those who like to follow the recipe, or are you more of a spontaneous cook? We are kind of both, to be honest. Sometimes it's good to be guided, yet other times it's more fun to experiment!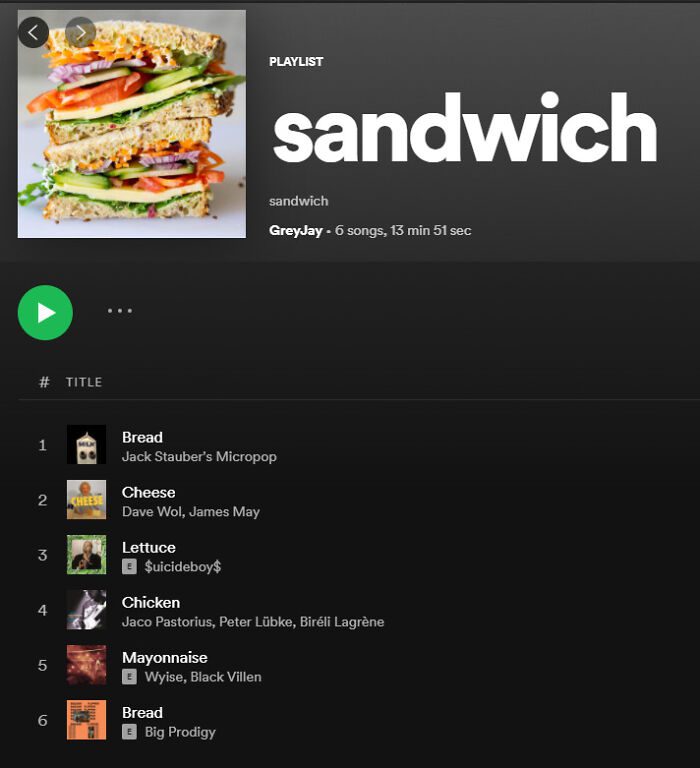 There is a Spotify playlist acting as a sandwich recipe, if we could call it a recipe. More like instructions and a list of ingredients for a damn lovely sandwich. Carbs, protein, and fats are all you need in your diet! Be careful with mayo, though.
Asking For a Favor
If you have good friends, asking for favors here and there shouldn't be that big of a problem, right? Well, yes! But only if they are good friends, and if you'd do the same for them. Any other way, it's just wrong and unfair.

So, what we really want to know is, did Alex give him some of his spaghetti or not? What do you think? We believe he did. Alex just seems like a good guy, and we don't know why. The creator of this playlist must have had a field trip with this. God bless their soul!
Loop
If you never played Tetris as a kid, you are missing out, to be frank. It is an OG game that shaped so many of our lives. We still love it to this day. This Spotify user made a playlist that perfectly describes what it means to play Tetris.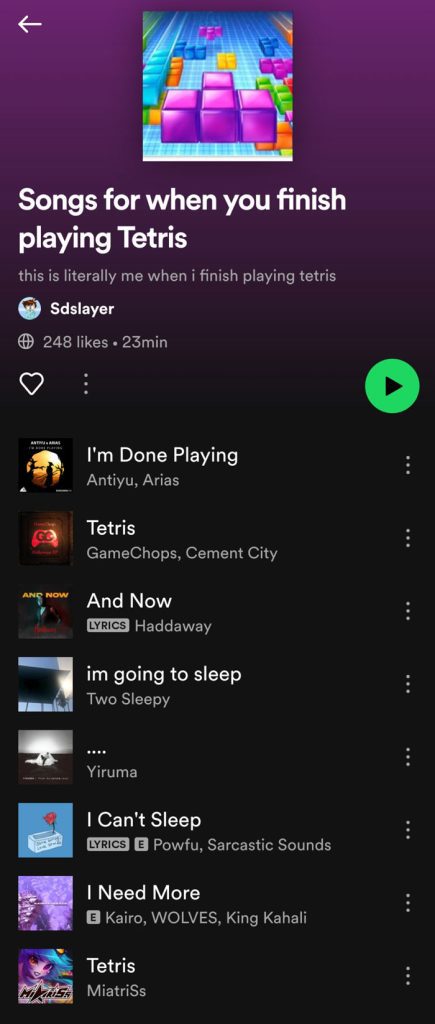 This is a neverending loop. You start Tetris, get bored, or want to do something else, you can't do anything else, and you come right back to the beginning. And you repeat that at least twice. It is what it is.
Potassium
This playlist tackles a niche reference not everyone would recognize. That's why we are here! Your fellow pop-culture meme lords! That's at least how we love to think of ourselves, let us have this moment and explain to the rest of y'all…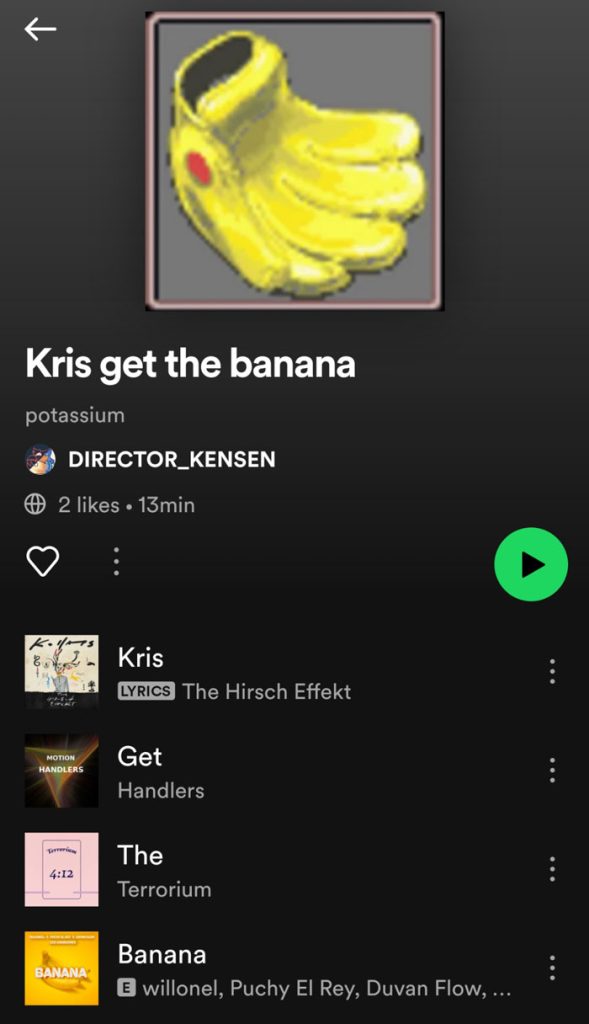 Kris Get The Banana is a reference from a game, Delatrune: Chapter 2, when a character of Queen says it to another named Kris. It's kind of a funny scene, absurd, of course. Just like this playlist, when you think of it.
Oh, Na Na, What's My Name?
Someone made a very niche playlist for when you forget your name. We read it and thought: who forgets their name? Then we remembered that one night that proved this user's point. You can forget your name. Don't ask any further questions.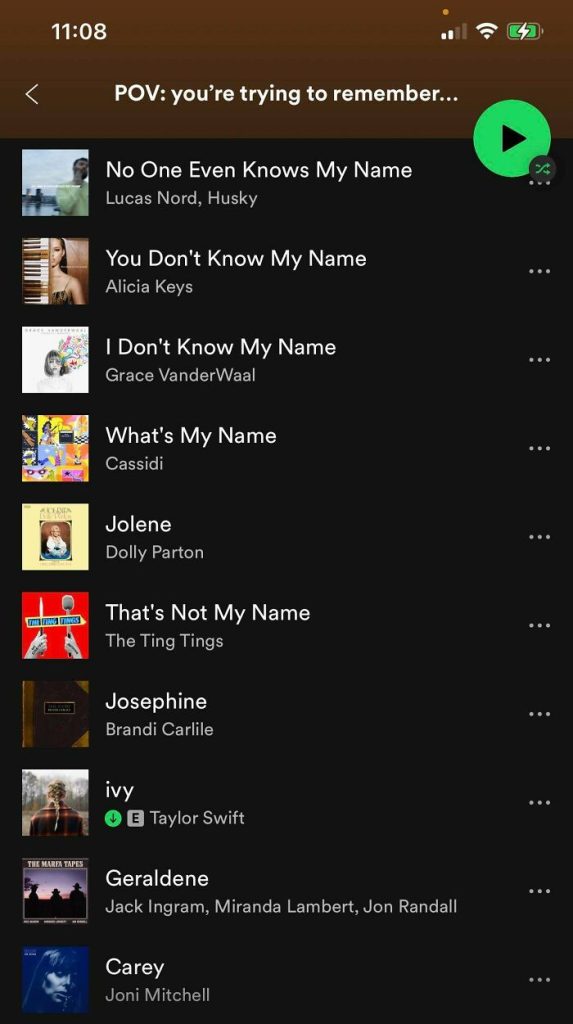 Here is a playlist with songs with name references or names in their titles. We are sort of disappointed Rihana and Drake didn't make it with that song: What's My Name. It was our jam back in the day—missed opportunity.
How To Give Birth in 23 Minutes
So, someone thought of making a playlist on how to give birth. Yes, you read that correctly. When we saw the title, we just had to read it. It's a good one. They made it look so easy, so simple. Oh, that sweet summer child…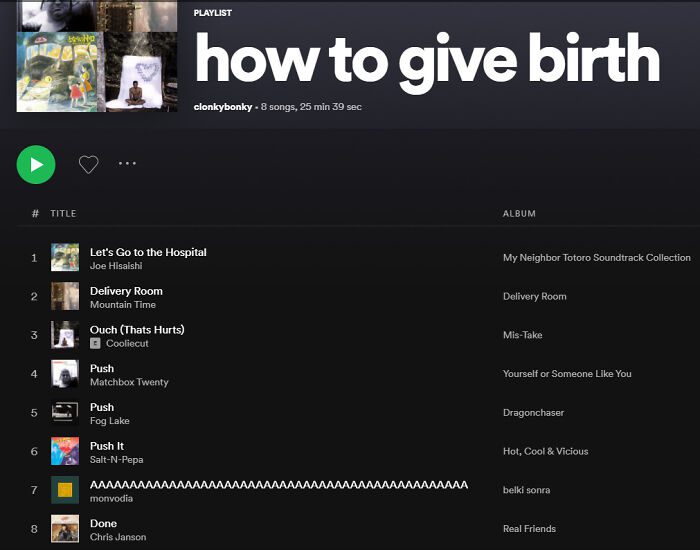 What we love most about it is how it gets progressively worse and ends so abruptly in the end. There is a missing piece, though. Can you guess what it is? Well, Baby by Justin Bieber, of course! Add that, and you have a perfect playlist!
Forrest Gump
This playlist also contains an excellent reference to popular culture. Oh, how we love those. This one has something to do with the famous movie Forrest Gump. It's a classic. It stars Tom Hanks in the leading role of Forrest.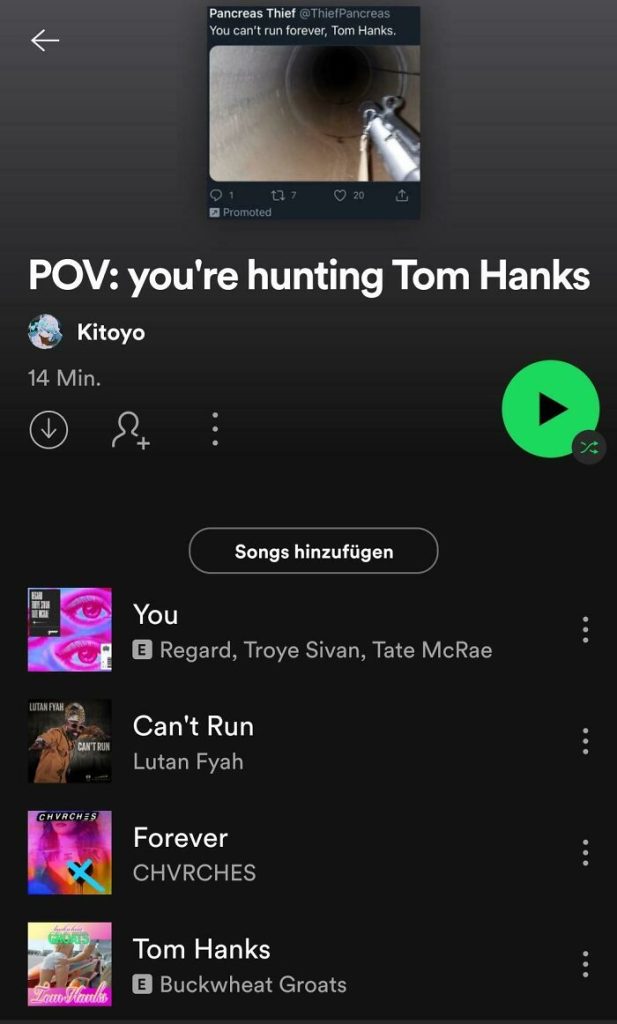 The title of this playlist is pov (point of view): you are hunting Tom Hanks. The titles of the songs are iconic as well: You Can't Run Forever, Tom Hanks. This is an apparent reference to the movie itself cause his character only runs and struggles with walking.
Yummy Yogurt
If you haven't realized by now that yogurt is yummy, you will after this playlist. Who doesn't enjoy a nice cup of yogurt? Especially if it's with fruits like cherries or apricots. What a treat! Besides, it's much healthier than half the junk we eat daily.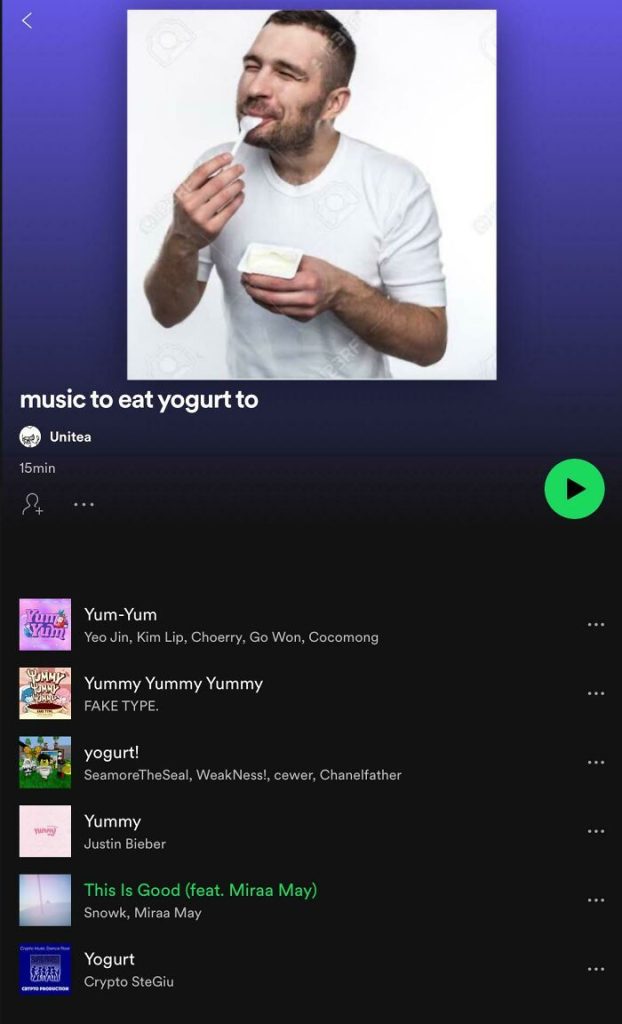 The playlist doesn't contain much variety, just simply Yum-Yum, Yummy, yogurt! This is Good, etc. We can't deny, though, that we agree entirely with this user. Unitea made a banger with this playlist, and besides, it is on topic, and the music is excellent too!
Please, Karen
If you know anything about the internet culture, you should be familiar with the term Karen. Karen is not just any woman. If, in case, your name is Karen, please don't take this the wrong way. The Internet loves to use this name and give it to women that are too demanding or hysterical.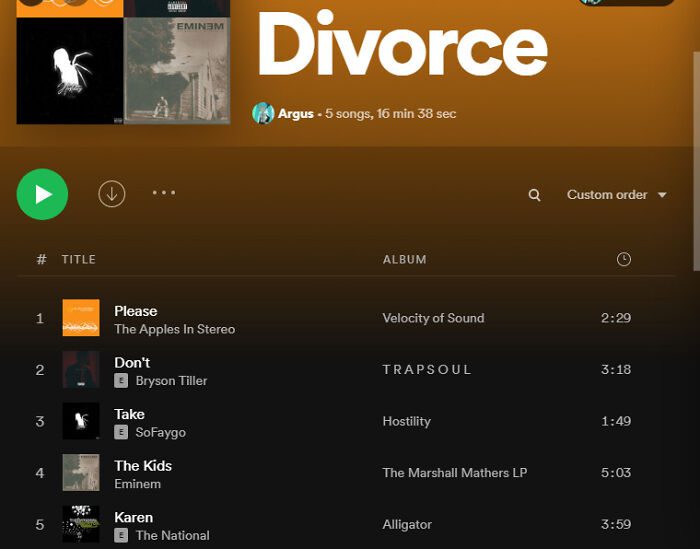 This poor fellow just wanted to file for a divorce, but he is scared his ex Karen will take the kids. This playlist is hilarious! We love the subtle reference to Karens, we like the desperation and humor portrayed here. It's a chef's kiss!
Traffic Line Playlist
If you find yourself stuck in traffic for a long time, pop this playlist, and you won't regret it. This is a playlist that lasts up to 15 minutes. That's plenty of time to jam out and have a good time. It will calm your nerves. We hope…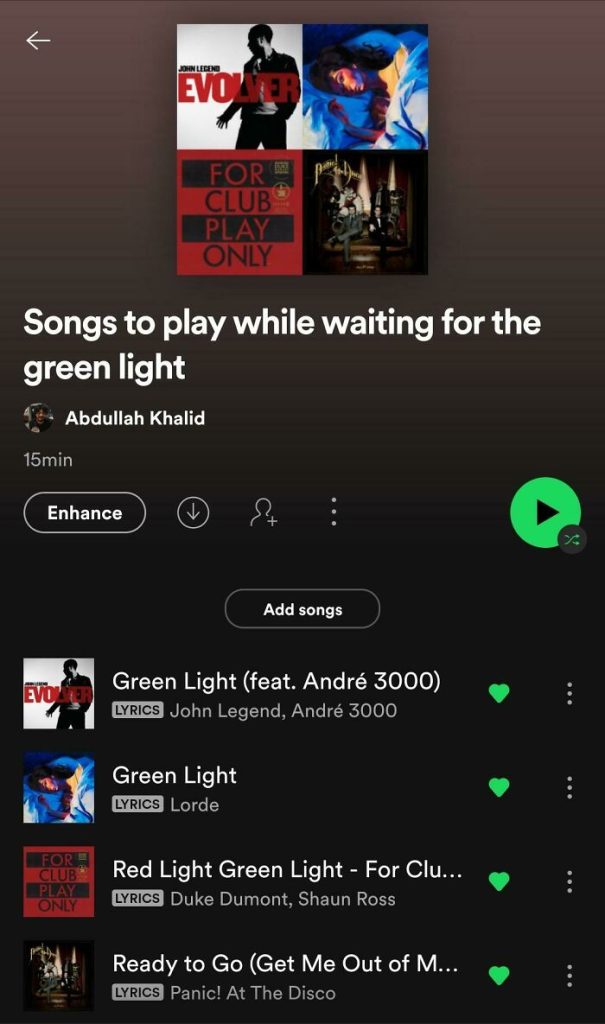 Abdullah Khalid knows how to make a good time. These songs are on the topic, on point and they are also fine-tunes. Duke Dumont, John Legend, Lorde, and Panic! At The Disko! Excuse us, but we'll gladly join that party.
Tips On Breathing
When we first saw the title of this playlist, we thought it would be a compilation of feel-good songs that would help you breathe better, feel calmer, and help you fall asleep faster. Yet, we were not quite right. This is a list that tells you how to breathe. Literally.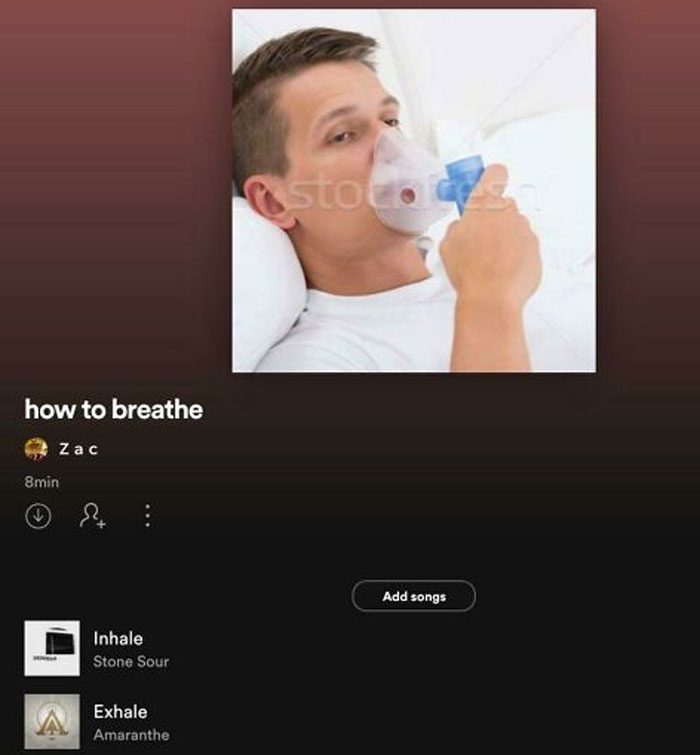 Z a c is a legend. That's what we can infer from this little list he made. The playlist lasts for about 8 minutes, but please don't take his advice to heart. Don't inhale and exhale for 8 minutes. You can do it more often.
We're Learning Numbers
In case you have trouble remembering what is the correct number order, take a look at this playlist and you'll be enlightened. We are confused as to why this list exists, and why did this person make it so systematically?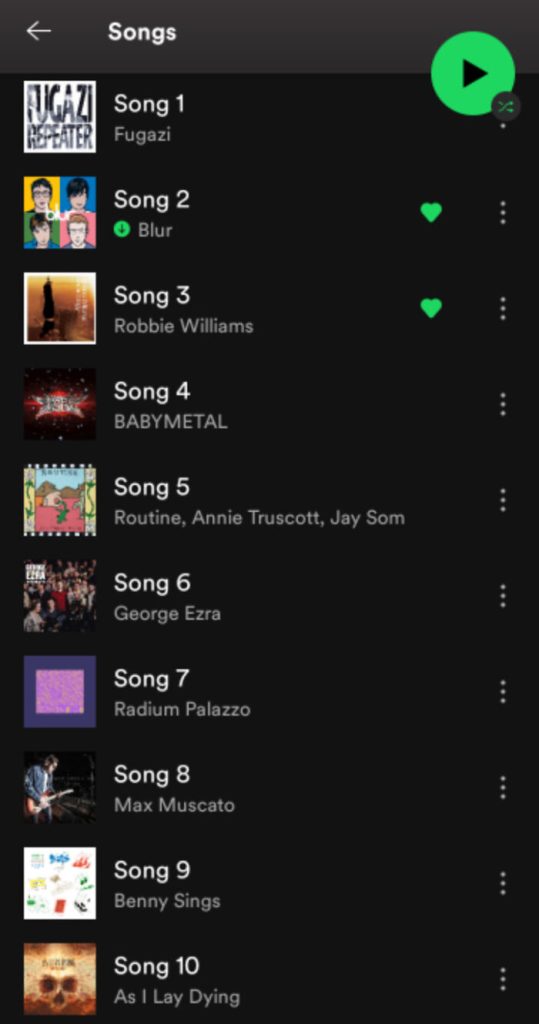 We are not fans of any of these songs; maybe you are and will find them quite inspiring altogether like this. How would you name this playlist if you could? We would give it something like My First Number Book, or something similar.
Loopy
If you have ever experienced going in circles with someone or being stuck in a constant loop, you'll know how draining and awful it is. That can sometimes be a partner, a parent, a sibling, or a friend. Whoever it is, cut the ties, man. It's healthier that way.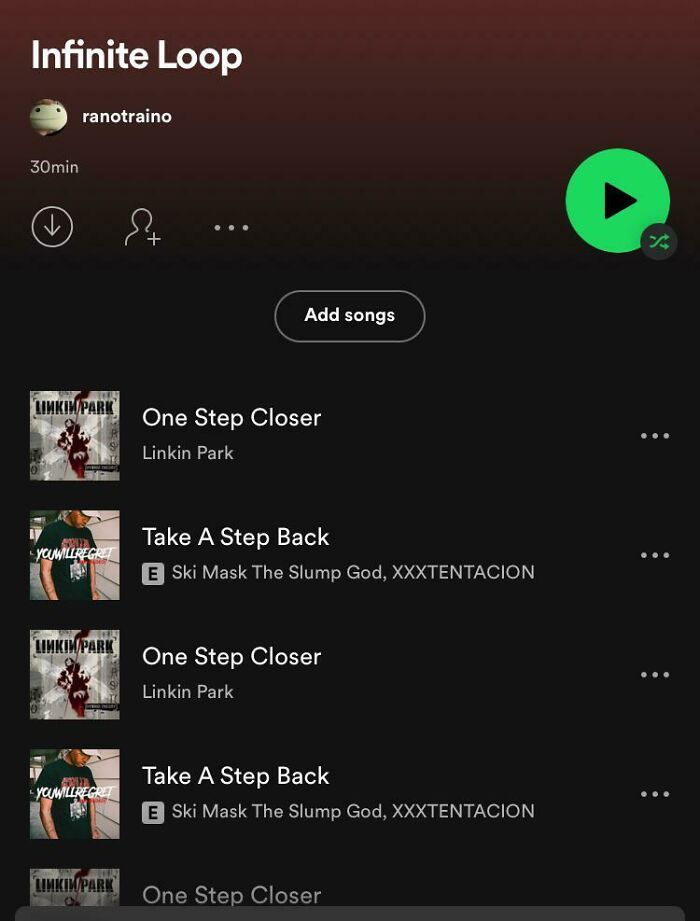 This playlist depicts these relationships so well: one step closer, take a step back, and repeat. Linkin Park is the band we listened to and loved when growing up. That's why this playlist is so close to our hearts. Good music can be found in the strangest of places.
Rude
This playlist is something we all know all too well. As soon as you see these words on the screen (and there are not many), you'll automatically hear a distinct voice in your head uttering them. Do you want to bet? Take a look.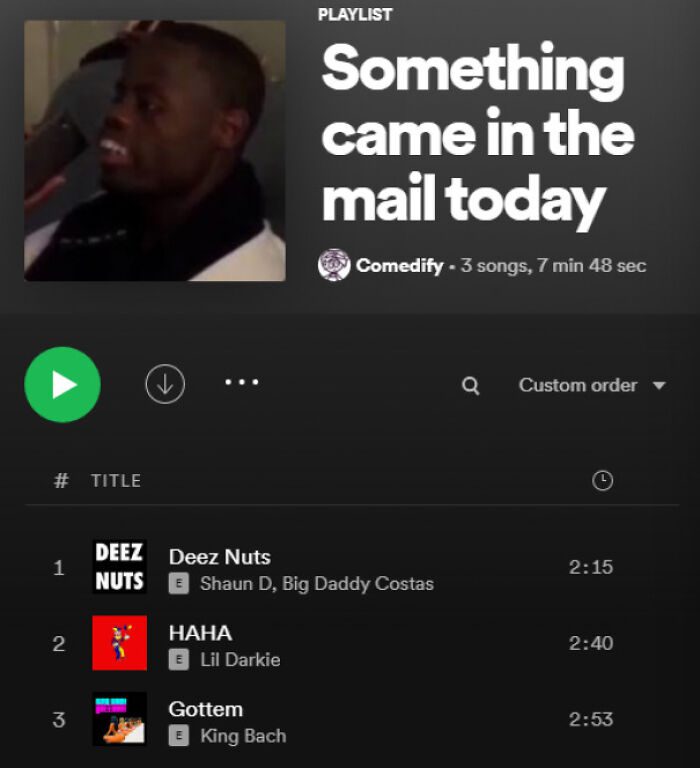 If you don't hear that voice in your head, we can't be friends. Sorry. The perfection of there being only three songs, all under three minutes, is so satisfying to us. We will add this playlist to our favorites on Spotify, just for giggles.
Nikocado Avocado
This is a bit niche if you are not closely familiar with the current American, Youtube, Mukbang scene. We know, that's a lot of adjectives. Nikocado Avocado is an American Youtuber and mukbanger, meaning he eats on camera for others to watch.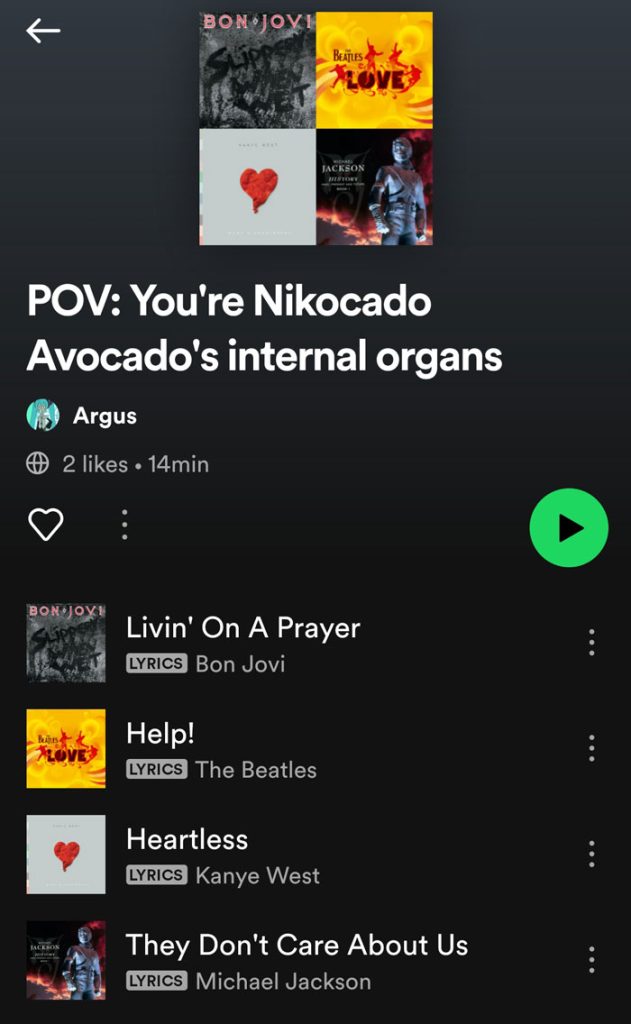 Yet, that's not it. Nik has gained a lot of weight since he started doing these videos. When he started his career, he was vegan, healthy, and fit. Now, he eats everything and looks exceptionally unhealthy and obese. This is a playlist for him. Good one.
Spotify Ad
Have you ever searched for a song on Spotify and haven't found it? We always find whatever we need there. No wonder Spotify is one of the most popular music and podcast platforms. Well, that's not what everyone else is experiencing.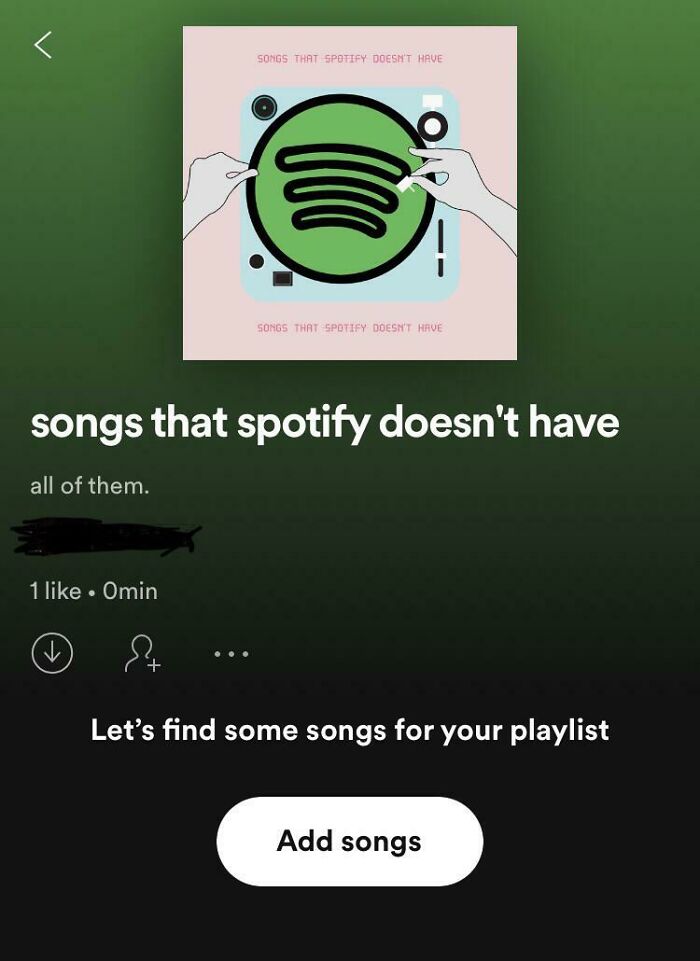 This witty user made a playlist in honor of Spotify. Yet, when you think of it, how would you even add a song here if it's not on Spotify… This little trickster made a perfect and absurd playlist that will forever stay empty and haunt us.
Science of Ordering Pizza
If you thought these lists couldn't go any further, we warn you, don't test the Spotify users. They will make something that you never saw coming. Like this playlist we randomly found on Reddit. It's a playlist on ordering pizza.

At first, it looks pretty standard. Your standard pizza order might sound something like that. Yet, towards the end, it takes an unexpected turn. Weakest delivery boy? And for what?! I guess we'll never know the answer to that. Hmm…
Just the Faves
We are confident that this list is somewhat universal. It can tell the three favorite things of all humans. We won't bet on that, but we can confirm that it hits the spot for us. What about you? Take a look and let us know your opinion.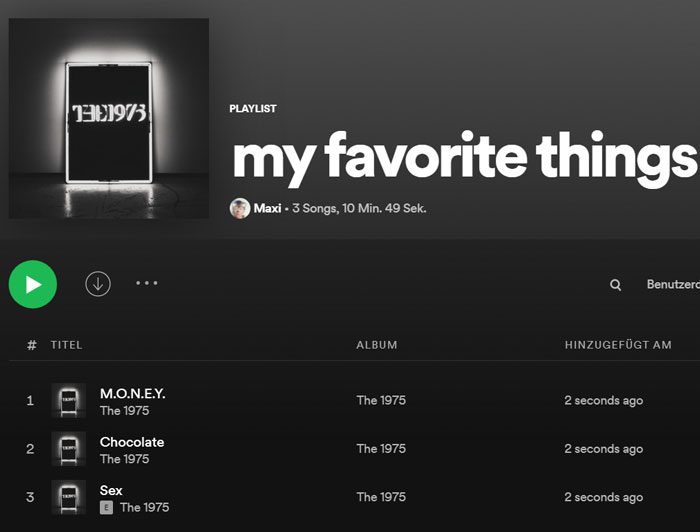 Would you say that these are some of your favorite things too? Interesting… It's also satisfying that all the songs are by the same artist or group rather The 1975, which we, turns out, love deeply. If you haven't listened to their work, we seriously recommend it.
Evolution – Revolution
They say men mature slower than women. Do you believe that? We are not sure whether to accept it or not. When you think about it, there are a lot of men out there with families, wives, and children, yet they still love gaming with their buddies. Is that immature or just wholesome?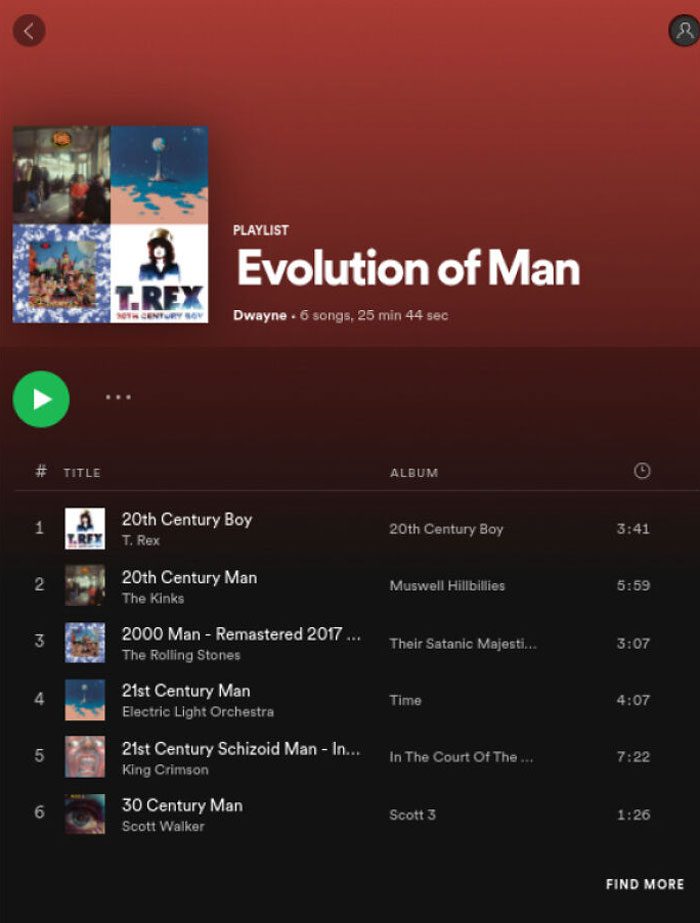 This playlist got us thinking in all sorts of directions. Yet, this is the evolution of men through the centuries. First, it's a boy, cute and innocent, and he becomes a man. He matures, yet, he enters his crazy period at one point. Luckily, he survives and comes back nine centuries later. What an adventure!
Corn, Corn, Corn
Remember how a user was abusing Ohio some pictures ago? Well, they are back at it again. What is so entertaining about roasting Ohio, we don't know. But we are having fun going through those playlists. Take a close look.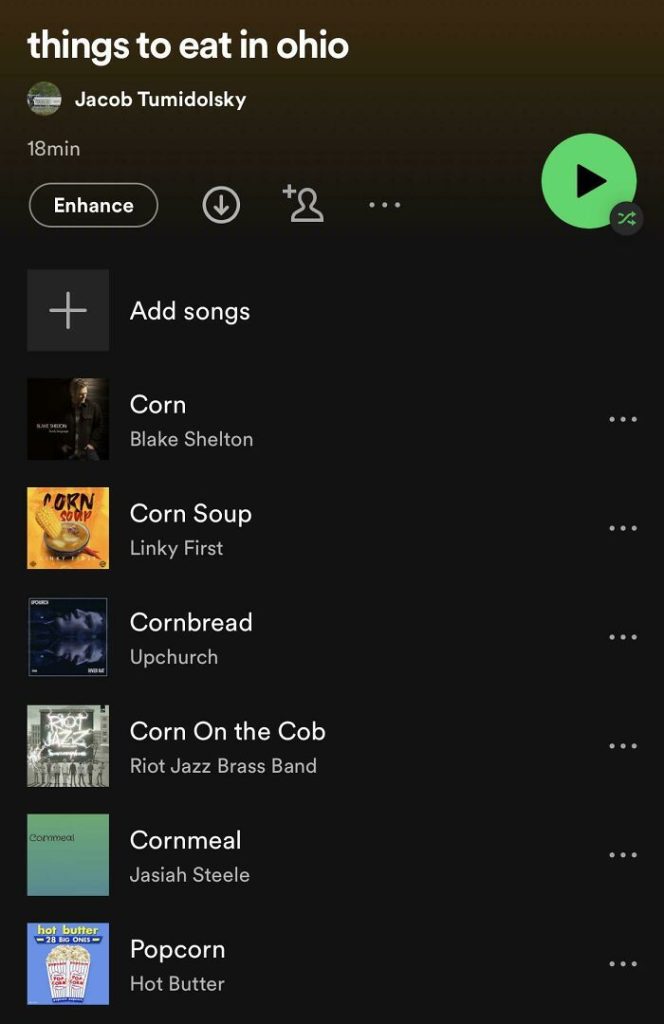 We will take a wild guess and assume Ohio is famous for corn? Yeah, we thought so. We found some Reddit users debunking this and sourcing it to Iowa rather than Ohio. What do you think? We'll leave it to the readers to decide. We'll just laugh and observe.
The Boys Trilogy
An icon, a legend, Taylor Templeton-Smith created an authentic playlist titled The Boys Trilogy. It sounds epic and mysterious. Like a book you'd devour in seconds. The playlist is not that long; it only features three songs and will take around 12 minutes of your time.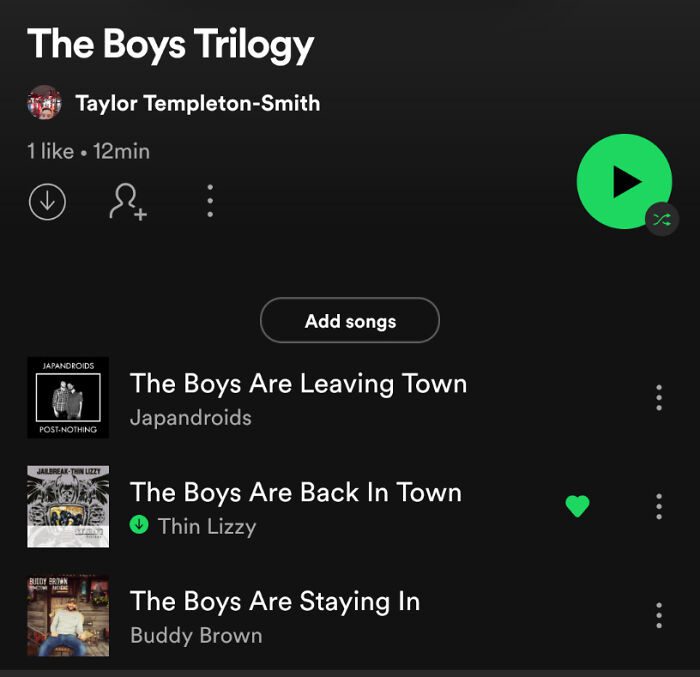 We're disappointed that they haven't included the song The Boys Are Back from High School Musical. That would've been a banger and a half. Just kidding! Or are we?! You'll never know. Until then, let's sing: the boys are back, the boys are back…
How to Drive a Car
This one is great if you are learning how to drive. Follow the playlist closely and take the wheel in your hands. No, it's better to have assistance. Call up a friend to read the playlist as instructions. Yes, that's a fantastic idea.

This will teach you how to make a turn specifically. So just turn the wheel to the right, make your hands go over each other a few times, and release it. Let it slide through your hands, and voila! You got it! This is really useful.
ZZZZZZ
As we approach the end of this awesome article, we decided to make it shorter and sweeter. We've found a playlist that features only one song. Not only that, but it's pretty absurd and confusing. We'll leave it to you to decide.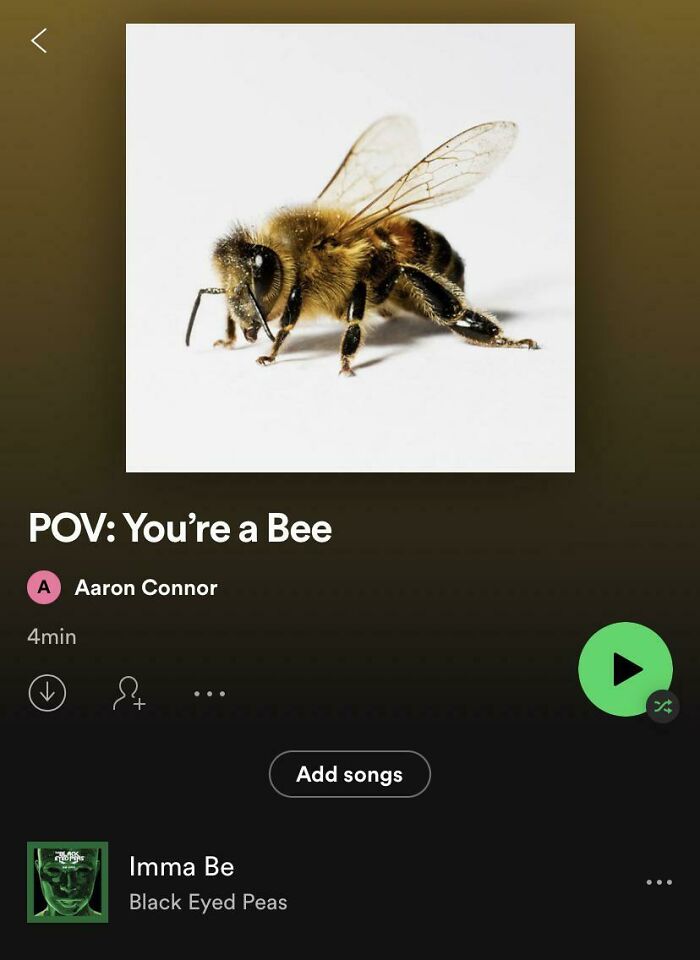 Point of view: you're a bee. This is your playlist: Black Eyed Peas – Imma be. Nice, iconic, showstopping. Aaron Connor really knows how to make a short and practical joke. Kudos to you, young one. You'll do great things one day.
Math is Our Passion
Do you know that meme: graphic design is my passion? That's how we view math. We hate it. We don't know anything about it. And we don't want to. This Spotify user made a math playlist, and we have to admit, we giggled and liked it.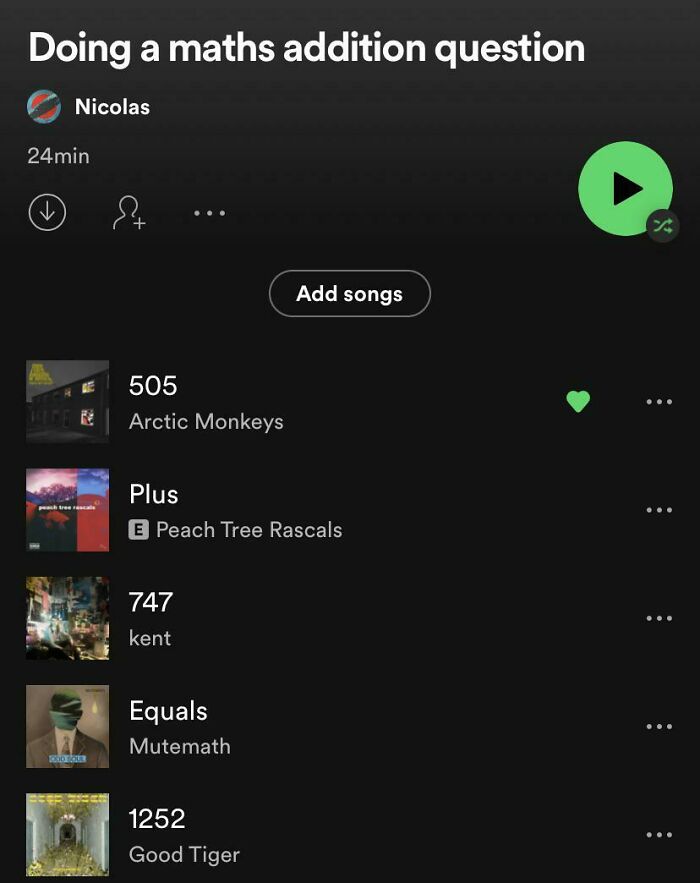 505 plus 747 equals 1252. Did you take out your calculators and check it? We did too, and it works. Miracle! Whatsmore, they used one of the songs we love dearly: 505 by the Arctic Monkeys. It's our jam! So good. Give it a listen if you haven't.
Oh Lord…
Another short, and sweet one. Well, depends on if you're from Ohio or not… We know! We're sorry, okay! We are not the ones that make these lists, but we are the ones that find and choose them. It is what it is. Just take a look…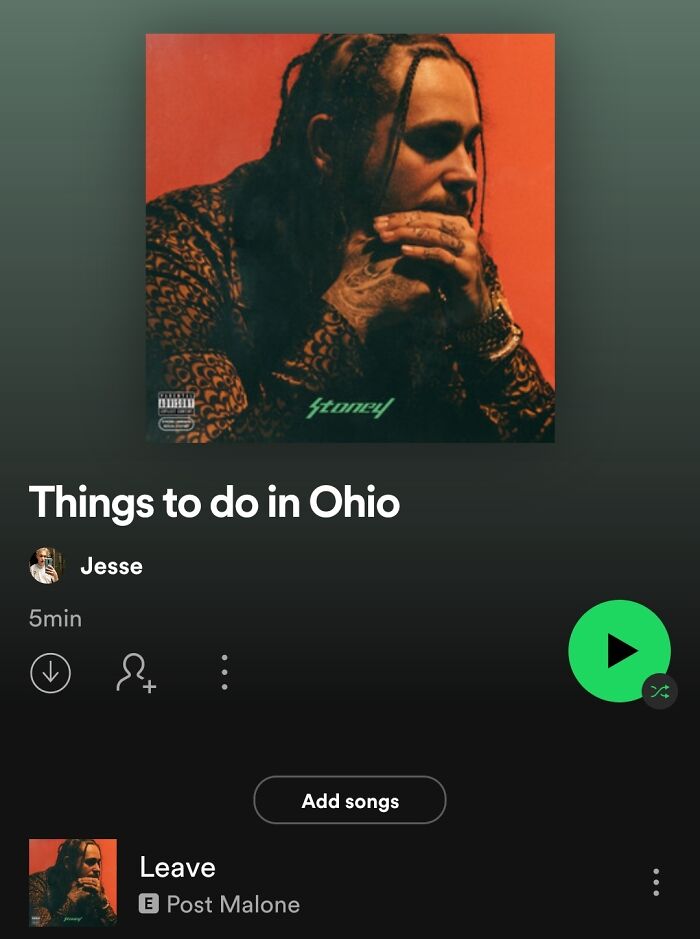 If you're not from Ohio, you love this, though! Next time our friends travel there, we will send them a compilation of these playlists. And we'll enjoy every second of it. When you go to Ohio, just leave. That's basically what Jesse is telling us.
BEEEEP
We saved the best for last. The best, and the most intelligent one, for sure. This list of 40 playlists was not only informative but highly educational and smart, you have to admit. This one takes the cake for the wittiest one.

Yes, it's the sound microwave makes. Yes, it's a whole playlist dedicated to an appliance that heats your food yet somehow leaves the middle stone-cold. You're welcome. Next time you need an ice-breaker, ask: hey do you know that playlist on Spotify that's dedicated to microwaves?