Golden Retriever Goes Vogue: Max-The-Dog Reenacts Madonna's Memorable Moments
By Aileen D March 24, 2023
---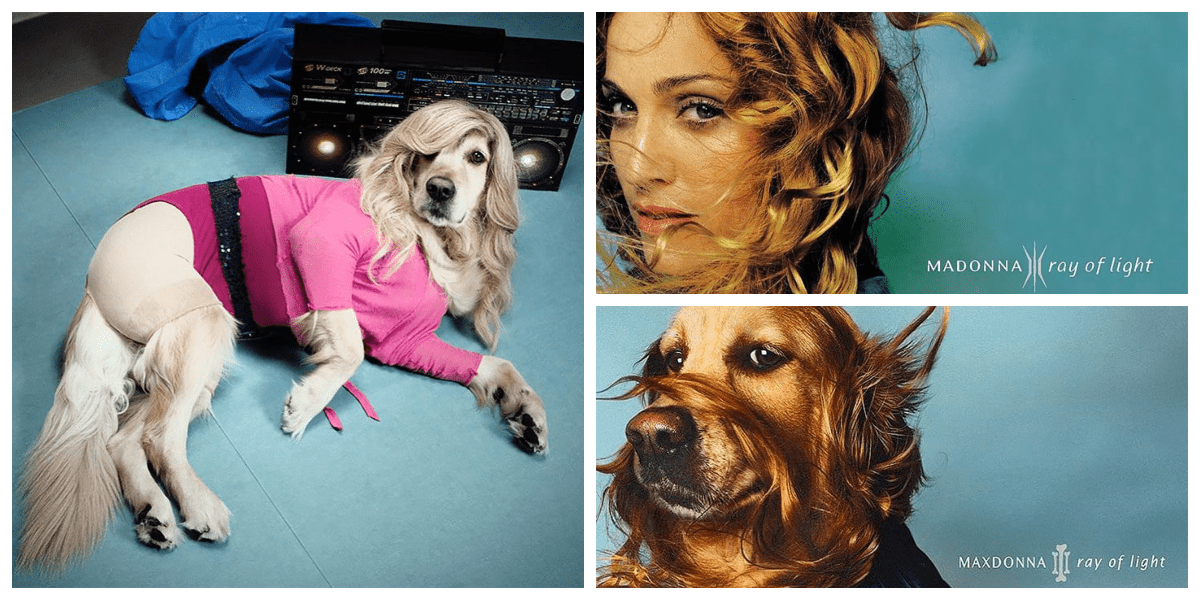 Madonna is a world-renowned American singer, songwriter, and actress who has sold over 300 million records worldwide. She emerged on the music scene in the 1980s and has since become an icon in the industry, known for her provocative image and innovative approach to music and music videos.
Madonna's iconic fashion and beauty looks have been a source of inspiration for many people around the world. From her bold makeup choices to her daring outfits, fans have recreated her style in a variety of ways. Her influence on fashion and beauty continues to be felt today.
One such fan is Vincent Flouret, or, shall we say, Vincent Flouret's dog. The golden fluffball has taken social media by storm in clothing and makeup inspired by the American singer-songwriter. Without a doubt, this fluffball's recreations have provoked the same sentiment of shock and entertainment as Madonna has commanded from fans. Have a look at some of this glam doggo's best looks.
Golden Fluffball
Golden retrievers are known for their friendly nature, and some may say they're more docile than a sloth on a Sunday morning. These furry creatures are a popular choice for pet owners, thanks to their laid-back personalities and adorable faces.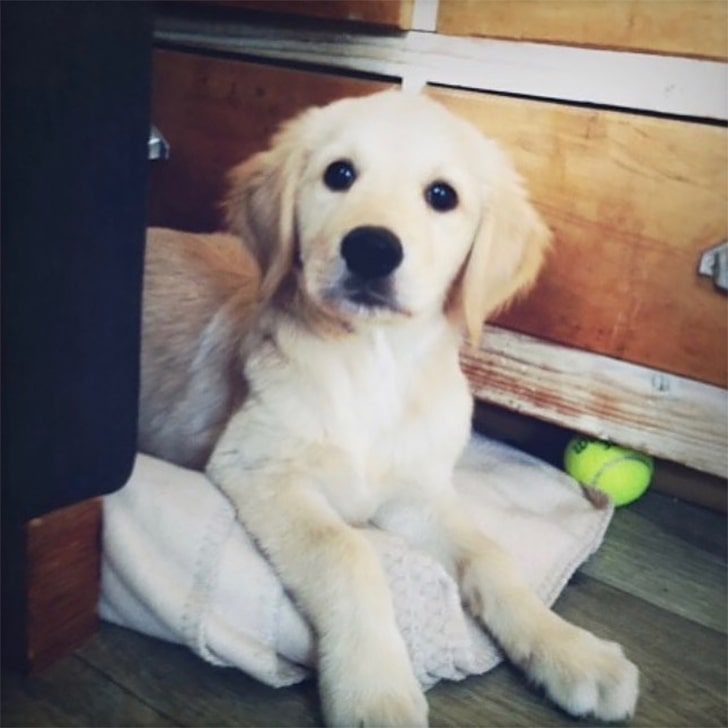 Golden Retrievers are very easygoing. They rarely get upset or angry and are happy to go with the flow. They may enjoy a leisurely stroll or a game of fetch, but they're not exactly running marathons or competing in agility contests.
To Each His Own
That's probably why Vincent Flourent, a French fashion photographer, adopted a Golden Retriever. Owing to the stresses of his job, he would rather come home to a fluffball who would welcome him abound with energy and naivete. Judging from these pictures, he made the right choice.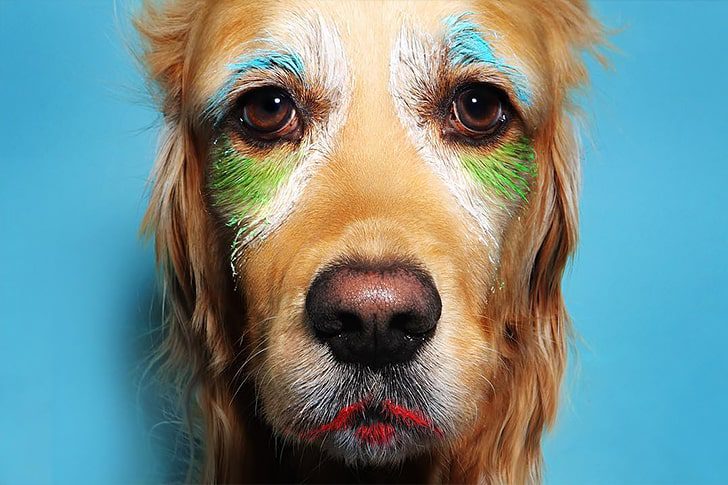 Vincent Flouret has been making waves in the fashion industry with his stunning and innovative work. Born in 1979 in Marseille, France, Flouret first discovered his passion for photography at a young age and has since honed his craft to become one of the most sought-after photographers in the world.
Living Testament
Vincent Flouret began his career as an assistant to renowned photographer Steven Klein, where he gained invaluable experience and knowledge of the industry. He later moved on to work for other high-profile photographers such as Patrick Demarchelier and Mario Testino.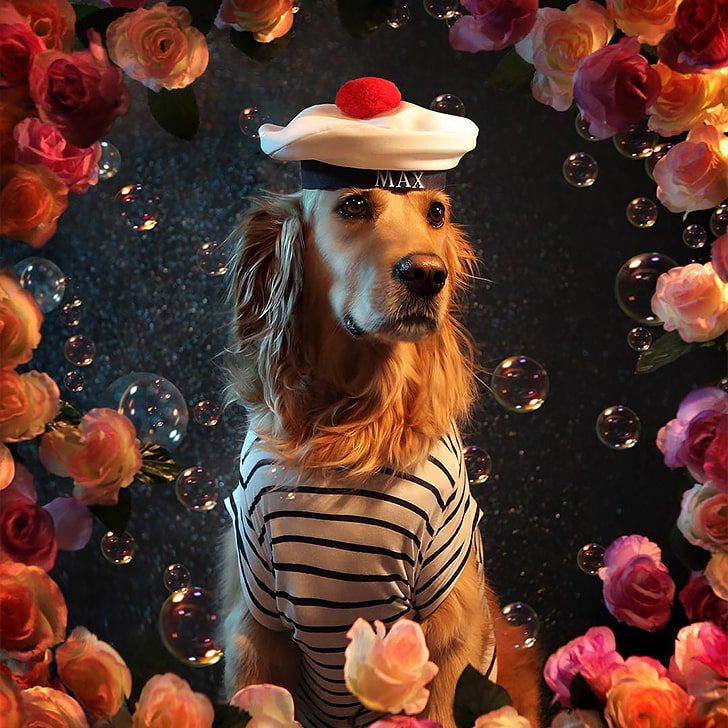 One of Flouret's most notable works is his "Maxdonna" series, shown here, which features his own dog, a golden retriever named Max, dressed up and posing as famous Madonna album covers. The series went viral on social media, with many people praising Flouret's creativity and attention to detail.
Some of the Credit
Of course, partly to blame for these stunning photos is Vincent's floofball. Somehow, this Golden Retriever can pose patiently for hours, needing only words of praise or a couple of dog treats to keep him stoic. Just look at this model.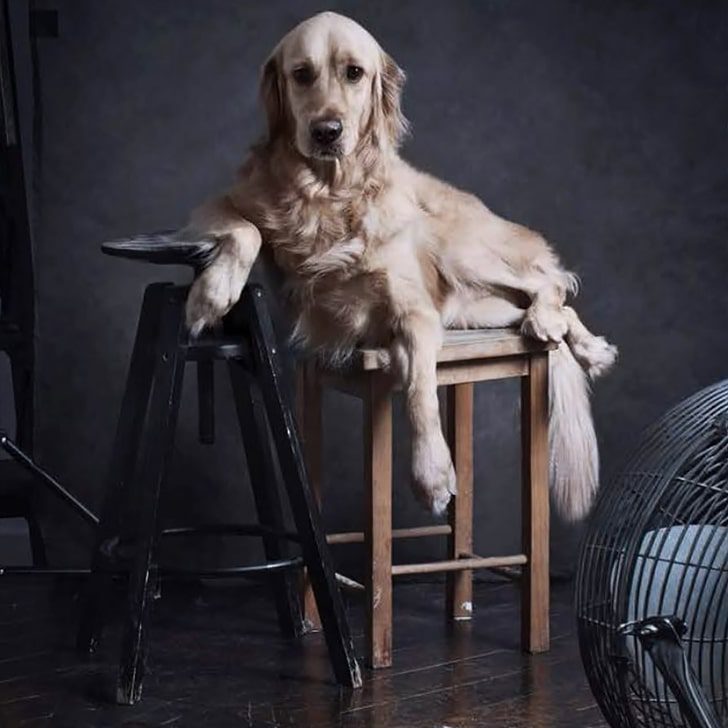 This fluffball has a way of striking the perfect pose without even trying. Whether sitting, lying down, or playing fetch, this fluffball always manages to look composed. Maybe it's Max's natural grace or perhaps his laid-back personality, but whatever it is; it works like a charm in front of the camera.
Effortless
Let's not forget about Max's adorable floppy ears. Whether he is standing up straight or flopping down to the side, those ears add an extra layer of sophistication to an already classy dog. We only know a few people who could rock this hat.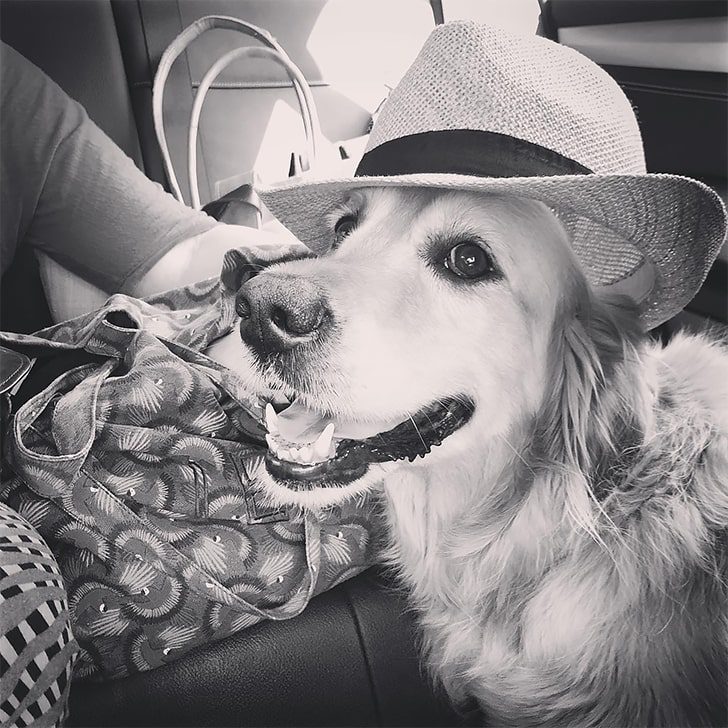 Another factor that makes Max so photogenic is his smile. He always seems happy and energetic, even when he is dog-tired. Off-camera, you will see his tail wagging and his mouth grinning. Somehow, that energy almost always shows on film.
Experimentation
Since Flouret's work is known for edginess and boldness, featuring bright colors and striking compositions, you can always expect him to dress up Max in the most outrageous costumes and wigs. Just look at the two experimenting on a look.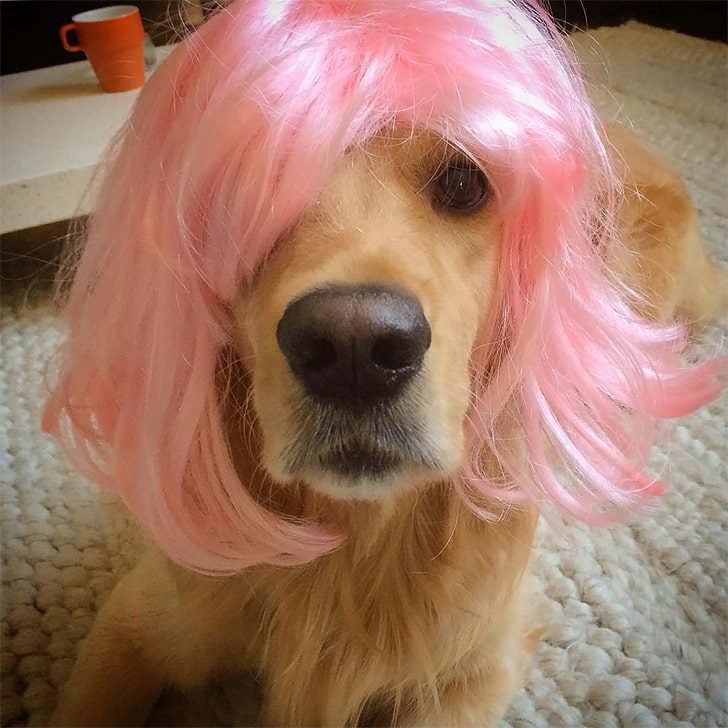 At first, Max was hesitant about the wig. He pawed at it, trying to get it off, and looked at his owner as if to say, "Are you serious?" But once he realized how fabulous he looked, he strutted around like he owned the place.
No Stopping Them
As he posed for the camera, Max seemed to grow more confident with each passing moment. He flipped his hair back and forth, smiling at the camera like a pro. It was as if he had been born to wear a pink wig. Next up…a suit!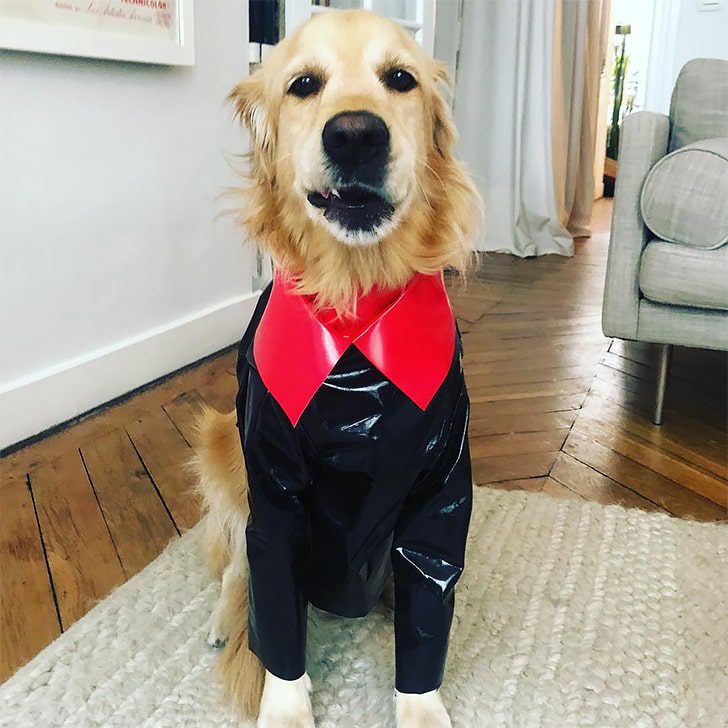 He donned it, and there was no denying that he looked suave and sophisticated. Even with this lone fashion item, you could tell that Max was meant to model. He had just been given his big break. The result is nothing short of dapper.
Cherish the Sun
One of Max's more daunting projects was Cherish. After all, this fluffball is used to chasing after squirrels and napping in the sun…not posing for a music video and crawling toward dry land. But once he heard the catchy tune of "Cherish," something clicked.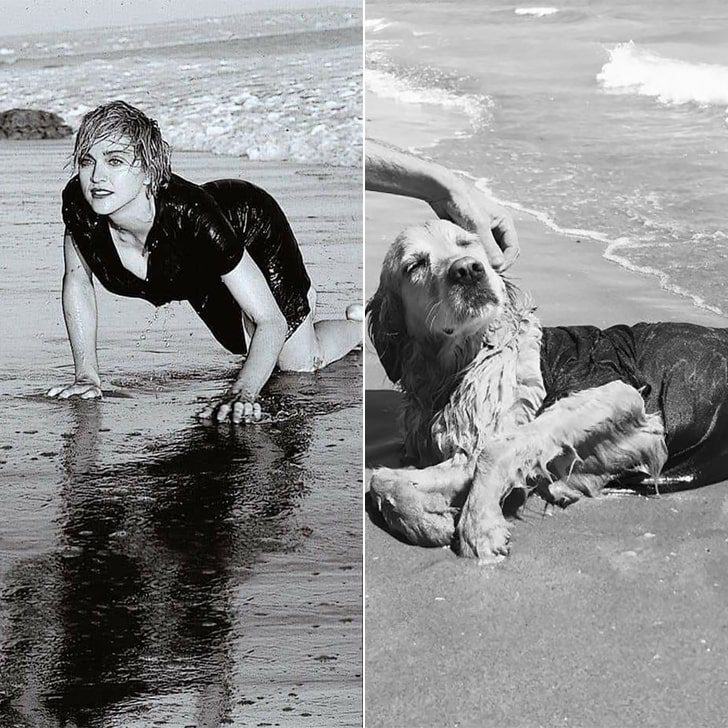 As he posed and preened, drenched in his shirt, Max couldn't help but notice the looks he was getting. Some dogs barked at him, wondering why he was wearing a skin-clad shirt. But others gave him approving nods, wanting to see more fur.
Caused a Stir
Max caused quite a stir with this next project. He had nearly outdone the American singer-songwriter. He had to admit, it was difficult to get into a leotard, much less move in one, but after having flexed his hips, he was thumping to the beat of the music.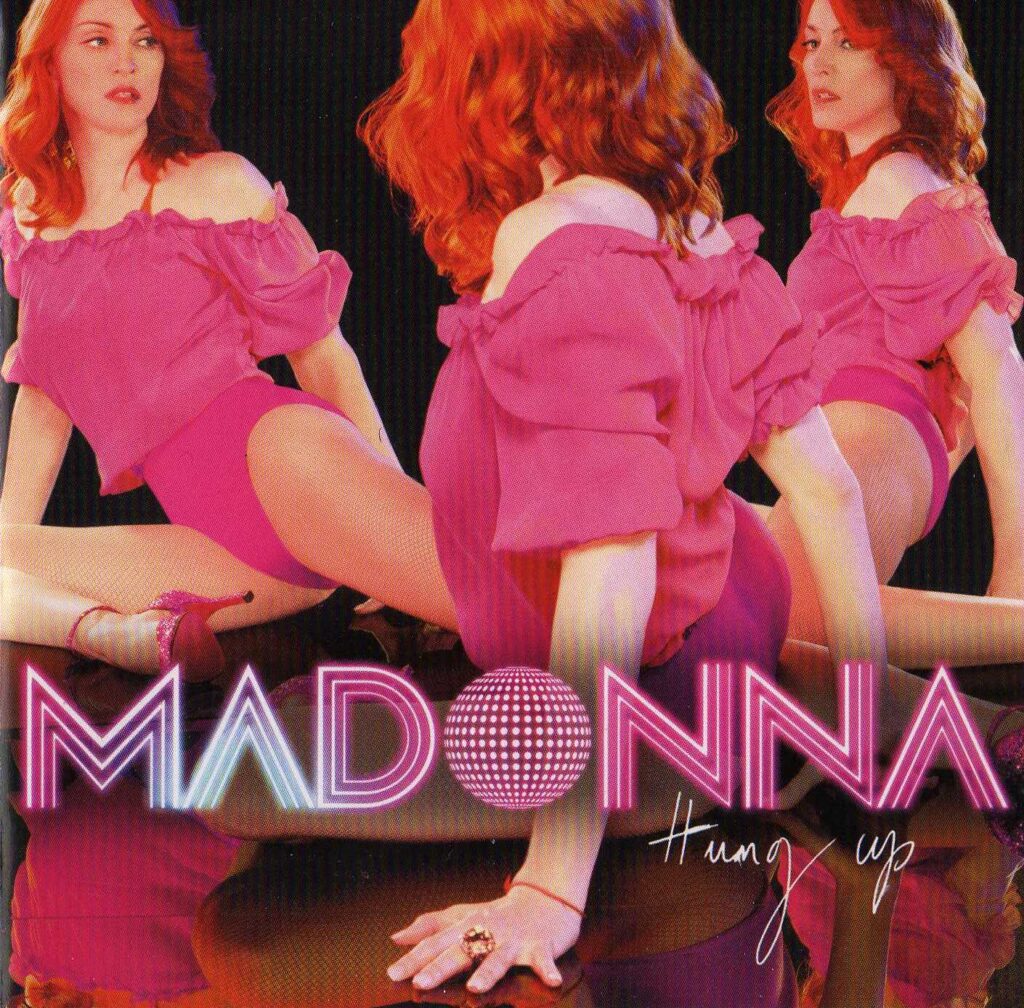 Who would have thought it only took a couple of minutes of down-dog to help Max with his flexibility? Time certainly went by so slowly while he was doing those yoga poses. But after doing a couple of pirouettes, Max was unstoppable!
Must Reach
Here you can see Max making a futile attempt to stretch both hind legs. He had to concede to Madonna. It seems that Madonna knows no physical limits. Max was hung up on the fact that he couldn't perform on par with the singer-songwriter.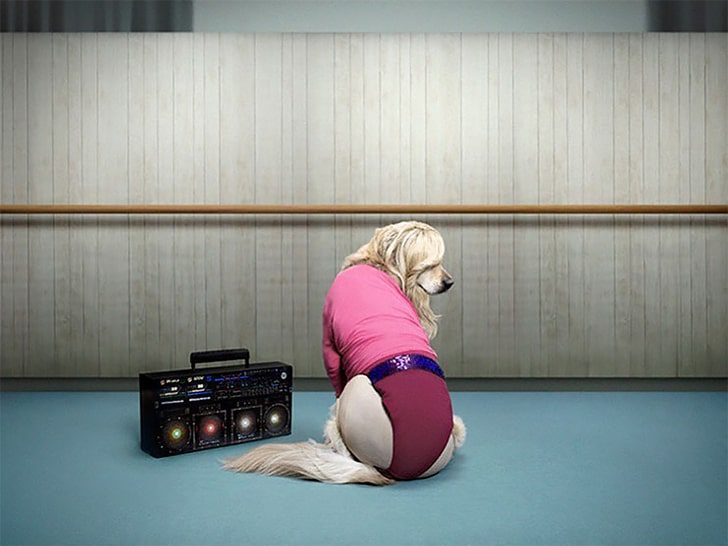 During the shoot, Max admitted to having been tired of waiting on Vincent Flouret. Max wanted to play the music and pirouette, whereas his human had only finished setting up the camera. For Max, time certainly went by slowly while waiting on the photographer to get everything ready.
Choice of Music
Just to give you a tidbit of information about "Hung Up," it was made by fusing disco and pop music. "Hung Up" also features a sample from the 1979 disco hit "Gimme! Gimme! Gimme!" by ABBA, which was cleared by the Swedish band and added to the song's infectious rhythm.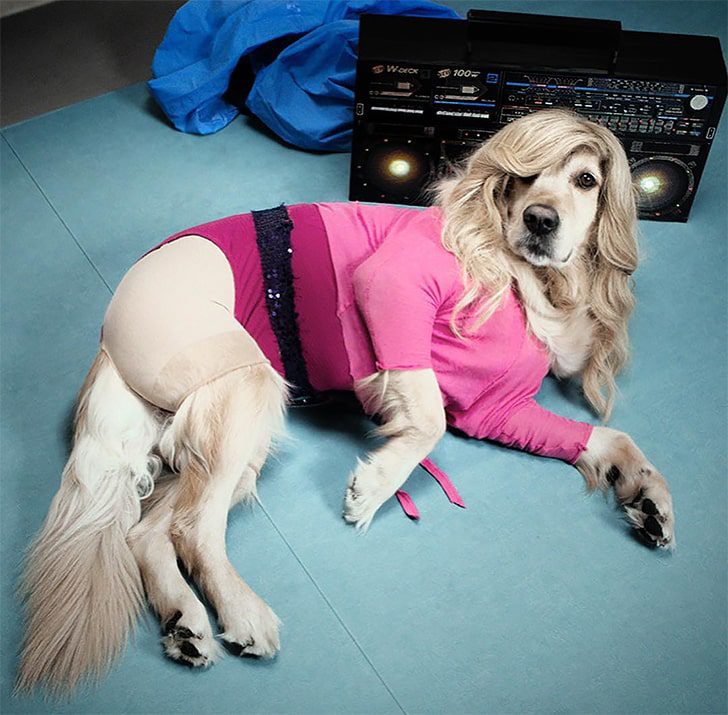 Although it was not Max's ideal choice of music, he couldn't help but reconsider his choice of genre. He absolutely loved the 1980s disco vibe and would stop at nothing to play the song on repeat. It made for easier posing.
Mad Album
Released in 2003, Madame X was Madonna's 10th studio album and featured some of her most experimental and boundary-pushing work yet. The album cover alone was enough to turn heads, with Madonna rocking a fierce, punk-inspired look that had fans and critics alike buzzing.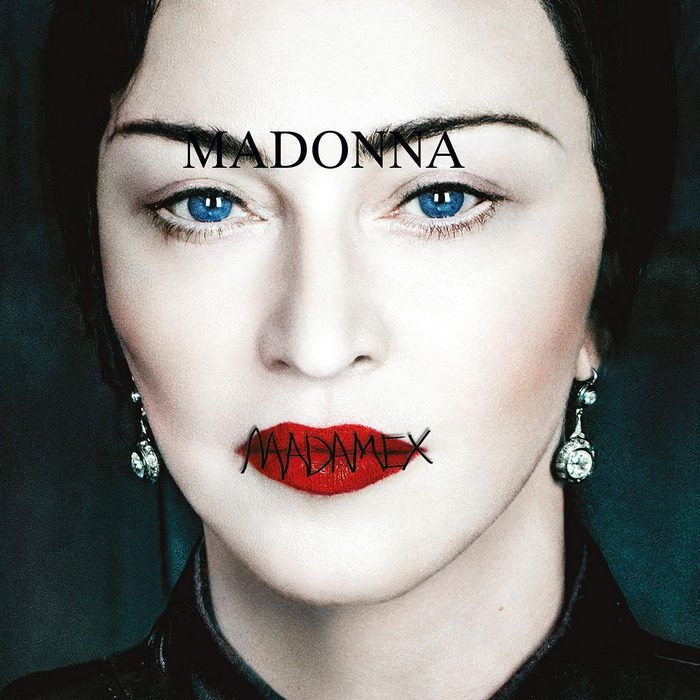 The album also featured collaborations with notable producers and musicians, including Mirwais, Timbaland, and Britney Spears. The album's eclectic sound and boundary-pushing lyrics showed that Madonna was still a force to be reckoned with, even after a decade in the music industry.
Pushing Boundaries
Despite the critical acclaim and commercial success of Madam X, there were still some who didn't quite get it. Some critics called it pretentious, while others just didn't vibe with the album's experimental sound. But that is so like Madonna – pushing boundaries and taking risks!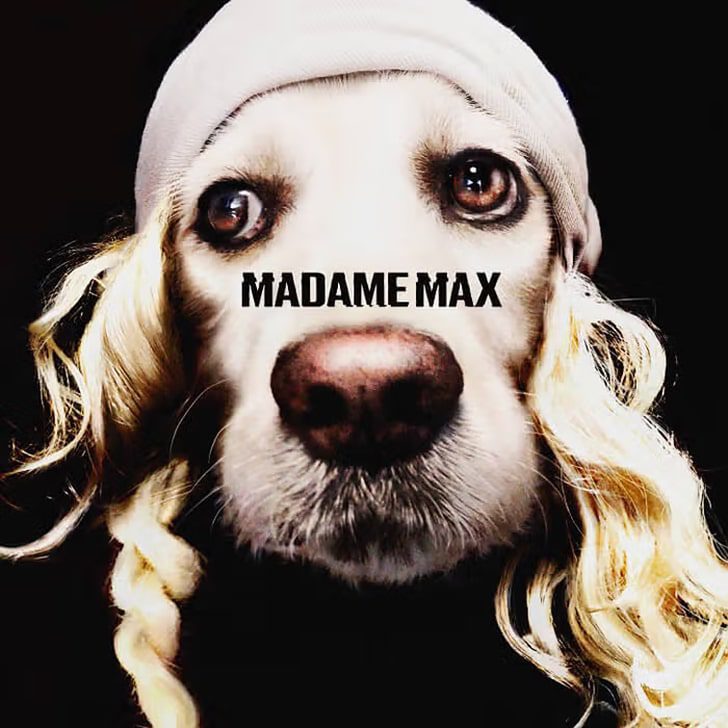 Madame X wasn't just about the looks – it was also about the music. The album's lead single, "American Life," was a scathing critique of American culture and consumerism. When asked to comment about Max's consumerism with recreating the looks, he refused to comment.
Testing
Max admitted to considering the color of the wig he had to wear. He had to choose between black, to match Madonna's hair, or blonde, as in the picture above. He begged his owner to take him to the pet store to find a black wig.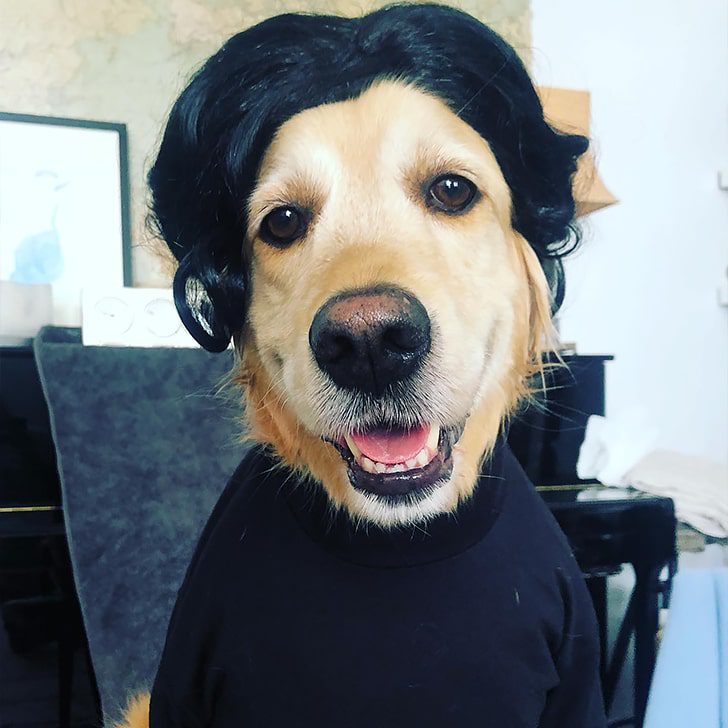 The latter gave in after Max's relentless barking. He spent hours searching through the racks of wigs until he found one short and choppy enough with Madonna's blunt bangs. He barked at Vincent to put it on him, and Vincent obliged.
Keeping It On
But there was one problem. The wig didn't quite fit Max's head properly. It kept slipping down over his eyes, and he had to keep readjusting it every few seconds. And the bangs kept getting in his face, making it hard to see.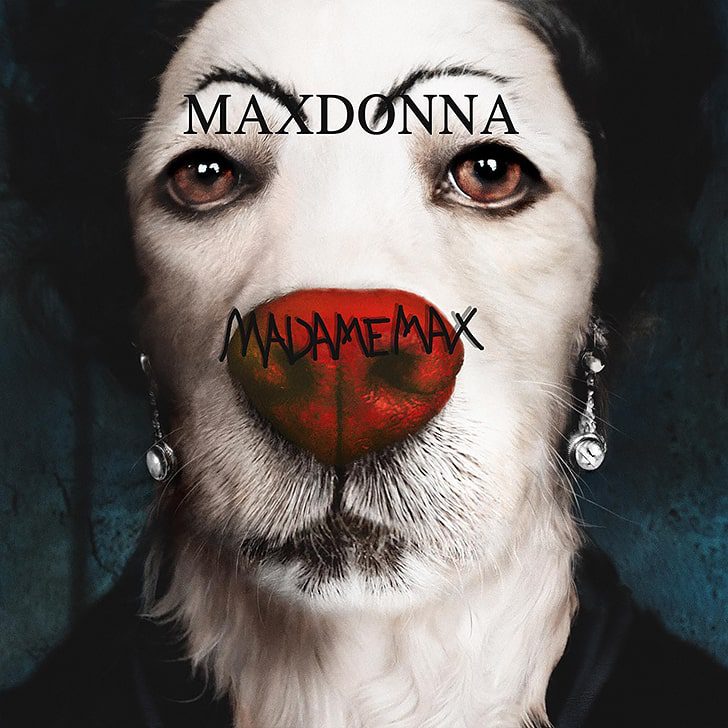 Eventually, both resigned to taping the black wig on Max's head. Of course, it had been way easier for Max to recreate Madonna's album cover with the blonde wig. And we would say that it looked better too, with the contrasting colors!
Oh We Will
Madonna's song "Don't Tell Me" was released in 2000 as the second single from her album Music. The song became a hit, reaching the top 10 in over 20 countries. "Don't Tell Me" is an uptempo country-influenced song with electronic beats and features Madonna's vocals in a lower register.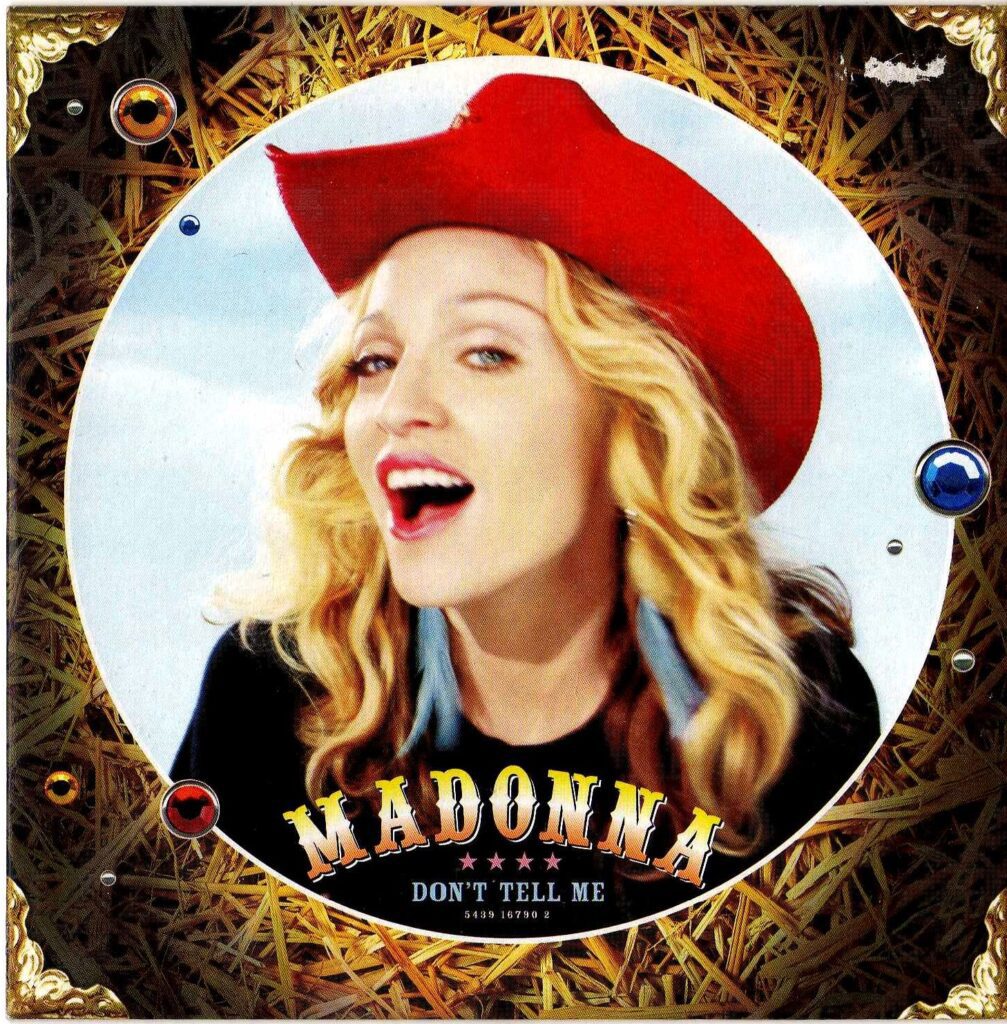 The song's lyrics talk about a woman who is fed up of her lover's lies and wants to move on from the relationship. In the music video, we see Madonna dancing in a Western-themed bar, wearing cowboy boots and hats.
Juice
Just like Madonna, Max received his share of praise for the unique blend of fashion items to mimic the music video. He was moving on from a failed relationship with a poodle. He asked the latter to refrain from telling him how to act when he was being his best self.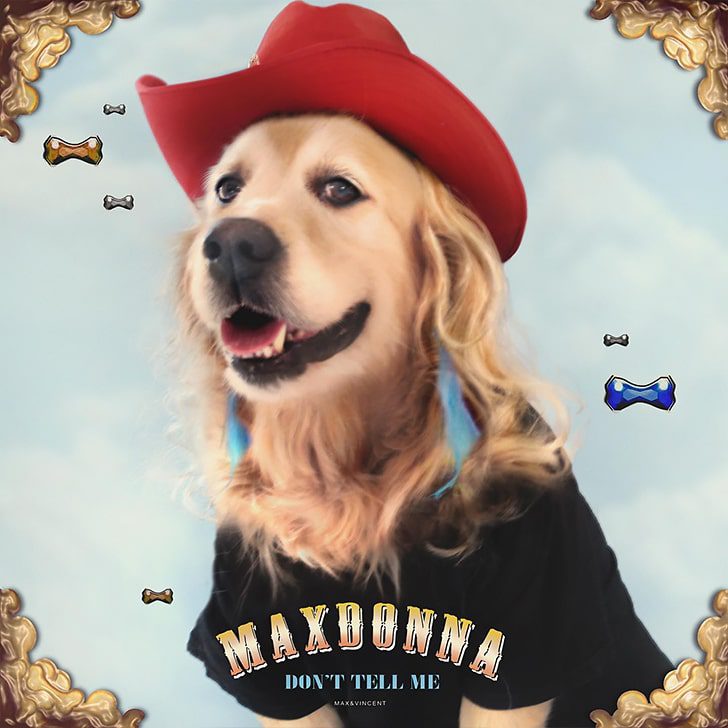 Even if Max could, he refused to stay complacent, domesticated by the stereotype people have of dogs. He asked that his former flame leave him where he lay. He didn't want to be told how to live his life again.
Not for the Faint of Heart
Released in 1992, Erotica was Madonna's fifth studio album, and it was definitely not for the faint of heart. From the scandalous title track to the raunchy "Deeper and Deeper," the album was filled with explicit lyrics and sexual innuendos that were sure to make your grandma blush.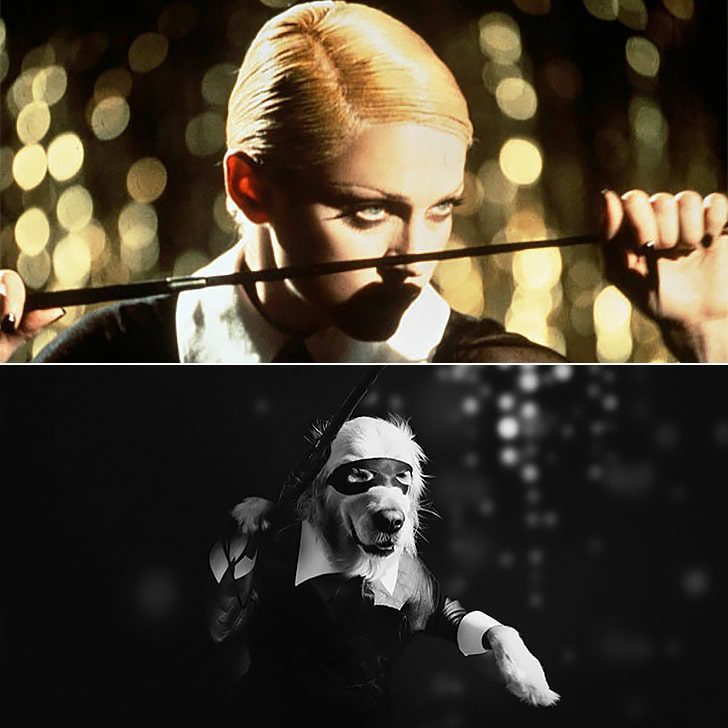 Many accused Madonna of promoting deviant behavior, and some even went so far as to suggest that the album was part of a larger plot to corrupt America's youth. But Max begs to disagree. It's all just an artistic endeavor.
Oh, Really
Ah, Madonna's Like A Virgin – the album that made the world stop and take notice of the Material Girl. Released in 1984, this album solidified Madonna's place in the pop music pantheon and gave us some of her most iconic songs and looks.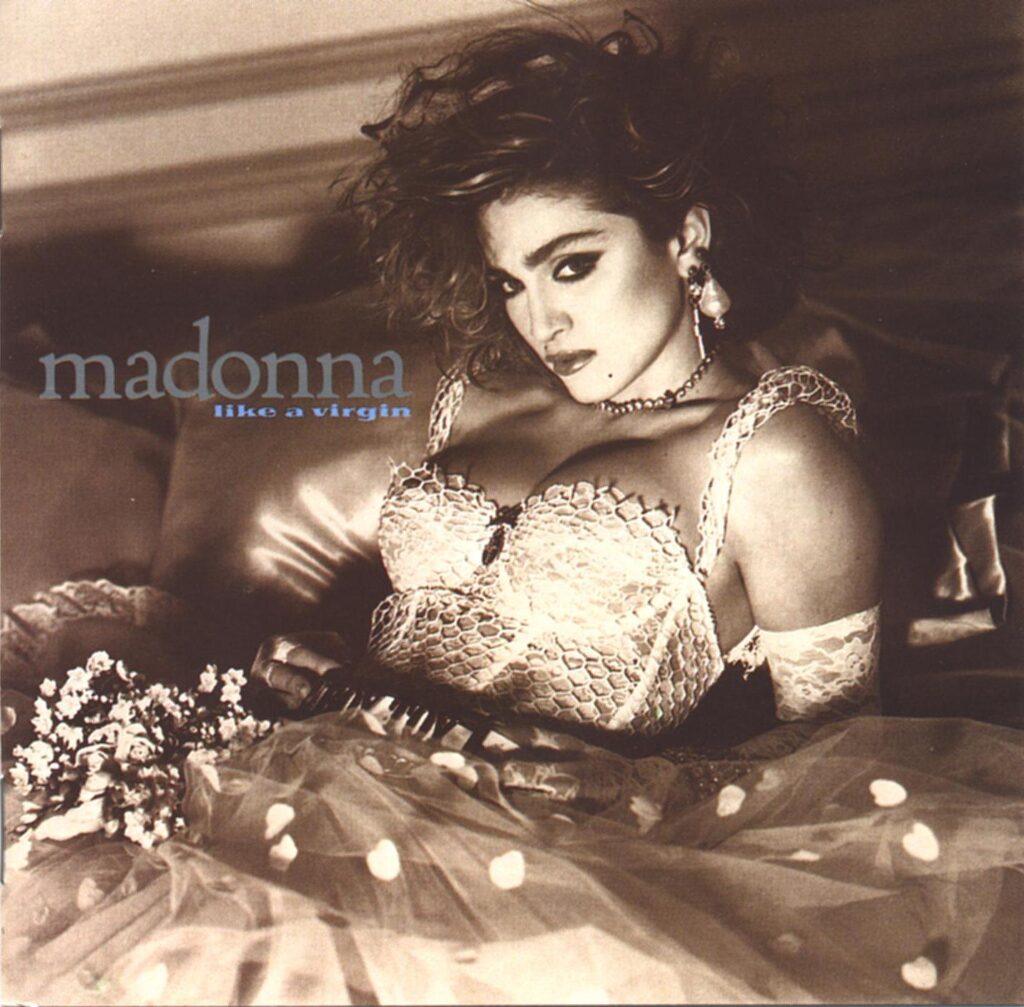 "Like A Virgin" is a song that has been endlessly parodied and imitated over the years. With its catchy chorus and suggestive lyrics, it's a song that you can't help but sing along to, even if you're not entirely sure what Madonna means by "touched for the very first time."
For the Nth Time
Madonna herself seemed to relish in the attention, famously stating that she was "not a feminist, I'm a humanist." This may have hurt Max's feelings momentarily because he was not, in fact, a human. But afterward, he was confident that Madonna would have changed her mind…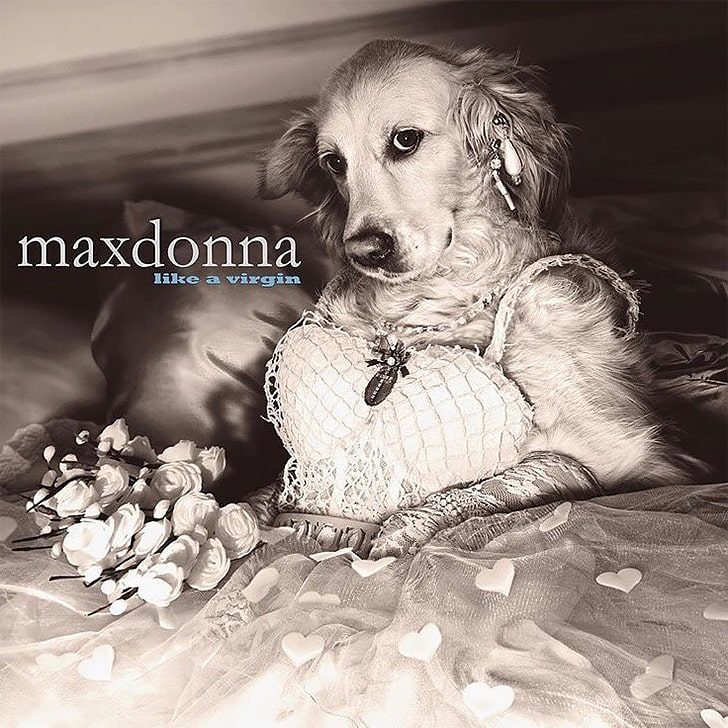 …had she known that he was such a great fan. There's no denying that part, as Max rolls around a gondola in Venice, wearing an elegant yet risque wedding dress. Who would have thought that lace and gloves would suit a Golden Retriever?
Shhh
Madonna's sixth studio album, Bedtime Stories, proved that even material girls need some shut-eye once in a while. Having taken a break from the sexually provocative shots, this album showed a softer and more vulnerable side of Madonna and Max.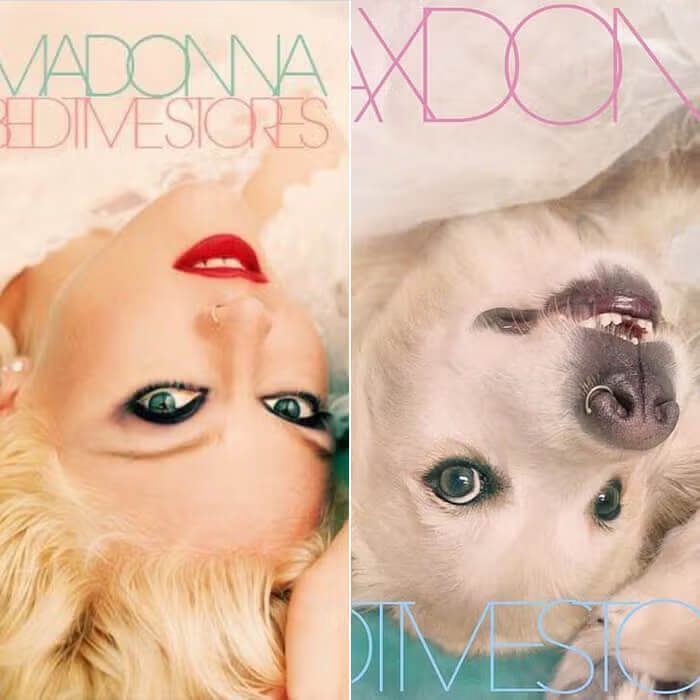 What's Madonna without some sexual overture? Madonna admitted that she was unashamedly a sexual being in the song "Human Nature." She isn't sorry, and she will probably never be. It caused a stir at the time, and we're guessing it would make the headlines if it were released today.
A Lifetime Ago
Madonna's "La Isla Bonita" is a classic pop song that was released in the late 80s. It was written about the island of San Pedro in Belize, which Madonna visited during her marriage to actor Sean Penn. Yep, even we didn't know the two were married.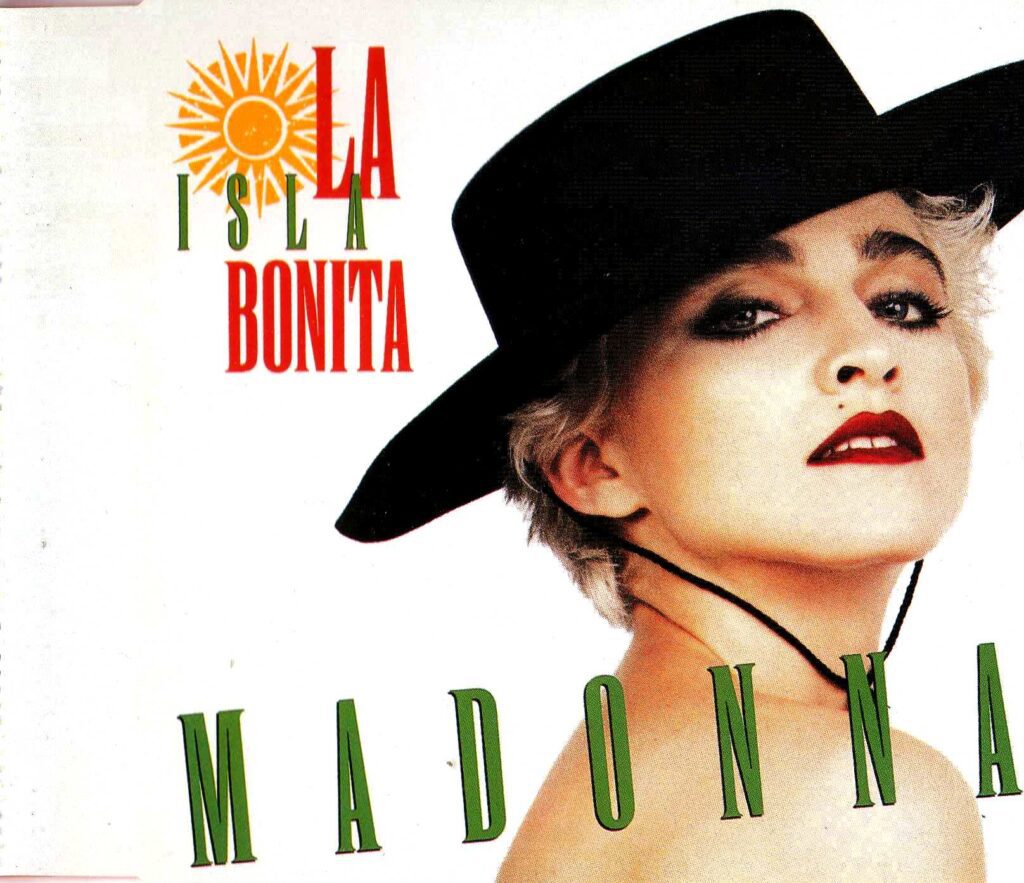 But enough of Madonna's failed marriage. The song's lyrics are about a woman who dreams of returning to the island of San Pedro, where she fell in love with the music and culture of the local people. It sounds like she had one heck of a holiday.
Multi-Lingual Madonna
Madonna's vocal performance on "La Isla Bonita" is also noteworthy, as she sings in both English and Spanish, showing off her impressive linguistic skills. In fact, the song helped to establish Madonna as a global superstar, being a hit in America, Spain, Italy, and Germany.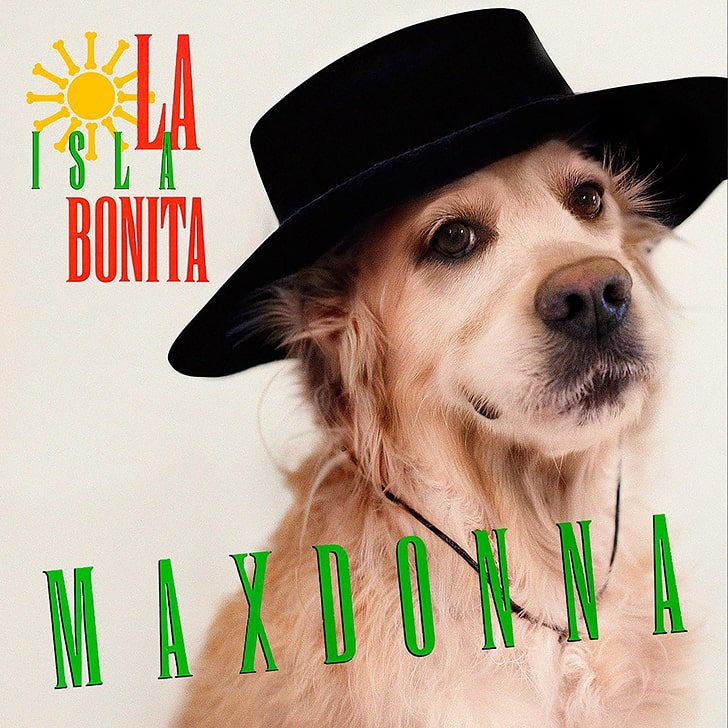 Max isn't one to back down. Apart from recreating the shoot, he also made a cover of "La Isla Bonita." It was a hit amongst all canines worldwide. Might it have to do with the fact that the song was a fusion of feral Latin and pop music?
80s Cameo
What is a pop star without having crossed over to the film industry? Madonna made it big when she was asked to appear in the comedy-drama Desperately Seeking Susan. It was a pivotal moment in her career during her early years in the industry.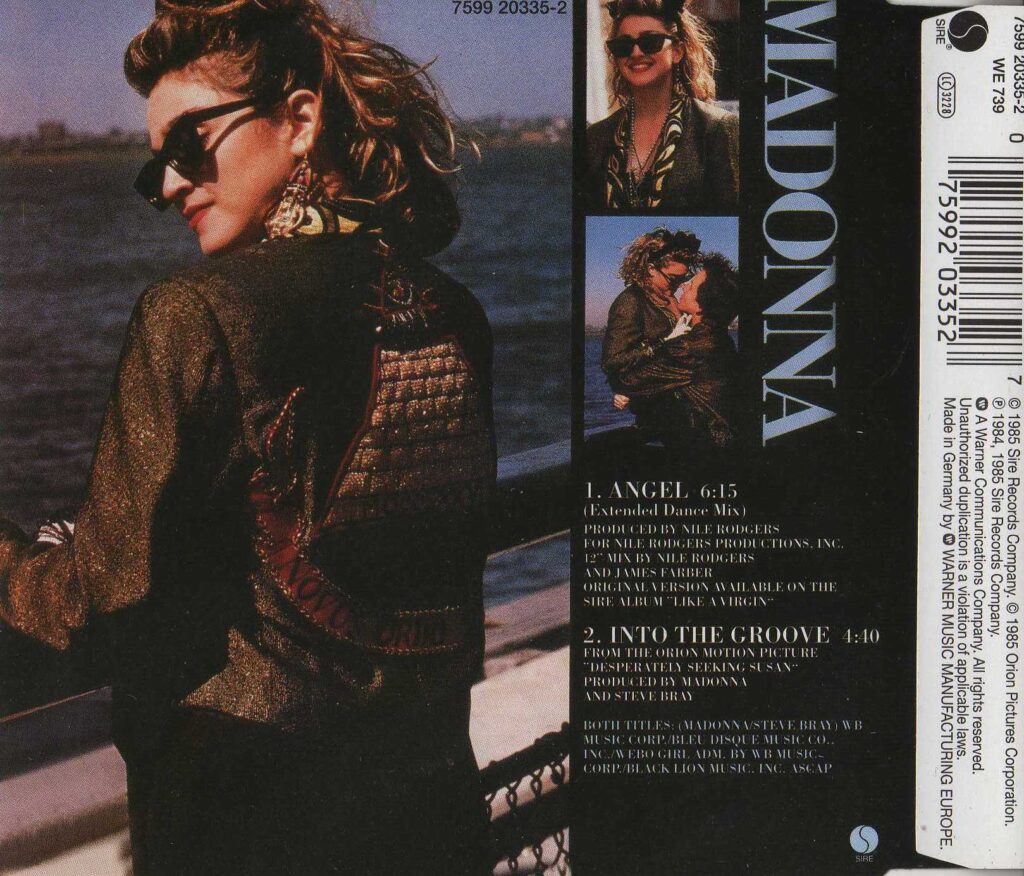 In the film, Madonna plays the role of Susan, a free-spirited bohemian who is the object of the main character's obsession. It showcased her distinctive style, with Madonna sporting her signature bleached-blonde hair, fishnet stockings, and numerous bracelets. She looked every bit like the pop star that she was.
Cultural Touchstone
The film's soundtrack also featured several of Madonna's songs, including "Into the Groove," which, to no surprise, became a hit! But Madonna's cameo was more than just a breakthrough moment. The film itself was a cultural touchstone, capturing the mix of New Wave music, fashion, and downtown New York City cool.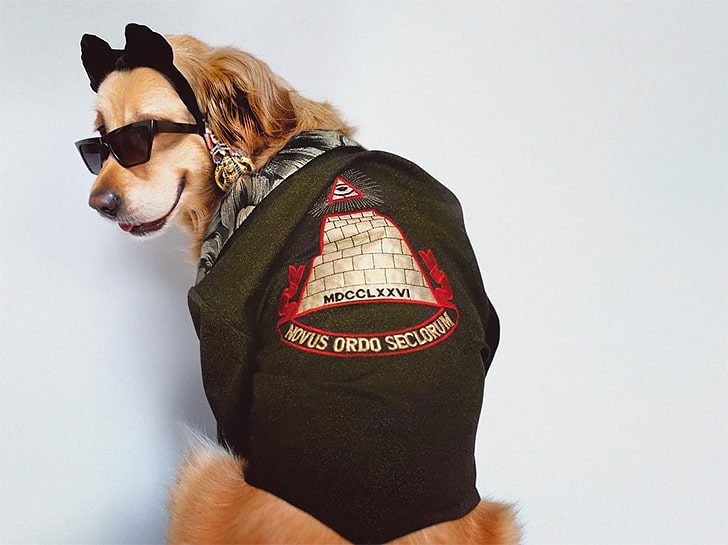 Today, Desperately Seeking Susan is considered a cult classic. And if any of these pictures happen to tickle your curiosity about the movie, then this is a sure sign that you should cook yourself a bucket of popcorn and binge-watch.
Blinding
Produced by William Orbit, the album Ray of Light features some of Madonna's most beloved songs, including the title track, "Frozen," and "Nothing Really Matters." The album's themes of spirituality, motherhood, and self-discovery also set it apart from Madonna's earlier work.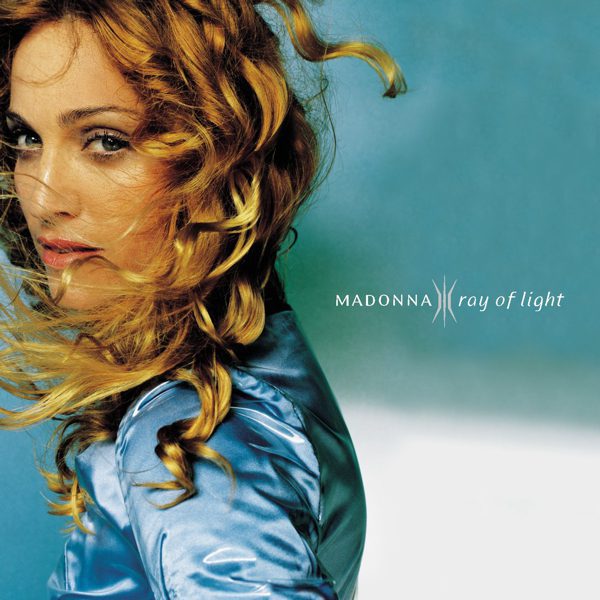 The album's title track, "Ray of Light," is considered one of Madonna's greatest songs and features a pulsing electronic beat and soaring vocals that capture the song's message of personal transformation and spiritual enlightenment. "Ray of Light" was a critical and commercial success, winning four Grammy Awards.
Visionary
The album's success also paved the way for a new wave of electronic and techno-influenced pop music in the late 1990s and early 2000s. And the "Ray of Light" music video featured Madonna in several scenes showcasing her artistic vision.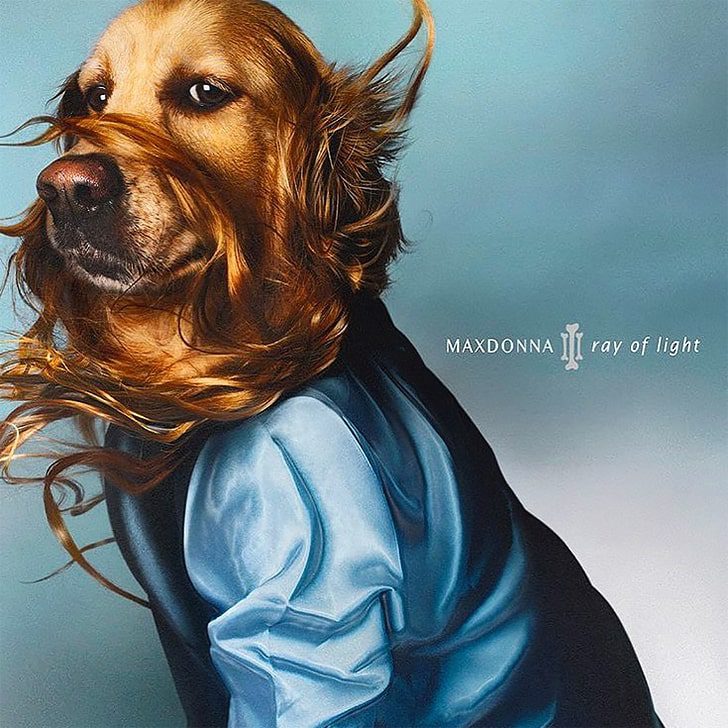 Many of Madonna's fans saw that vision for themselves too. Max might have been too hung up on the idea because he asked Flouret's help to recreate the video shot for shot with some clever editing. We would say that it was a success!
It's A Material World
You would think that much would change with introspection. But many of us unabashedly admit that we are still "material girl(s)" at heart. Blame it on our love for material possessions and the power that money brings. Take it from Madonna; there's no shame in being a material girl.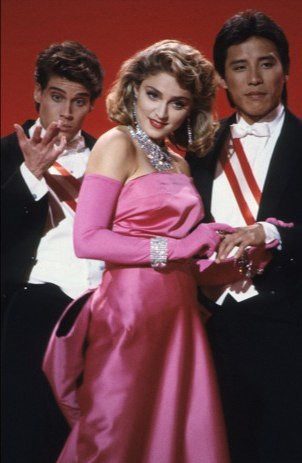 At its core, "Material Girl" is a song about a woman who wants to be showered with gifts and money and who believes that material possessions are the key to true happiness. We would agree to some extent. There's a limit to the level of happiness that money buys.
And We're Material Girls
In the video, Madonna channels her inner Marilyn Monroe, performing a dance routine inspired by Monroe's famous performance of "Diamonds Are a Girl's Best Friend" from the film Gentlemen Prefer Blondes. Madonna wears the iconic pink dress and matching gloves.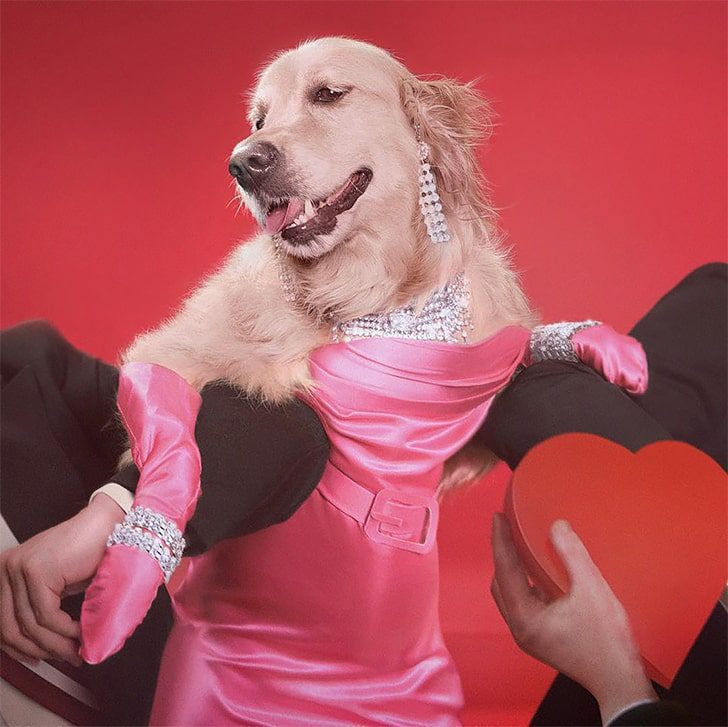 Like Madonna, you will see that Max is equally surrounded by a group of male suitors who vie for attention by showering him with gifts. Despite its somewhat controversial message, "Material Girl" has remained a beloved classic and is a staple of dance parties and karaoke nights.
Come On, Vogue
Max took Madonna's advice to heart and "struck a pose." It might have been doubly difficult for him to do the vogue move. In case you don't know what it looks like, it involves striking a pose with your arms raised above your head.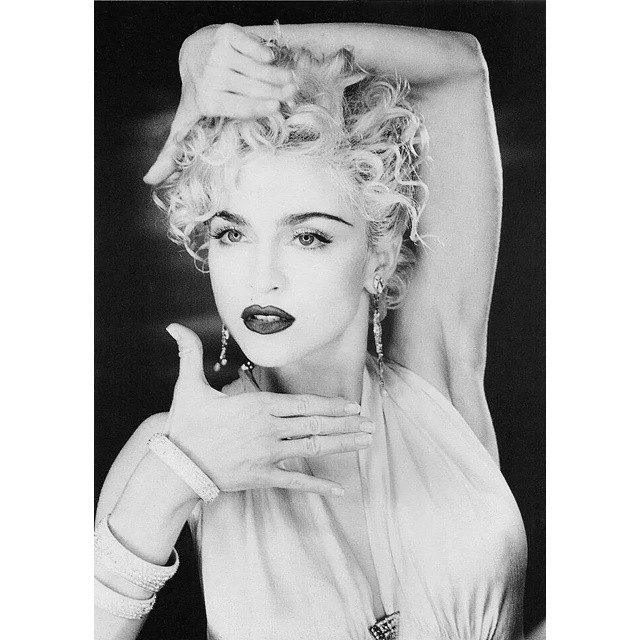 It's the kind of move that looks deceptively easy – you might think, how hard can it be to strike a pose with your arms in the air? But the reality is that it takes a lot of skill to get it just right. It also takes a great degree of flair!
A Superstar
One of the keys to nailing the Vogue move is to make sure that your poses are sharp and exaggerated. You want to create sharp angles with your arms and legs and really exaggerate the lines of your body. Think of yourself as a living, breathing sculpture.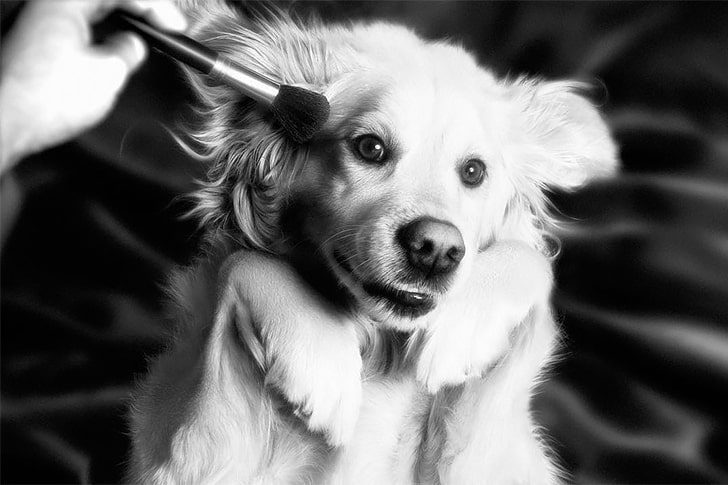 Max found his rhythm eventually. He learned to "move with the music." He had to listen to the song several times over before he finally got a sense of rhythm and got into the flow with his paw-some movements. Go, Max!
Study Notes
When you don't see Max by his leash, you will almost always see him intently watching Madonna's music videos. He might even be barking to "Material Girl."But don't be distracted by his music appreciation. He's taking down notes and memorizing every iconic move.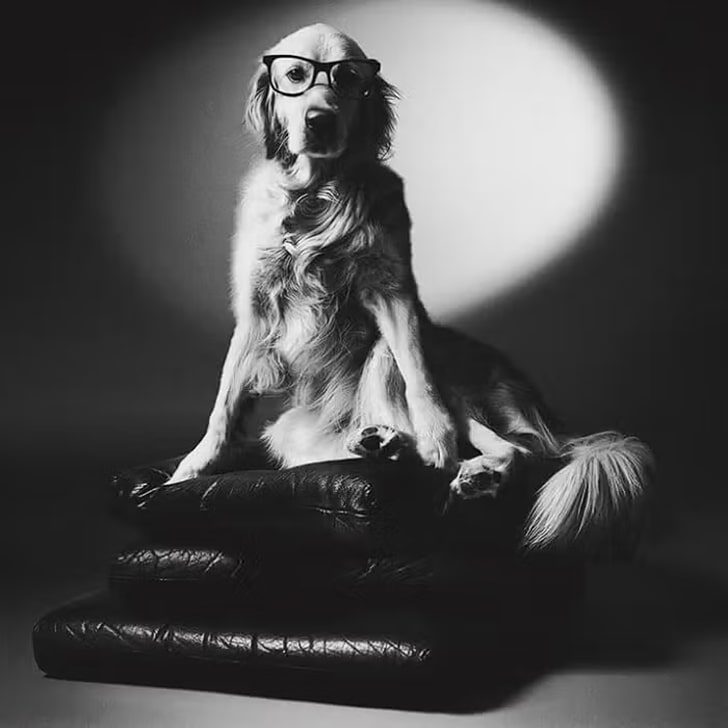 Max is committed to his education. He spends dog years listening to Madonna's hits, analyzing the lyrics and the beats, as well as the cultural influences that give context to the song. And just like any student, he'll take breaks as often as he needs.
Different Than That In Mind
The breaks you have in mind might not necessarily fit the bill. During his free time, Max is determinedly embodying Madonna's fashion sense, wearing different colored wigs and signature cone bras out of which dog treats erupt. It is quite a sight.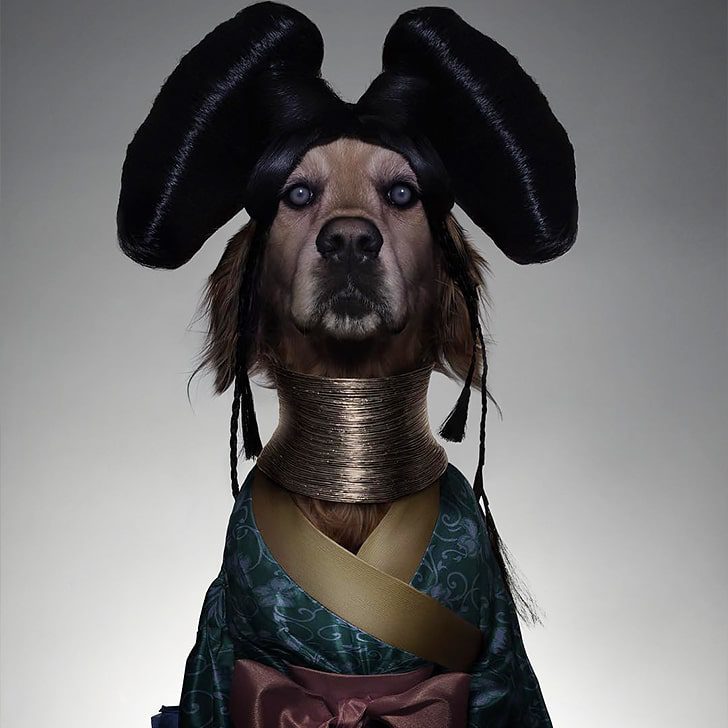 Should Max's owner be concerned about his apparent fanaticism about Madonna? Not one bit. Vincent figures that it would be better for this dog to educate himself about pop culture and the arts instead of spending all his time chasing after birds in the garden.
Brown Ambition
Next up, we discuss Madonna's Ambition tour. From the opening number, where Madonna emerged from a giant disco ball in a revealing black and silver outfit, to the closing "Like a Prayer" performance with a full gospel choir, the Blonde Ambition World Tour was a spectacle unlike any other.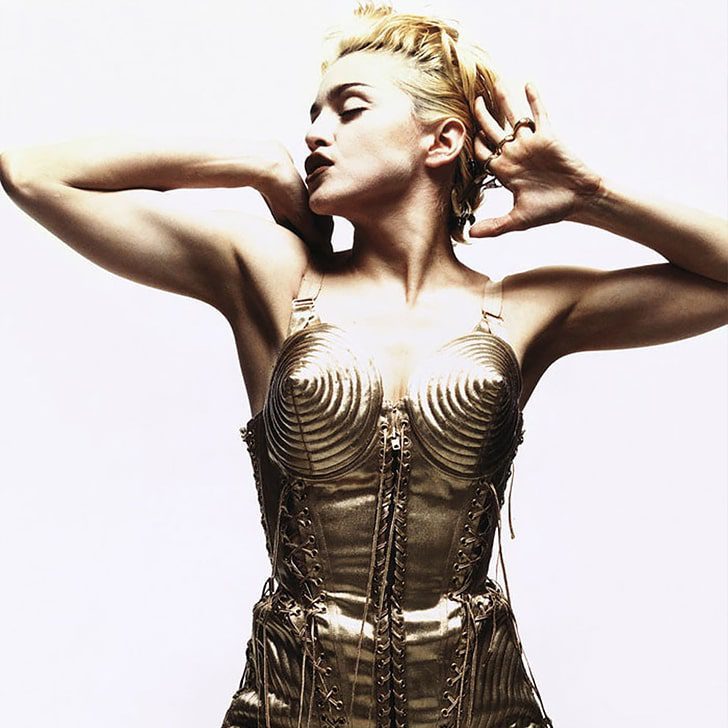 It wasn't just the music and dancing that made the tour so memorable. Madonna's attitude and wit were also on full display. From her infamous Truth or Dare documentary, which chronicled the tour, we got a glimpse into her sharp tongue and playful humor.
Just A Little Play
Who could forget her response when a reporter asked her if she had any regrets about the tour's risque content? "I'm not sorry," she quipped. "It was a lot of fun." She even playfully flirted with her backup dancers on stage, telling one to "take it off."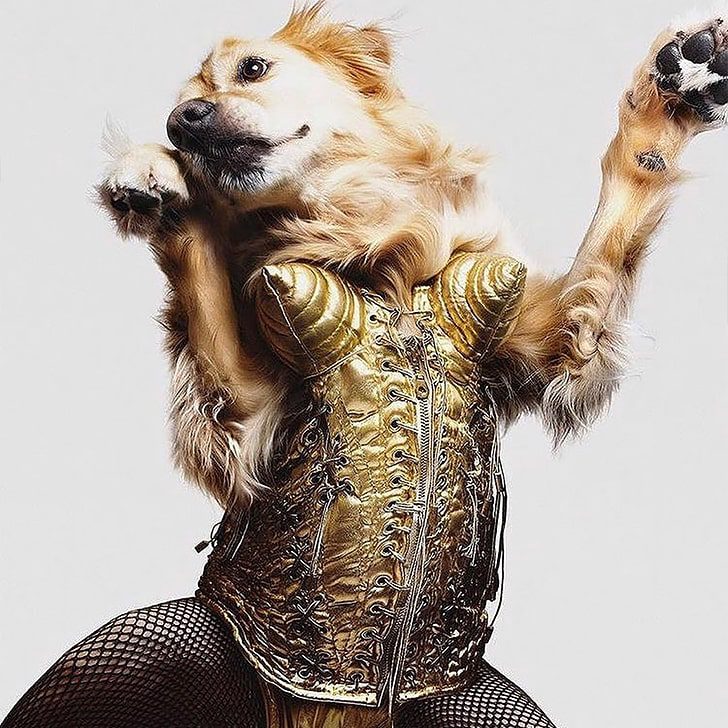 The iconic "Like a Virgin" t-shirt, featuring a cartoon version of Madonna with her signature pointy bra, became an instant collector's item. And fortunately enough, there are enough sizes to this day that can fit a Golden Retriever like Max.
Corset Bra
This was one of the most challenging projects Max had to work on. It took him an hour to comb his fur and another hour to get into that corset / pointy bra. Three pairs of hands had to help him lace everything up, and by then, he was panting!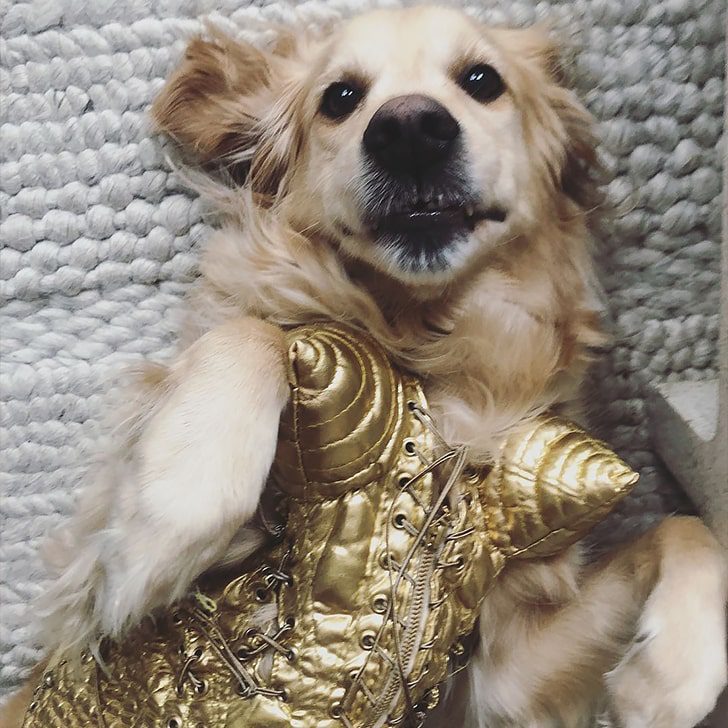 Once he had gotten used to the piece, he nearly didn't want to take it off. It looked so flattering on him that it caused quite a stir amongst the Pit Bulls and the Chihuahuas. Nearly every canine was barking at their owners to buy them one.
Pop Royalty
Madonna's True Blue album proved that she deserved to be crowned the Queen of Pop. For starters, who can forget the music video for the album's title track, where Madonna donned a blonde bob wig and a preppy outfit, complete with a cropped cardigan and pleated skirt?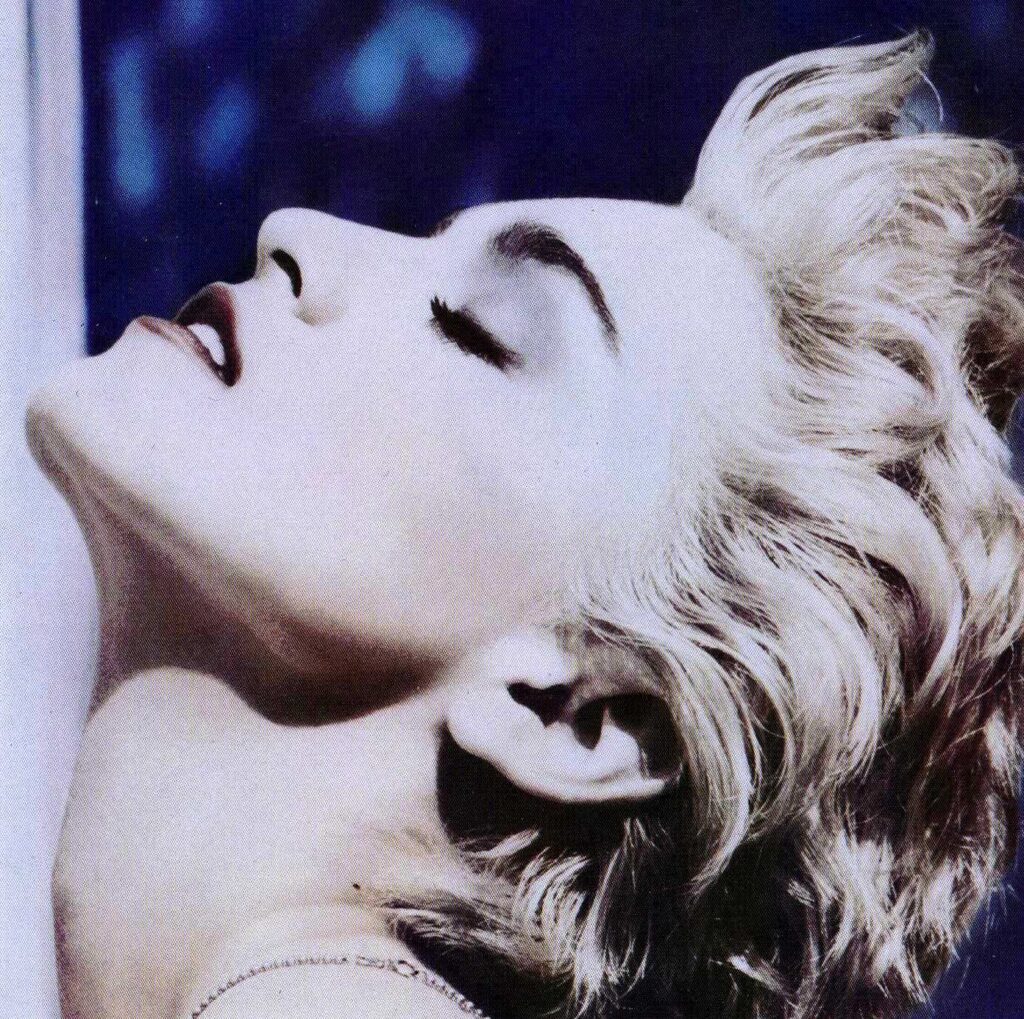 And let us not forget the album cover itself, which features Madonna in a blue denim jacket, her hair styled in a quintessentially '80s perm. We would not have thought that this hairstyle would see this century's light of day…
Bring It Back
But here comes Max, floppy-eared with a curly 80s perm. Everyone thought he couldn't pull it off. After all, Max had sensitive skin and hair. And if not done correctly, a perm could cause severe irreversible damage to a dog's coat.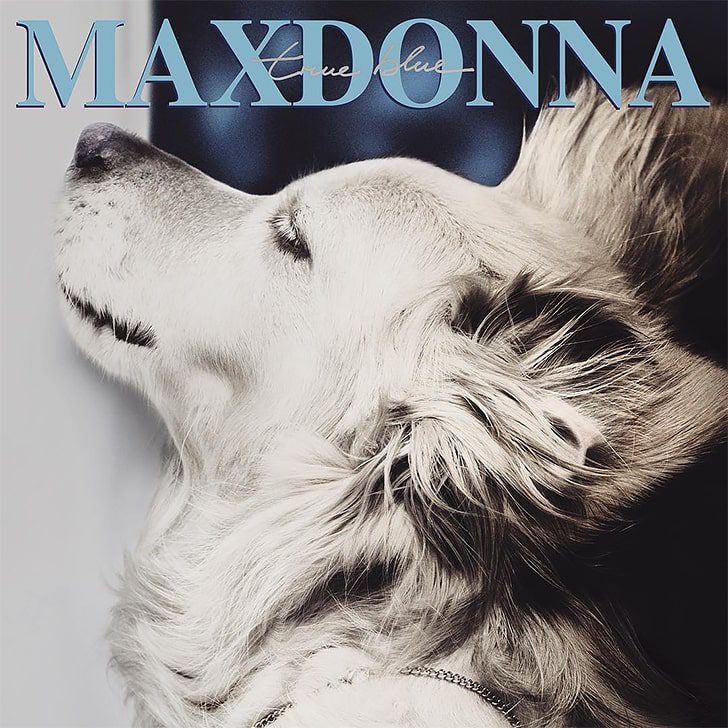 Somehow, Max's professional groomer was able to pull it off. With some lighting and a significant number of styling sprays, they were able to recreate the album cover with Max arching his neck, dreaming of "True Blue" skies. Here's to the glory of the 80s.
Out of Character
Madonna's 2000 album Music was a major success, but some would describe it as hilarious. For starters, the music video for the album's title track features Madonna as a cowgirl, complete with a cowboy hat and fringed jacket, riding a mechanical bull.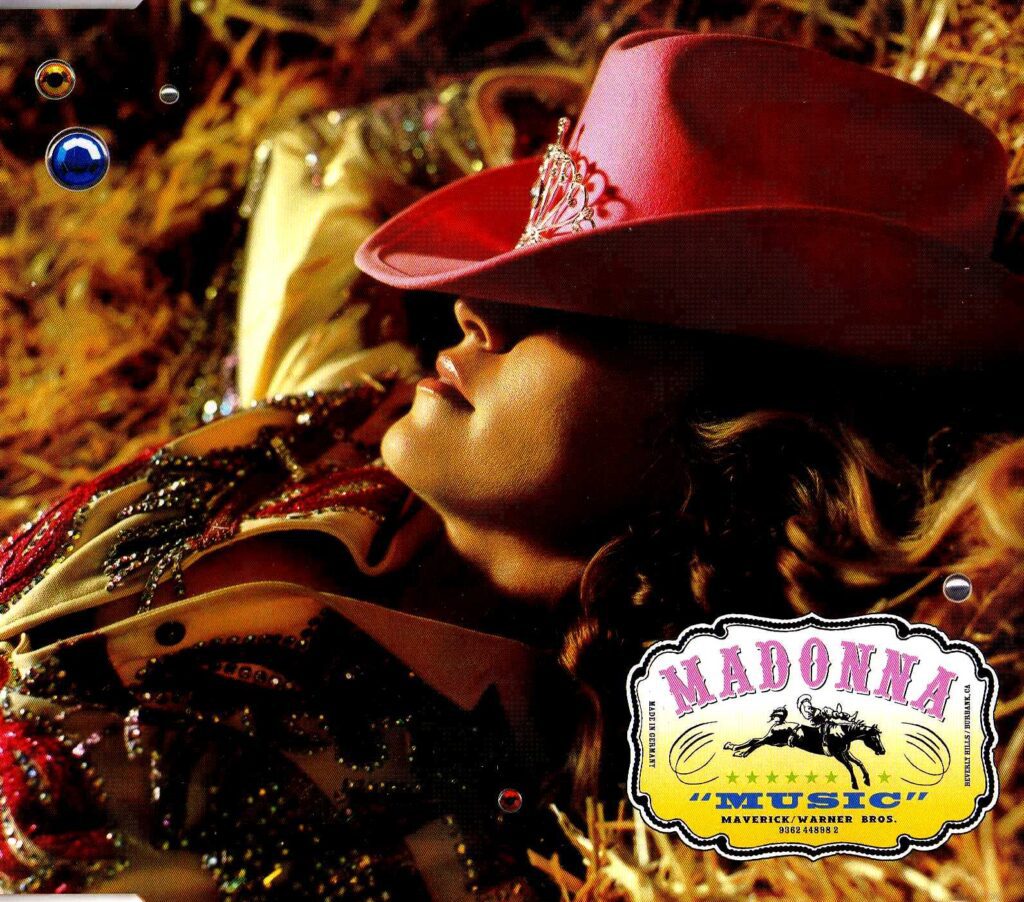 Then there's "Don't Tell Me," a song that features Madonna singing about her determination to move on from a failed relationship. The music video for the song features Madonna line dancing with a group of cowboys, wearing a belly shirt and cowboy hat.
Rope Loops and Collaborations
Who could forget "What It Feels Like for a Girl," a song that features Madonna singing about the experience of being a woman in a male-dominated world? The music video features Madonna causing chaos and destruction as she drives recklessly through the streets.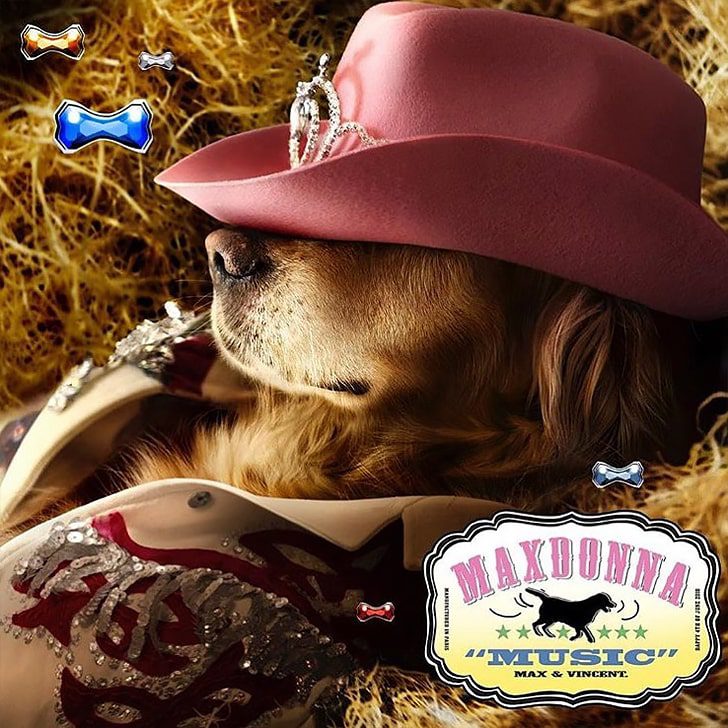 But behind all the humor and hijinks, Music was also a serious and innovative album. It showcased Madonna's ability to rein in a horse and steer it in the barn. It also featured collaborations with cutting-edge producers like Mirwais Ahmadzaï and William Orbit.
Impossible for Max
Unfortunately, Max found it impossible to make a rodeo rope loop and, worse, to ride a mechanical bull. He told Vincent they would have to forego that bit of the music video lest he ends up getting trampled by a beast ten times his size.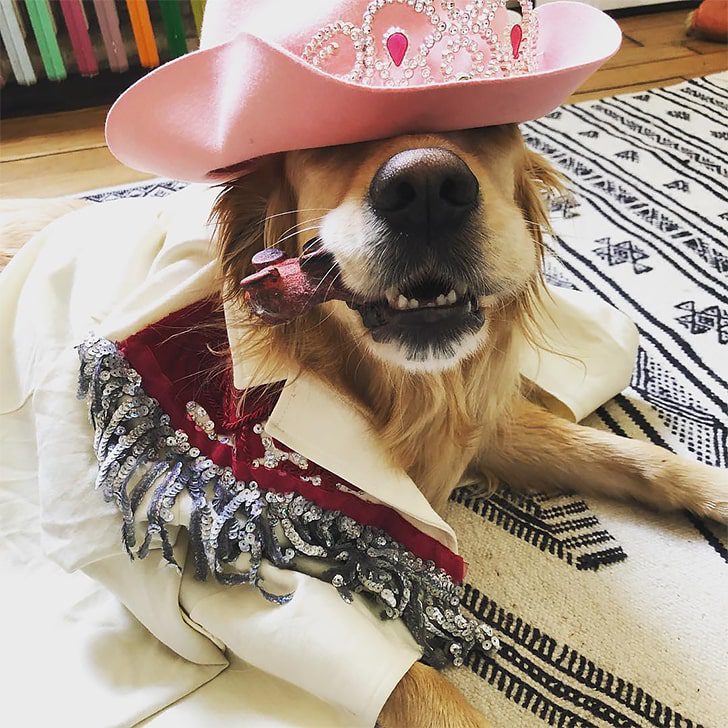 To calm him down, Max barked at his assistants for a couple of pieces of dog bones. It helped raise his sugar levels, pacify his anxiety, and even freshen up his breath for a press conference later in the day. They had to sell this cover tribute.
Behind the Scenes
Here you will see Max with a wreath of flowers atop his head. He had just finished a project for the day and was raising all his legs to have the assistants remove the jewelry pieces. He was clad in nothing but this wreath of soft petals when his owner decided to take a couple of shots.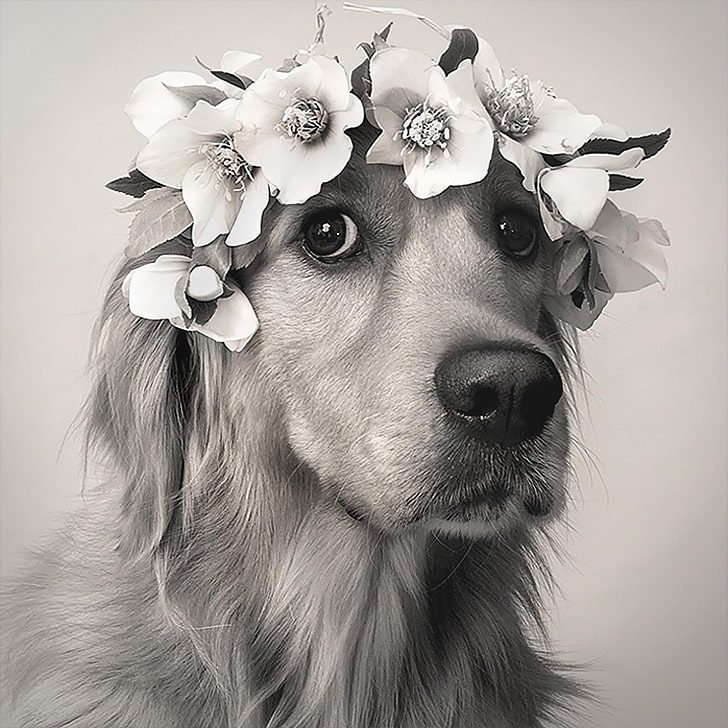 It may not look like it, but this is one of the few moments when Max feels like he can express himself with wild abandon. They had to re-do the shots because he couldn't keep his tail from wagging with excitement.
A Wrap
After Vincent wraps everything up, you will see Max heading straight to the bathroom, where he expects to be cleansed of all the makeup. He may be a model, but even Golden Retrievers deserve some time away from the camera.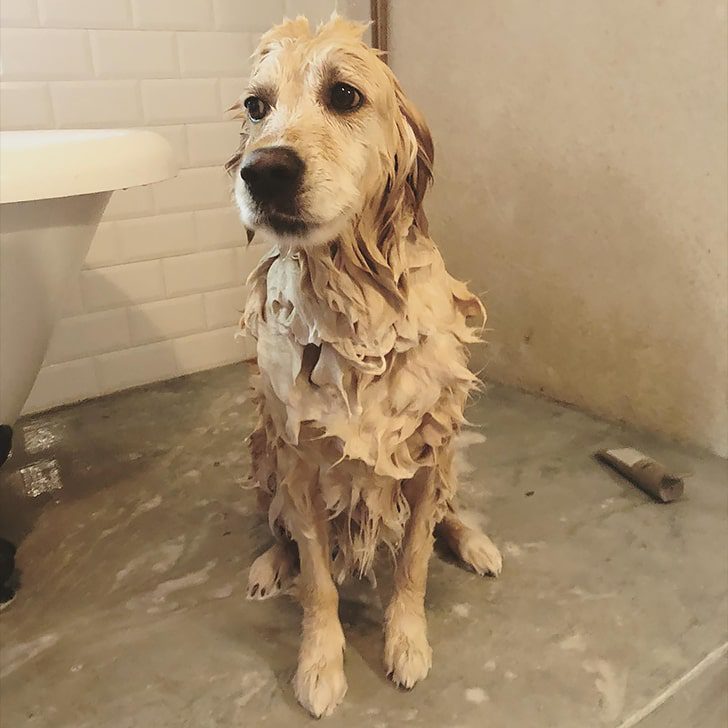 He holds his breath as his human hoses all the confetti down the drain. Max imagines himself to be bathing in the frothy ocean in La Isla Bonita. That helps him get through the whole ordeal of rinsing and drying before he heads to his bed.
Bond
We would think that people would tire of Maxdonna. But people are clamoring for more pictures of this Golden Retriever and for other recreations of Madonna's shots and discography. Max and his human take it upon themselves to satisfy the public.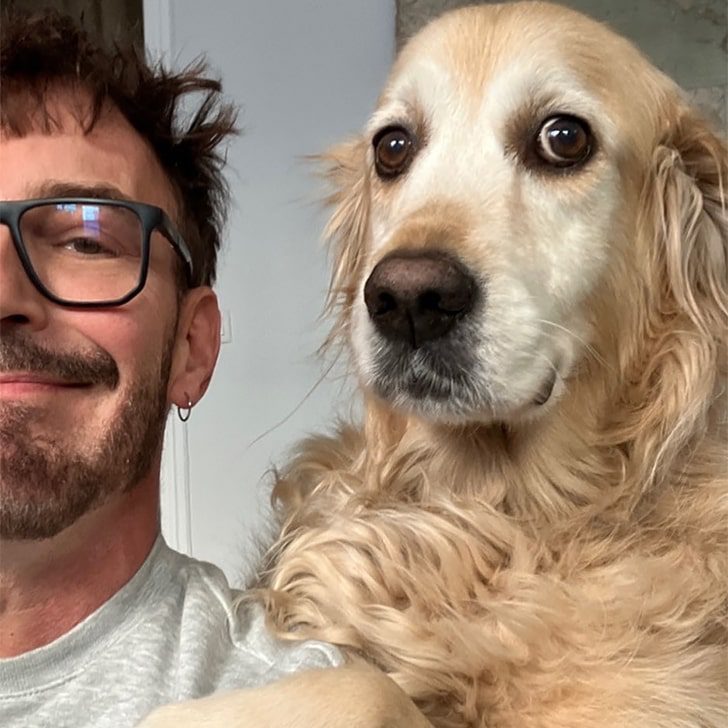 All in all, Vincent and Max's photoshoots may seem silly and lighthearted, but they are also a testament to the power of the human-animal bond. The undeniable love and companionship between a pet and its human is something truly special.
Own Brand
Without a doubt, Max and Vincent have become internet sensations. Fans around the world gush over their adorable photos. Some have even suggested that they should start their own fashion line, with Max as the model and Vincent as the designer.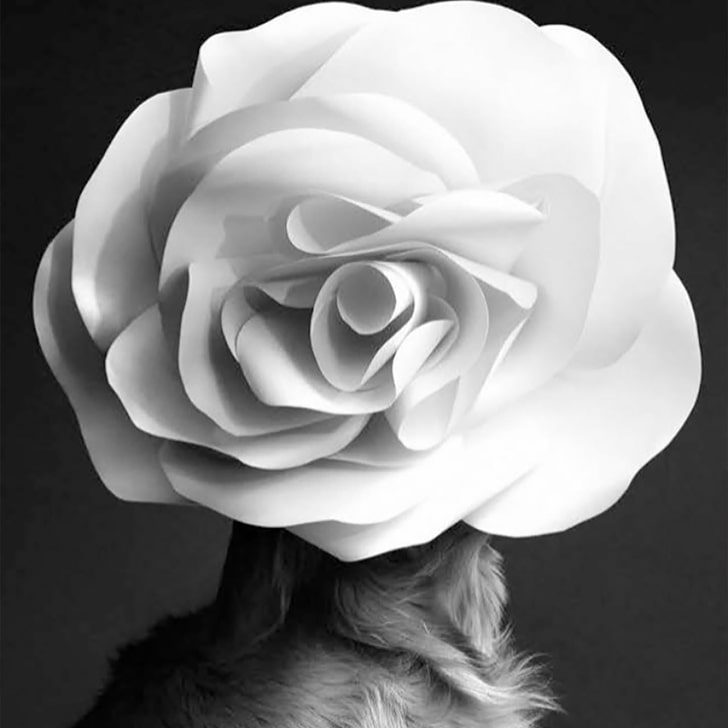 From black and white shots to vibrant, colorful images, Vincent has brought out the best in his beloved pup. And Max has gotten so good at modeling that he can sell this picture for a couple of thousand dollars without so much as showing his smile!