Gone Nuts For Music: A Talented Artist Re-Imagines Our Favorite Musicians As Squirrels
By Jishnu B October 3, 2022
---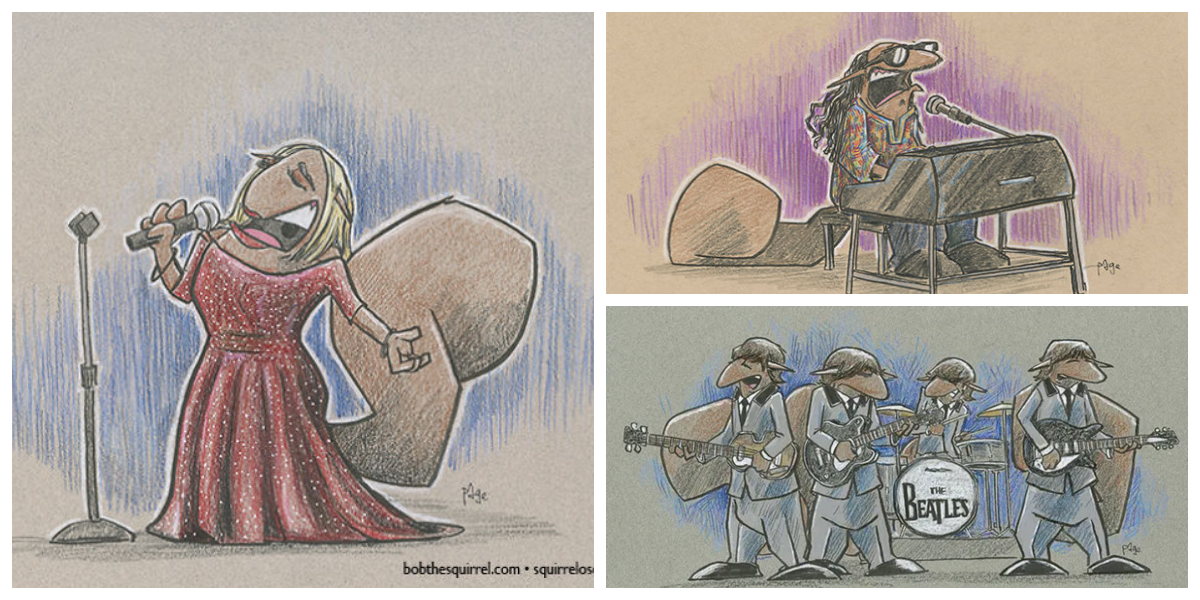 Music is undeniably one of the most incredible things to ever happen to humanity. It's essentially food for the soul. No matter how you're feeling at a particular point, you are bound to find a song that will speak to you and sometimes even heal you. But music doesn't just spring into existence.
Behind every song is a group of talented musicians, producers, and other professionals that deserve our acknowledgment. Everyone has their own ways of supporting their favorite artists. For the cartoonist Frank Page, it's through his drawings.
However, his artistic interpretations are a bit unorthodox. Why? Well, he draws his favorite artists as squirrels! After a 17-year career drawing for the Bob the Squirrel comic strips, 'squirrel-ifying' is second nature to this guy. We have compiled a few of his finest works for your enjoyment. So, read on to find out who among your faves made the cut!
Freddie Mercury
It is only fitting to begin with a man that requires no introduction. Despite his tragic passing three decades ago, Freddie Mercury remains near and dear to our hearts. The Queen vocalist was renowned for his flamboyant persona and powerful voice. His androgynous fashion redefined masculinity back in the '70s and '80s.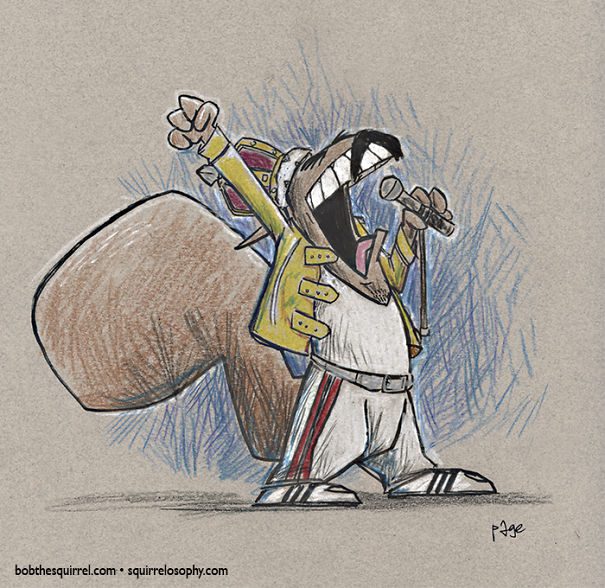 Queen's legendary 1985 concert at Wembley stadium will forever remain one of the greatest events in history. Mercury went on stage and made 80,000 people sing along with his improvised "Ay-ohs!" Here, Freddie the squirrel wore the same mustache, white wife-beater, and yellow jacket. Page even included Mercury's chest hair for added detail!
Ramones
Here's a fun fact some people may not know. Though the members of this rock group all adopted the surname "Ramone," they were not related! Apparently, Paul McCartney was one of their biggest inspirations, so they took this name in honor of one he used to check into hotels; "Paul Ramon."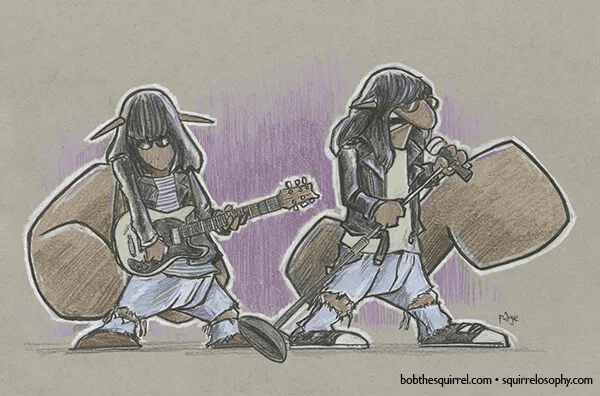 Pictured here are two of the band's four original members, Joe and Johnny Ramone. As you can probably already guess, they were the lead singer and guitarist, respectively. Their music is still loved, more so today, despite the fact that they disbanded in 1996.
Alice Cooper
Alice Cooper might as well be the dictionary definition of the word "flamboyant." The Godfather of Shock Rock is well known for his eccentric personality and fashion, and his live shows are the stuff of legend. Cooper strongly discourages substance abuse, has pushed through his own addictions, and helped other musicians recover.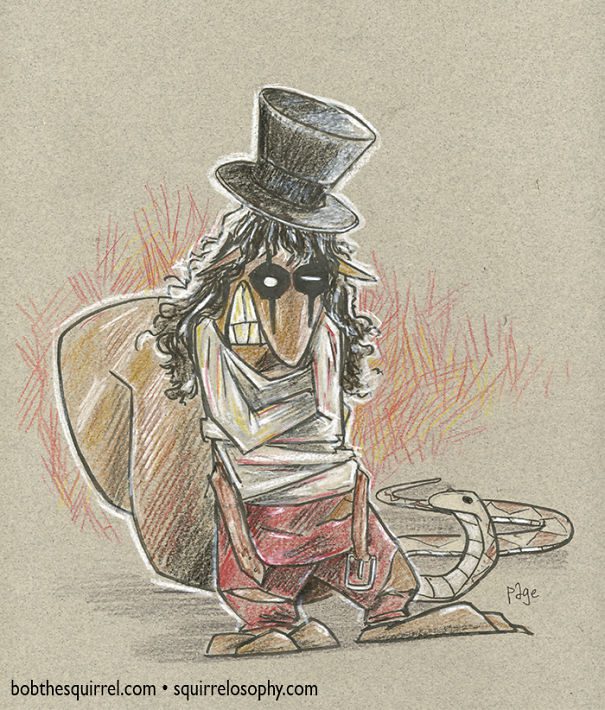 Alice Cooper is notorious for his heavy facial makeup and flashy wardrobe. Throughout his career, he always wore the same style of eye makeup, which became his signature. Cooper is also an avid snake lover who's raised many of these reptiles and frequently showcased them in his concerts and album covers.
Crosby, Stills, and Nash
This group is what we'd call a 'cosmopolitan alliance.' Two of its members, David Crosby and Stephen Stills, are from the US, while Graham Nash is from the UK. They also have a fourth member, who's not pictured here, named Neil Young, who happens to be Canadian.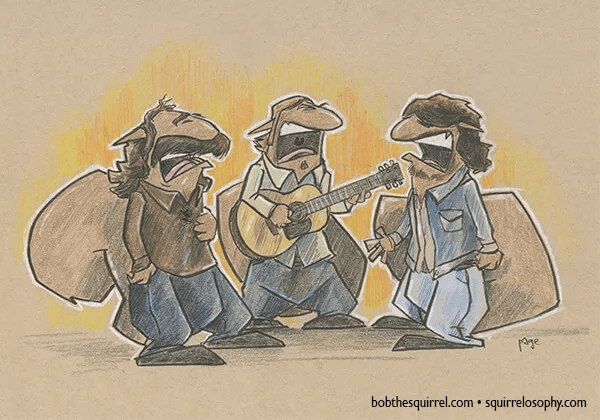 See what we mean by cosmopolitan? Though they haven't been active for over two decades, their music is still remembered as quite influential. It's no wonder Page included them in his collection since there was a time when they were the standard in folk rock music.
Elton John
"Rocket Man" Elton John is one of the world's most outstanding performers from the UK. During his six-decade-long career, he became one of the best-selling artists of all time. Despite his father pressuring him to become a banker early on, Elton forged his own path.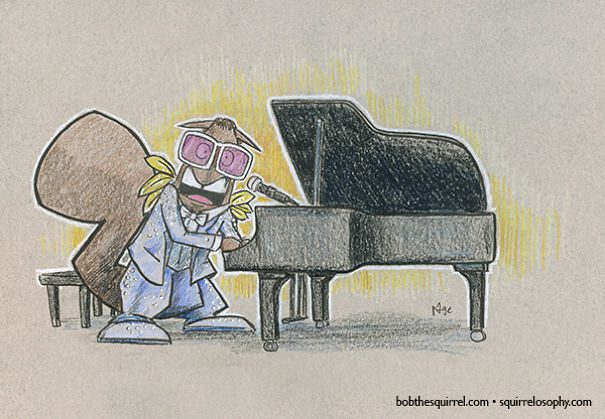 He also established his own signature wardrobe characterized by bright-colored semi-formal men's attire. His flamboyant outfits are often encrusted with gemstones and colorful feathers. As expected, Elton the Squirrel wears the same clothing and also loves his grand piano, just like the real singer.
Snoop Dogg
It is impossible not to know who Snoop Dogg is if you are a Gen Z or Millenial. He is a crucial figure in the hip-hop music scene. Not only is he a great musician, but he's also famous for his humorous personality. He's dabbled in comedic commentaries and even worked with the Food Network.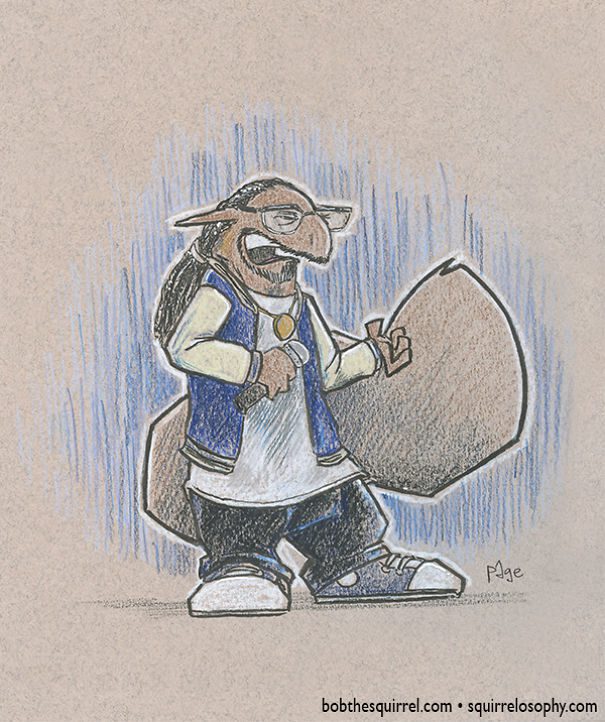 Frank Page, of course, made a squirreled version of Snoop. The squirrel is adorned with Snoop's fantastic hair and the sunglasses and metal chains he always has on him. The only thing missing is a lit-up joint in his hands. Who even is Snoop Dogg without his beloved herb?
Simon & Garfunkel
This list wouldn't be complete without this terrific twosome. Or is it a dynamic duo? Well, whatever the case, the fact remains that Simon and Garfunkel are legends in the music industry. If you love The Sound of Silence or the music on, The Graduate, they are the people you should be thanking.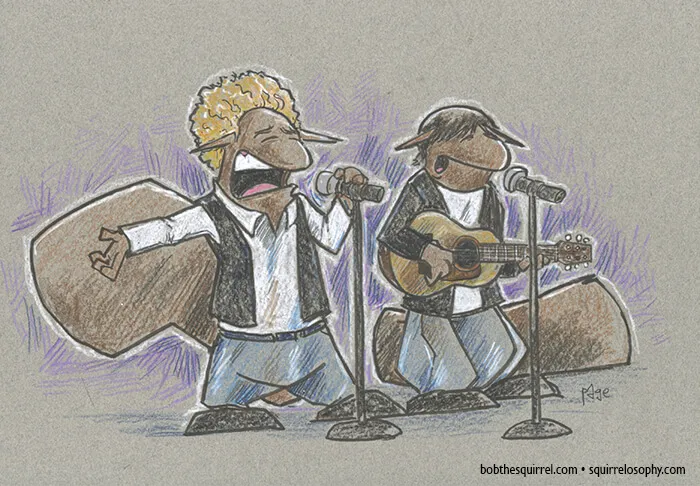 Though they've had a tumultuous relationship, they've always been buddies at heart, having met when they were only 11. Since they broke up in 1970, they've performed together several times, and we like to think this picture shows one of those concerts. Maybe the iconic 1981 Central Park concert.
Ed Sheeran
Ed Sheeran is another key pop culture figure. This British man has proven time and time again how talented he is with his wonderful music. The songs Shape of You and Castle on the Hill from his 2017 album "Divide" garnered global popularity and made that album the best-selling album of 2017.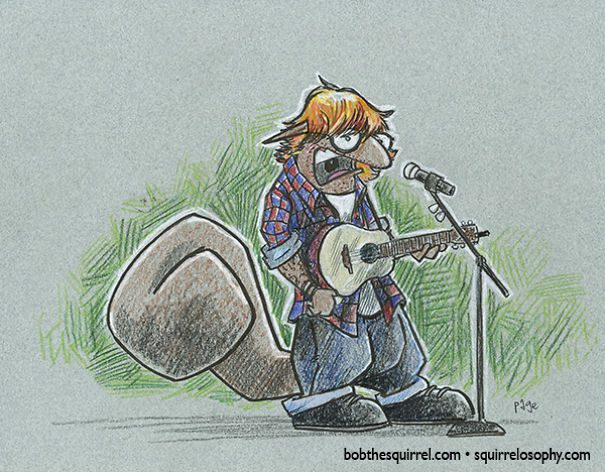 Unlike most on this list, Sheeran doesn't have a flashy wardrobe. He is rather down to earth when it comes to fashion and prefers letting his craft speak for itself. Like the artist, Sheeran the Squirrel wears baggy clothes, has ginger hair, and plays his trusty acoustic guitar.
Adele
Hello, it's Adele. If you don't know who this woman is, you probably live under a rock. She is the voice of this generation. Though she doesn't pump out tracks as frequently as her peers, when she does, it's always quality material. Her album 21 is the best-selling album of the 21st century.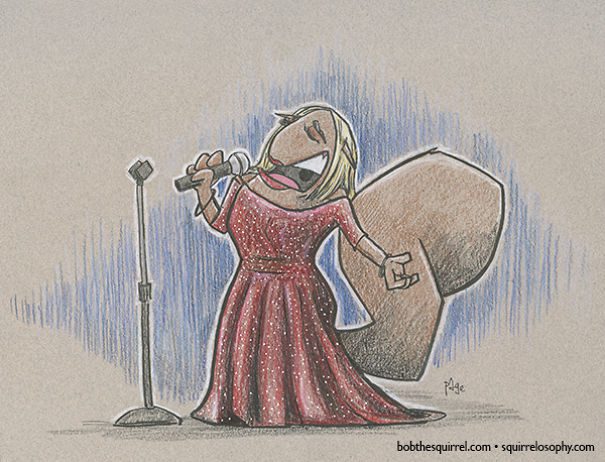 Adele is known for her dark, elegant wardrobe. During her live shows, she often wears floor-length evening gowns that are mostly black, though she switches it up often. Her wardrobe pairs excellently with her emotional-yet-elegant lyrics, and Adele the Squirrel aptly captured that essence.
Kurt Cobain
It's been close to 30 years, and we still miss this guy. Kurt Cobain was one of the most amazing musicians the world has ever had. He and his fellow Nirvana bandmates virtually invented grunge as a mainstream music genre, so though he died young, he definitely left his mark.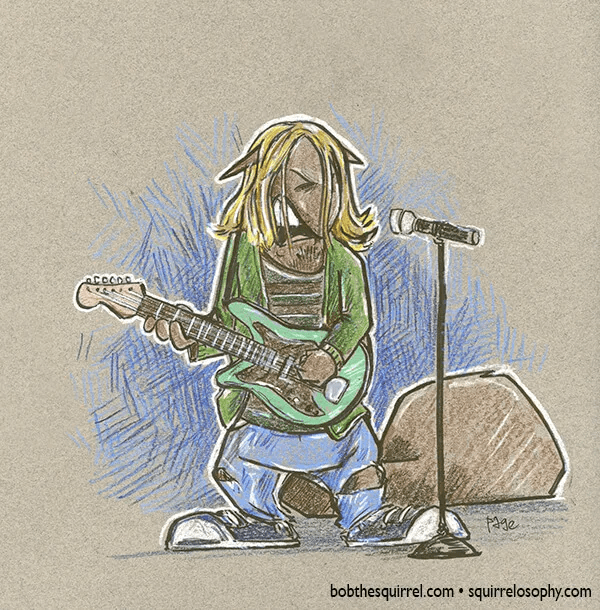 Kurt was also famous for his signature blonde locks, which are perfectly captured in this drawing. In fact, the whole piece captures his essential style; the ripped jeans, baggy shirt, converse shoes, and of course, the long hair parted in the middle.
Green Day
Still on rock bands, now we have another '80s group that took the world by storm. Greenday is an American band that's still active today. Generation X and Y and some millennials remember their music fondly thanks to their distinct pop-punk sound.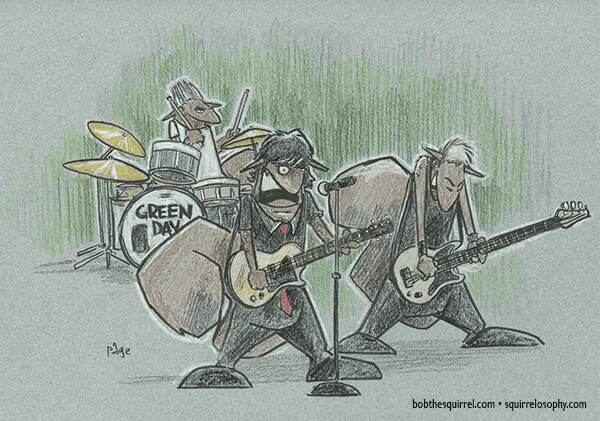 Pictured here are the band's main members, Billie Joe Armstrong, Mike Dirnt, and the drummer, Tre Cool. We can almost hear them performing a track from one of their best-selling albums of all time, American Idiot, which talks about the misadventures of "Jesus of Surbabia."
Tom Petty
Tom Petty is best known as the former vocalist and guitarist of the 1970s band Tom Petty and the Heartbreakers. He garnered critical and commercial success both as a band and a solo musician and is considered one of the best-selling artists of all time, with more than 80 million albums sold.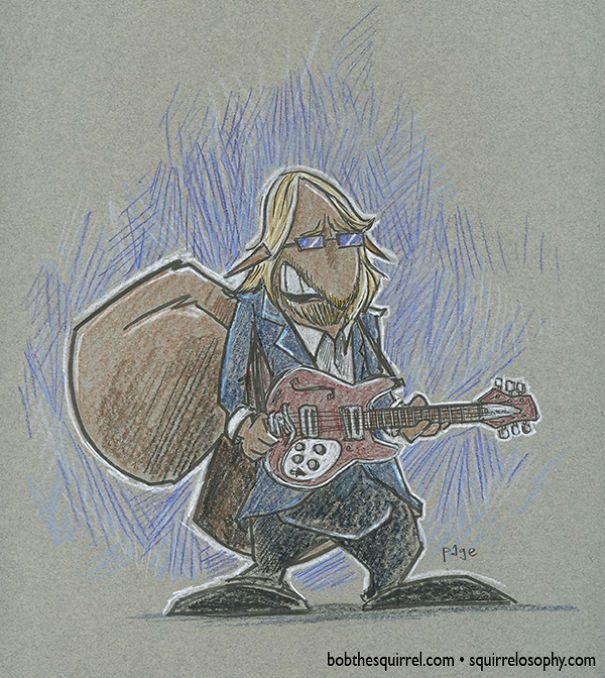 Compared to his rockstar peers of the '70s and '80s, Petty had a relatively tame fashion sense. He wore chic costumes for his live shows but later started wearing semi-formal outfits. Despite his anticlimactic wardrobe, Petty was famous for his hairstyle. During his younger days, he maintained straight blond hair parted in the middle.
Jimmy Page
It wouldn't be a stretch to say that Jimmy Page is one of the greatest guitarists of all time. He's a founding member of the legendary band Led Zeppelin and has entered the Rock 'n Roll Hall of Fame twice, first for his work with The Yard Birds and later with Led Zeppelin.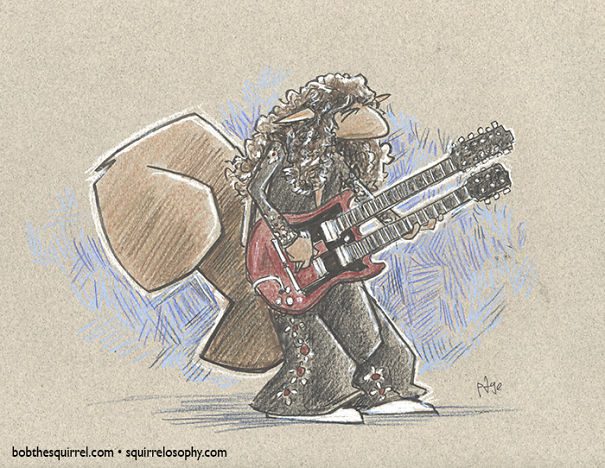 Jimmy Page loved the glamorous costumes typical among rockstars in the '70s/'80s. His signature was his dark long, and curly hair that trickled down wildly. Page is also credited for popularizing Gibson's double-necked guitars and was one of the few people back then who could maneuver the complicated instrument.
The Beatles
And now we have the biggest band of all time, The Beatles. John Lennon, Sir Paul McCartney, George Harrison, and Ringo Starr are still remembered today as the four guys who touched the world with their incredible music and English charm.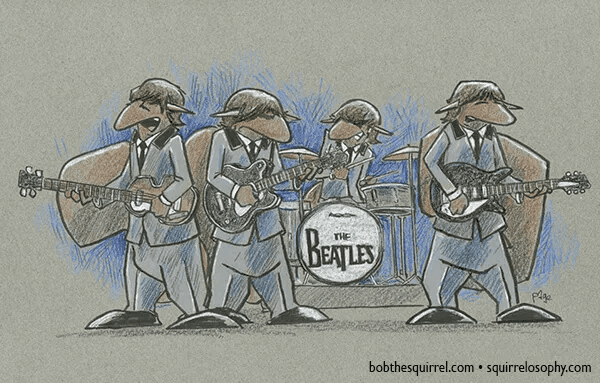 As expected, Page captured them beautifully in his picture with their signature moptops and matching suits. This one, in particular, is in memory of the first time the band appeared live on American TV during an episode of The Ed Sullivan Show in 1964.
Robert Plant
Robert Plant is yet another legendary musician from Led Zeppelin. He was the lead singer and lyricist of the group. Even after the band dissolved, Plant went on to have a successful solo career. He often collaborated with other musicians and entered the Hall of Fame in 1995 with Led Zeppelin.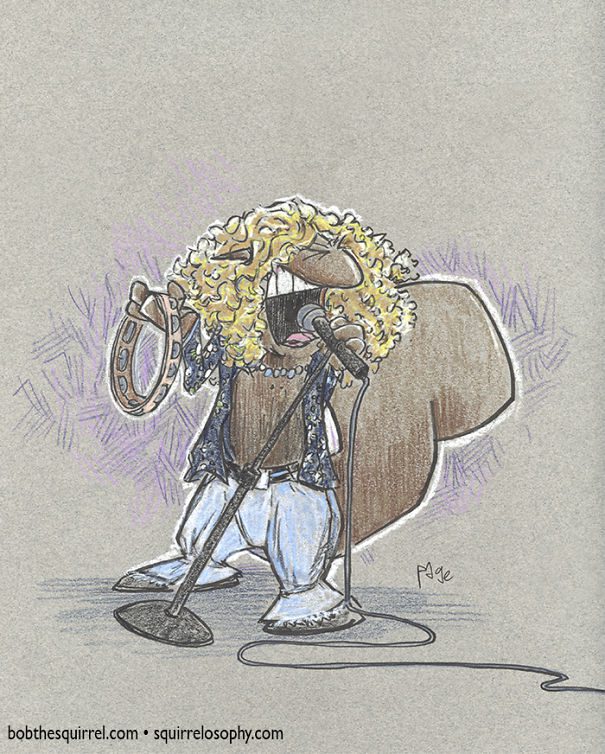 Plant did not have a very flashy wardrobe, but he did have wild-looking curly blonde hair. Long hair was quite common in the '60s, as were the unbuttoned shirts Plant would wear during live performances. He would meander around the stage, tambourine in hand, with his torso exposed and beaded necklaces on.
Dolly Parton
It's impossible not to love this gem of a woman. Not only is she a terrific musician and key figure in country music, but she is also a wonderful soul. Over her more-than-half-century-long career, Parton sold more than 100 million records. She also dabbled in acting.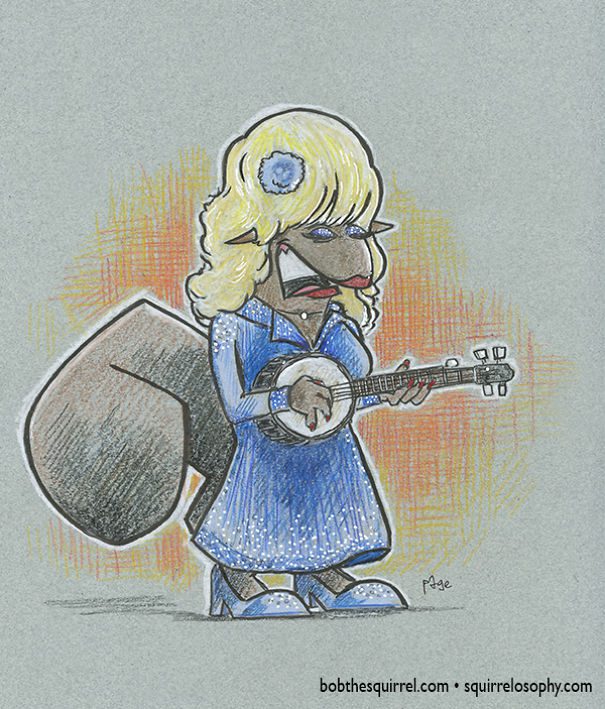 The Jolene star established her own fashion sense right from her debut. Her blond hair is always styled immaculately and often adorned with flowers. Additionally, she tends to wear bright colors, glittery makeup, and red lipstick. Dolly the Squirrel captured that accurately with the added flair of a banjo.
Prince
There is no doubt that Prince was one of the greatest musicians of his generation. His superbly versatile voice and unbelievable instrumental talent are widely praised. He is also one of the best-selling music artists of all time, with more than 120 million album sales. Prince was rightfully inducted into several Music Halls of Fame.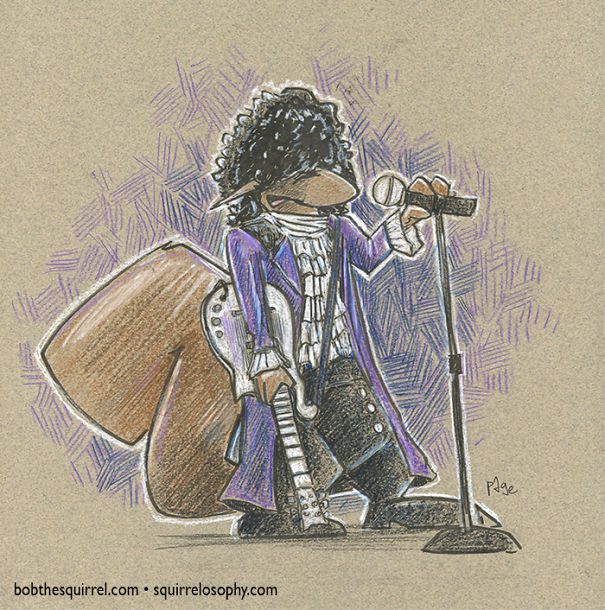 Prince was known for his flamboyant personality and androgynous fashion sense, along with his affinity for the color purple. His costumes often had frills, which were considered feminine back in his heyday. He also did his makeup and loved intricate hairstyles that allowed him to break both racial and gender stereotypes.
Johnny Cash
Next up, we have the Man in Black himself, the iconic singer and songwriter Johnny Cash. This man's 50-year music career was so legendary that he has been inducted into three major music Halls of Fame; county, rock and roll, and gospel. Now, that's how you know you've made it!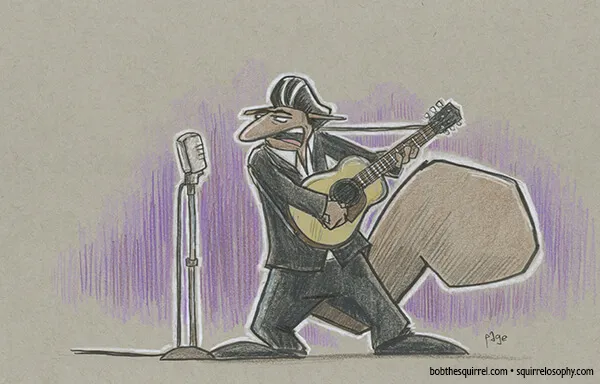 His signature black suits that he wore during his performances, as well as his politically-themed 1971 song, are the reason he got nicknamed "Man in Black." Johnny's signature baritone and his rebellious outlaw yet religious persona are among the few reasons he still has so many fans, even after his death.
Bob Marley
Bob Marley lived for only 36 years, but that was more than enough time to make his mark as one of the greatest musicians ever. He popularized Jamaican music and pioneered reggae, selling a staggering 75 million album copies. His 1984 album, Legend, is among the best-selling reggae albums of all time.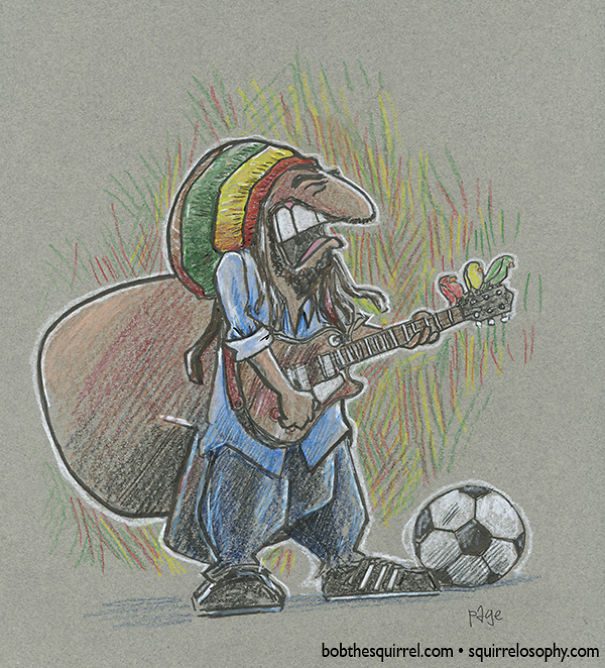 Bob Marley's clothing was always down to earth. Unlike most of his peers, he preferred mundane attire like a simple shirt or jacket. However, dreadlocks were a consistent part of his image. Here, Page also included Marley's beloved football. The birds on his guitar are an homage to his song, Three Little Birds.
Weird Al Yankovic
Older Gen Zers may recall the parody music video boom on YouTube during the early 2010s. Well, Weird Al Yankovic had been doing that same thing since the mid-70s on a much broader scale. He is famous for his parodies of famous songs and their music videos.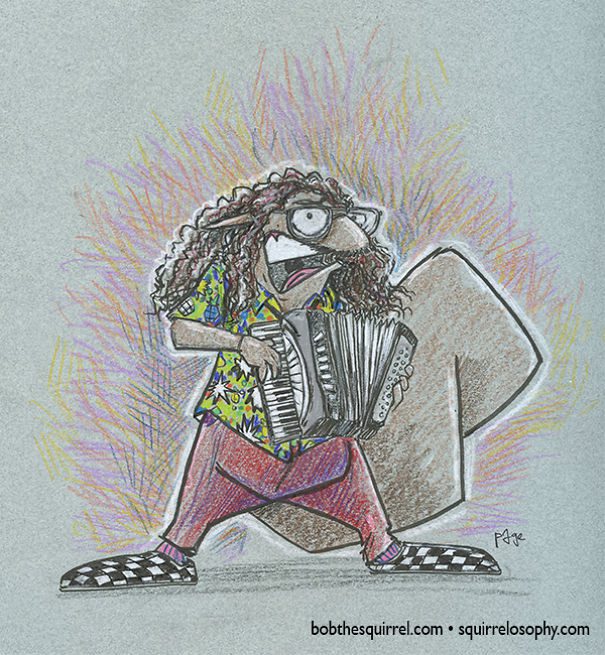 Weird Al always wore colorful, eccentric clothes. His shirts and shoes often had bright polka dots. To this day, he has the same long dark curly hair. The artist's instruments of choice are vocals, accordion, and keyboards. His journey is captured in a biopic starring Daniel Radcliffe.
Brian May
Brian May is another talented soul from the '70s rock band Queen. His collaboration with his bandmates resulted in some of the finest songs in rock music history. Not only is he one of the top 10 guitarists in the world, but he is also both a doctor in astrophysics and an animal rights activist.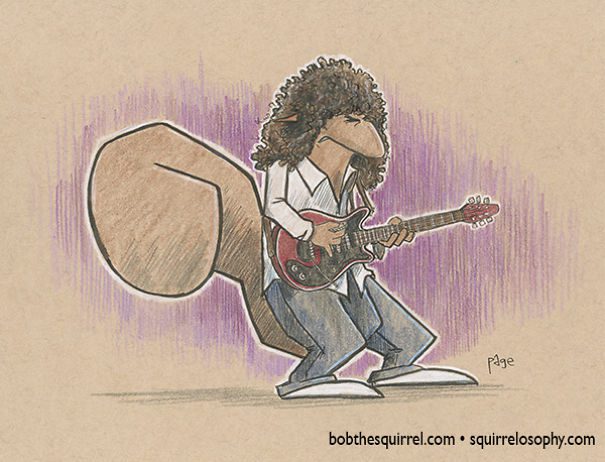 Compared to Freddie Mercury, Brian had a comparatively tame wardrobe. In the earlier days of Queen, he wore glossy, flowy robes. Later, he settled for casual, comparatively simple-looking shirts and pants. That said, throughout his career and to this day, he's always had the same long curly hair.
Neil Young
The "Godfather of Grunge," Neil Young, is known for his high-tenor vocals. Though he started off as a solo artist, he joined the rock band Buffalo Springfield in 1997. Rolling Stone placed him at number 34 on their list of the greatest modern music artists.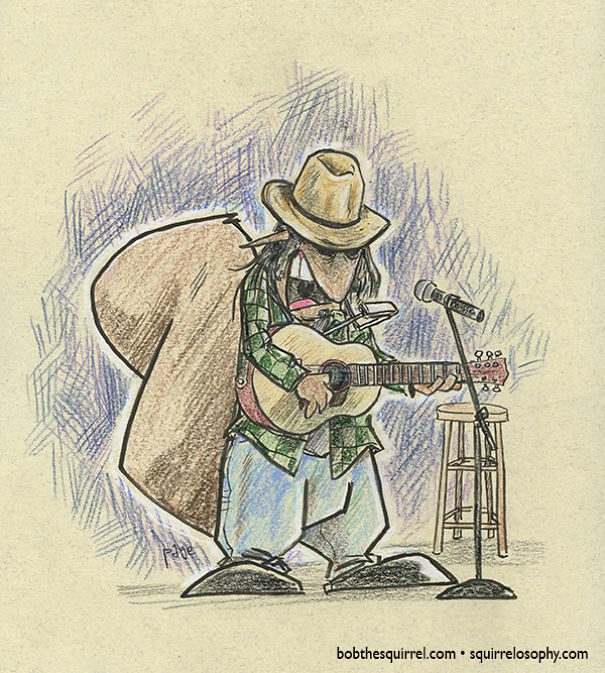 Neil Young is rather down-to-earth when it comes to clothes. During his live performances, he was almost always spotted wearing simple checkerboard-patterned shirts. He consistently wears cowboy hats, which he claims are for covering his bald head. Page managed to capture all these characteristics, as well as his beloved guitar.
Lemmy
Lemmy, of the British rock band Motorhead, has lived quite the rockstar life. He founded the band in 1975 and served as the lead vocalist and bassist of the group. He also wrote most of Motorhead's songs and was known for his raspy singing voice, which might've had something to do with his raging alcoholism.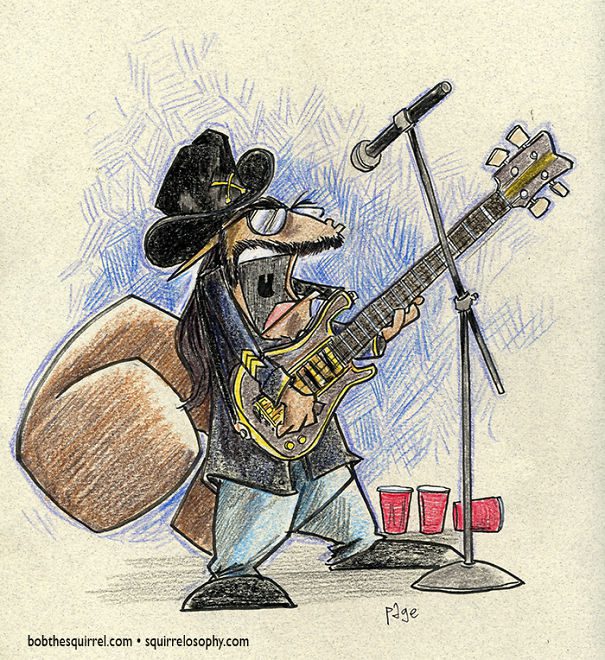 Lemmy established his signature fashion very early on. He had distinctive facial hair, favored a military-inspired wardrobe, and mostly wore black with golden accents, including a hat with a pirate logo. The red cups speak to Lemmy's penchant for chugging down Jack Daniel's every day.
Stevie Ray Vaughan
Stevie Ray Vaughan had a very short mainstream career. However, seven years with the band Double Trouble was more than enough to solidify his position as one of the all-time greats in blues. He was widely praised for his skills as a guitarist and had a level of mastery that rivaled legends such as Jimi Hendrix.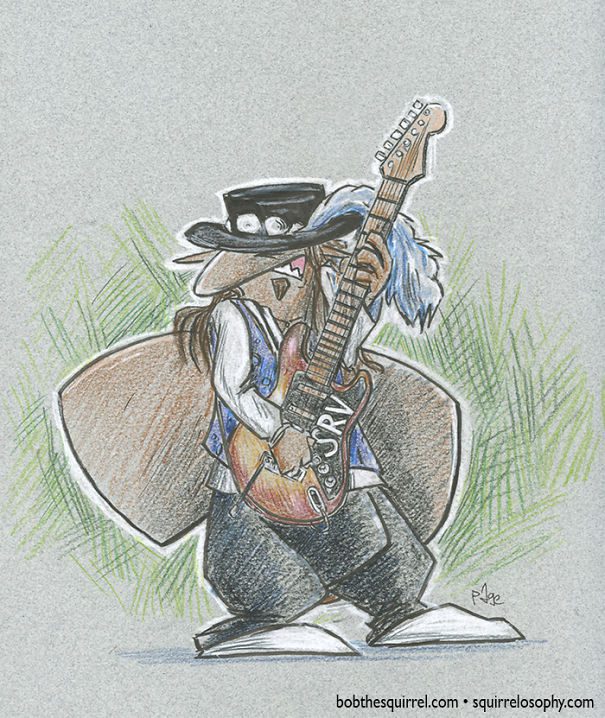 Vaughan was very fond of cowboy hats and fedoras. His hats were often decorated with various jewels and colorful feathers, making them even more eye-catching. He was also well known for imprinting his initials, "SRV," on his guitars. As usual, Frank Page captured it all in his squirrel version.
Dee Snider
Dee Snider is the frontman of the American heavy metal band Twisted Sister. He's often considered among the top metal vocalists on the planet. Surprisingly, Snider was a church choir singer in his younger days. In 1976, he became the vocalist and sole songwriter of Twisted Sister.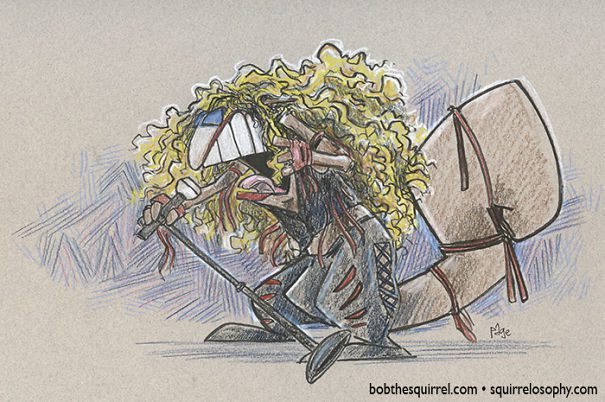 Like many other heavy metal musicians, Snider wore heavy makeup. His signature style consisted of electric blue eyeshadow and bright red triangles on both cheeks. Throughout his career, he had the same unruly, curly, blonde hair, but with age, his golden hair has turned white.
Meat Loaf
Meat Loaf is famous for his powerful and versatile vocal range. He is easily on the list of best-selling artists, with over 100 million sales worldwide. Meatloaf is also renowned for his theatrical stage performances and was especially popular in Europe. His 1994 album earned him a Brit Award that year.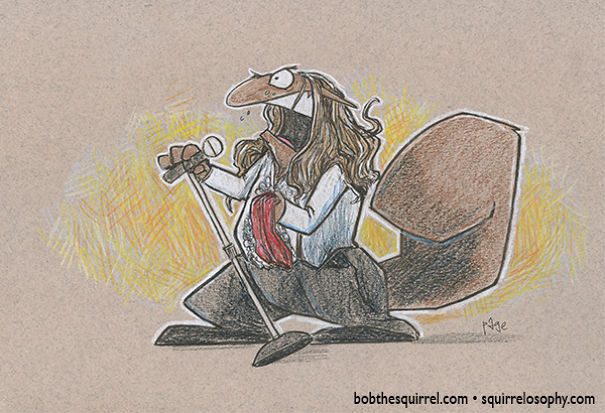 Since his performances were hugely theatrical, it is not too surprising that his costumes matched the vibe. Most of his outfits looked like they'd come out of a Shakespearean play! It's not too shocking that he worked on Broadway, judging by how dramatic his performances were.
Henry Rollins
Henry Rollins had a memorable punk rock career. Though his first band, State of Alert, disbanded within a year, he formed the Rollins Band. Aside from music, he has delved into journalism and poetry as well. He is also a supporter of LGBTQ rights, world peace, and the prevention of world hunger.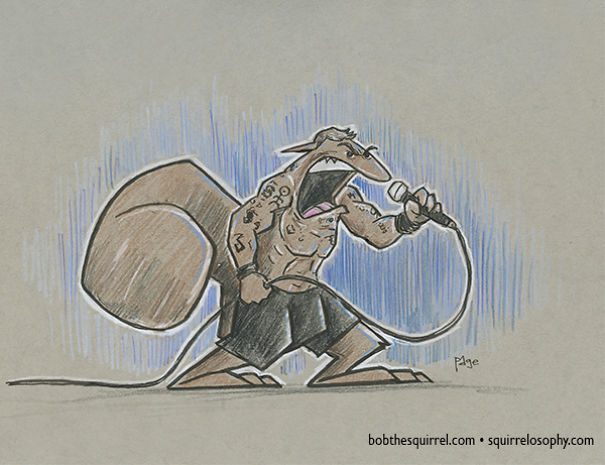 During his punk era, Rollins did not have a costume and was often shirtless on stage. His torso would be exposed, and all his tattoos would be on display during the performance. It was quite popular among the fans back then. Page nailed his persona down to all the tattoos.
Rush
When the world remembers the most influential and enduring rock bands of all time, we'd be remiss if this Canadian trio wasn't mentioned. Geddy Lee, Alex Lifeson, and Neil Peart are the three accomplished musicians who made up the band Rush.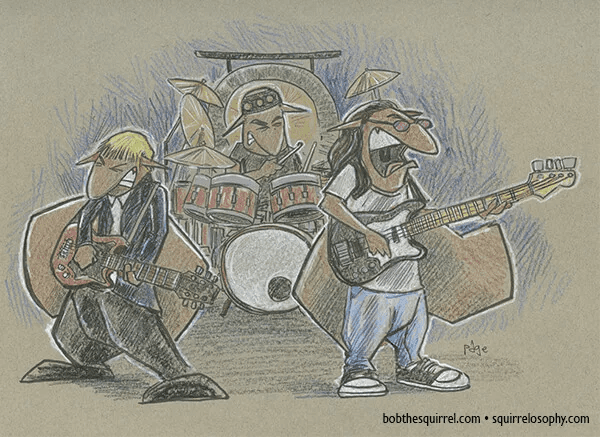 All three were fantastic instrumentalists, and according to sources, they all won several awards for playing their respective instruments. If that's not a sign of a successful band, we don't know what is. With Alex on guitar, Geddy on bass, and Neil on the drums, it makes sense why Paul Rudd loves them so much!
Bono
Bono is the frontman of the Irish band U2. He is widely recognized for his spiritual and rebellious lyrics that often incorporate biblical imagery. He and his band often speak out against various political and societal issues of the world. Additionally, he has received a Grammy Award an astounding 22 times!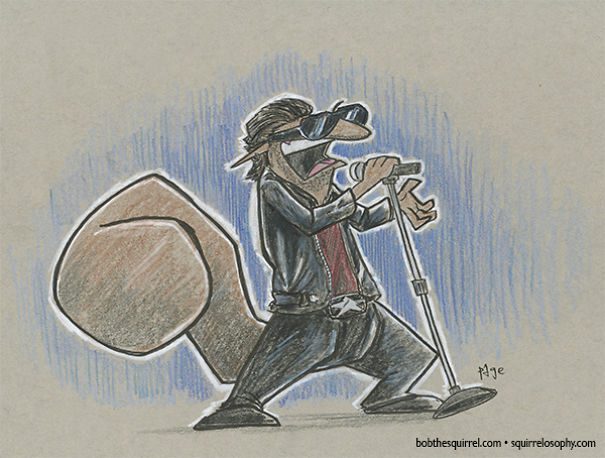 The color black is a key feature of Bono's fashion. He is almost never seen without something black on. For his stage performances, he often wears a black leather jacket. As for his hair, it's always slicked back. Another one of his signature fashion items is his sunglasses.
Joe Cocker
It wouldn't be an exaggeration to say that Joe Cocker is one of the greatest vocalists that ever lived. His unique bluesy vocals were always a fan favorite. During his 43-year career, he released 22 albums, won a Grammy, and was nominated for Best British Male Artist at some point.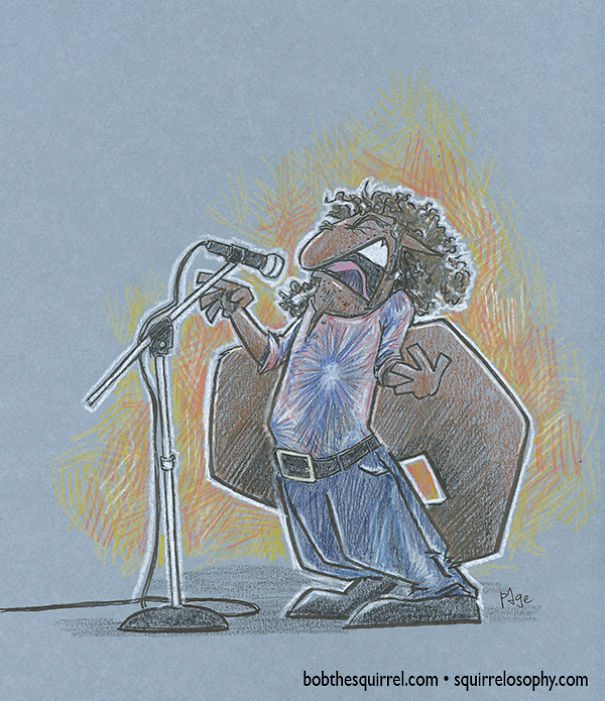 Joe did not have a flamboyant wardrobe. He wore semi-casual attire during his live performances, and many accounts say that his music was a bigger priority to him than his looks. Despite his love for muted colors, Joe sometimes dabbled in tie-dye t-shirts like Page's squirrel version here.
John Denver
John Denver was a beautiful, talented soul who was taken away far too soon. He was among the most beloved entertainers of his era. His romantic lyrics spoke of his love for nature and his contempt for urban life. He composed 200 songs all by himself before he died tragically in a plane crash.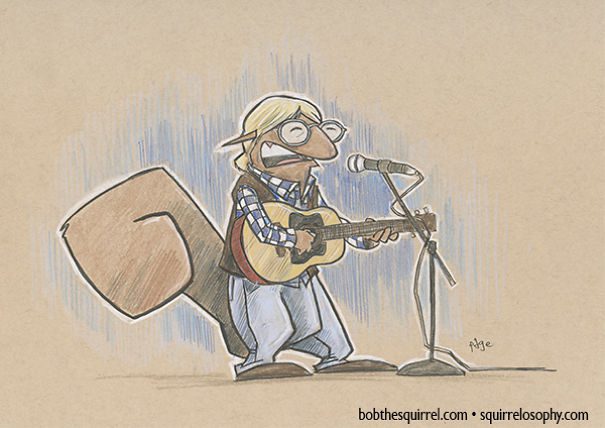 Denver had a fondness for button-up shirts, which he would often wear in checkerboard or floral patterns. Due to bad eyesight, he wore glasses. He also had silky blonde hair that was often parted in the middle. In this photo, John the Squirrel holds Denver's beloved acoustic guitar.
Slash (Guns N Roses)
Slash, from the legendary rock band Guns N Roses, is widely regarded as one of the greatest guitarists of all time. Slash's music career started way back in 1981, but even though it's been more than four decades, he's still going strong. He entered the Rock and Roll Hall of Fame back in 2012.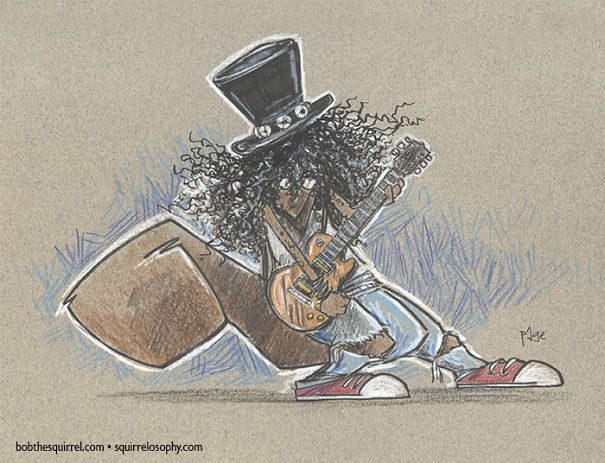 During his long career, Slash managed to establish his own unique fashion sense. Vogue even dubbed him "Rock and Roll's Best-Dressed Guitarist." He is well known for his wild, long, curly hair as well as his signature top hats. Frank Page accurately captured all that in his sketches.
Eddie Van Halen
Eddie Van Halen was the frontman of the rock band Van Halen. There is no doubt that he is among one of the greatest guitarists in rock history. He is credited for popularizing the "tapping" guitar technique. To this day, his instrumental skills are celebrated by modern-day musicians. He also played the keyboard.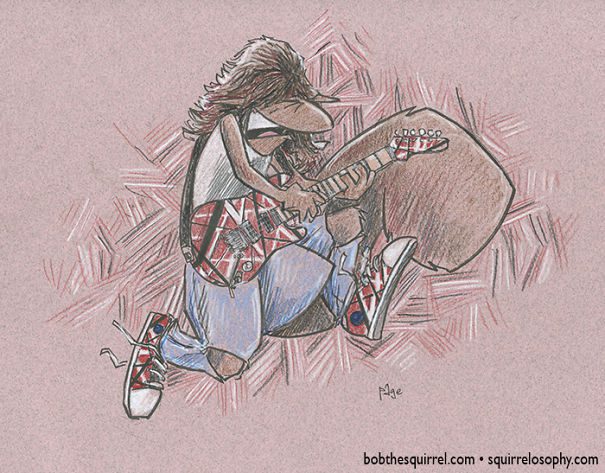 In his earlier days, Van Halen often wore sleeveless tops with baggy jeans with his long black hair flowing down during his performances. The most distinctive feature about him, though, was his guitar. He played the Ibanez Destroyer guitar in the early days but later customized his own instrument to include his signature crisscross pattern.
Lenny Kravitz
Lenny Kravitz is a man of many talents. Not only does he dabble in several genres, but he also plays various instruments. He broke records by winning four Grammy awards, four years in a row, in the Best Male Vocal Performance category! Lenny is the cousin of Al Roker and the father of Zoë Kravitz.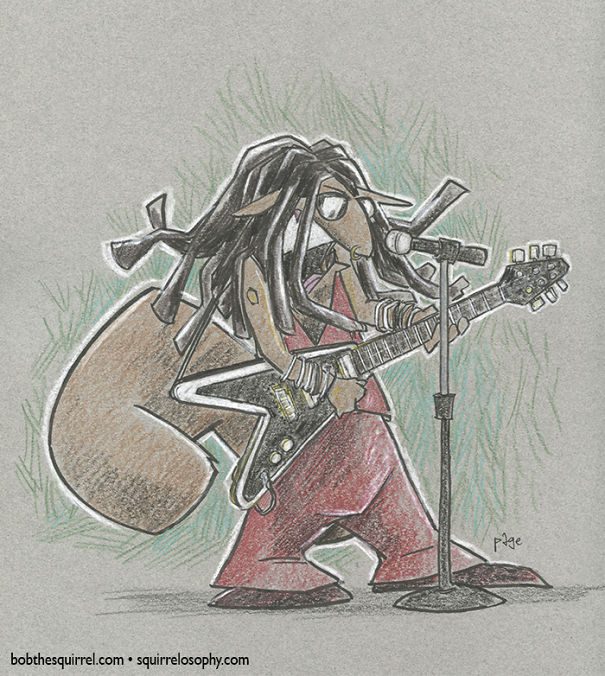 Lenny's outfits are mostly black, and he has a few facial piercings as well as some tattoos. Dreadlocks are another consistent part of his image. He is also credited with popularizing Gibson's Flying V guitars, which he often uses in his live shows. His squirrel version encapsulates all his features perfectly.
Ronnie James Dio
Ronnie James Dio is a legendary figure in the heavy metal music scene. He led and founded several metal bands during his nearly five-decade-long music career. He is affiliated with bands like Black Sabbath, Dio, Elf, Rainbow, and Heaven & Hell. He is also credited with popularizing the devil horns gesture in metal.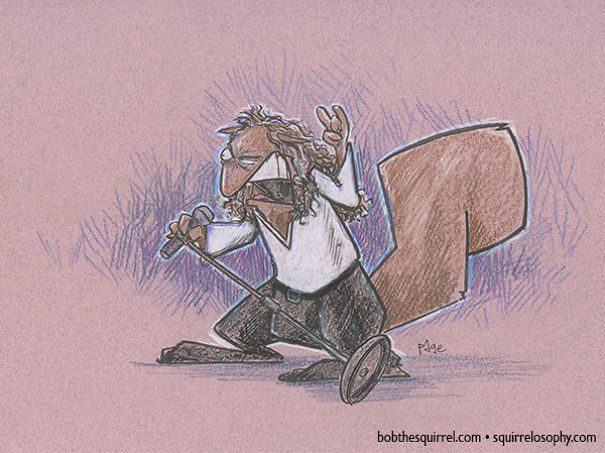 James Dio did not wear face paint like many other heavy metal artists. His wardrobe consisted mostly of black clothes, and like many other heavy metal artists, he kept his hair long. However, with age, his hairline receded a bit, as shown in Page's squirrel drawing.
Ray Charles
There is no doubt that Ray Charles was an absolute genius. God may have robbed him of his sight, but Charles rose above his handicap to become one of the most iconic and influential artists in American music history. Billy Joel even once argued that Ray was more talented and musically important than Elvis Presley.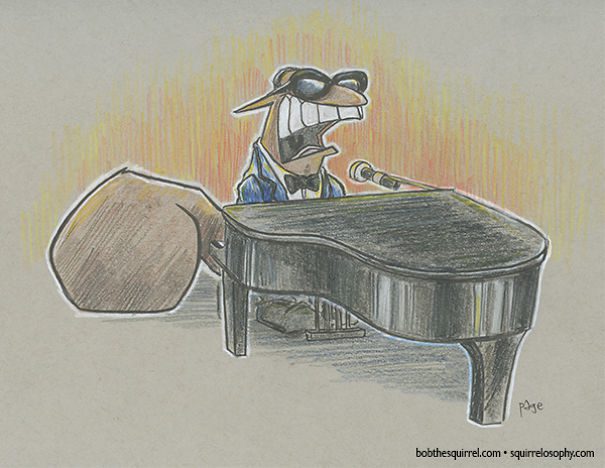 As someone who specialized in jazz and blues, it was no surprise that his instrument of choice was a grand piano. Charles wore formal suits with a bow tie during his performances. He also almost always wore thick-rimmed black sunglasses due to blindness and was said to be a jolly and passionate person.
Bob Dylan
Even if you don't listen to Bob Dylan's music, you've probably heard of his name. He is regarded as one of the greatest songwriters of all time. His soulful writing earned him a Nobel Prize as well as 10 Grammies. He amassed over 125 million record sales all over the world.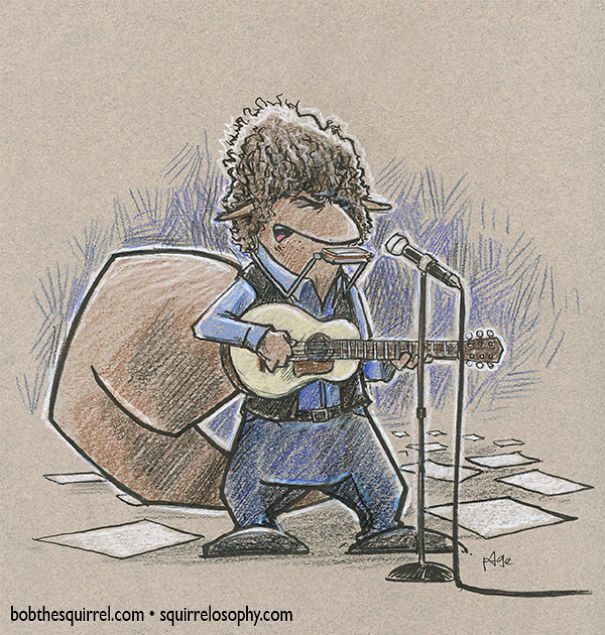 Bob Dylan does not wear anything flashy; the attention falls solely on his music. Though he's changed his hairstyles occasionally, he always keeps it natural. In the drawing, the squirrel is accompanied by Dylan's beloved acoustic guitar. The music sheets littered around his feet indicate his lyrical talent.
Stevie Wonder
Stevie Wonder lives up to his last name. He is considered a pioneer in musical genres such as R&B, jazz, and pop. He was a child prodigy who came to the spotlight at age 11, and at 13, he became the youngest person to chart on Billboard. No wonder they call him a wonder!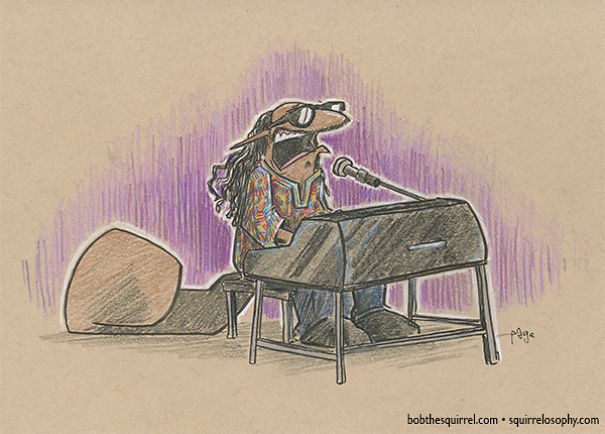 Stevie loves a colorful palette, and sunglasses are a consistent part of his wardrobe. Though he had short hair in his younger days, he started growing out long dreadlocks as he got older. He can play many instruments, but the grand piano is ultimately his favorite. He plays it regularly in his live shows.
Angus Young
Angus Young co-founded the legendary hard rock band AC/DC. Currently, he is the only remaining member of the original lineup from fifty years ago. Rolling Stone dubbed him one of the greatest guitarists of all time, and he was inducted into the Rock 'n Roll Hall of Fame with his band in 2003.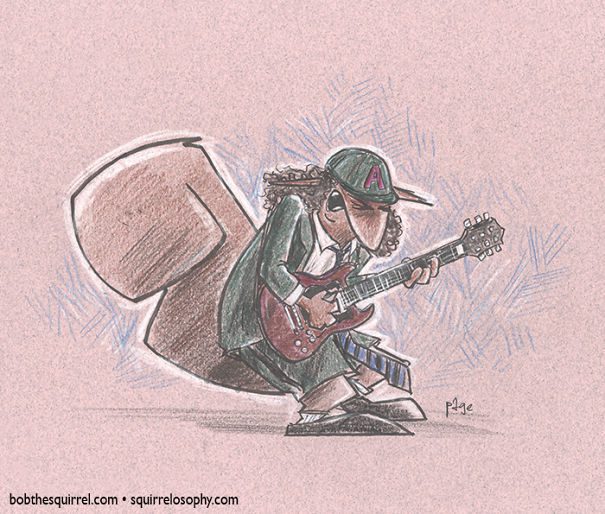 Young was a very energetic performer who would run around the stage and gesture enthusiastically. He is also quite famous for doing Chuck Berry's duck walk — which is a fan favorite. As for his wardrobe, he is quite notorious for wearing schoolboy outfits, which makes sense for such a high-energy performer!
Cyndi Lauper
Cyndi Lauper's debut album, She's So Unusual (1983), makes a lot of sense when you look at her. She's sold more than 50 million records worldwide and has won Grammies as well as a Tony for her Broadway contributions. During her forty years in the limelight, Lauper dabbled in acting and activism alongside music.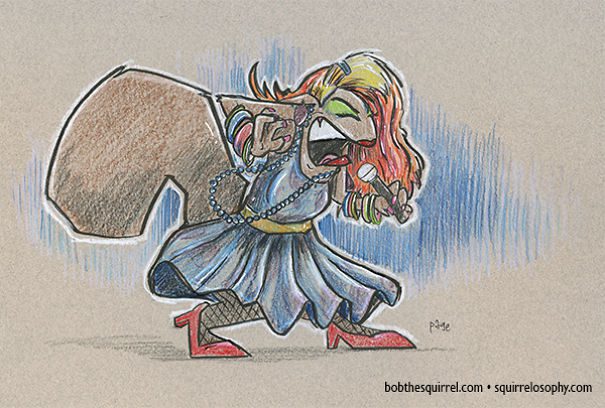 Lauper had a very eccentric style. Her rainbow dresses were frilly and glittery, and her makeup was equally flamboyant. She also tended to experiment a lot with her hairstyles and would alter her hair color very often. Page certainly nailed his drawing of Cyndi as a squirrel!
Tina Turner
The "Queen of Rock & Roll" began as the lead singer of Ike and Tina Turner Revue, a band that Tina founded with her former husband. Both their marriage and their band eventually collapsed due to Ike's drug abuse and domestic violence. Thankfully, Tina bounced back with a far more successful solo career.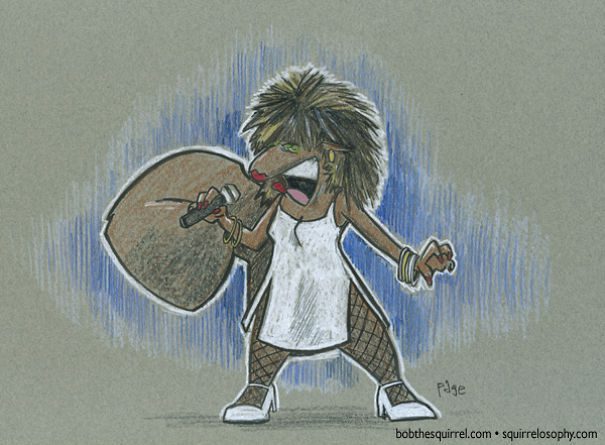 She was also a major glamour icon back in the '70s, known for her gorgeous seductive costumes during her live performances. One of Tina's key physical features was her blonde highlights, which remained a trademark despite changing her hairstyle severally.
Chris Cornell
Chris Cornell was affiliated with many legendary rock bands, including Soundgarden, Audioslave, and Temple of the Dog. He is widely praised as a key figure of the grunge movement of the '90s. Furthermore, he's won three Grammys and been nominated a full 18 times. Sadly, Cornell took his own life in 2017.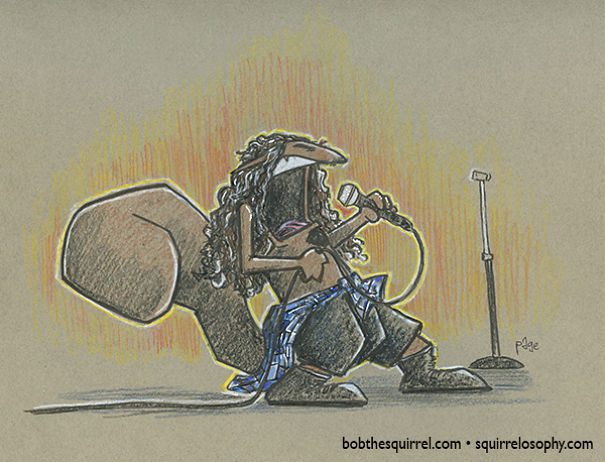 He preferred a simple-yet-stylish wardrobe. While he didn't care for gemstones or feathers, he still managed to look very handsome in his mundane clothes though he often performed shirtless. Cornell was very good-looking with his long dark hair and sharp features, but sadly, the squirrel couldn't show that.
Willie Nelson
Willie Nelson was a key figure in the American country music scene and is among the most important artists in the outlaw country subgenre. He survived the Great Depression and went on to become one of America's greatest musicians. Additionally, he strongly supports the use of biofuels and the legalization of marijuana in the USA.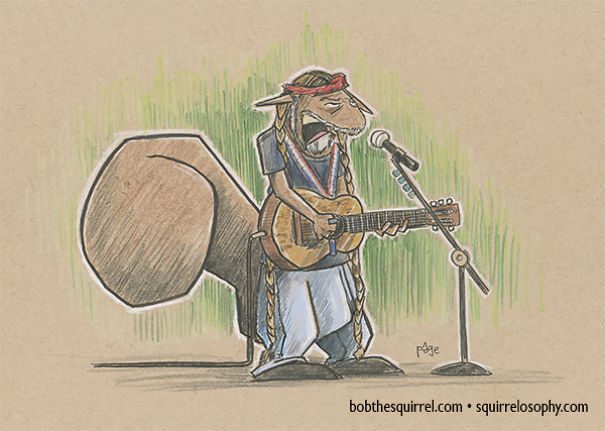 It's hard to miss Willie Nelson. How often do you see a white, old man with waist-length braids? He also likes to wear bandanas and occasionally switches them with cowboy hats. That said, he ALWAYS wears a white, blue, and red-striped scarf. As expected, he owns a guitar, just like any other country musician.
Metallica
When it comes to commercial success, few bands come close to matching the level Metallica has achieved since its formation in 1981. Even those who are not fans of heavy metal still recognize the name, thanks to their incredible fame and accomplishments.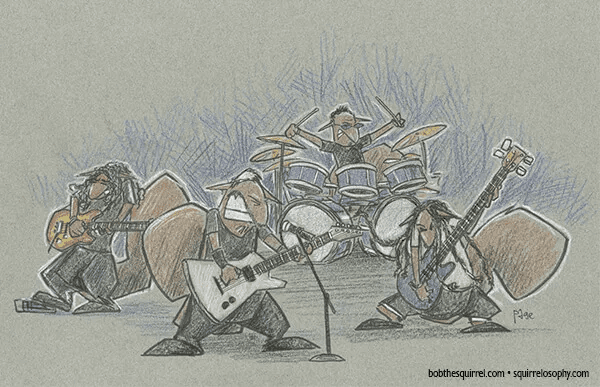 Unlike several bands that Page has featured in his collection, Metallica is still very active and is even set to drop an album sometime in 2023. It takes a lot of dedication and passion for a group to persevere and remain relevant over decades, as these four have.