Musical Inkspiration: 35+ Tattoos Worth Showing Off
By Farah J September 21, 2023
---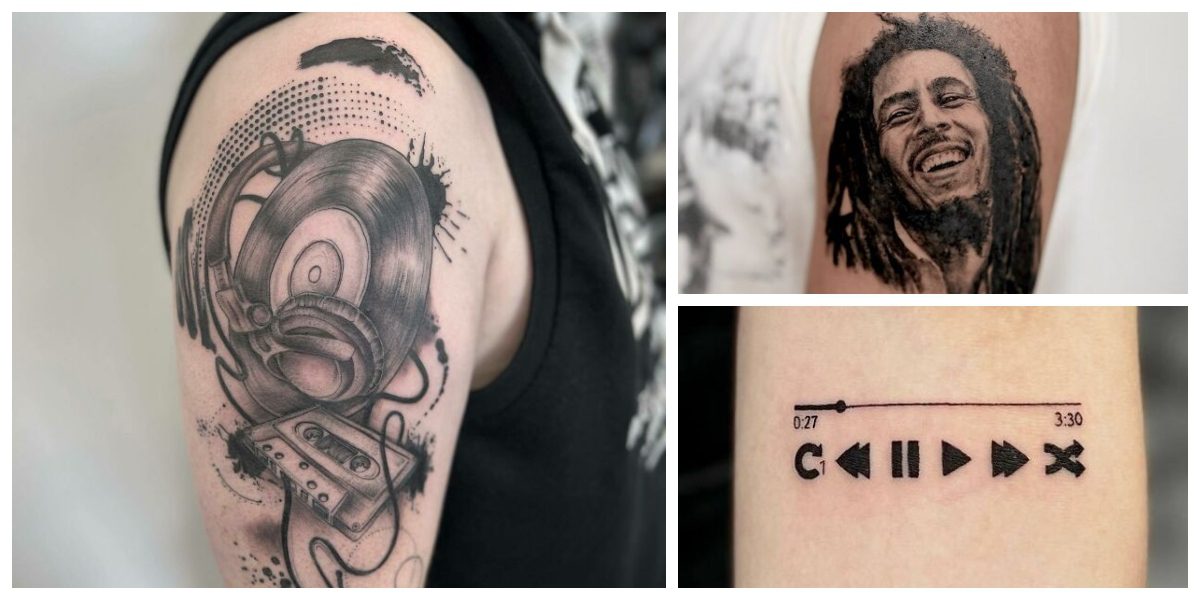 Are you ready to dive into a world where melodies meet ink and creativity harmonizes with skin? Well then, picture this: a world where your love for music is etched into your very skin, where every note, every lyric, and every beat becomes a permanent part of your identity.
Whether you're a rock 'n' roll rebel, a classical connoisseur, or a hip-hop head, there's a musical masterpiece waiting to be unveiled on your skin. From delicate treble clefs to realistic portraits of artists and their works, these tattoos are so enchanting that even Beethoven would drop his sheet music in awe.
So, if you've ever felt like your life could use a little more rock 'n' roll, or you've dreamt of becoming a walking jukebox, then stick around because we're about to explore a world where ink and music harmonize in perfect, awe-inspiring symphony. Let's rock on, ink enthusiasts!
The Beatles
Wow, this is very well done! We want the location of the artist who drew this tattoo and that in just four hours. We are in awe. Moreover, this tattoo seems so natural, like we first thought the picture was printed and glued to the arm.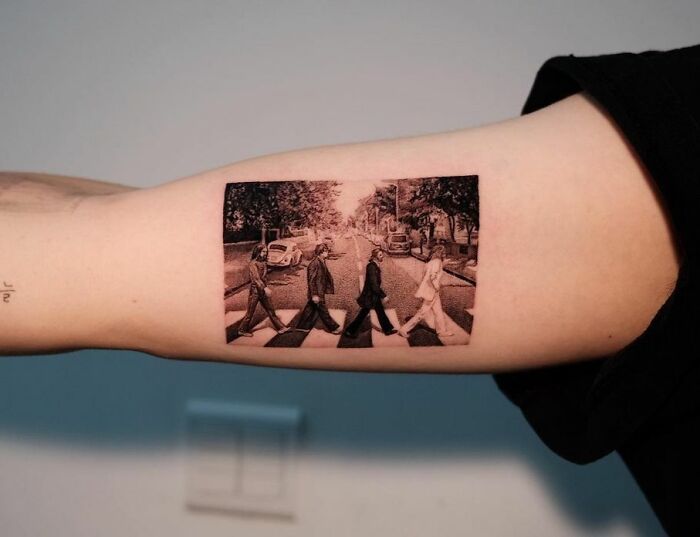 If you're a Beatles fan, consider getting a tattoo inspired by the iconic Abbey Road album cover. This album holds a special place in the hearts of many, as it marked the band's final recording before their breakup in 1970.
Favorite band?
Damn, what a creative piece of art this is! Can you spot all your favorite music bands in this sleeve tattoo? The Doors, The Beatles, Pink Floyd, Nirvana, and Primal Scream can be seen in this fantastic art. This is an extensive tattoo project.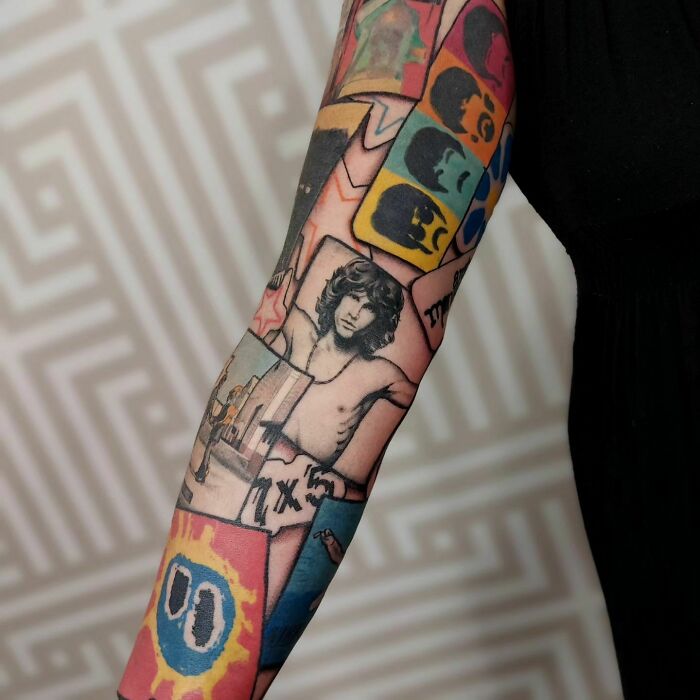 This person wanted all her favorite bands in one sleeve, so the artist took this epic challenge and fulfilled her wish according to her liking. The drawing, the shades, the theme, everything seems incredibly perfect. So, which fanbase do you belong to?
Playing piano
In this picture, the intricate design features a piano and a hand in exquisite detail. An incredible artist from Spain drew this circled tattoo gracefully down the wearer's forearm. This is a great tattoo idea for all the piano lovers out there!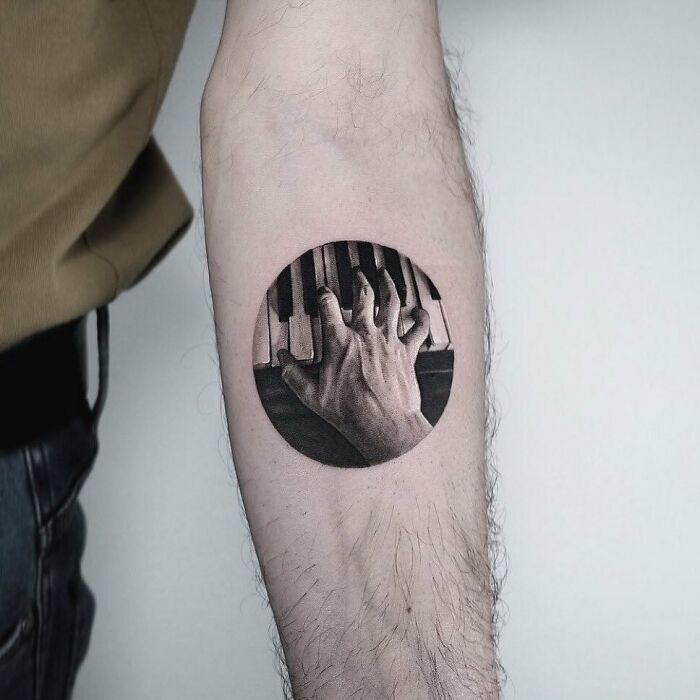 We're deeply impressed by the artist's skill in this tattoo. The meticulous shading, precise linework, and graceful hand curves all come together to capture the interplay of light and shadow masterfully. It's a true masterpiece, resembling a sonata about to be performed.
Music is life
This is beautifully cluttered, and we love it. In this picture, a stunning geometric music tattoo takes center stage, showcasing a symphony of shapes and lines seamlessly meld into a harmonious masterpiece. Moreover, the tattoo's precision and intricacy are beyond mesmerizing.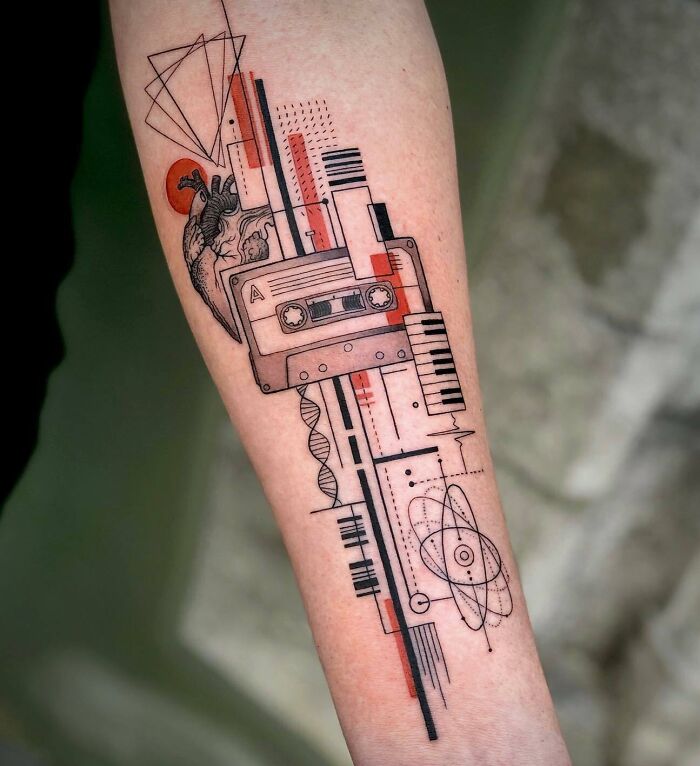 These geometric patterns illustrate musical notes and rhythms and seem like they are dancing around a heart and cassette. They both are the center of this artistic composition and are bursting with significance. They serve as a reminder that music speaks directly to the soul.
Who wants to live forever?
This captivating image captures the essence of rock' n' roll royalty amidst the vibrant ink strokes and swirling hues. Freddie Mercury, permanently inscribed on this person's skin, is the subject of this artistic masterpiece. He stands there with a mic in hand, striking his signature pose.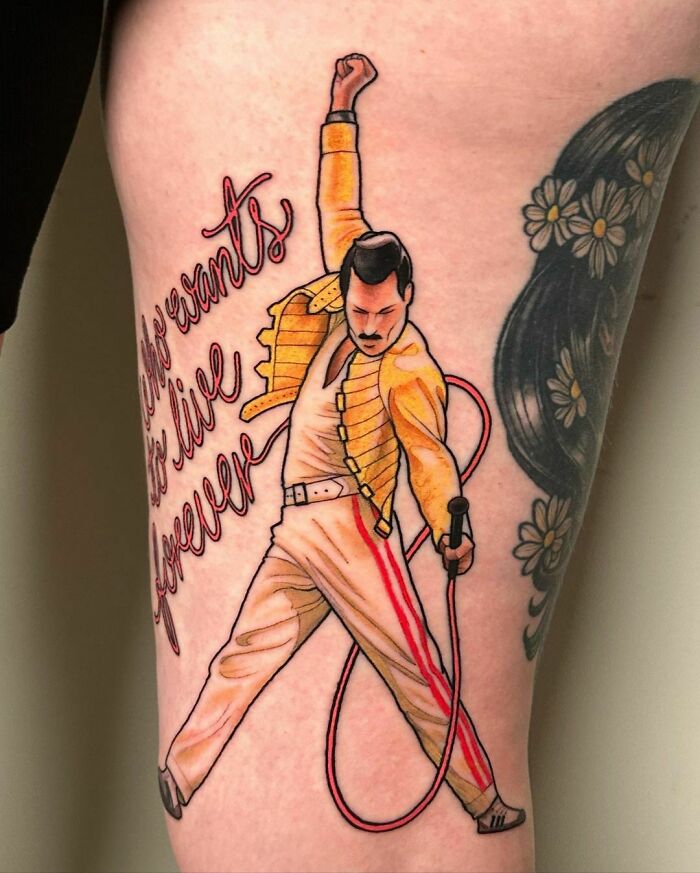 Freddie's dazzling gold rock suit radiates the flamboyance and extravagance that were uniquely his. It's a perfect representation! Looking at this image, one can almost hear the enchanting echoes of Freddie's voice, offering a captivating glimpse into the past.
Hendrix in watercolor
With its vibrant and otherworldly allure, a stunning watercolor Jimi Hendrix galaxy tattoo commands attention. This tattoo captures the spirit of Jimi Hendrix, a legendary musician, in a way that goes beyond simple body art. All the colors blend harmoniously and evoke swirling galaxies.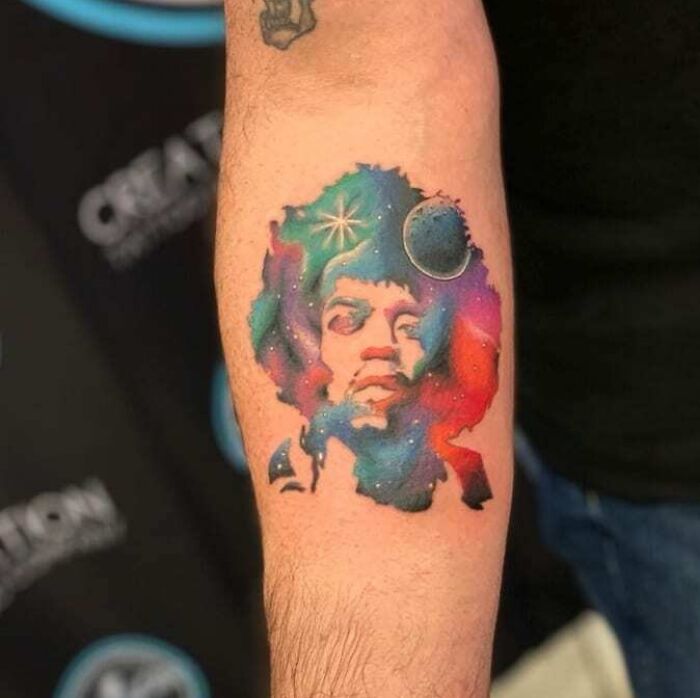 This tattoo is a storytelling canvas for celebrating Hendrix's musical brilliance and the transformative power of his art. Its watercolor galaxy design exemplifies the notion that art, in its diverse forms, serves as a gateway to a limitless universe of expression and imagination, echoing Hendrix's groundbreaking music.
Tribute to David Bowie
A realistic David Bowie tattoo has come to life with its minute details, and this has, honestly, captured the legendary performer's mysterious essence. Bowie's chiseled features emerge with each stab of the tattoo artist's needle, and every detail is perfectly awesome.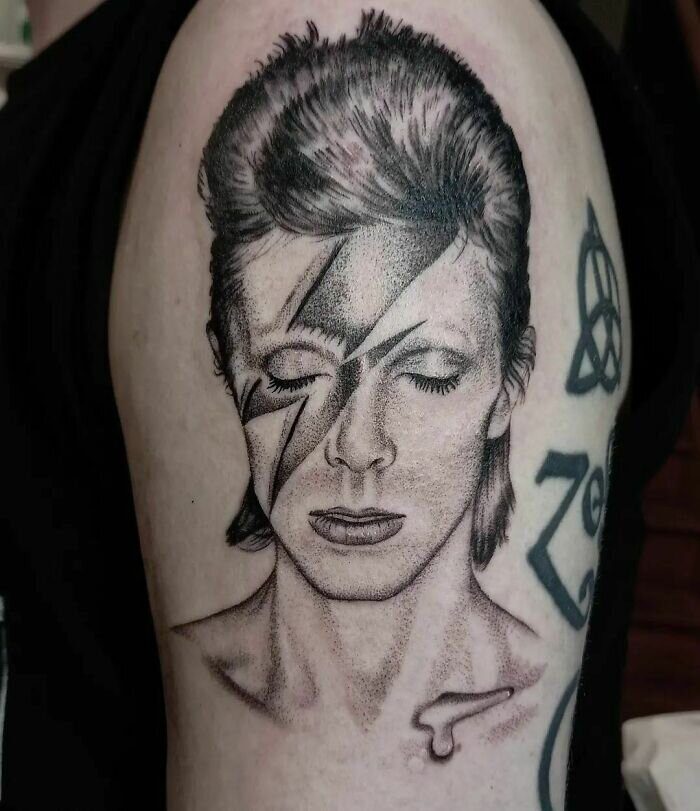 The tattoo's flawless realism extends to every detail of Bowie's iconic lightning bolt, elegantly etched across his face and modeled hair strands. This tattoo is a tribute to a genuine musical pioneer and is more than just a work of art.
Smokin' hot
Mesmerizing and sizzling! This tattoo is a captivating fusion of music and artistry, portraying a stylized electric guitar enveloped in swirling, finely shaded smoke that elegantly coils around the wearer's forearm. It's a striking embodiment of the harmonious marriage between music and ink.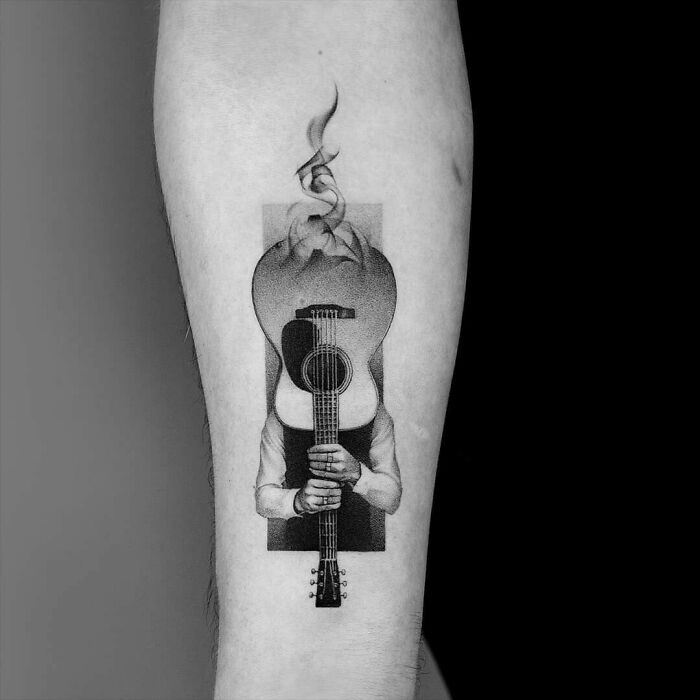 The tattoo artist created an alluring sense of movement and rhythm through the smoke's curling and dancing motion around the guitar's strings, almost as if the music were audible. He drew it with black-and-white shading, which makes the intricate details stand out.
Music and nature
Here in this image, a striking blue guitar and the intricate beauty of a tattoo with a natural theme take center stage. This fusion of art, nature, and music is produced when the azure color of the guitar dances with the whimsical brushstrokes of an artist's imagination.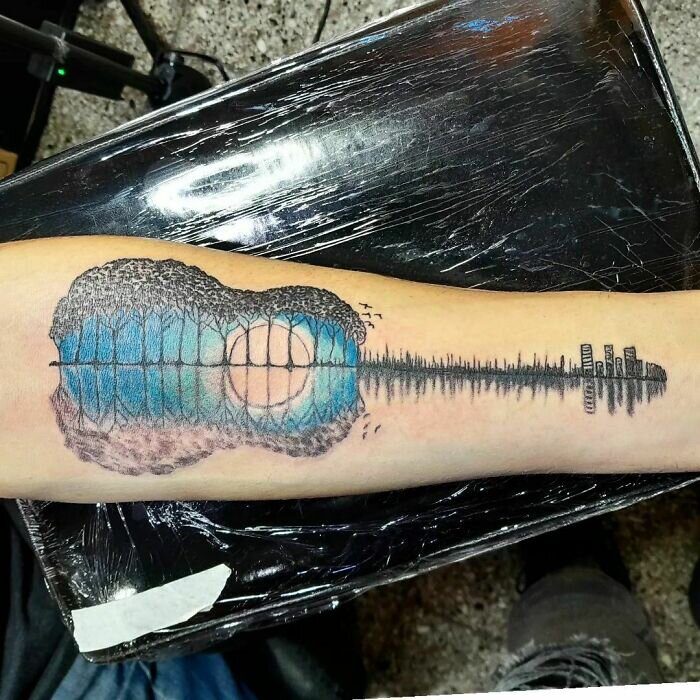 This tattoo is like a piece of the clear blue sky itself, embracing every curve and contour of the guitar with its ethereal and cerulean glow. It's as if nature itself has been meticulously brought to life in all its vibrant glory.
Beautifully delicate
This is such a lovely and delicate tattoo design. Here, a musical theme adorns a canvas of skin with an air of enchantment. This seems so magical! A lyrical note dances in unison with its delicate lines as if creating some symphony.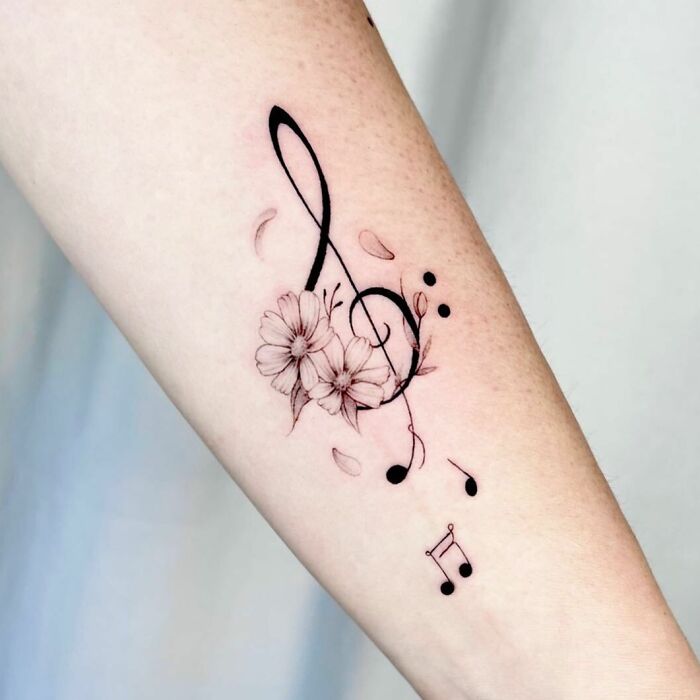 The incorporation of dainty flowers and petals in this tattoo, akin to musical crescendos, infuses it with enchantment. The artist's choice to add these minuscule blossoms imparts a gentle, tender quality to this captivating body art, elevating it into a harmonious symphony of nature and music.
The Division Bell
The "The Division Bell" album cover tattoo is undeniably captivating, a vibrant tapestry of artistry. It masterfully combines soothing pastels with intricate detailing of the iconic twin heads. This tattoo is a serene tribute to a timeless album, harmonizing artistic finesse with musical nostalgia.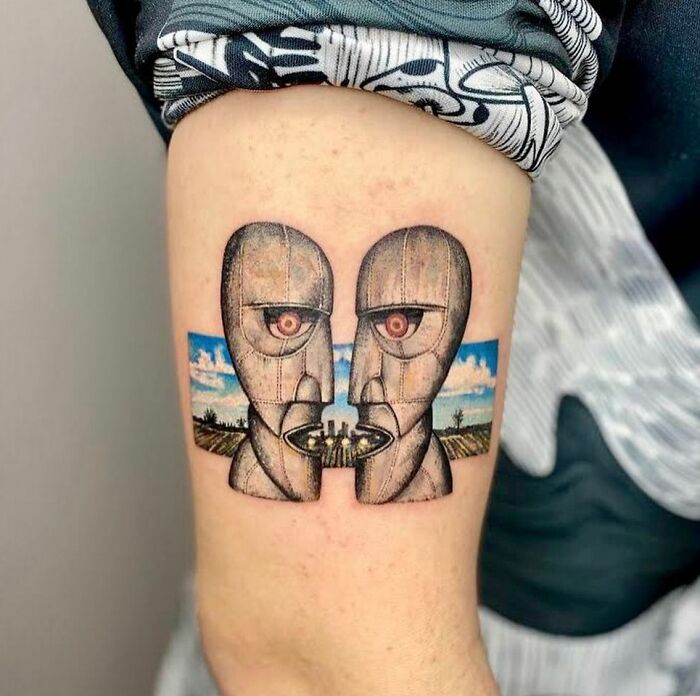 The presence of the metallic orbs suspended in the air creates a mystique that beckons you in. This tattoo serves as a gateway to a world of sound and reflection, a tribute to the band's legacy and the power of Pink Floyd's music.
The beauty of jazz
Such an exquisite and realistic saxophone that is entwined with delicate flowers is genuinely a tattoo for jazz-ers! Plus, the tattoo looks aesthetically beautiful and is a testament to the bending of art and nature. This perfectly carved saxophone appears almost tangible.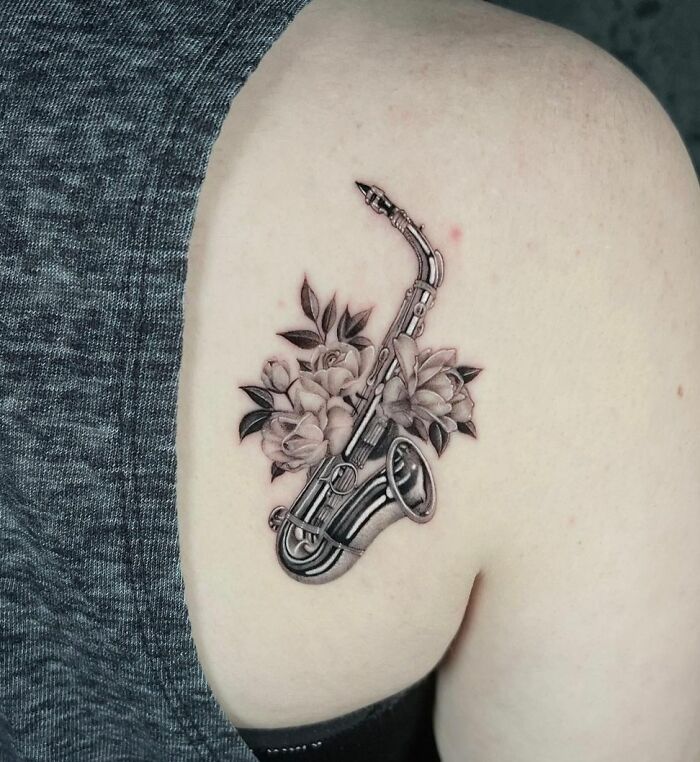 The essence of this instrument is truly recorded in every curve and key, from the serpentine body to the enigmatic allure of its keys and valves. The flowers, however, add a lovely balance to this inked masterpiece and a sense of fragility.
Sam Cooke, the icon
This image features an interesting Sam Cooke singing tattoo that is now stealing the show! The tattoo depicts the legendary singer in perfect detail and is placed on the wearer's forearm. Moreover, it honors Sam's contribution to the world of music.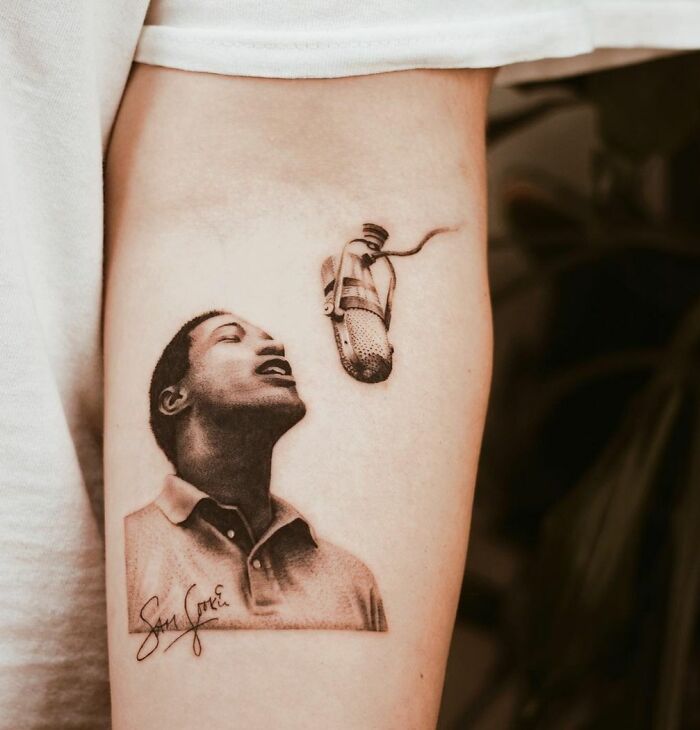 The tattoo artist's precision in depicting Sam Cooke's iconic visage is striking, capturing the depth of his soulful eyes and expressive mouth. It's as if the artist has eternally woven the singer's voice into the wearer's skin, freezing him in a transcendent moment of performance.
Red wine and music
This tattoo feels like it is speaking to the soul of his master. A rich, velvety red wine and the calming musical melodies are two timeless pleasures intertwined in this intricate design. The tattoo artist's skill is evident in this fine piece of art.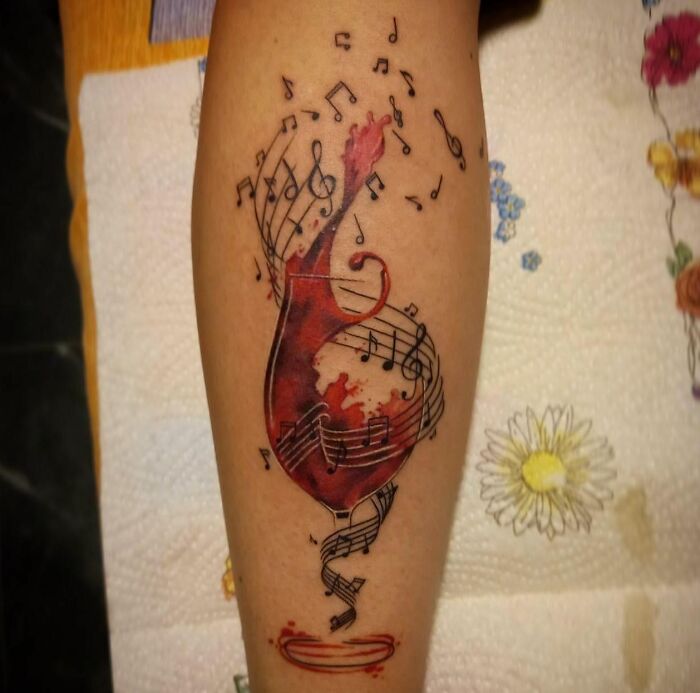 The artist chose the red wine as an accent in the tattoo, giving it a more upscale appearance. This tattoo picture perfectly captures the notion that wine and music are more than just indulgences; they are feelings that touch the soul.
Piano-te
This is such a pretty and colorful music note with a vibrant design. It masterfully combines art and rhythm into one breathtaking design. We love how this tattoo is a harmonious explosion of colors that are dancing across the wearer's skin.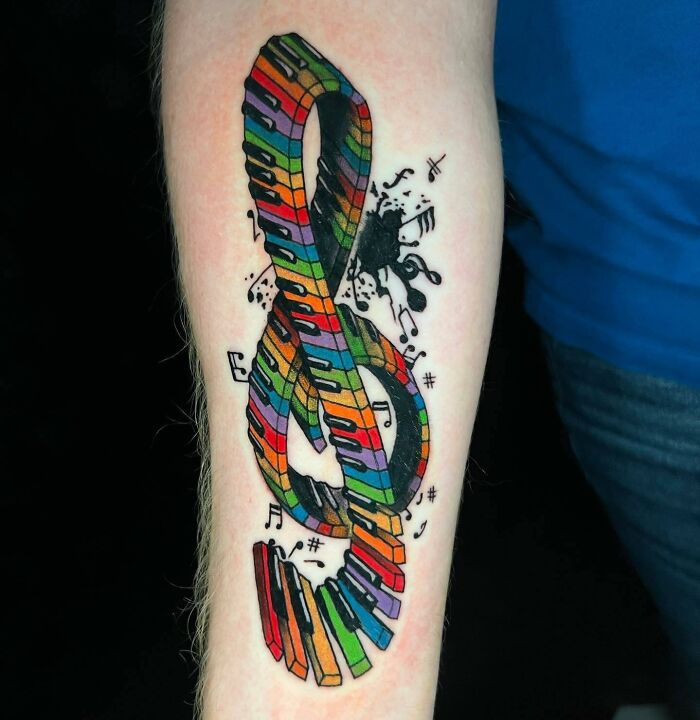 This musical note with cleverly designed piano keys with bursts of red, yellow, green, blue, indigo, and orange has transported us into a world of melodies and feelings. The artist has done captivating work and flawlessly captured the essence of music's universal language.
Colorful cassette
This gorgeous cassette tattoo in this image caught our attention right away! Its tape design is chic, with vivid colors, shades, and fine details. The tattoo artist did a fantastic job of recording the nostalgia of a vintage cassette tape.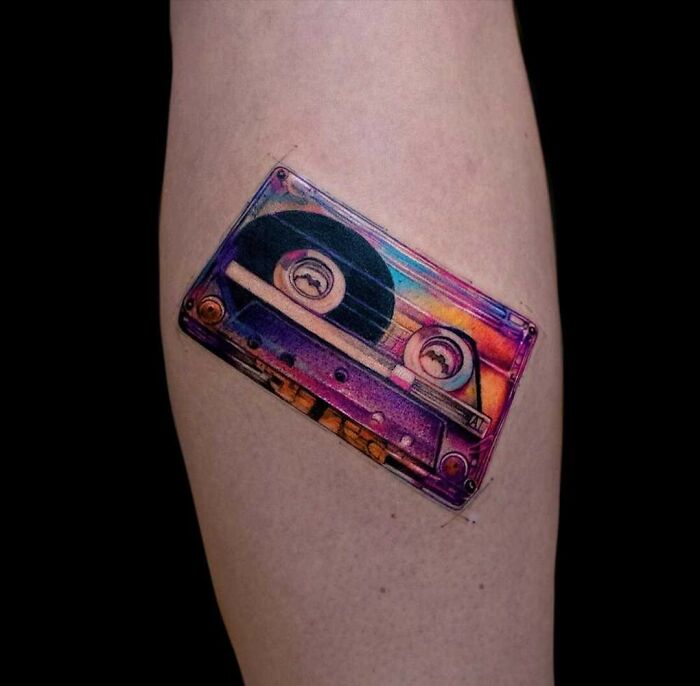 This cassette tattoo appears three-dimensional due to the color blending and shading, giving the design more depth. For us, it is a lovely fusion of art and memory, which evokes nostalgia. It is undoubtedly worth praising a piece of art.
Amy Winehouse
The first thing we noticed about this image is how stunning and astonishingly lifelike the tattoo of Amy Winehouse is. This perfect artwork exhibits a remarkable level of precision and detail. It looks like someone has immortalized Amy herself on their skin!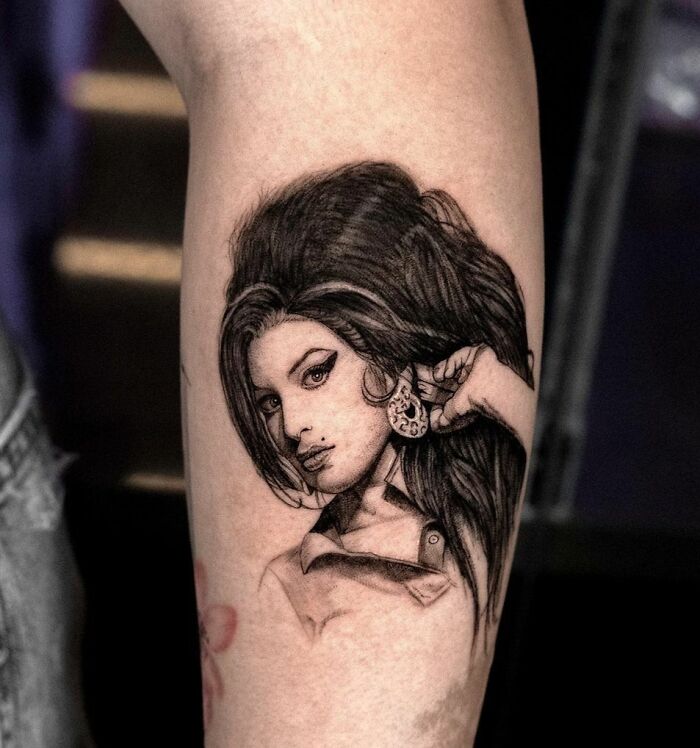 Moreover, the tattoo artist accurately captured her infamous beehive hairstyle, sultry cat-eye makeup, and signature winged eyeliner. Even the minute details in the shading and lines are visible, bringing out the depth in her features and giving her a very realistic appearance.
Bob Marley, a legend
This tattoo is a stunning tribute to the legendary reggae icon Bob Marley. The tattoo artist's skill is evident in the details, from the distinctive deadlocks to his soulful eyes that appear to radiate with the same passion and wisdom Marley was known for.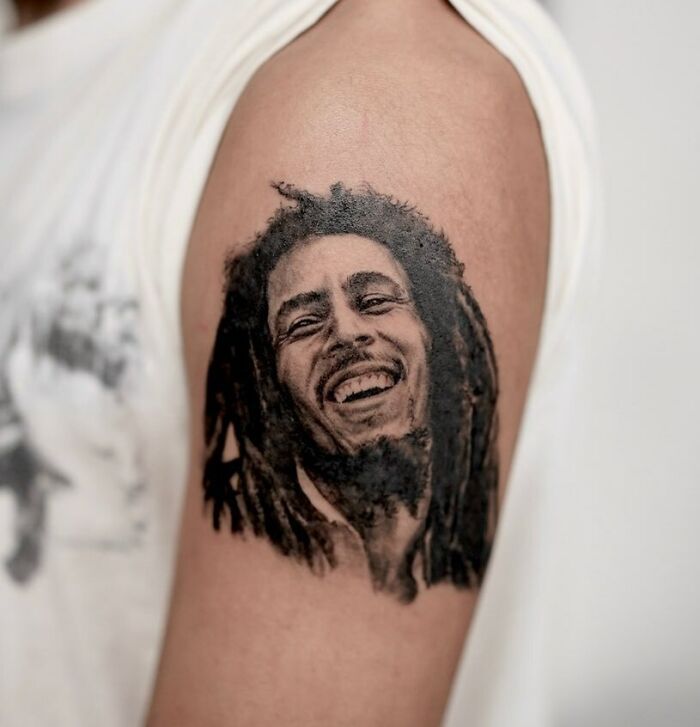 The ink on the tattoo almost seems alive, as if Marley's classic hits could begin playing at any second. Every time we see this tattoo of Bob Marley, we are fascinated by how accurate and in-depth it is in capturing the musician's essence.
Jim Morrison and the Doors
This arresting photo features a magnificent tattoo of Jim Morrison and The Doors. This is nothing less than a masterpiece, honestly! With his piercing eyes and particularly wavy hair falling to his shoulders, the portrait of Jim Morrison is remarkably lifelike.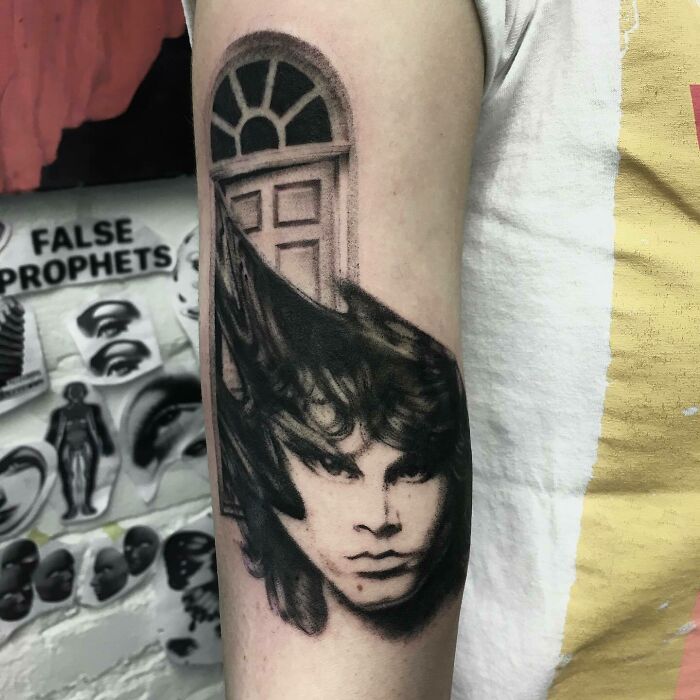 The beautiful details about the Doors music video are to die for! The band's poetic and psychedelic style is reflected in this piece of art, which not only honors Jim Morrison and The Doors' enduring legacy but shows how music and art continue to inspire us.
Bowie black suit print
We can see David Bowie in all his legendary splendor in this extraordinary tattoo art. Bowie effortlessly combines rock n roll charisma with elegance while donning his trademark black suit. This tattoo is incredibly captivating and caught our attention right away!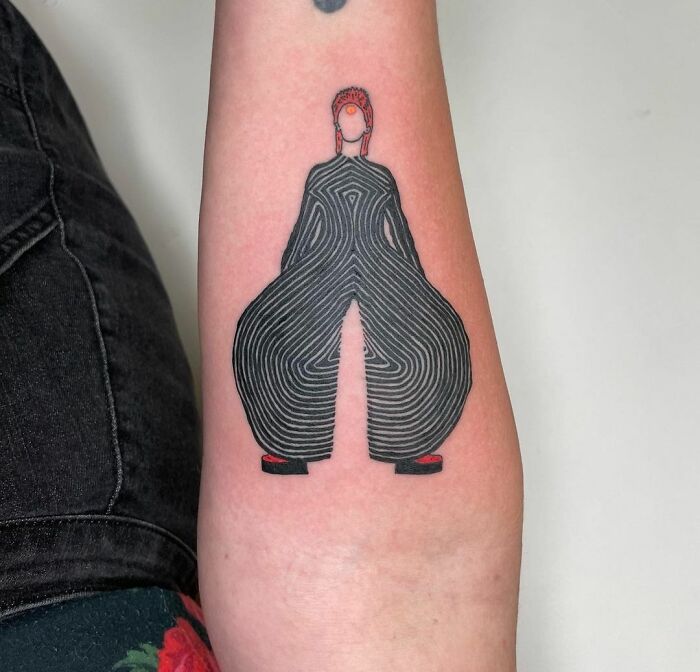 His enduring flared pants are exquisitely etched into the skin, conjuring up images of his legendary performances. This inked masterpiece illustrates Bowie's essence, otherworldly charisma, and timeless style. We can't help but be reminded of how Bowie's music crossed boundaries.
Talking to the moon…
This tattoo is a celestial masterpiece, a beautiful lunar musical design delicately adorning a shoulder. It evokes the essence of Bruno Mars' "Talking to the Moon" song, capturing the magic of a moonlit serenade in its intricate beauty. It's genuinely enchanting and evocative.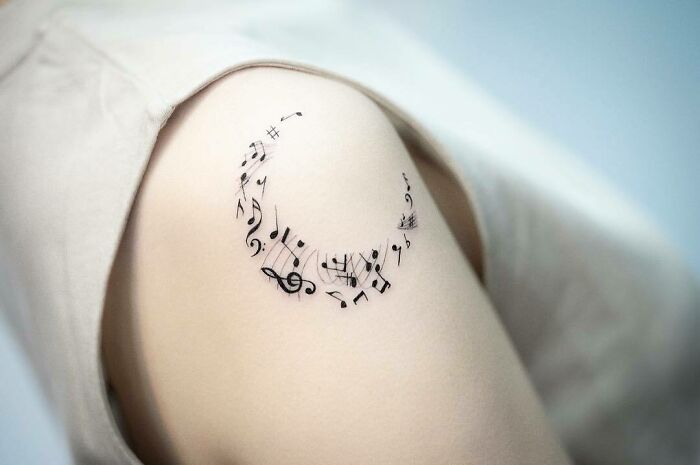 Each musical note tells a tale and has a melodic quality that touches the soul. We can almost understand this celestial lullaby just by looking at it! Thanks to the tattoo artist's superb attention to detail, nothing short of astounding!
Inked watercolor music
Looks like the artist said, "Let's paint a picture, but on the skin, not on canvas!" Imagine getting a tattoo of this beautiful watercolor piece of simply stunning music. It's an ode to the harmony between a symphony of hues and musical notes.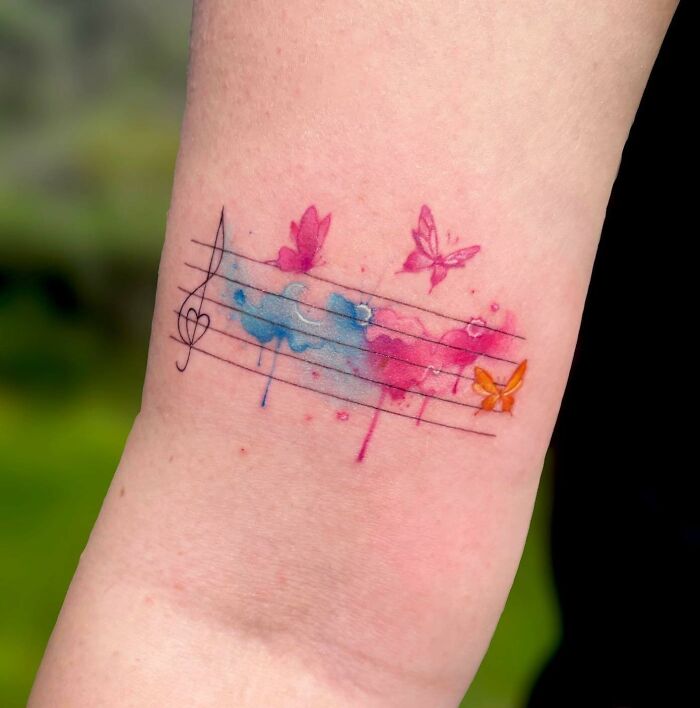 Look at the colors. They blend so harmoniously, resembling a watercolor painting with light rain still on it. Flowing together in gentle waves, soft blues, and pinks create a colorful but calming background, and the musical notes gracefully dance in between.
Heartbeats music
What a romantic and highly creative heart-shaped music swing tattoo this is! This charming piece of art depicts some musical notes formed in the shape of a heart, and they are floating around it like tiny fireflies on a warm summer night.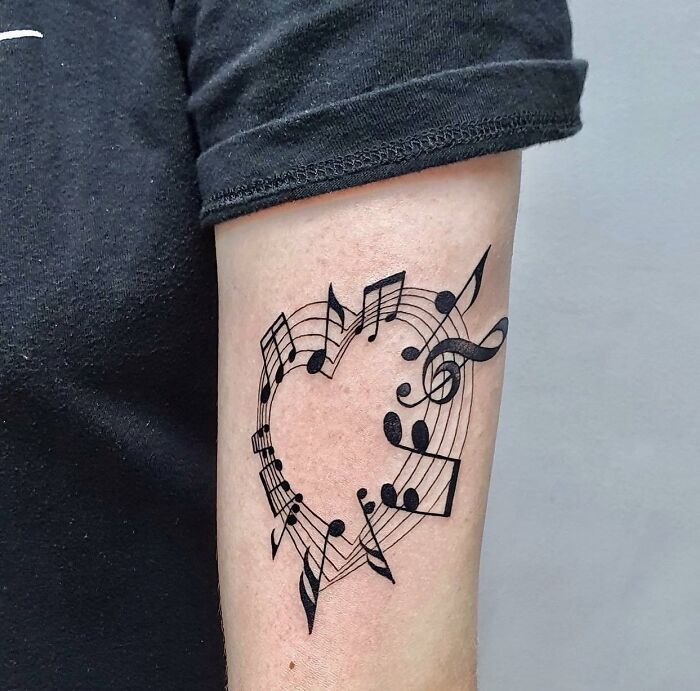 The musical notes are stealing the show here, creating a symphony of love that encircles the wearer's skin. This tattoo is brilliant not just because of how it looks but also because of the feelings it arouses. The heart shape adds a layer of tenderness.
"Back foot" by dinosaur pile-up
Could anything be more adorable than this? It's not just cute; it's utterly whimsical, and one can't help but exclaim "Awww" at the sight of this endearing dinosaur design. Those tiny arms playing the piano add a delightful touch of playfulness to the whole picture.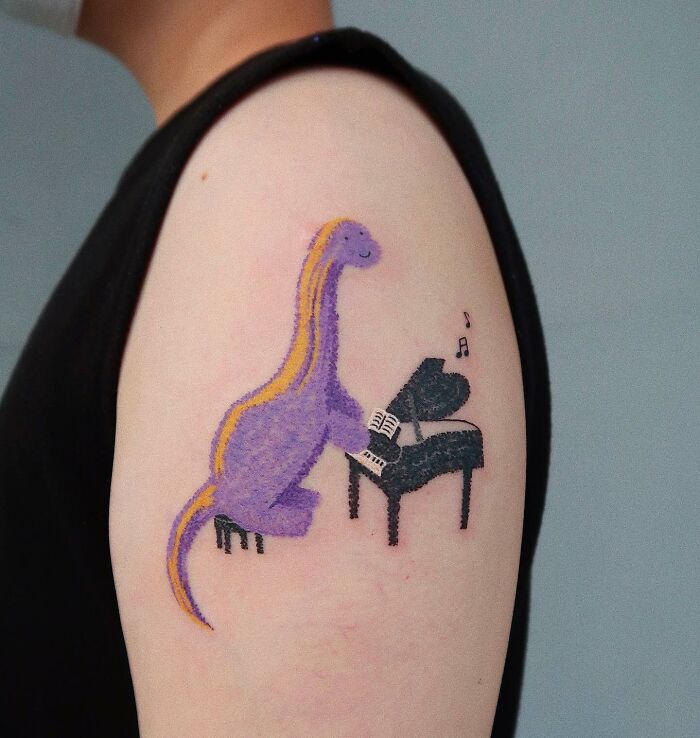 The cute purple dinosaur looks like he's been practicing for a prehistoric concert as it sits at the piano with his chubby hands and pretty smile. The artist has returned the memories of the innocent times when we were full of wonder and imagination.
Piano stairway to heaven
Let us describe a magnificent arm tattoo comparable to a staircase leading to musical nirvana. This work of body art is truly unique. It looks like the wearer's arm has been changed into a grand piano keyboard, winding up the forearm from the wrist.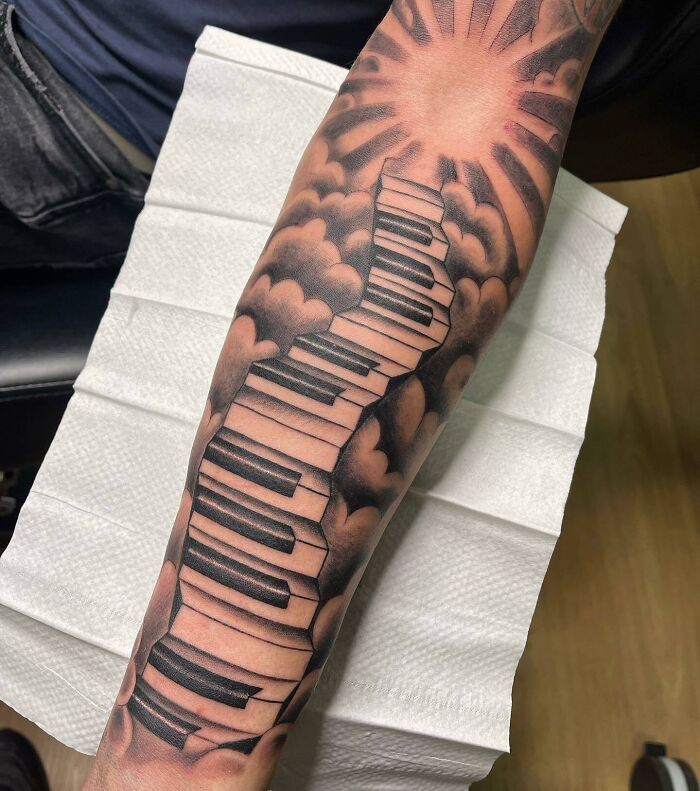 Every key is painstakingly designed with the ebony and ivory tones perfectly alternating, just like the keys on a real piano. The way these keys disappear into the horizon as they ascend the arm gives the impression of endless musical possibilities.
Music in the DNA
Can you imagine a tattoo that captures the spirit of music in an incredibly realistic way and is guaranteed to give you goosebumps? This tattoo is one of them. It looks like a snapshot of a soulful melodic moment caught in time.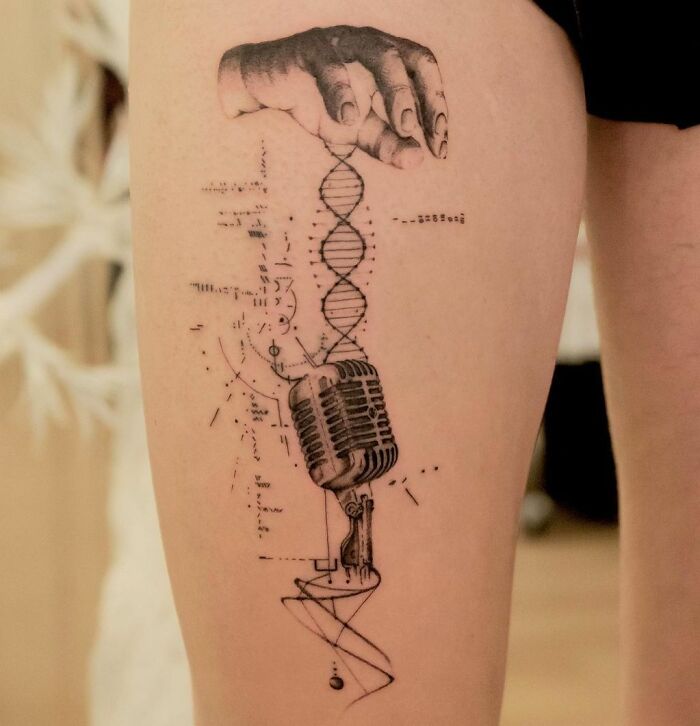 We are utterly amazed by the level of detail. You can even see the tiniest hint of sound waves moving around and look at the design of the DNA. It is truly remarkable. This is a total mic drop work by the tattoo artist, undoubtedly!
Music under a tree
This tattoo depicts a young boy finding comfort under the hospitable shade of a mature tree, wearing a pair of headphones that envelop him in a world of melodies, lost in his world. Every detail tells a story, and the artist has perfectly captured the essence.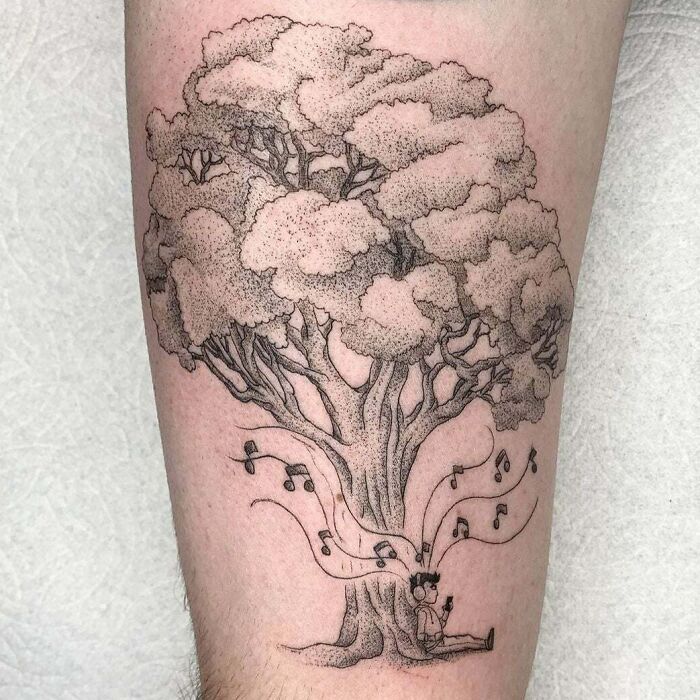 The boy's profound connection to music paints a vivid picture of his soul's symphony. Harmonies merge in the gentle embrace of nature's sighs, creating a melody that resonates within us. It's a beautiful reminder of the universal language of music and its ability to touch the deepest parts of our being.
Musical DNA
We are finding this tattoo both truly visually stunning and profoundly meaningful. This pattern features a crimson double helix that twists and turns, and the colorful musical notes gracefully intertwine, almost like genetic codes carrying the symphony of life themselves.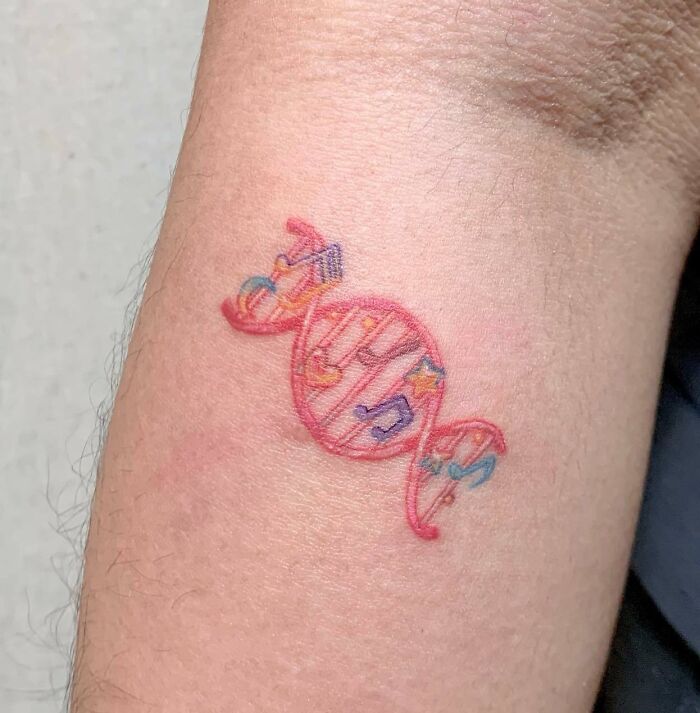 The contrast between the notes and the DNA design produces a fierce and melodious musical visual spectacle. This work of art credits both art and science and seems to incorporate the person's essence. It is making a profound statement of blending two interests.
Guitarist
This tattoo floored us. It is a picture of a fantastic headless guitar. The guitar player's body, the mic, and the instrument are rendered in fine detail, down to the last muscle and contour. The twist is that there is no head present here.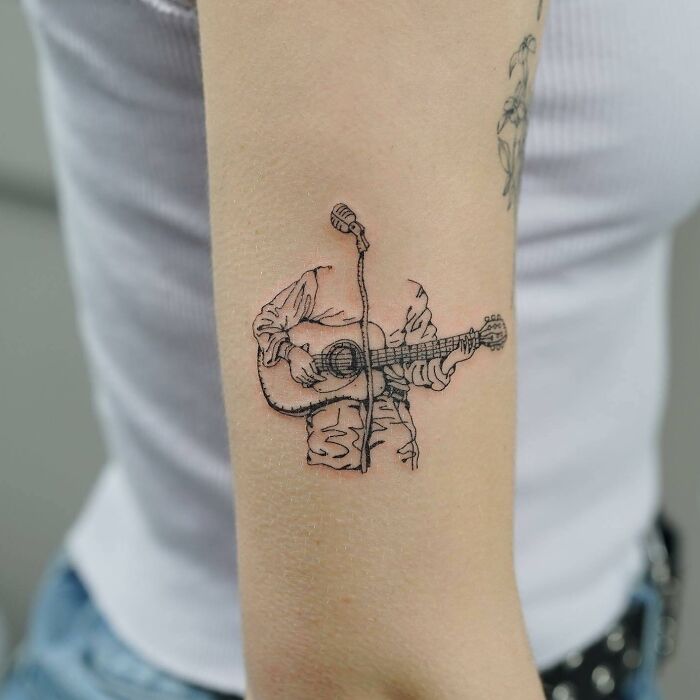 The secret to this tattoo's magic is its capacity to express passion and the spirit of music without using a face. It seems as though the musician's true self is revealed through the music. Moreover, the tattoo's dynamic composition makes it come alive on the skin.
Turntable tattoo
This tattoo is a throwback to the analog era that is still alive with soulful music, like a time machine. The detail level is perfect as the arm hovers over the vinyl record. We can almost hear the soft crackle of this vinyl record.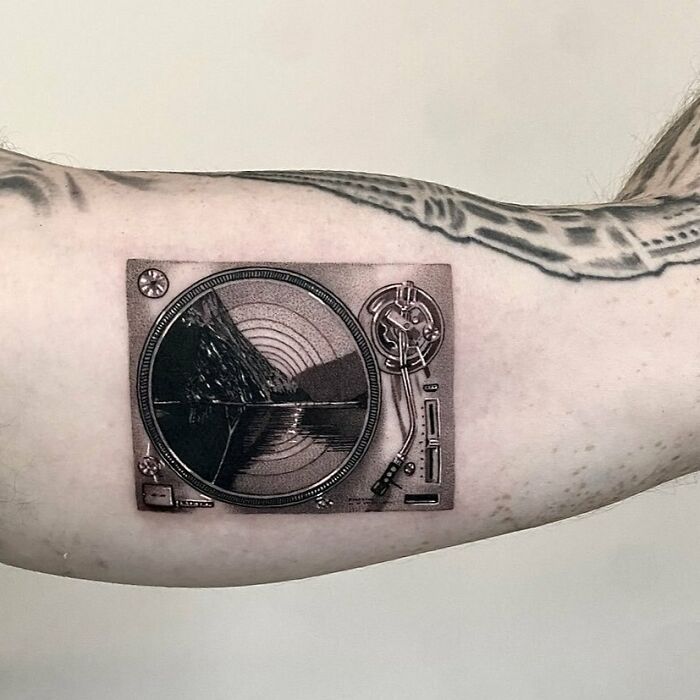 This tattoo has a rugged authenticity that is both captivating and sentimental, thanks to the tiny screws that were painstakingly inked. We are sure that you all will also feel a sense of nostalgia as you look at this fantastic tattoo drawing, yearning for the time when vinyl was art.
Music player buttons
Imagine having a tattoo that beautifully decorates your skin while vividly bringing your favorite songs to life. We are so in love with this sleek, minimalist media player tattoo. Who wouldn't want to have their favorite song inscribed on them? That's so cool!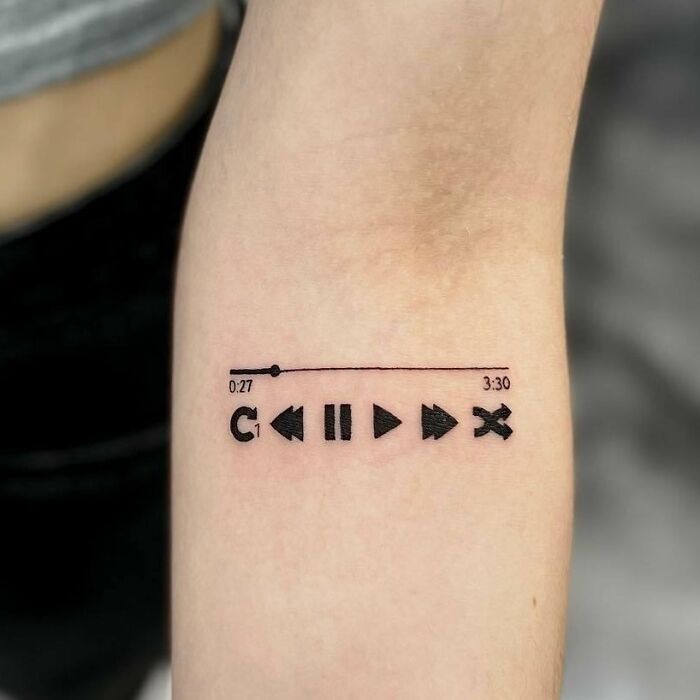 This tattoo style is modeled after an old-school media player, with play, pause, shuffle, and skip buttons. The wearer will think a digital symphony is always nearby, ready to serenade you. You can touch the play button, and the song will start playing.
Flowers in music note
This tattoo is such a beautiful fusion of music and nature. We love it so much. And look at those pretty spring colors that the artist used. That is the prettiest pastel blue note tattoo filled with flowers and leaves.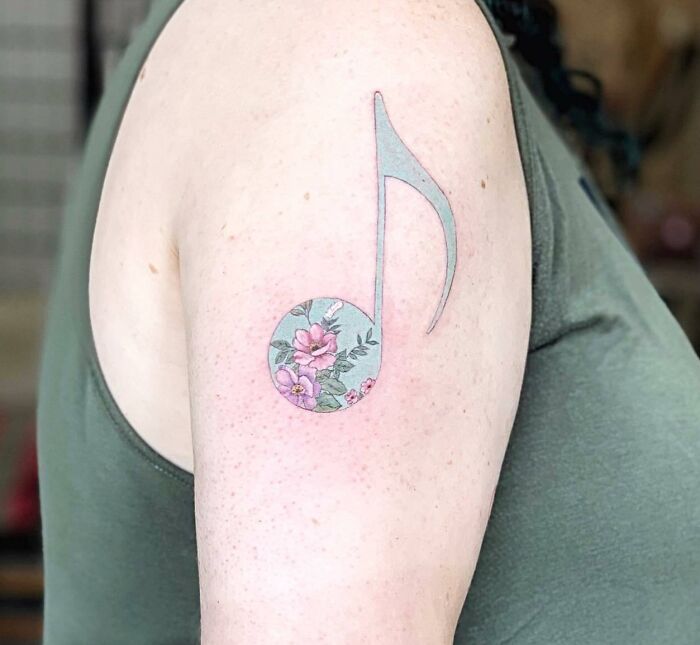 Each petal and leaf is diligently detailed with shades of lavender, sky blue, baby pink, and mint green combining to form a calming color palette. In addition to being aesthetically pleasing, this tattoo is beautiful because of the feeling it arouses.
Rose on a treble
Another small tattoo that is so pleasing to look at is giving "the Beauty and the Beast" vibes. Princess Belle should have this tattoo on her back. Moreover, this tattoo combines music and nature to tell a sweet fairy tale story!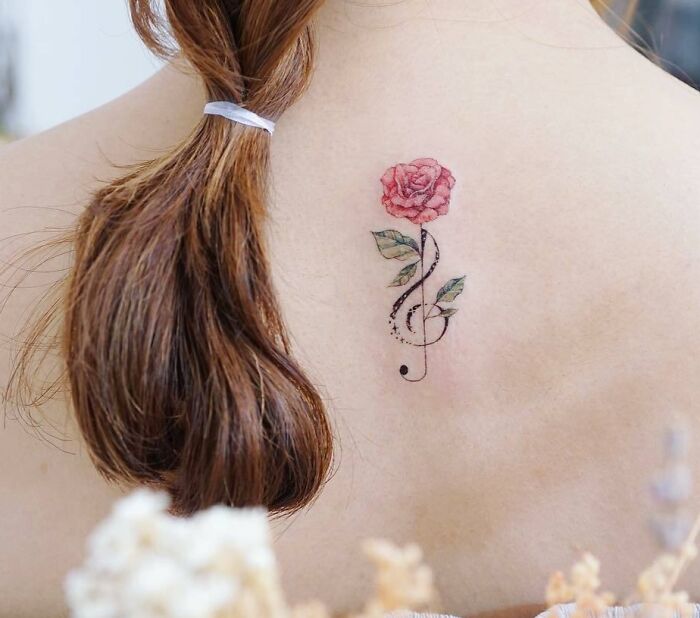 Its focal point is a delicate and intricate rose flower in full bloom. Each of its petals is a work of art in red shading and beautiful details that unfold gracefully. Yet the way the petal unfolds into musical notes sets this tattoo apart.
Music arms
We like these music-themed tattoos on both arms. These tattoos tell the passion of the wearer and how much of a music lover he is. Both arms are transformed into a musical canvas by this work of art. It's an appealing and harmonious sense of musical spontaneity.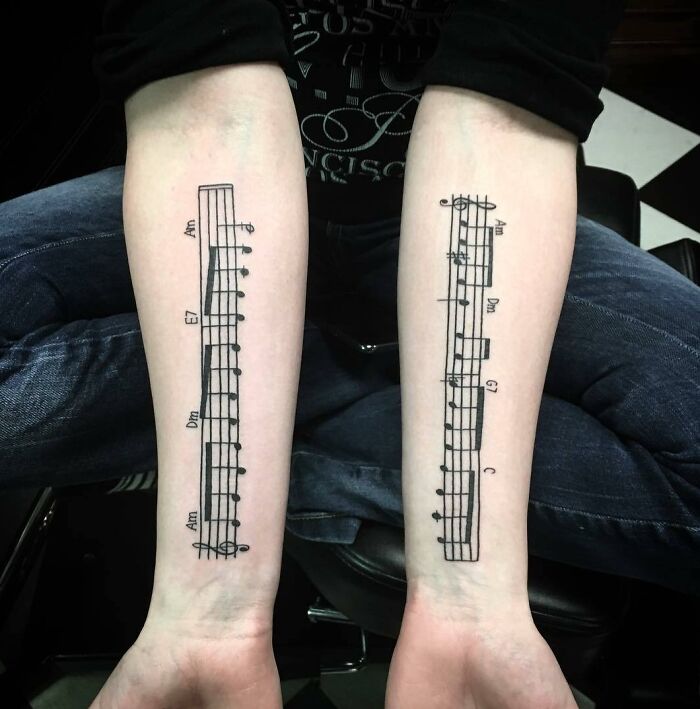 This tattoo's seamless integration with the wearer's natural contours is enchanting. It gives the impression that music is effortlessly radiating from the depths of the person's soul. Whether you're a musician or a devoted fan, this tattoo pays homage to melodies' magic.
Drummer tattoo
This person is a drummer in a band, and he is so dedicated to this craft that he has made his legs into a musical canvas. Indeed, it's a breathtaking work of art that honors the beating pulse of music.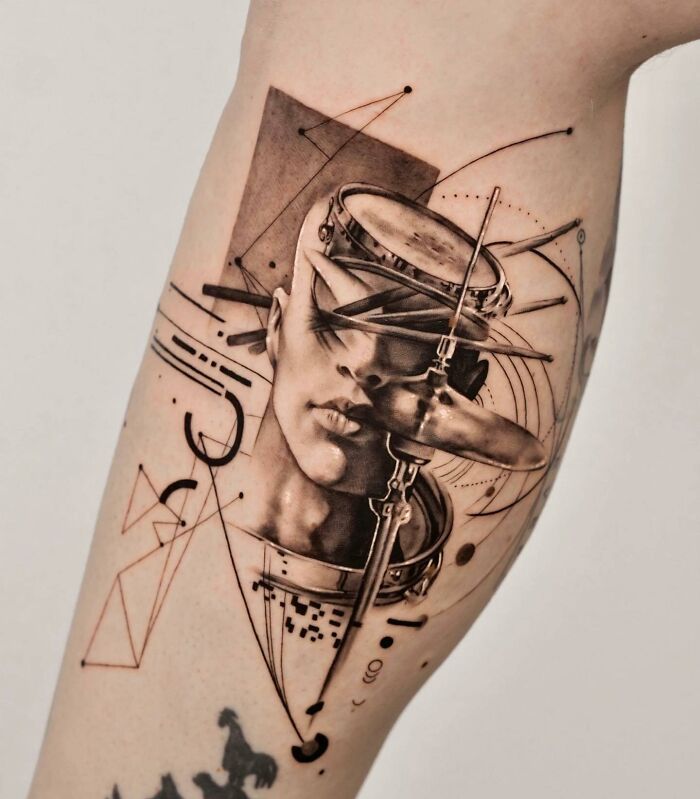 It displays a dynamic drum kit that is incredibly detailed. We admire all those details, the face shape, and all the geometrical designs that give this art a cherry on top! The fantastic sense of movement that this tattoo evokes is what makes it stand out!
Music-inspired
These music-inspired arm tattoos of cassettes, headphones, and a vinyl record create a mesmerizing symphony of passion and nostalgia. This tattoo brings back memories of lazy afternoons listening to music on iPods or desktop computers. These tattoos show nothing but strong emotions for music.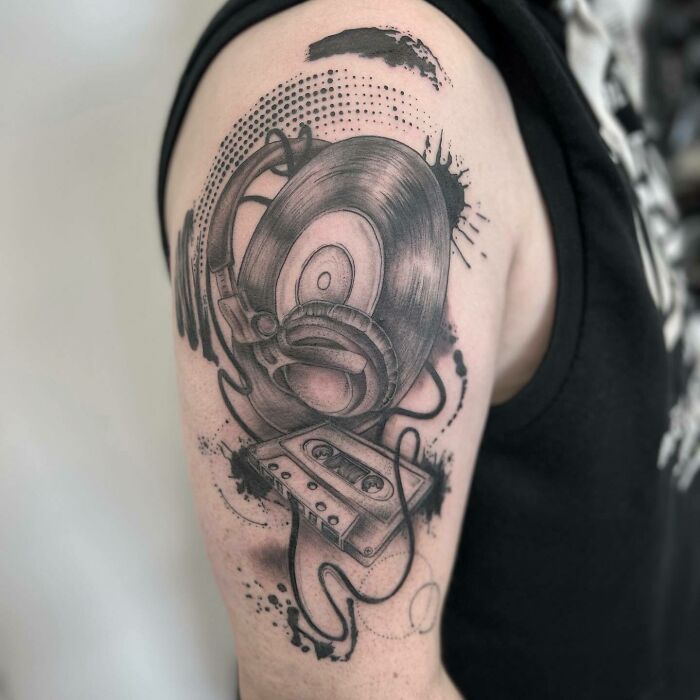 The sleekly designed headphones and their intricate shading reveal a deep passion for exploring new sounds. This tattoo, featuring a combination of a cassette, headphones, and a vinyl record, serves as a vivid visual diary of the wearer's musical odyssey.
Keith Haring, DJ dog
This tattoo is a dynamic work of art featuring a lively portrayal of Keith Haring's DJ Dog. Amidst a riot of vibrant, abstract shapes and squiggly lines, the dog dances with boundless enthusiasm, creating a visually captivating and energetic composition.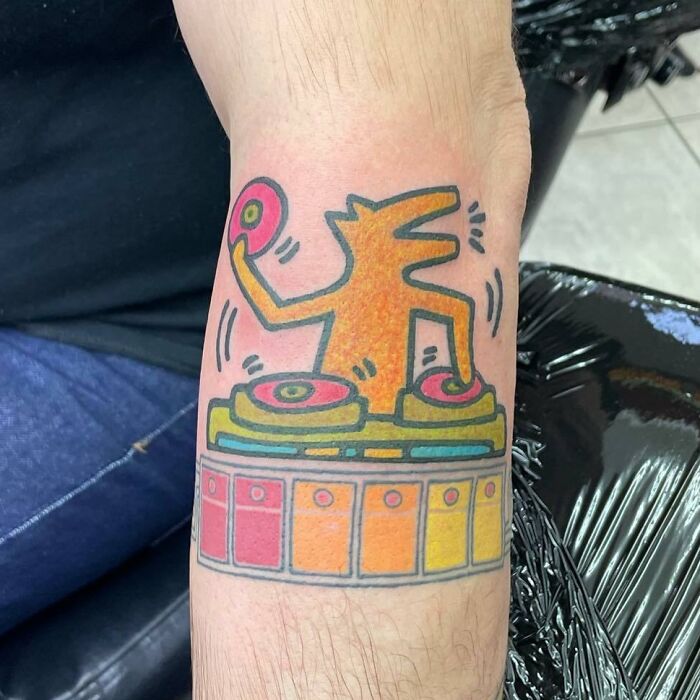 We cannot help but be fascinated by the sheer dynamism and joy radiating from this person's arm. It feels as if the spirit of Keith Haring himself has been infused into the ink. Furthermore, this tattoo is a perfect example of a music celebration.
Musical composition art
This stunning musical composition tattoo has left us speechless. Combining some musical notes, a broken guitar, butterflies, and some abstract lines creates this beautiful work of art. It's like the tattoo artist has inked a musical diary into the person's skin.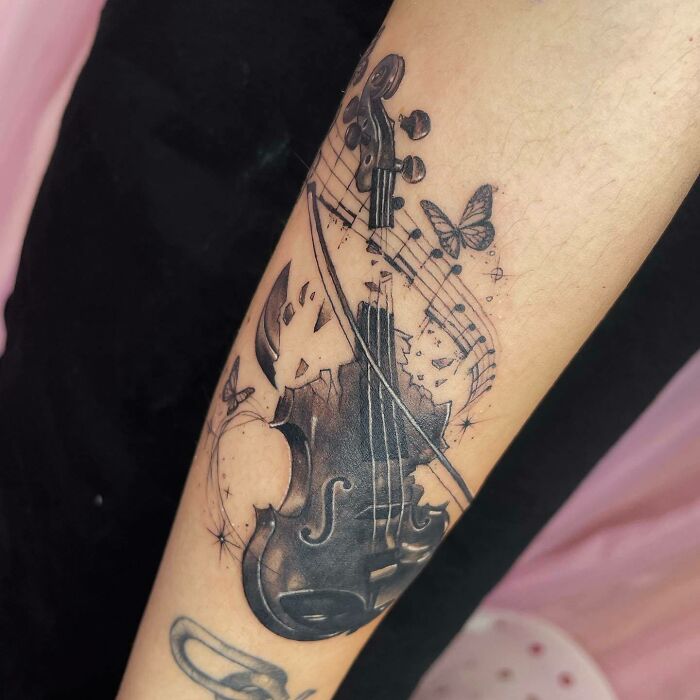 This tattoo's idea and design are fabulous, how the musical notes have cut the guitar into pieces and left their effect. This tattoo is a lovely reminder that music has the capacity to speak to our souls and leave an enduring impression.
Delicate music sleeve
We are staring in awe at this incredible piece of art that is inked on this person's arm. It's a stunning tattoo with a musical theme that seemed to come to life before our eyes. It appears as if the musical notes are dancing to an unseen melody.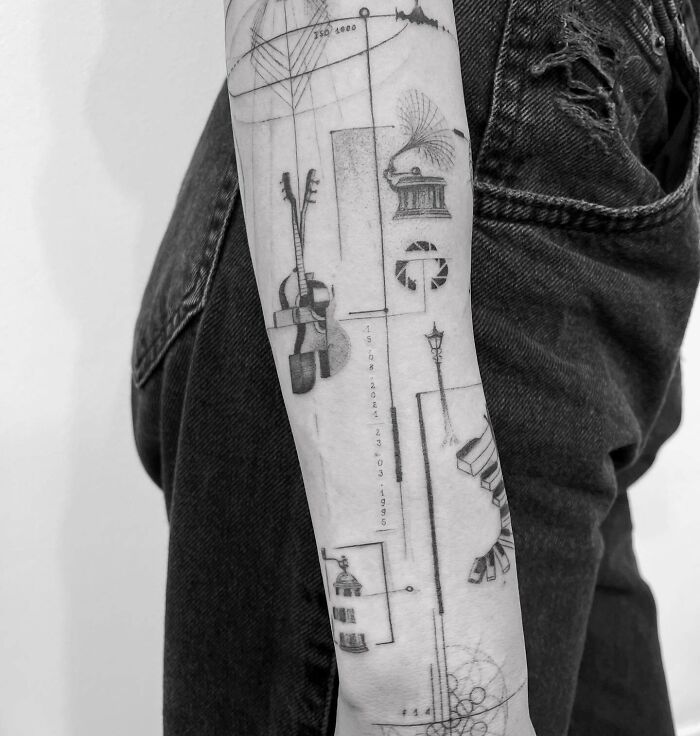 The musical instruments are drawn in such an aesthetically pleasing way that we feel like we are drowned in a sea of music. A mellow collection including a guitar, piano, and a treble are well arranged and meticulously detailed with pure passion.
Spiral music notes
Are the musical notes in this tattoo dancing to some phantom melody? This really is a stunning spiral of musical notes inked on this person's arm. A hypnotizing visual harmony is produced by the notes as they spiral outwards from the center around the arm.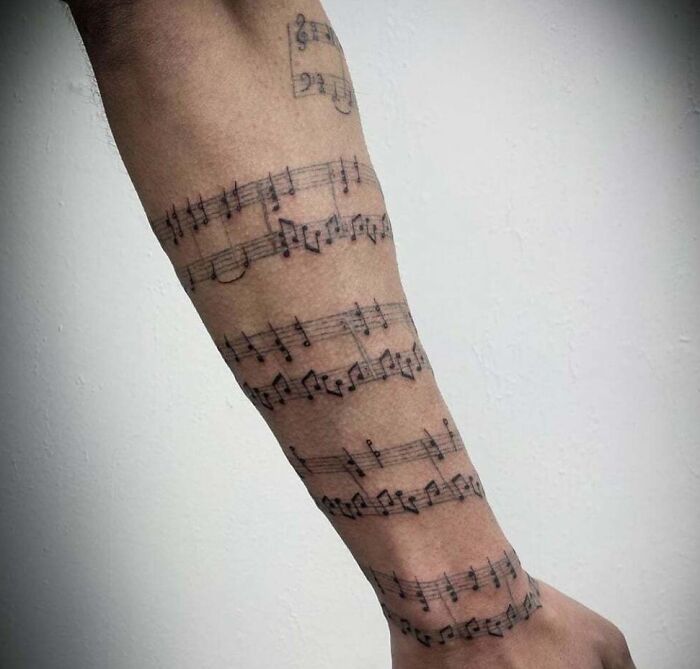 Every musical note has been beautifully shaded and drawn giving the music a rhythmic and moving feel. We cannot help but wonder what will be the story behind this tattoo that inspired the tattoo artist to draw this amazing masterpiece.
Music underwater
What a beautiful and creative idea for a tattoo! A magnificent sea diver is playing guitar with amazing ease while perched atop a grand piano and holding a bottle of wine, submerged in the ocean away from the unruly world.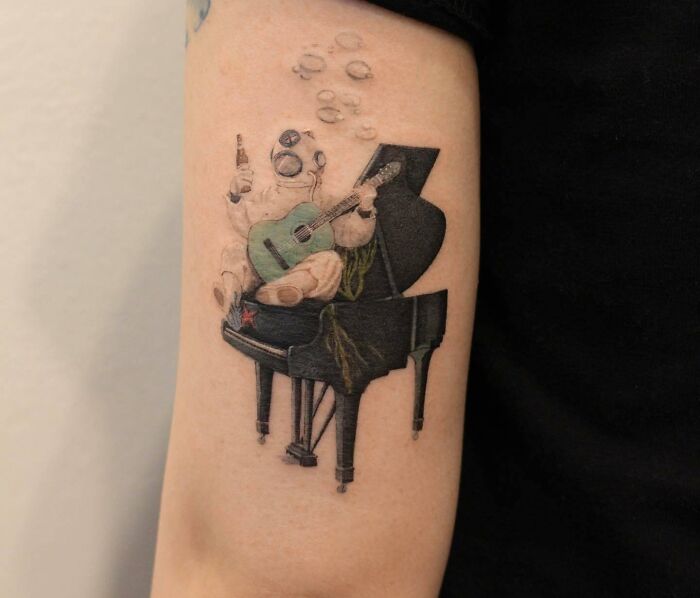 The diver's equipment is meticulously designed. It's like a captivating scene where music and mystery come together with a special fusion of the wearer's underwater explorations and the melodic power of his guitar. This creative expression reminds us that even in the unknown depths, one can find tranquility through music.
One-line piano art
This is such an amazing piece of artwork that is beautifully inked to look like a piano. The design's beauty and simplicity are astounding. The fluidity of that one uninterrupted line expertly captures the contours of the piano keys and lid.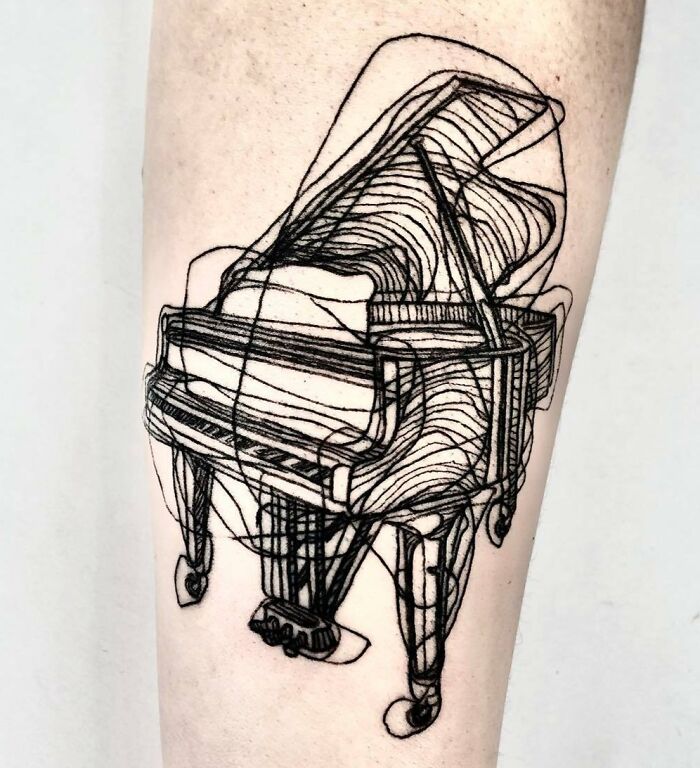 This simple tattoo perfectly shows this person's love for music and this unique instrument, and he couldn't have chosen a more original and lovely way to express it. Looks like the music is just flowing through his arm! It's a striking tribute to the impact of a single phrase.
Groke Moomin playing double bass
Have you ever seen a tattoo that amazingly captures the wonder and magic of Moomin Valley? Here, a funny character, Groke Moomin from Tove Janssens's well-known Moomin Valley stories, is elegantly adorned with a double bass as she is plucking the strings with pure joy.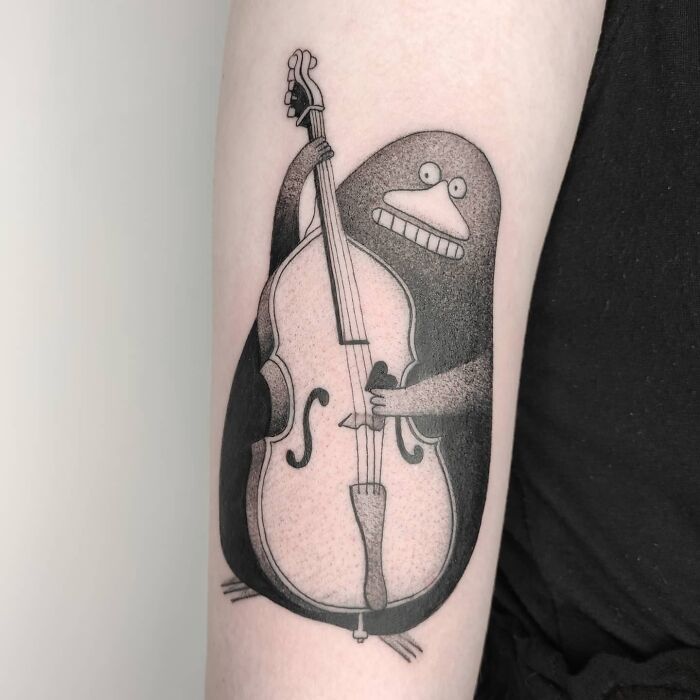 It feels like Moomin Valley has come to life on this wearer's skin when we look at this little Groke playing double bass. The haunting beauty of Groke and the soulful resonance of music are combined in this tattoo to catch the essence of Moomin's magic.
Treble Clef neck tattoo
This tattoo is nothing short of a musical showpiece. This inked work serenades the senses as it moves gracefully along the neck's curve. The treble clef, a representation of musical imagination, is oh so gracefully surrounded by beautiful shaded details.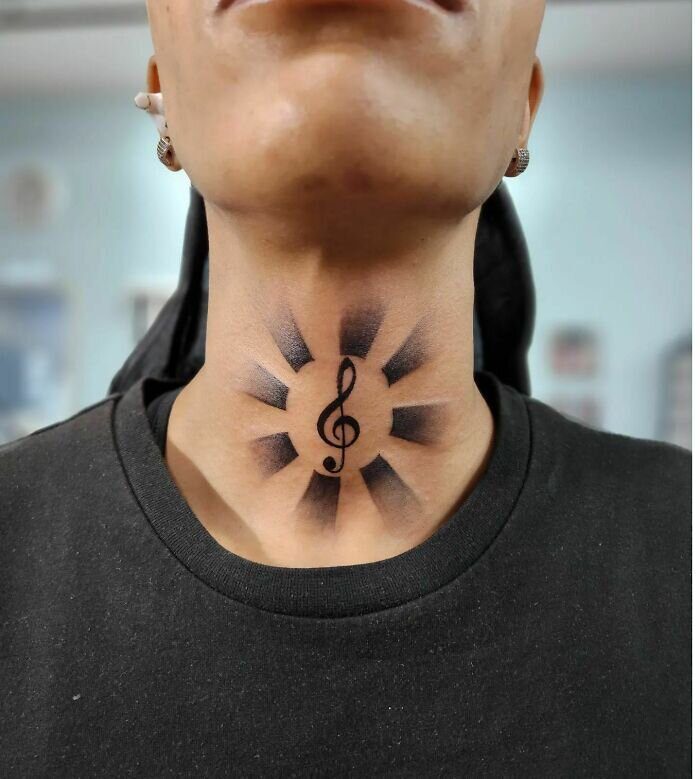 The placement of the tattoo on the neck adds a sense of mystery and surprise. This magnificent tattoo design is a visual crescendo that leaves a long-lasting impression on the neck as well as the heart, demonstrating the ability of music to uplift and move us.
Headphones
Wow, we are in love with this flawless and simple tattoo artwork adorning a leg. This work combines sleek lines and minute details to create a symphony of body art. At first glance, we are drawn to the realistic representation of a pair of headphones.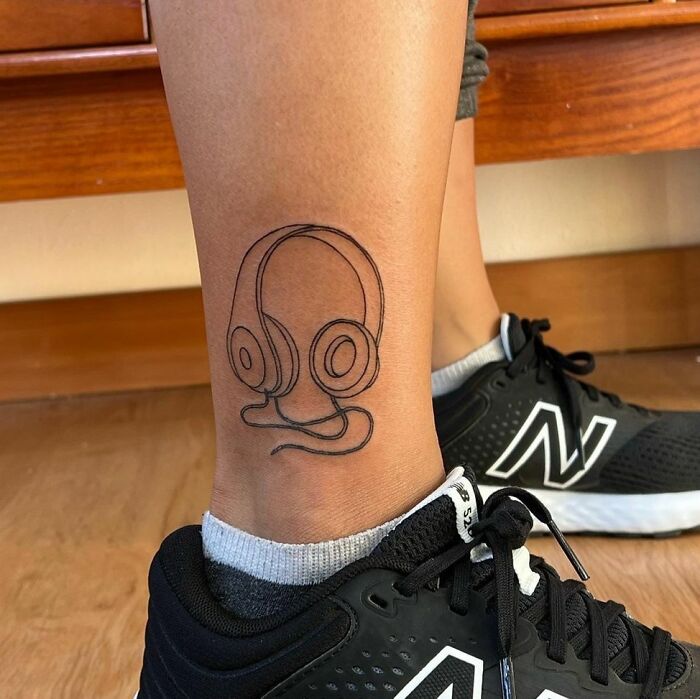 The cables slither gracefully around the leg and seem like they are moving to an unheard melody. This amazing tattoo weaves this person's intense love of music with an artistic flair to reveal his deep and intense passion.