We Love Rock And Roll: A Photographic Tour Of The Lives Of Classic Rock Legends
By Jishnu B August 10, 2022
---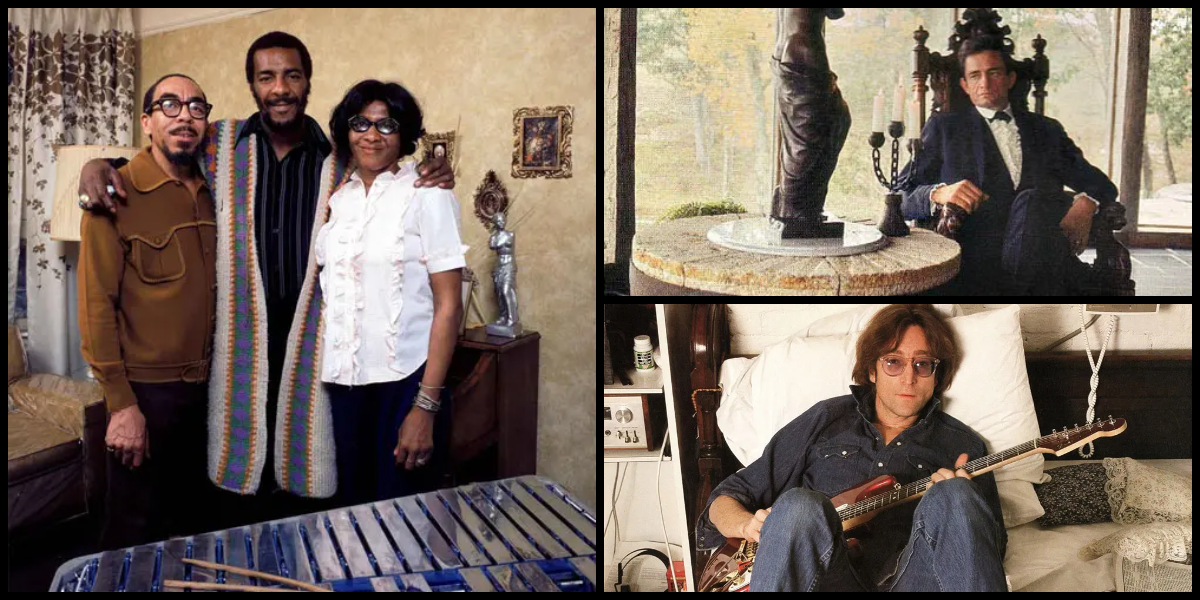 It is safe to say that rock music is one of the most powerful and influential genres of the 20th century. Since its rise in the mid-1960s, rock has been a catalyst behind many social and cultural phenomena that we still see today. As a whole, the genre has now evolved from what we now call "classic rock" into several sub-genres that have become popular worldwide.
Of course, we can't discuss rock without talking about the many talented musicians that shaped it and continue to influence modern-day music in all genres. They all feel larger than life. When we think about rock musicians, we think of wide stages, roaring crowds, blinding lights, flashy hairstyles, and costumes. It's easy to forget that they're also human beings, with wants and needs just like us. In this article, we will showcase photos of rock musicians in their rawest forms.
Freddie Mercury
It would be criminal not to start with Freddie Mercury, the legendary lead vocalist of Queen. His legendary 1985 concert at the Wembley stadium remains one of the greatest events in music history. He is credited for redefining masculinity in rock culture and was an absolute fashion icon. He was sadly cursed with a short life.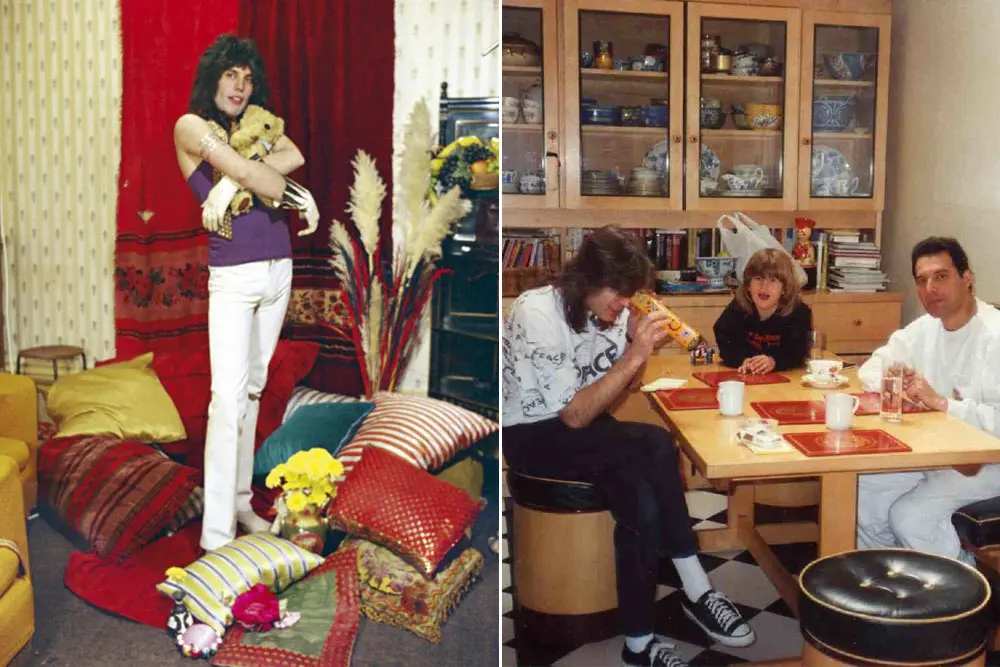 Mercury was diagnosed with HIV in 1987. Due to health concerns, Mercury had to cut back on flamboyant, androgynous looks. The above picture is taken from his abode in Kensington, London. Mercury looked very down to earth as he shed his flashy outfits and hairstyle.
David Crosby
Before Snoop Dog, David Crosby was the ultimate cannabis connoisseur of America. During his strong rock 'n roll career over the last half a century, he earned a spot in the Rock and Roll Hall of Fame twice! You may know Crosby for his crass humor and eccentric personality, but did you know he comes from a prestigious family pedigree?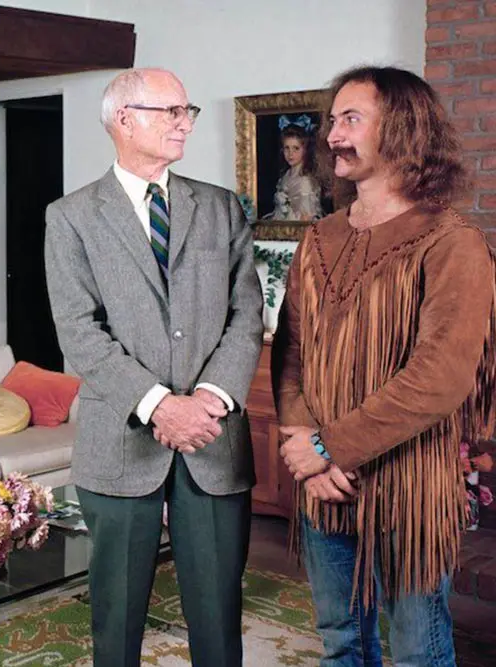 His father was none other than Floyd Crosby, the Academy Award winning cinematographer. Meanwhile, his wife was the granddaughter of Bishop of Pittsburgh Cortlandt Whitehead. David's apple had fallen far from the tree and it is quite visible in the given picture with his father.
Debbie Harry
The lead vocalist of the band Blondie, Debbie Harry was the ultimate punk rock icon of the '70s. From a simple Miami tomboy, she became a Playboy bunny, and then a global star. She earned millions from Blondie and her solo career, including several number one hits in both the UK and the USA.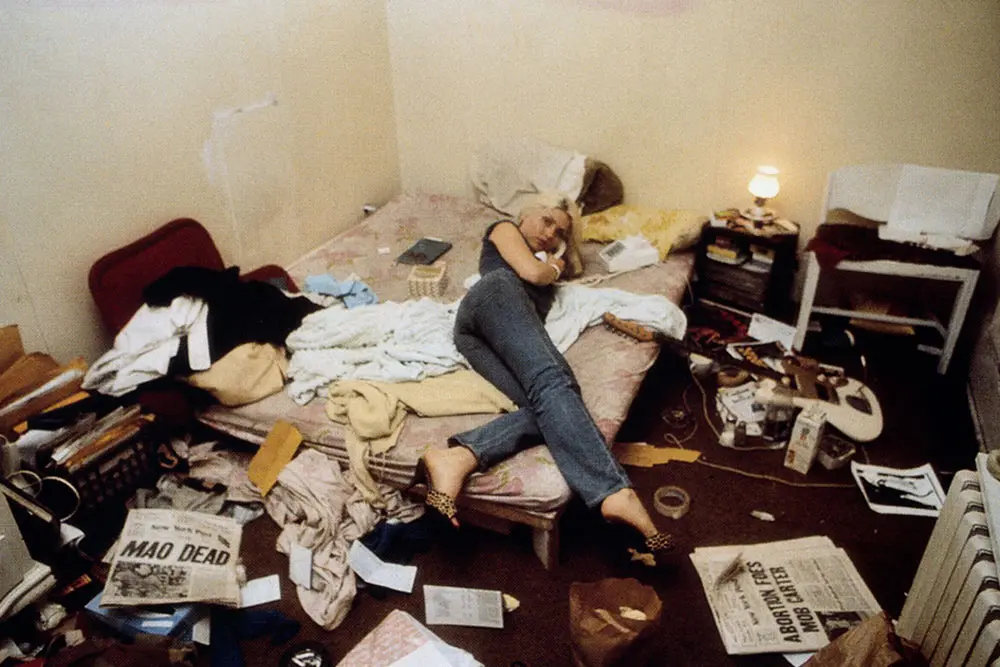 Debbie's early success had enabled her to purchase several estates in New York. However, she was quite disorganized, as you can see in this photo taken from her apartment in the '70s. Despite the chaotic mess of clothes, newspapers, and guitars, Debbie looks self-assured lounging on her bed.
Alice Cooper
The "Godfather of Shock Rock," Alice Cooper, stands out from his peers due to his insane stage shows that offer a complete circus experience in the best way possible. Unfortunately, he also faced the stereotypical problem of substance abuse that many musicians face. Thankfully, he bounced fully back and helped other musicians recover.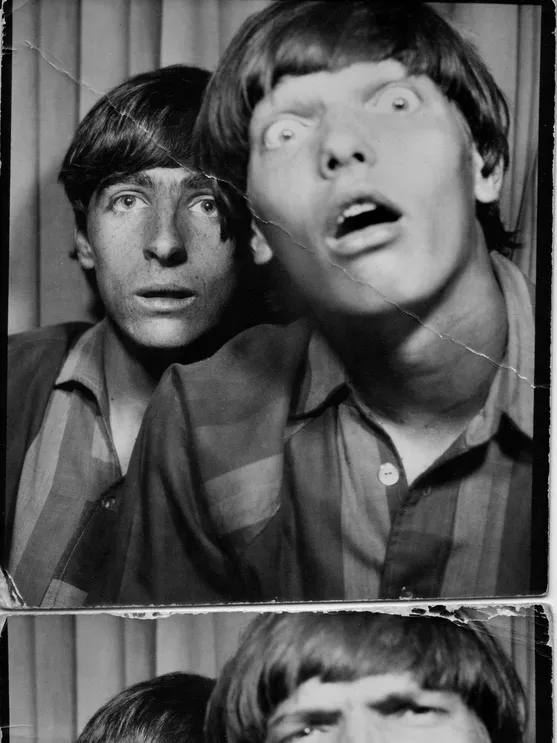 This photo offers a rare glimpse of Alice Cooper before he earned a name in the rock and roll lifestyle. Childhood friend Dennis Dunaway shared this picture of the two of them messing around in a photo booth back when they were in high school.
John Lennon
John Lennon and the Beatles are most certainly timeless figures in music. However, Lennon also had his fair share of controversy. To this day, many fans blame his second marriage to Yoko Ono as the reason the Beatles disbanded. Due to the massive backlash, Lennon opted for a lowkey lifestyle in New York.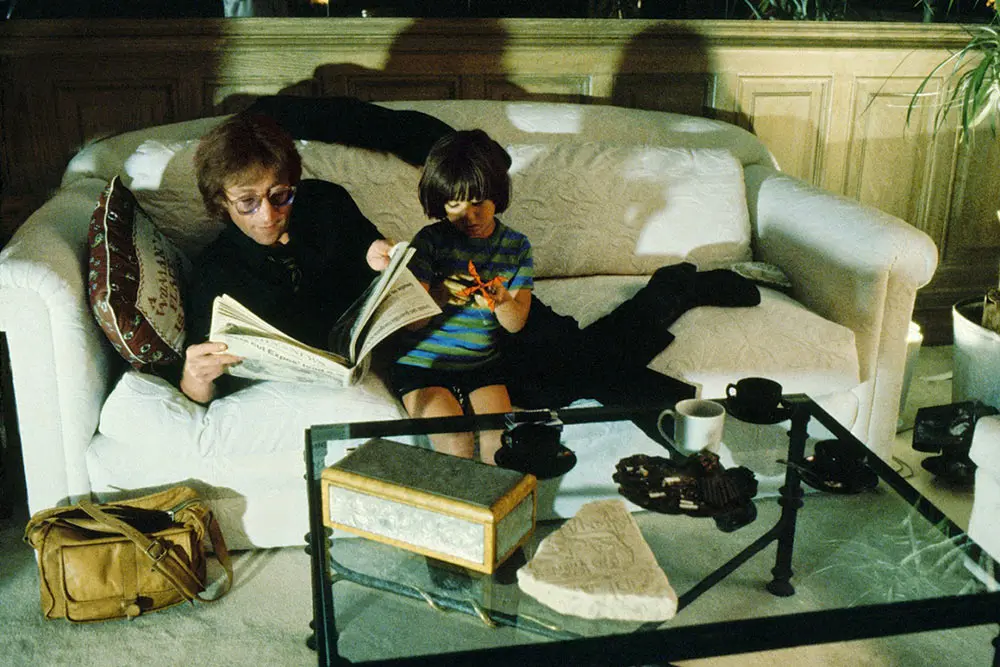 John had taken a five-year hiatus, in which he acted as a "househusband" and took care of his son, Sean Lennon, who later followed his father's rockstar footsteps. During this phase, he used to spend his days leisurely, baking bread, raising his son and writing music.
Grace Slick
The psychedelic rockstar Grace Slick entered San Francisco's music scene in the mid-60s. She entered the Rock and Roll Hall of Fame in 1996 as a member of Jefferson Airplane. Slick retired from the music scene in the '90s. Instead, she immersed herself in visual arts.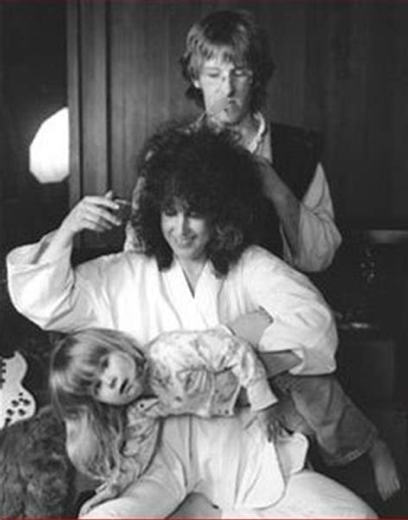 Slick dated two of her bandmembers — Spencer Dryden and Paul Kantner. She spent two years with the former, but she had a stronger bond with Paul. They were called "the psychedelic John and Yoko." In 1971, they welcomed a daughter into the world, China Wing Kantner.
Elvis Presley
The "King of Rock and Roll," Elvis Presley, will forever remain an iconic figure. His suave charm and powerful voice had ensnared thousands in the 20th century. Even though it's been 45 years since he passed away, he continues to be one of the most recognizable figures in the music industry.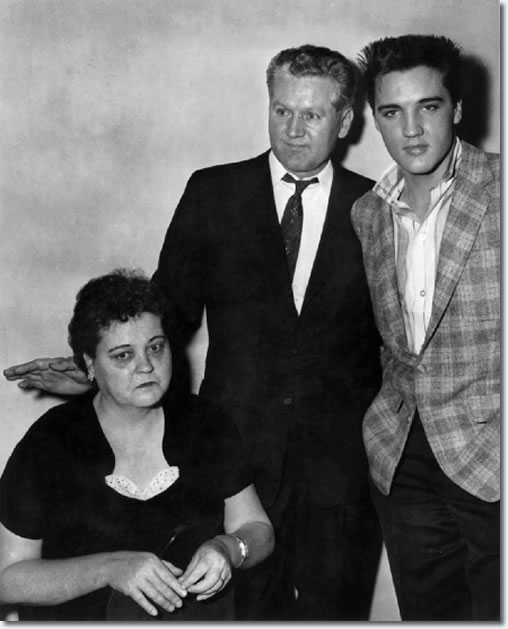 Despite his mass success, Presley had a humble beginning. Growing up, his father rarely had a stable job. Thus, they took assistance from the neighbors and the government to survive. After his musical success, Elvis tried to give his parents a better life. However, his beloved mother passed away soon after, unable to witness how far his career would go.
George Harrison
Here is another member of the legendary Beatles. Other than his band's popularity, he gained mass success as a solo artist and is still regarded as one of the top 100 guitarists of all time. Harrison was deeply fond of Indian culture and Hinduism. After his death, he was cremated according to Hindu customs.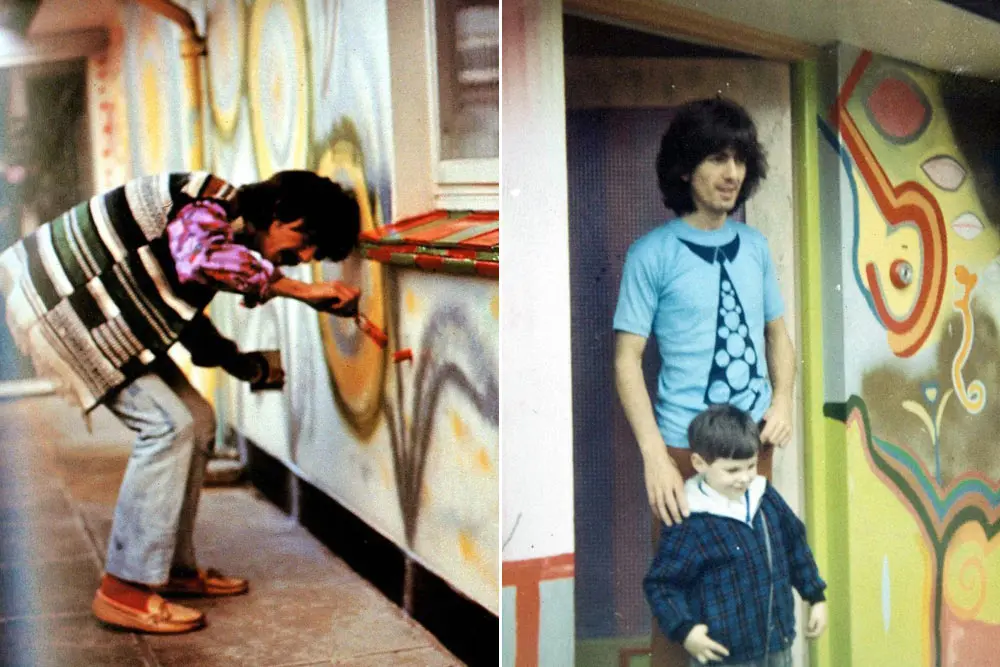 During the psychedelic phase of the Beatles, Harrison was massively inspired to modify his house according to the art style. He hand-painted the walls of his Kinfauns home where he lived with his former wife Patti Harrison. In 1967, it looked like a psychedelic fever dream.
Kurt Cobain
Nirvana's lead vocalist Kurt Cobain is one of the most recognizable figures of the '90s. Despite his massive commercial and critical success, he was also a tortured artist. Tragically, his depression led him to his untimely demise at the young age of 27.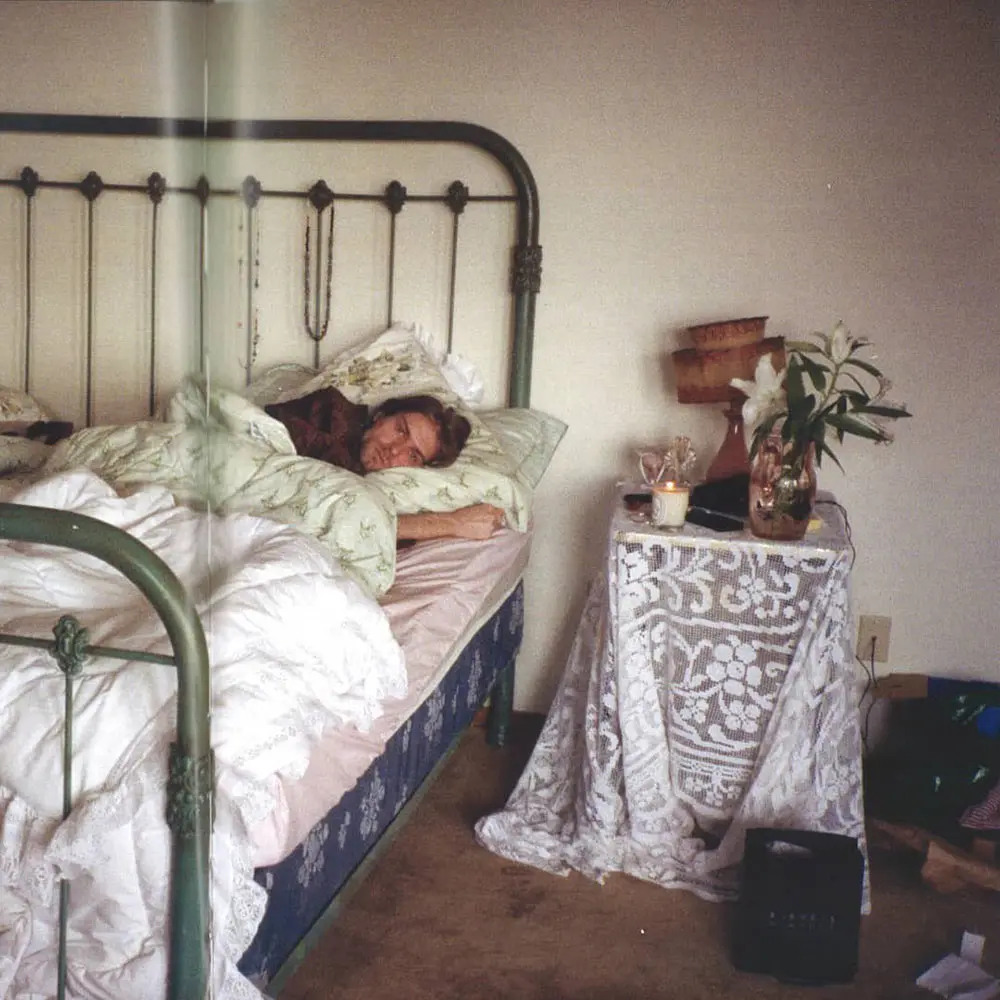 Before passing, he married Courtney Love and started a family with her. The above photo was taken by Courtney Love herself in her North Seattle apartment. According to her, this particular photo was her favorite snap of her late husband. Love did not remarry after his death.
Bob Dylan
Bob Dylan requires no introduction. He is regarded as one of the greatest songwriters of all time. Dylan received the prestigious Nobel prize in literature back in 2016, and sold more than 125 million records, thus making him one of the best-selling artists of all time. Bob also won Grammys 10 times.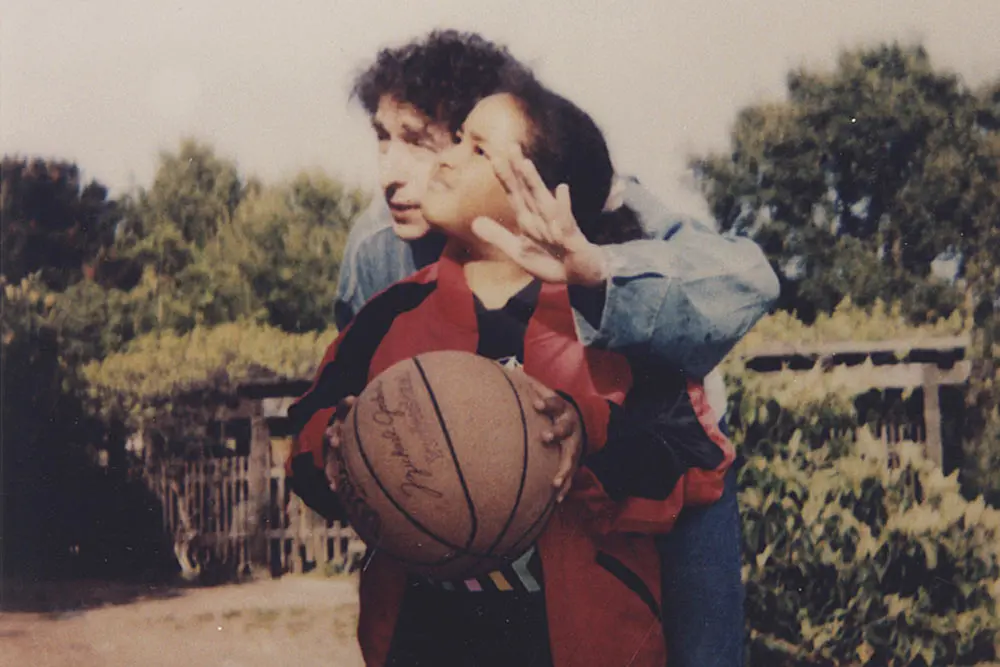 His overwhelming success also attracted overwhelming attention, which can be dangerous for both the star and their loved ones. Dylan married Carolyn Dennis in 1986; the same year they bore a daughter that they had hidden from the public. In the photo, Dylan is seen playing basketball with his young daughter.
David Bowie
David Bowie is the ultimate '70s rock icon. His innovative works made him one of the most influential figures of all time. Bowie sold 100 million albums, and was the artist who sold the most vinyl records in history. Clearly, Bowie will always be a force to be reckoned with.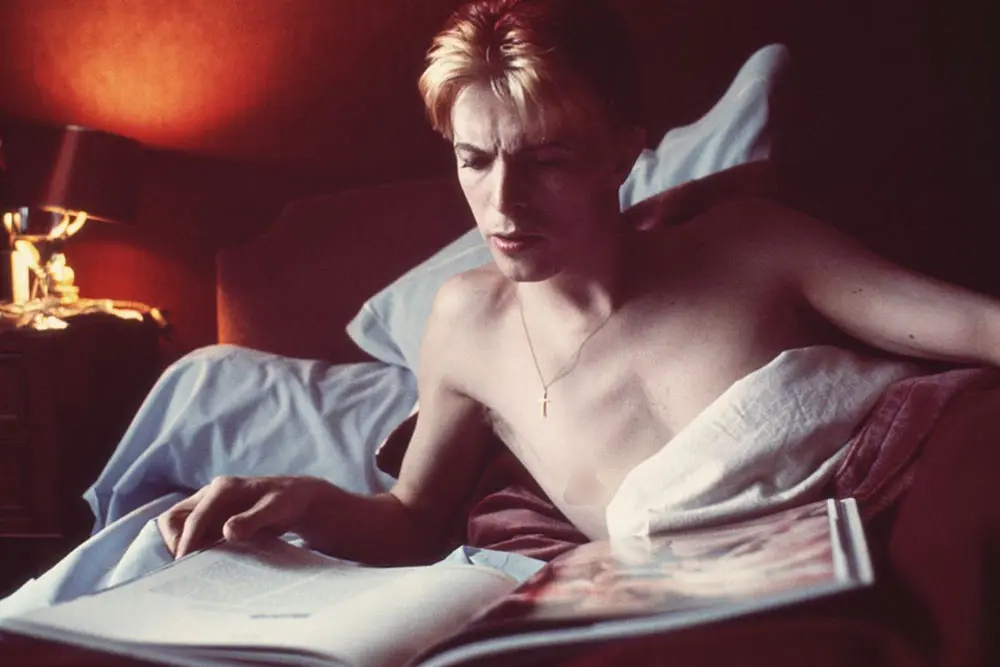 Bowie's Glam Rock era persona, Ziggy Stardust, stands out due to their flamboyancy and androgynous appearance. Their vibrant hair and gorgeous costumes are unmistakable! This era earned him his own cult following that continues to grow even in the 21st century.
Jimmy Page
Page is the founding member of the legendary rock band Led Zeppelin. He is also considered one of the greatest guitarists of all time, alongside legends such as Jimi Hendrix and Eric Clapton. After being inducted into the Hall of Fame twice, he earned his right to live like a king.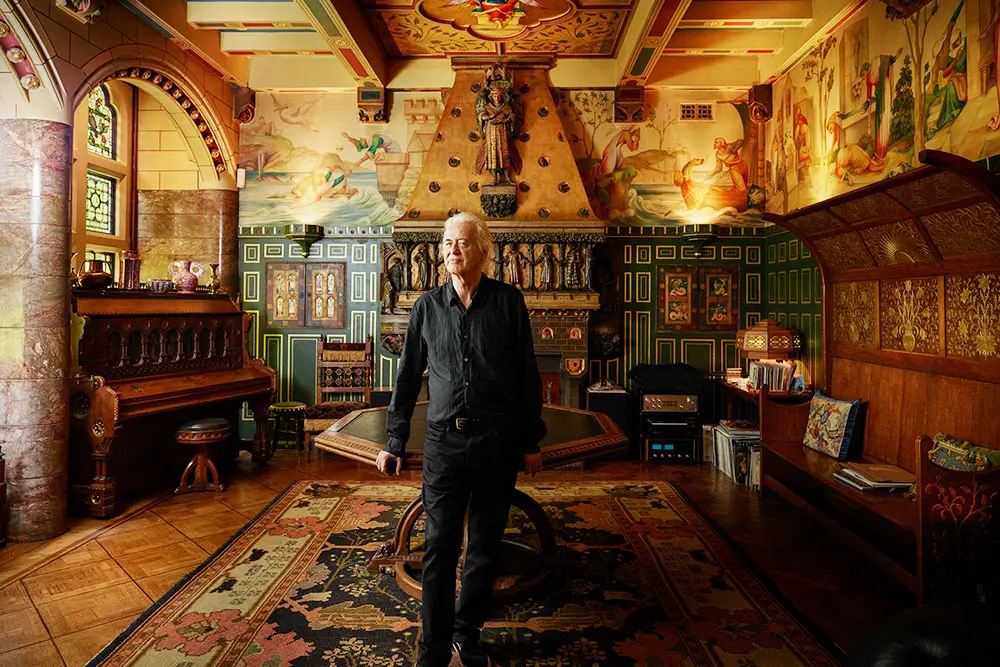 And live like a king, he did. Page purchased a Victorian castle in his twenties and had been living there ever since. It's one of his most prized possessions as he takes great care of it. Page refuses to play any electric guitar in the old establishment, fearing it'll collapse from the vibration.
Lou Reed
Despite not being a big commercial success, Lou Reed and Velvet Underground created a longstanding effect in the underground and alternative rock music scene. Reed had entered the Rock and Roll Hall of Fame twice, both as a band member and as a solo artist.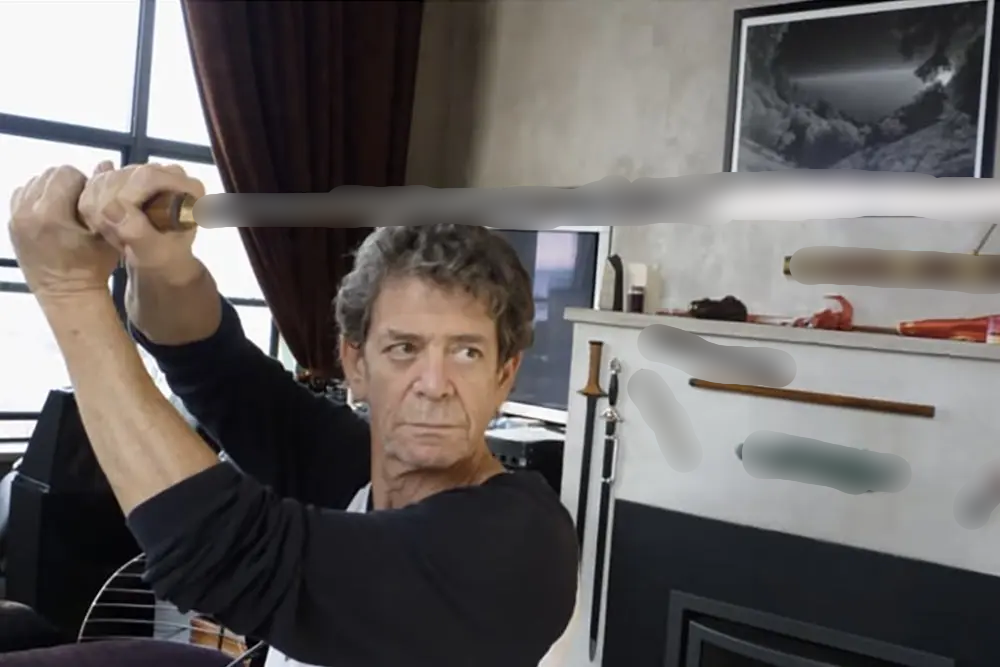 In addition to his musical pursuit, Reed was also interested in martial arts and collecting words. He was an avid practitioner of tai chi and he studied the art under the guidance of renowned masters for more than 25 years, up until his death in 2013.
John Lennon (Again)
Sadly, Lennon's carefree days with his family were snatched from him when he was tragically shot down in Manhattan at the age of forty. He lived a rather lowkey life in his last years, devoting his time to spreading peace and taking care of his son. However, it all ended in the December of 1980.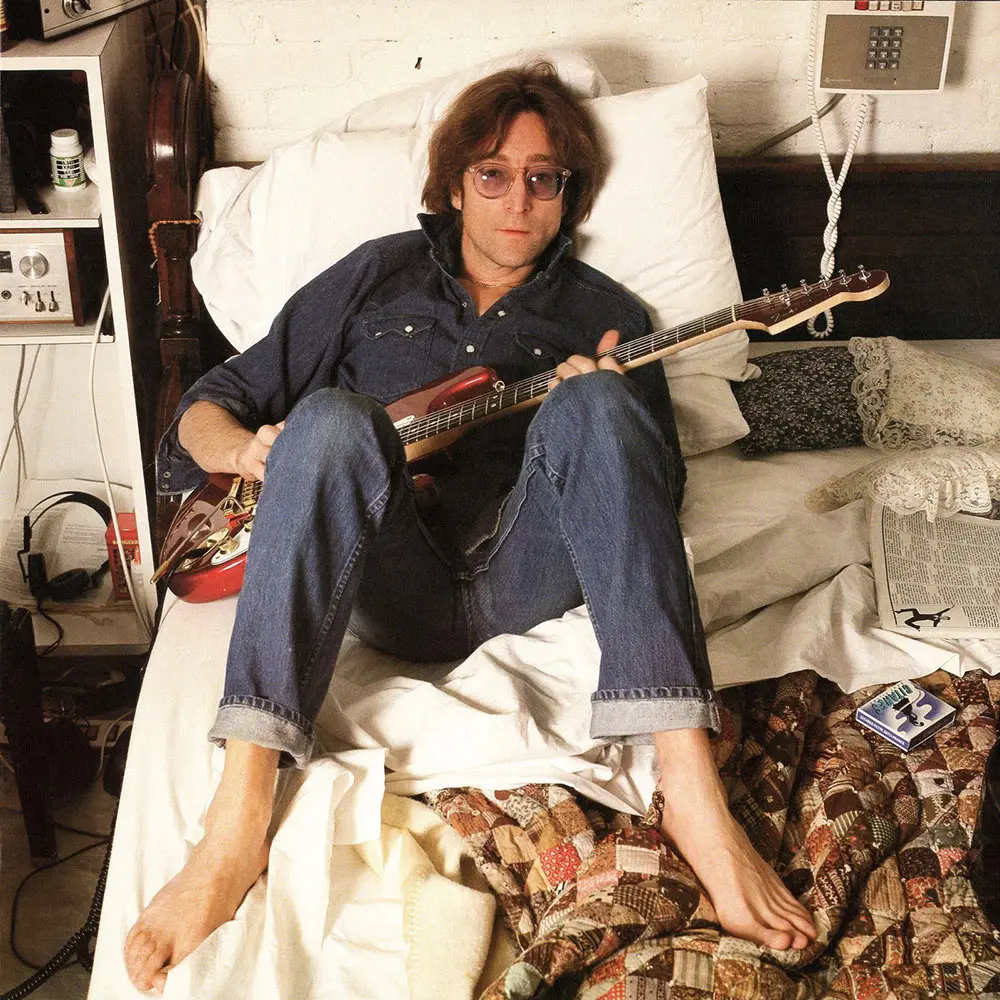 The above picture was taken five days before his untimely demise by Annie Leibovitz in his New York apartment. However, this image of Lennon isn't what Leibovitz is best known for. She captured the last photo of John and Yoko, five hours before his death.
Billy Idol
Billy Idol is famously known for his solo rock career, as well as his MTV contribution during the "Second British Invasion." His punk rock creations are widely celebrated to this day. Despite being known as a rebellious, loud rock star, Idol enjoyed the simple pleasures of life.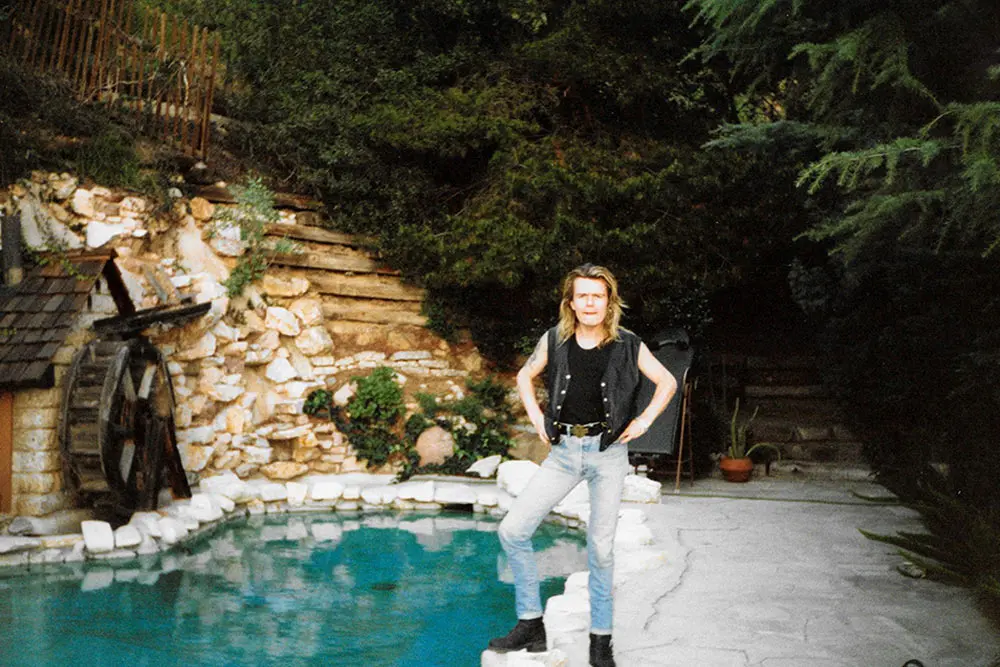 After enjoying his stardom, Idol opted for a lowkey lifestyle after the mid-90s. Billy built his nature-inspired cottage in the bustling town of Hollywood. Like many other rock stars, he struggled with substance abuse. However, he got clean and is loving life as a grandfather of two.
Dave Grohl
Dave Grohl served as the drummer of the legendary rock band Nirvana. However, following Kurt Cobain's tragic suicide in 1994, Nirvana disbanded and Grohl started his own band, Foo Fighters. Grohl entered the Rock and Roll Hall of Fame twice, on behalf of Nirvana and Foo Fighters. Grohl is skilled in both guitar and drums.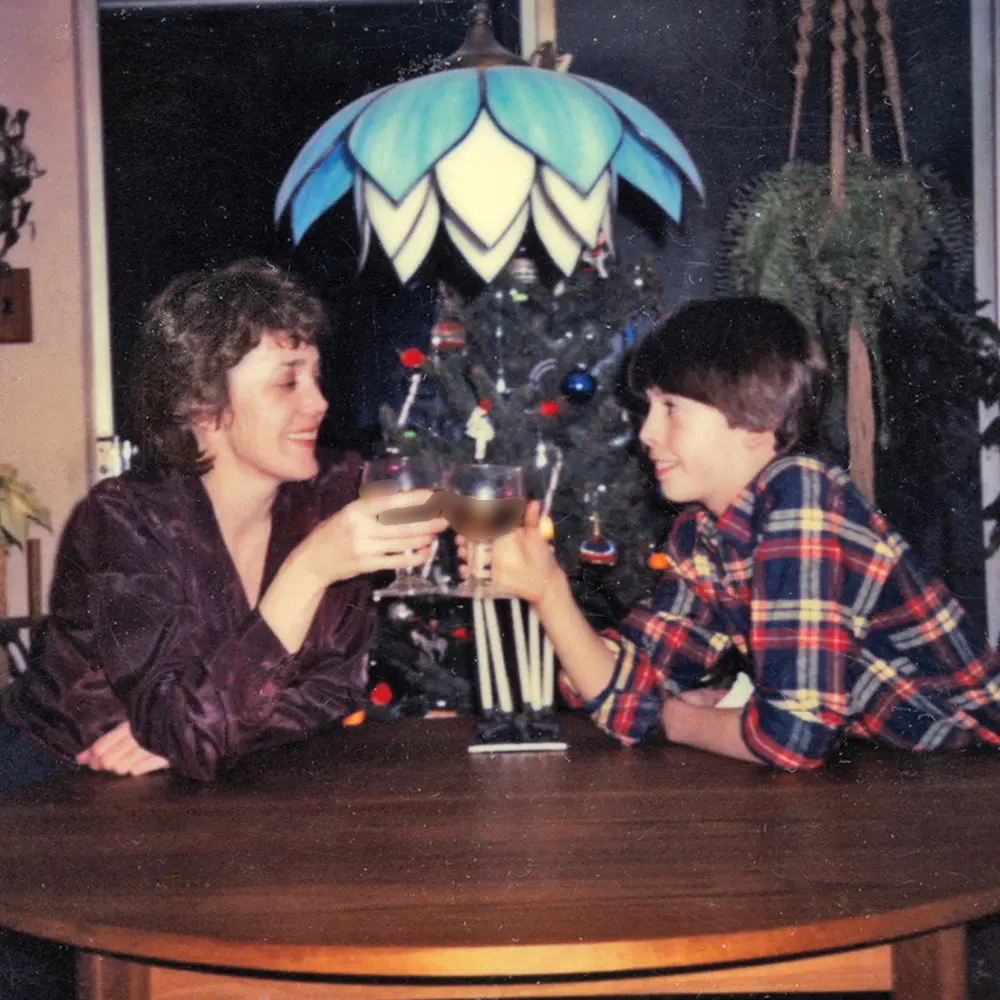 Grohl was raised primarily by his mother starting when he was seven years old — when his parents got divorced. Virginia Jean, his mother, was a school teacher. Virginia actually wrote a book about her experience of raising her rockstar son, along with the mothers of other musicians.
Tom Petty
He is well renowned for being the vocalist and guitarist of the 1976's band Tom Petty and the Heartbreakers. He gained commercial success both as a solo artist and with his band. Petty sold more than 80 million albums, making him one of the best-selling artists of all time.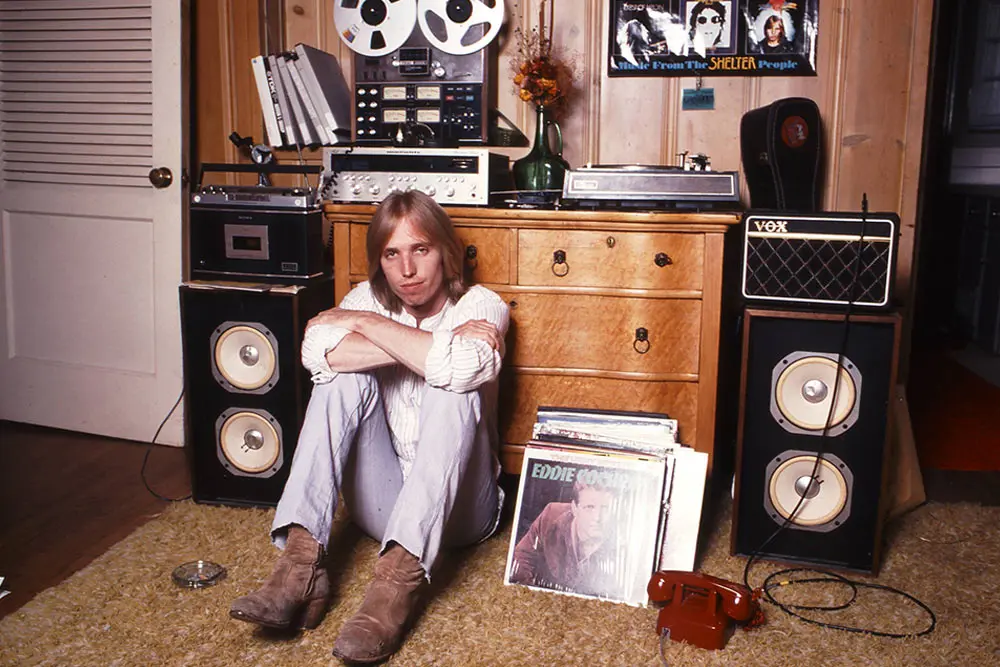 The above photo was captured in 1977. Ten years later, in 1987, a still-unsolved arson case almost destroyed his personal copies of his music as well as a beloved guitar. As with many other rockers, Petty struggled with drug abuse, though he got clean in 1999.
Brian Jones
Brian Jones was the founder and the original leader of the legendary rock band the Rolling Stones. He was quite the talented guitarist and, together with his bandmate Keith Richards, they came up with a new guitar technique called "ancient art of weaving." To this day, this is a signature technique of the Rolling Stones.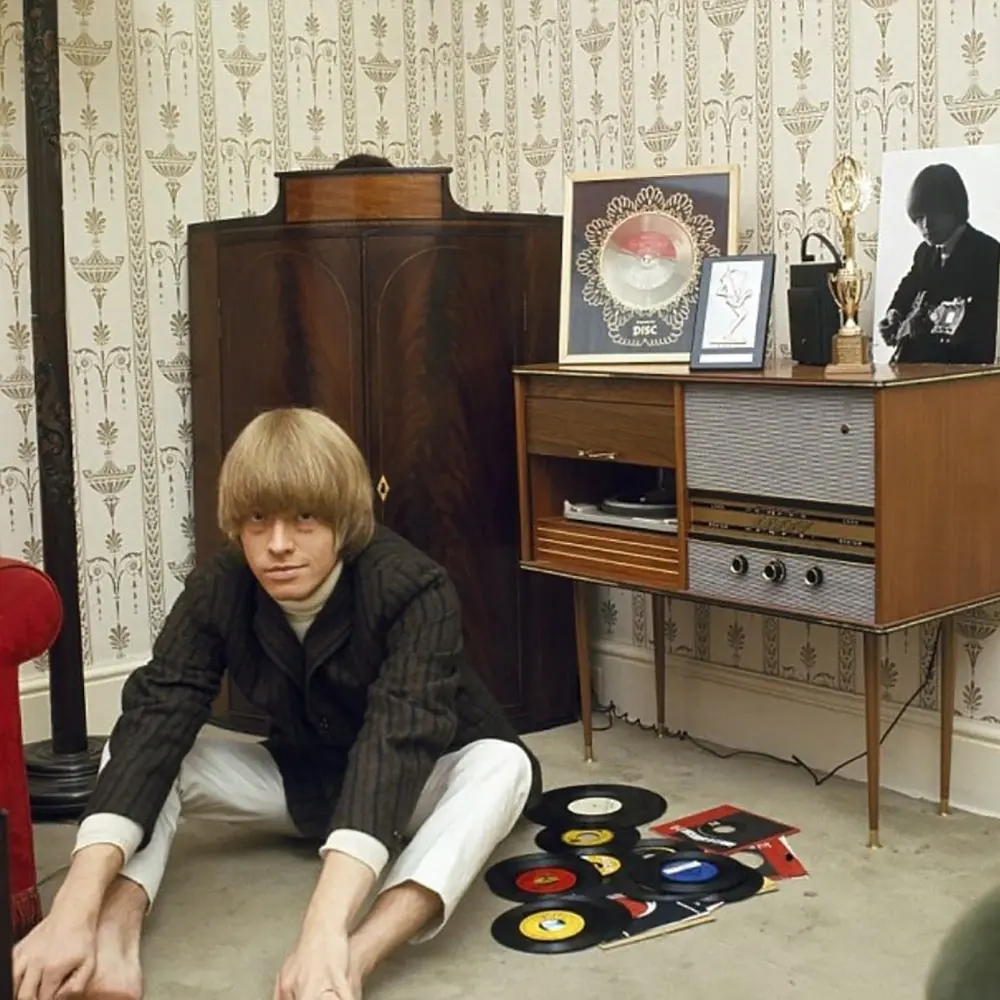 At the time this photo was taken, in 1965, the wooden multifunctional Radiogram pictured behind Jones, was the only piece of furniture that he owned. Jones did not have a long life and his drug abuse led him to an early grave. He died due to drowning four years after this photo was taken.
Paul McCartney
There is a very low chance that you haven't heard of Paul McCartney from the legendary band the Beatles. McCartney is still one of the most influential figures in music. As of 2020, his net worth was $800 million. He entered the Hall of Fame both as a band member and as a solo artist.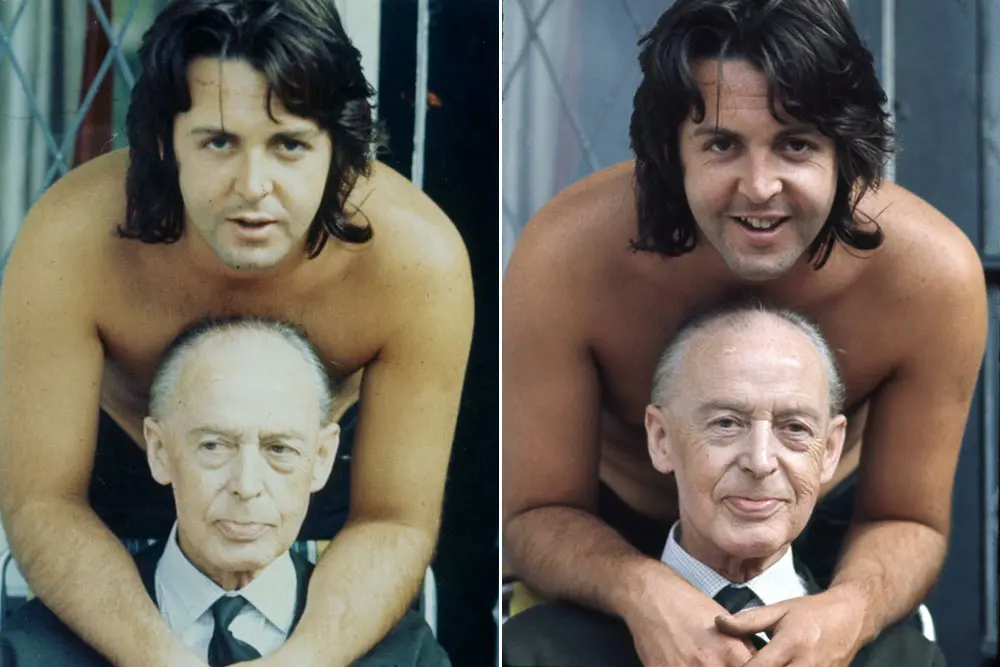 Jim McCartney, Paul McCartney's father, was a huge influence on him. Jim couldn't stay during Paul's birth as he was drafted into the war. However, as a trumpet and piano player, he made sure his son received a musical education. In the above photo, a successful McCartney is seen hugging his father in a sweet embrace.
Mick Jagger
He is another member of the Rolling Stones. Thankfully he is still alive and lived to his fullest potential. He had a music career of six decades, and it's still going strong. Jagger was knighted back in 2003 due to his musical contributions to the UK. He is also controversial for his affairs and substance abuse.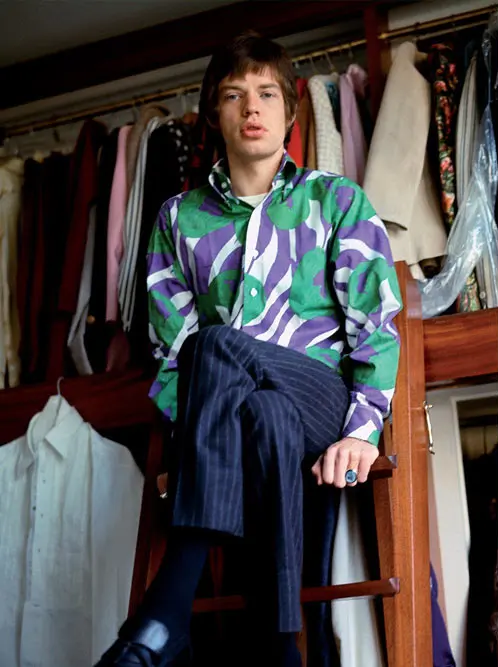 This picture was taken during the early years of the Rolling Stones, taken in his luxury home in London. Usually, he would wear far more glamorous outfits on the stage. However, at home, he preferred to be comfy, but he still managed to stay fashionable. His home attires had an androgynous flare.
Gene Simmons
The Demon AKA Gene Simmons is the bassist of the band Kiss. His eccentricities are quite well known. His demon makeup and costumes made him stand out from his peers. He was included in the Rock and Roll Hall of Fame back in 2016 as a member of Kiss.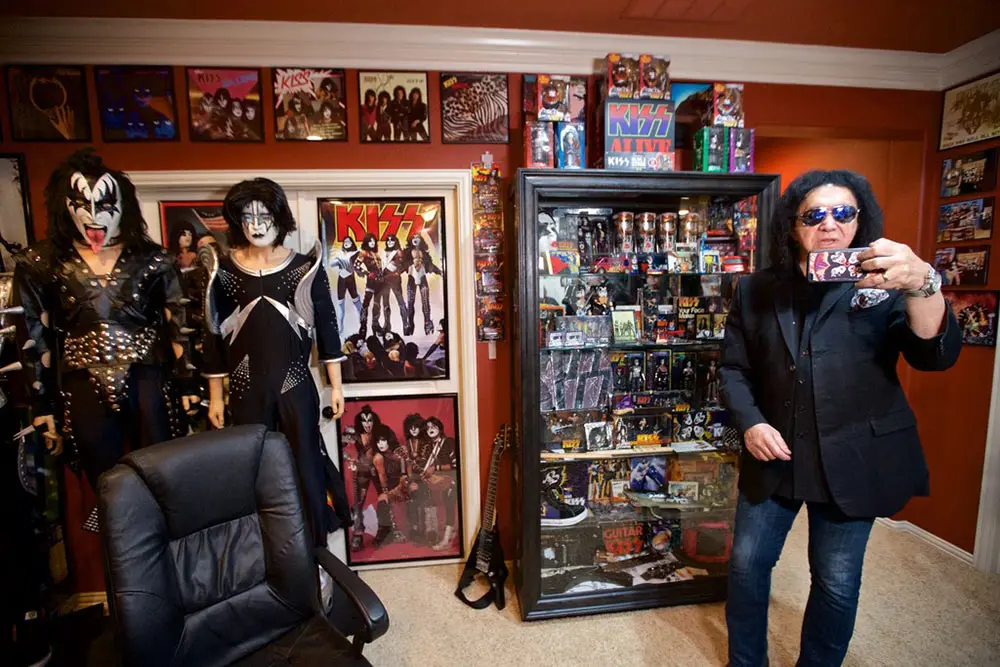 He had pushed down many eccentricities in recent years, but the flickers are still there. During the pandemic, Simmons had gathered all sorts of merchandise from the Kiss days. His memorabilia include posters, action figures, as well as life-size mannequins. Simmons is seen proudly posing for selfies with them.
Eric Clapton
Clapton is widely regarded as one of the greatest guitarists of all time. He found his love of music at only thirteen years old. However, he had some complicated family situations during his early days. Clapton found out that his supposed mother was actually his biological grandmother, while his "sister" was his biological mother.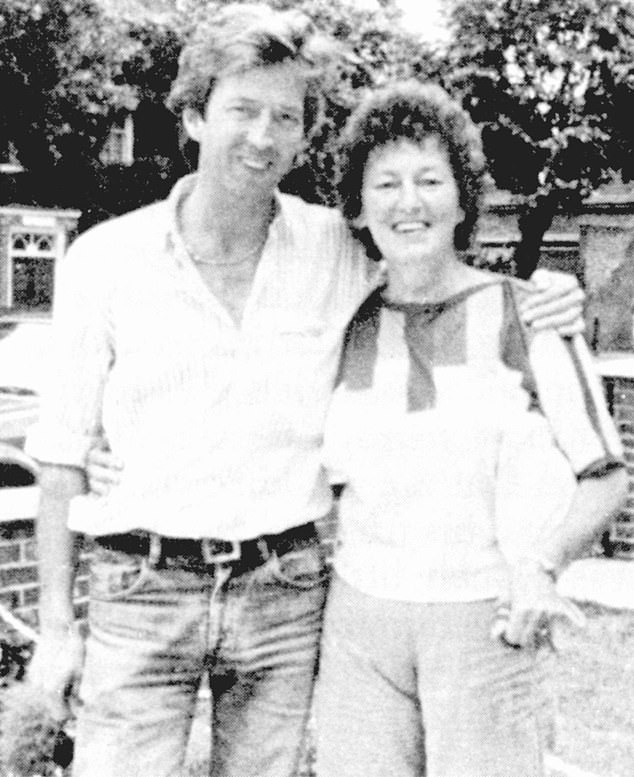 Eric was born from the unwedded union between 16-year-old Patricia and a Canadian soldier. His father sadly left the country without marrying his mother and his grandmother publicly acknowledged him as her son to avoid the stigma of premarital pregnancy. Eric regarded his grandmother as his parent despite discovering the truth.
Keith Richards
There is no doubt that Keith Richards from the Rolling Stones is one of the greatest songwriters and guitarists that ever lived. Throughout his career of six decades, he has been recognized as a countercultural figure. He was inducted into the Rock and Roll Hall of Fame back in 1989.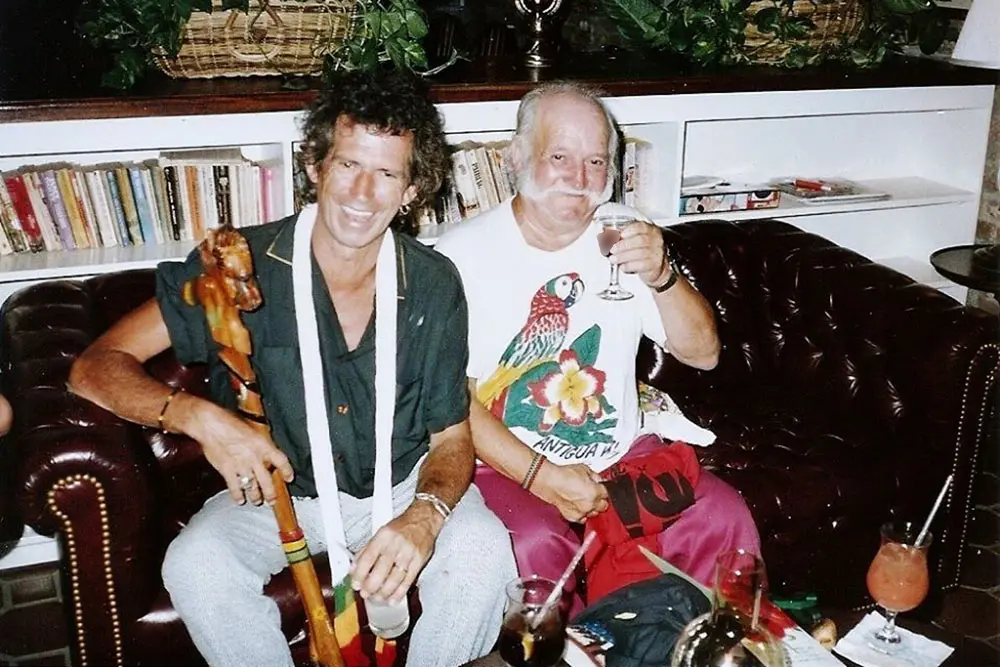 Keith Richards is infamous for his eccentricities. The man simply tends to stand out. In this photo, we can clearly tell who he got it from — his dad. His hair may have faded with time, but he was still a flamboyant soul. That much we can clearly tell from his hot pink silk pants.
Richie Havens
Besides rock, Havens dabbled in other genres such as folk and R'n'B. Havens went on multiple successful tours as well as participated in the advertisement of brands such as Coca-Cola and Amtrak. He was also the 20th living recipient of the Peace Abbey Courage of Conscience Award.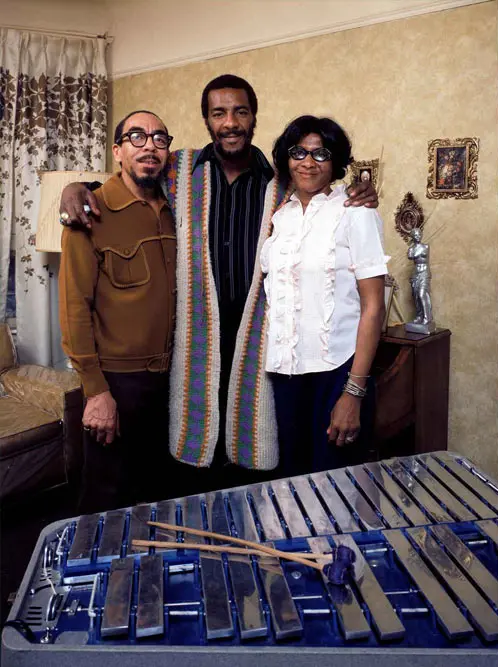 Richie shared his Brooklyn home with his parents and eight of his siblings. By the age of twenty, Richie moved to Manhattan to find artistic inspiration. Within six years, Richie launched his musical career. The photo was taken in 1970, when Richie purchased a bigger home for his family.
Joe Cocker
Joe Cocker will always stand out due to his unique voice in the rock music scene. He had a long career of 43 years during which he released 22 studio albums. In addition to his own songs, Joe had also covered songs from many other artists.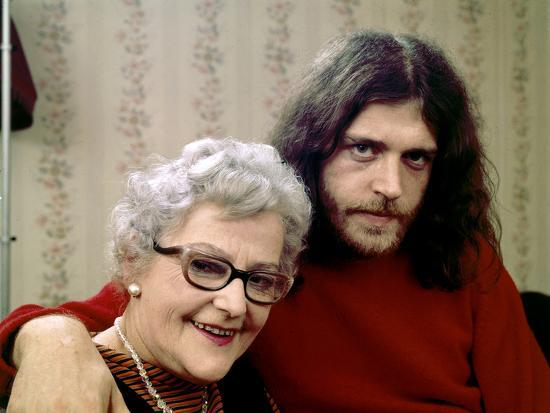 Cocker was the youngest child and he had a close bond with his mother, Marjorie. The photo was taken in 1970 at Joe's childhood home in Sheffield, England. His tenth album was dedicated to her as she sadly passed away during the recording.
Slash
Slash from the legendary rock band Guns N' Roses will go down in history as one of the greatest guitarists of all time. He also had a successful solo career as he released five albums in collaboration with other artists. Slash was included in the Rock and Roll Hall of Fame back in 2012.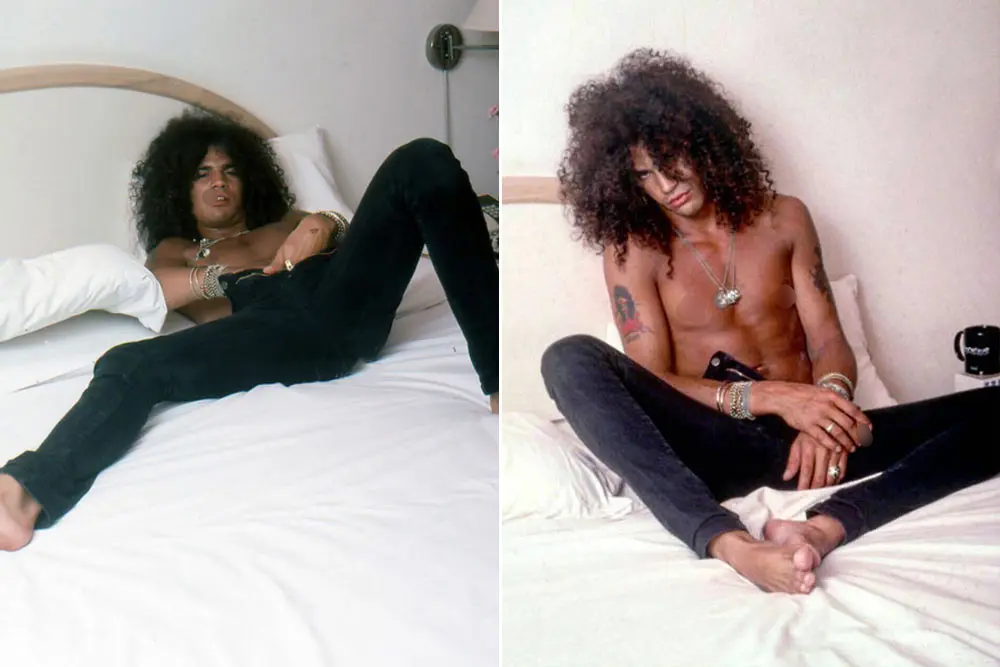 Slash influenced his younger fans with more than just his musical performances. He's donated time, money, and even equipment to the non-profit Little Kids Rock. And, outside of his support for musical endeavors, Slash has shown his support for animals and zoos.
David Lee Roth
David Lee Roth, the vocalist of Van Halen, is widely recognized for his hyper stage presence. Other than running a successful band, he also had a fruitful solo career with best-selling tours and a spot in the Rock and Roll Hall of Fame. Roth is proficient in playing guitar, bass, drums, and bass.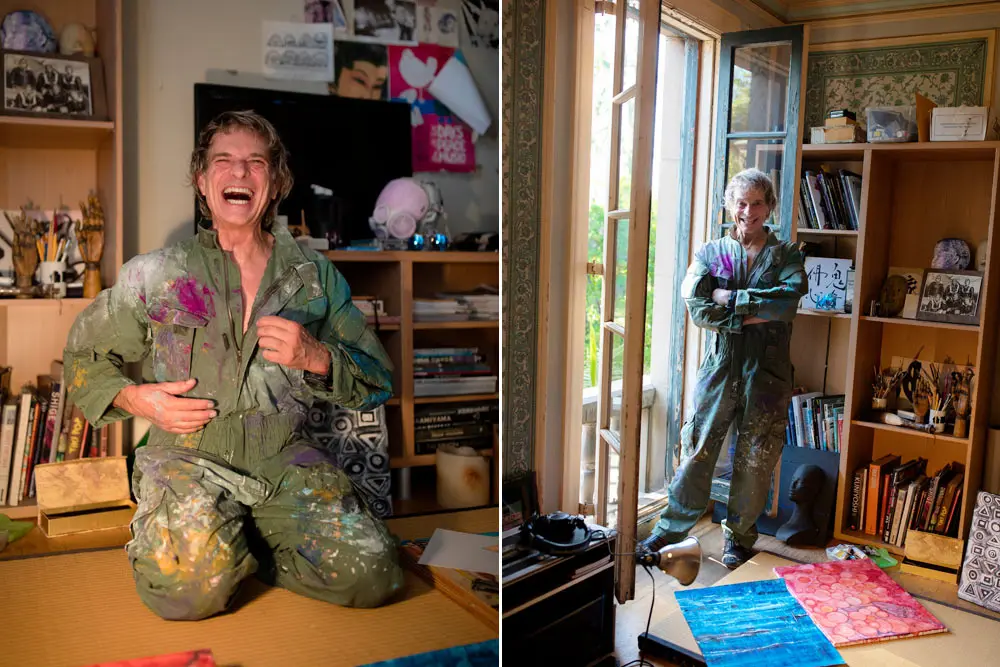 He is an artistic soul, that is undebatable. For an energetic man like him to be stuck in lockdown was quite draining. So it wasn't too surprising that he found a new outlet for his artistic passion. In the photos taken in 2020, Roth is wearing his signature grin while being covered in paint.
Johnny Cash
Besides his spectacular songs, Johnny Cash is best remembered for his signature black-covered wardrobe, which earned him the title "The Man in Black." He is one of the most commercially successful artists, amassing over 90 million albums in sales. His musical journey was captured in the hit 2005 biopic movie Walk the Line.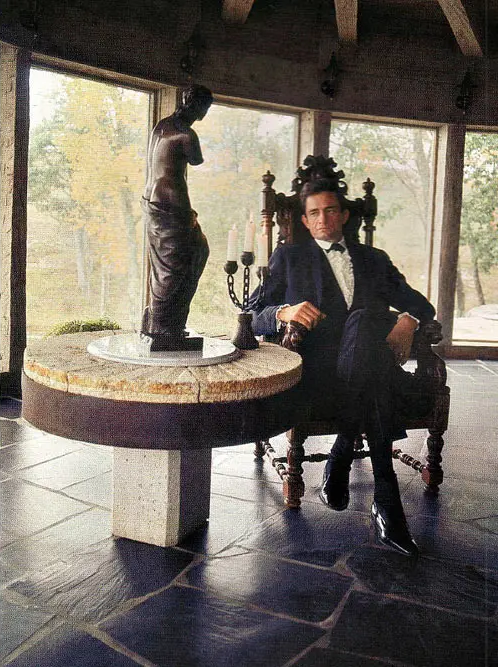 It seems Johnny's love for the color black wasn't simply for show, as he wore it frequently in his private abode. His noir aesthetic also colored his house designs, as it was also black. Cash's lakefront mansion in Tennessee, where he lived for more than thirty years, carried his signature colors both internally and externally.
James Hetfield
James Hetfield, the lead vocalist of the legendary heavy metal band Metallica, is considered one of the greatest guitarists in existence. He is well known for his intricate rhythm playing. Besides his music, he also indulges in various hobbies such as farming and beekeeping.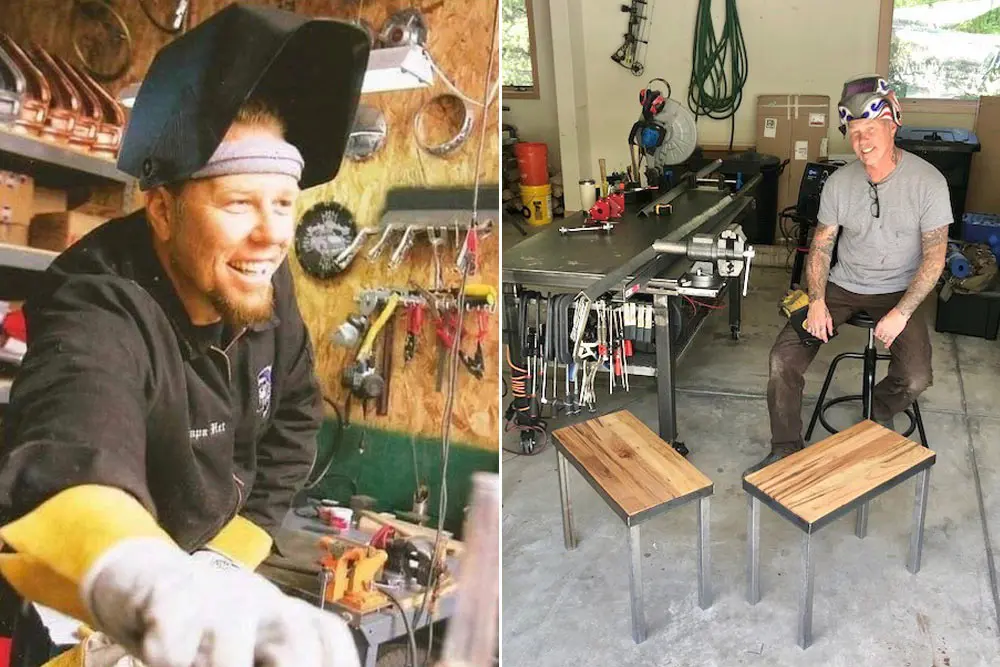 It wasn't too surprising that he took up a new hobby during the pandemic. The frontman started dabbling in woodworking in his garage in midst of lockdown. From the looks of it, he is doing quite a good job with the new hobby.
Iggy Pop
The "Godfather of Punk," Iggy Pop, is infamous for his extreme stage shows. The lead vocalist of the band The Stooges was inspired by Jim Morrison from The Doors. Ever since then, Pop has been pulling showy acts such as flashing himself, self-mutilation, and rolling around on broken glass on the stage.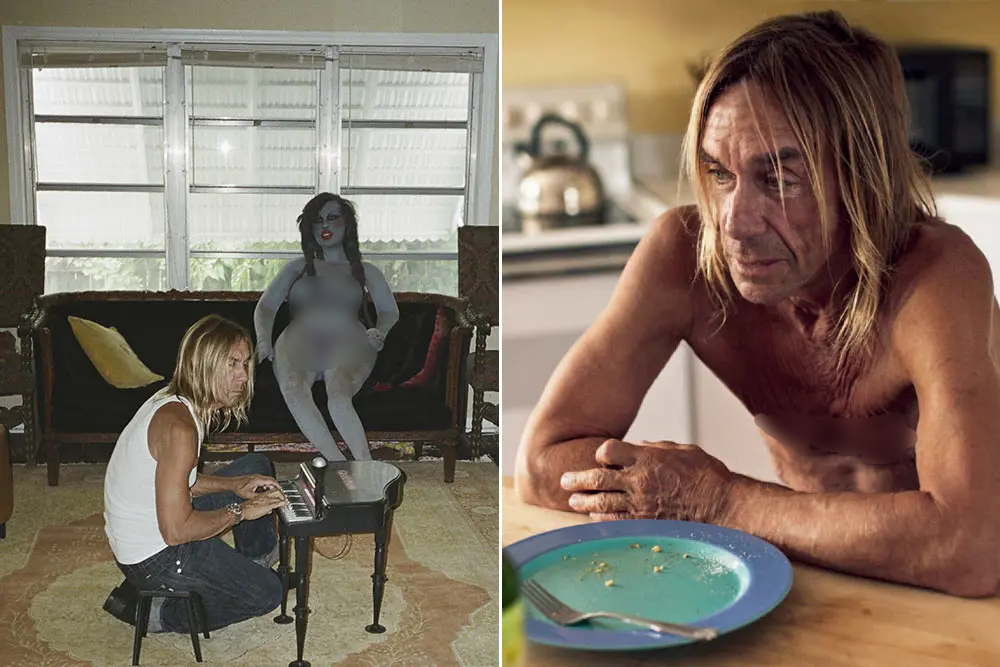 Surprisingly, he lives a very regular home life. The above photos are taken from his Miami home. He is seen having lunch in his signature state of toplessness. He was captured playing an ironically small grand piano in his living room.