Rock 'N Roll Couples: Some Stood The Test Of Time While Others Proved To Be Heartbreakers
By Jishnu B July 4, 2022
---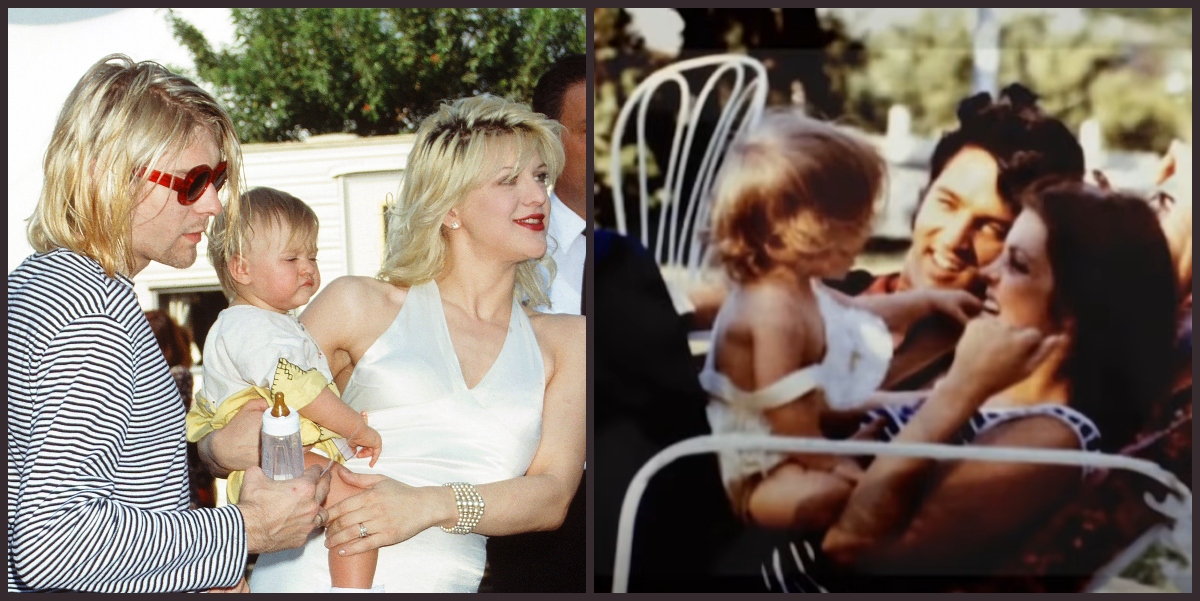 Does forever really mean forever? It's rare to hear about married couples still going strong for years on end these days. It's even more unusual to hear about a long-lasting marriage in Hollywood. However, it gets even worse in the rock n roll music industry. Rock stars have built quite the unruly stereotypical image of indulging in some of the most controversial things life has to offer, dabbling in the more fun sides of life; try and imagine flowing booze, endless substances, and other unbelievably controversial and self-destructive practices must come to mind when you think of rock and roll. Everyone knows their salacious lifestyle makes it hard to maintain a long-term marriage.
Although the rock star lifestyle and marriage don't exactly go hand in hand, some influential icons from the past defied those expectations and found their soulmates. Whether they were high school sweethearts or a rockstar supermodel pair, these couples have certainly made a mark in music history. Let's take a look at these famous rock couples and what they are up to these days.
Jill Tavelman – Phil Collins: Then
Phill Collins is considered one of the most successful musicians and recording artists to go down in history. The former drummer of Genesis has successfully sold millions of albums in collaboration with his band and as solo projects. In 1984, Collins married American actress, architect, and businesswoman, Jill Tavelman. He also had previously married Andrea Bertorelli, so Tavelman was not the musician's first wife.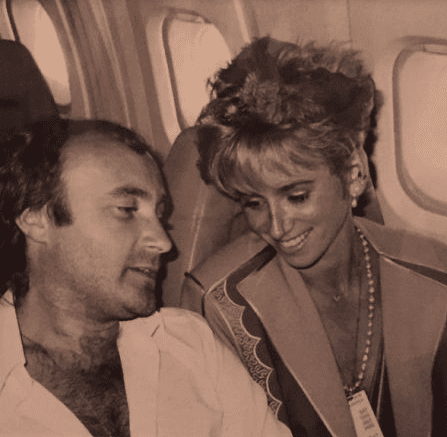 Lily Collins, the couple's beautiful daughter, and future actress, was born in 1989. However, the marriage began to fall apart in the early 1990s, when the musician was touring the world with his band. Collins was also suspected of having an affair with his ex-fiancé, Lavinia Lang, in 1992.
Jill Tavelman – Phil Collins: Now
Collins' infidelity had caused a strain in the couple's relationship, and eventually, they filed for divorce in 1994. It was reported that Phil paid Jill a whopping 17 million in alimony. Collins proceeded on to marry Orianne Cevey, his wife number three, in 1999.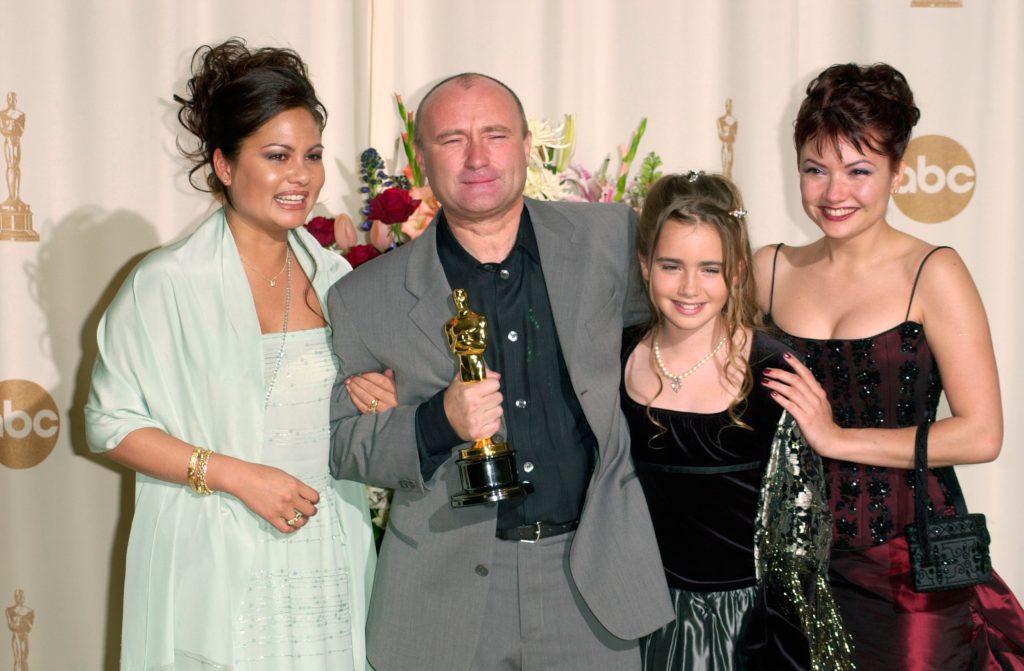 Of course, the marriage of Cevey and Collins did not last, and the musician was forced to pay the largest divorce settlement in British history. To be precise, he paid her another 25 million. Tavelman, on the other hand, was establishing herself as an actress and is well-known for her roles in Buster and Extra films.
Priscilla Presley – Elvis Presley: Then
He was the king of rock and roll, and she was the embodiment of class and beauty. Elvis Presley and Priscilla Presley's iconic romance story will go down in history forever. Elvis was 24 and was as serving in the United States Armed Forces when he had a chance to meet with 14-year-old Priscila.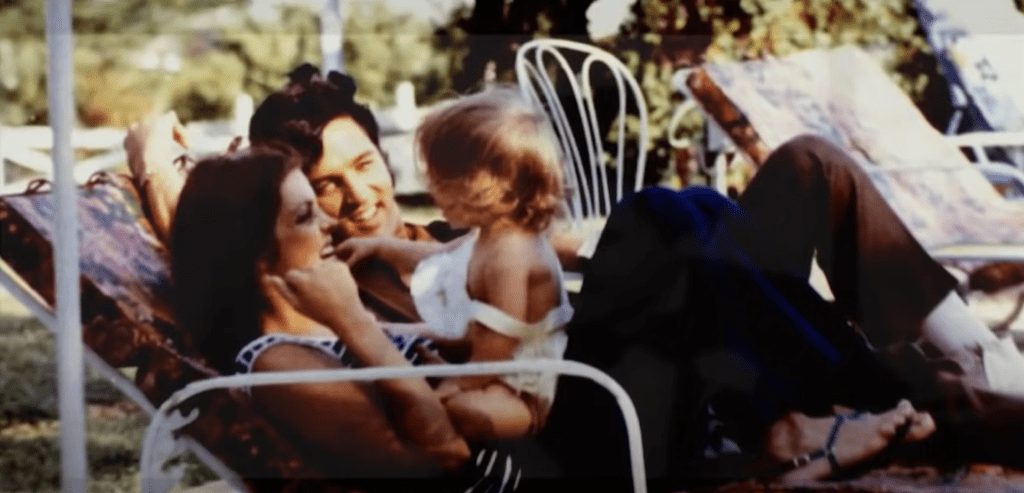 The musician was stationed in Germany in 1958, where he met Priscilla Beaulieu at a friend's house during a party. Priscilla was an actress and best known for her role as Jenna Wade on the television show Dallas. They were married in 1967 after living together for over eight years. They had a beautiful wedding ceremony at the Aladdin Hotel in Las Vegas.
Priscilla Presley – Elvis Presley: Now
In 1968, the duo welcomed a daughter into the world and named her Lisa Marie Presley, who grew up to follow in her father's footsteps as well. Although Priscilla and Elvis' romance was heavily publicized in the media, it didn't get its well-deserved happy ending. The two, unfortunately, went their separate ways in 1973.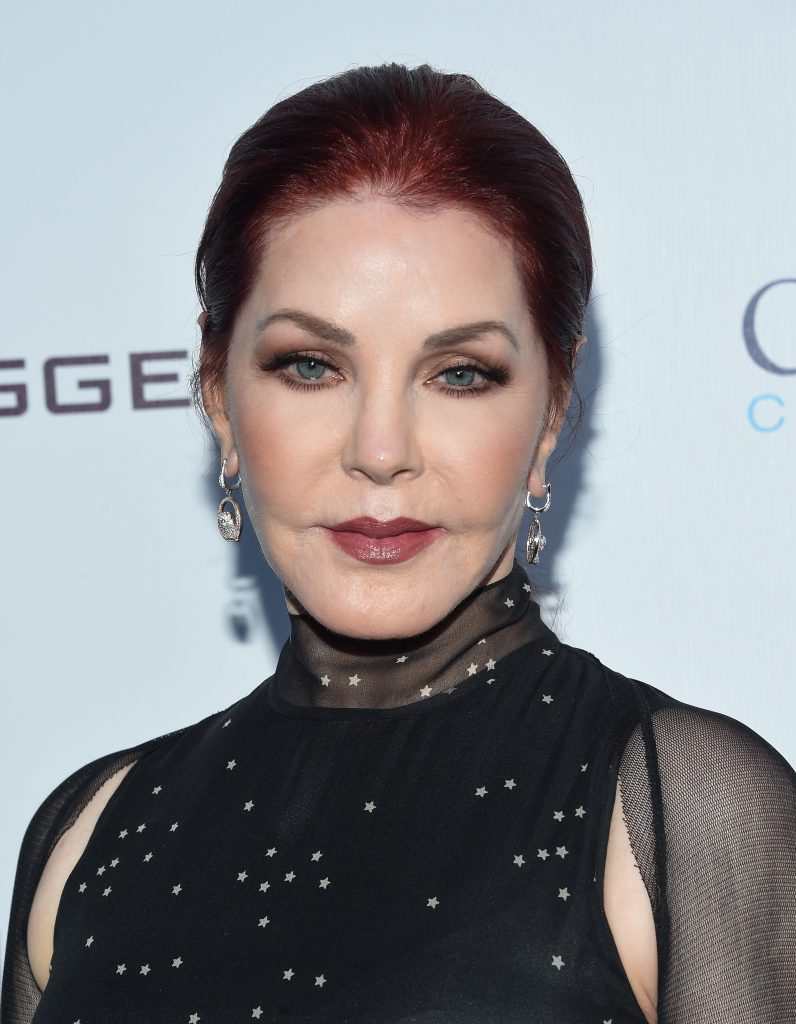 Priscilla and Elvis tried to remain in touch after their divorce, following the eight years of blissful marriage. The estranged couple was spotted holding each other while leaving the courtroom after their divorce hearing. The King of Rock and Roll", unfortunately, passed away on August 16, 1977. Elvis's contribution to the industry will go down in history, and his legacy will live forever.
Adelle Lutz – David Byrne: Then
David Byrne has made quite the headlines as a founding member of the band Talking Heads. He met the stunning Adelle Lutz by chance in 1987. Lutz was a talented model, actress, and aspiring fashion designer at the time.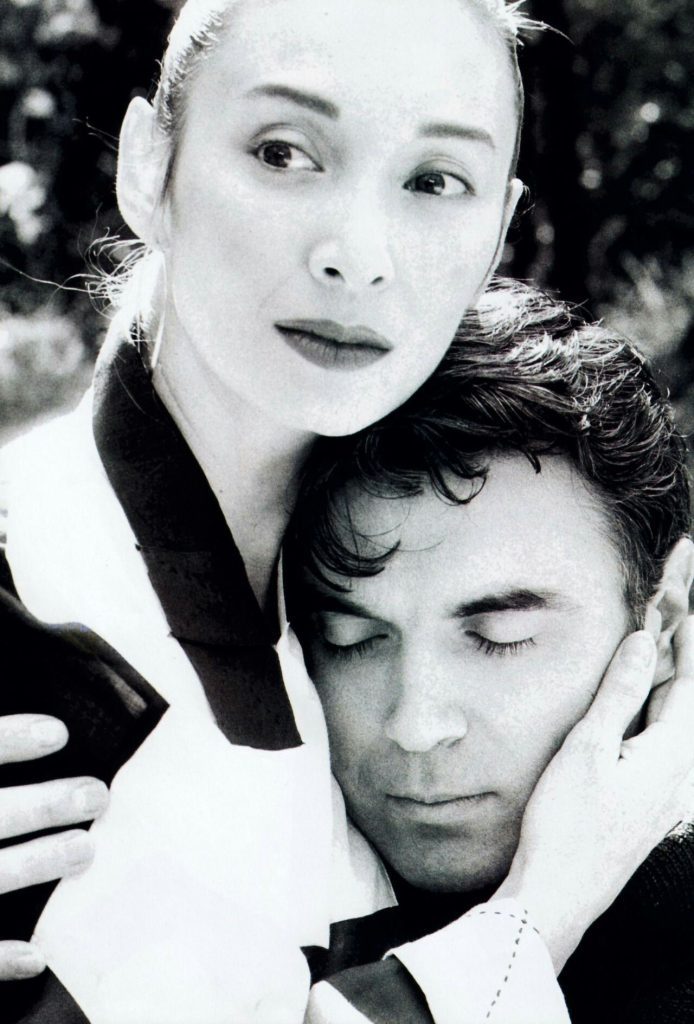 Adelle was born in Germany to a German father and a Japanese mother, contributing to her exquisitely unusual appearance. One of her costume collections, known as "Urban Camouflage," was a massive success for her. Byrne and Lutz married in the same year that they met.
Adelle Lutz – David Byrne: Now
In 1989, the couple had one daughter together and named her Malu Abeni Valentine Byrne. Lutz was Byrne's muse, and his classic song, Naïve Melody, was born out of his inspiration from her. During her brief acting career, Lutz received recognition as the TV anchorwoman in the 1991 movie Silence of the Lambs.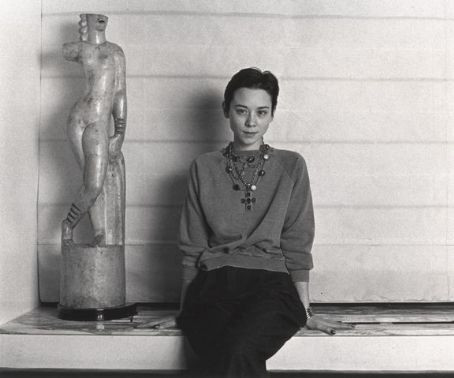 Their relationship didn't last, and the pair went their separate ways by 2004. Lutz moved to Los Angeles and started living there ever since the divorce. She became a proud grandmother to her grandchild Bo Wyly Ford Squibb in 2018. She hasn't had any serious relationship since Byrne and lives a quiet and peaceful life.
Carolyn Dennis – Bob Dylan: Then
Bob Dylan is one of the most celebrated musicians in the industry, with an illustrious career spanning nearly six decades. He was married to Sara Lownds previously, with whom he split up in 1977. Dylan was secretly married to one of his backup singers, and no one had a slight hint of it. He married Carolyn Dennis in a hush, and the pair remained together for six years.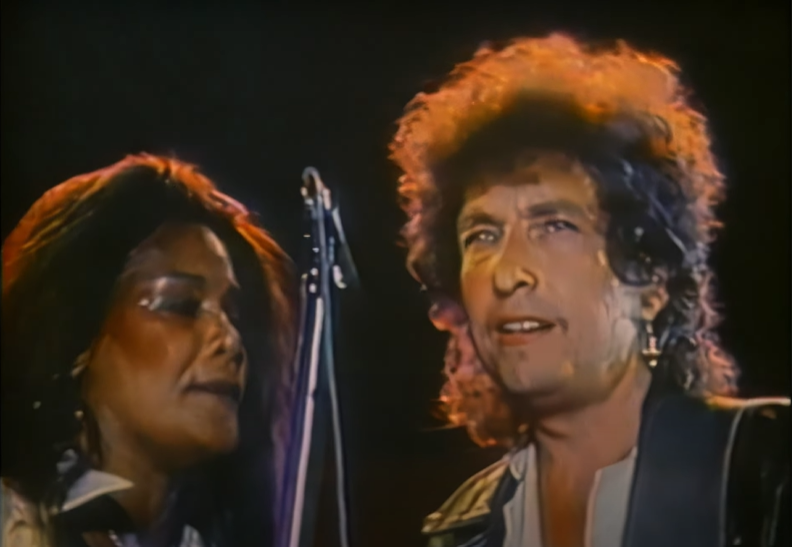 Carolyn Dennis belonged to a musical family, and her mother herself was a backup dancer. Dennis started working for Dylan during the 70s. Many people believe that is when the pair began developing a romantic relationship. They were secretly together for almost 15 years, and barely anyone knew about it.
Carolyn Dennis – Bob Dylan: Now
In their first year of marriage, the happy newlyweds welcomed a daughter into the world and named her Desiree Gabrielle Dennis-Dylan. Although Dennis was an accomplished dancer, she did dabble in acting for a while. The Josephine Baker Story was one of her most recognizable movies.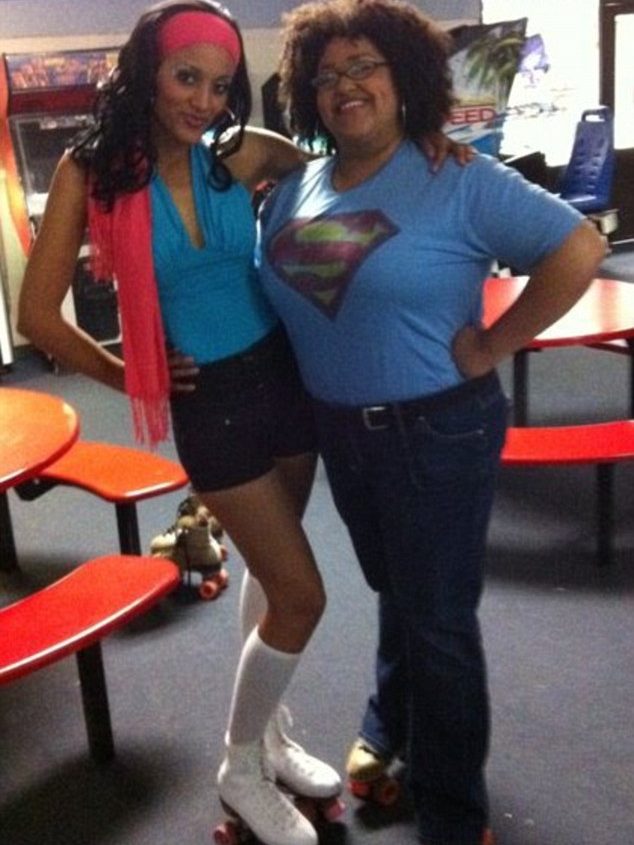 Unfortunately, the musician and her dancer/actress wife ended their relationship in 1992. However, their marriage did not see the light of the public until 2001. In fact, the story of their marriage came to be known a decade after they divorced. Apparently, the singer made a deal with their children not to reveal their father's identity.
Jerry Hall – Mick Jagger: Then
Model Jerry Hall and Rolling Stones' lead vocalist Mick Jagger were hitched in 1990. Hall was a successful supermodel back in the 70s and was at the top position in her career. The duo met in 1977 and instantly found a spark in their dynamic.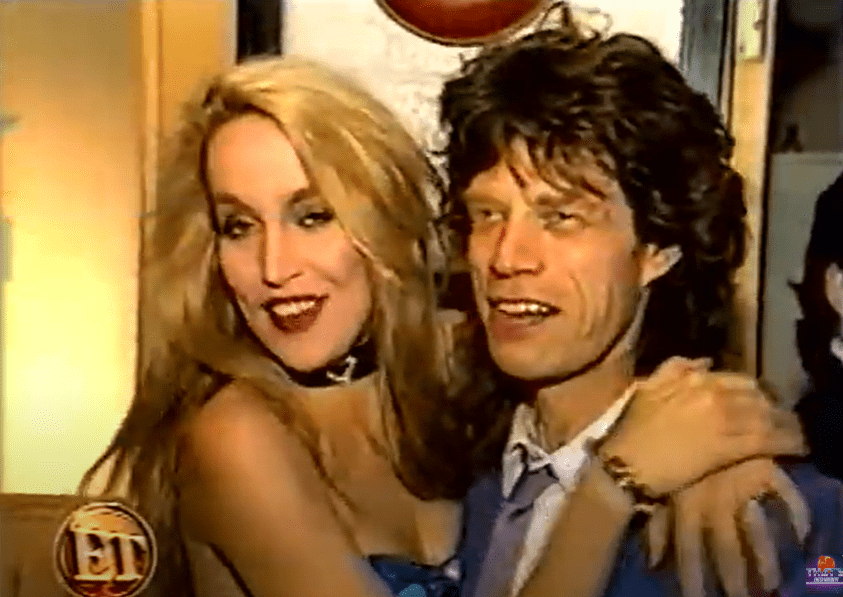 The couple was famous for their wild parties, and we were often seen shaking some moves in Studio 54. Hall was, in fact, Jagger's second wife. Jagger was already married before they started dating. He was married to Bianca Jagger for seven years before they decided to call it quits.
Jerry Hall – Mick Jagger: Now
Hall and Jagger were married for 22 years and had four children, Georgia, Elizabeth, James, and Gabriel. However, when the couple decided to divorce in 1999, they discovered that their marriage was never legally valid. As a result, their marriage was dissolved.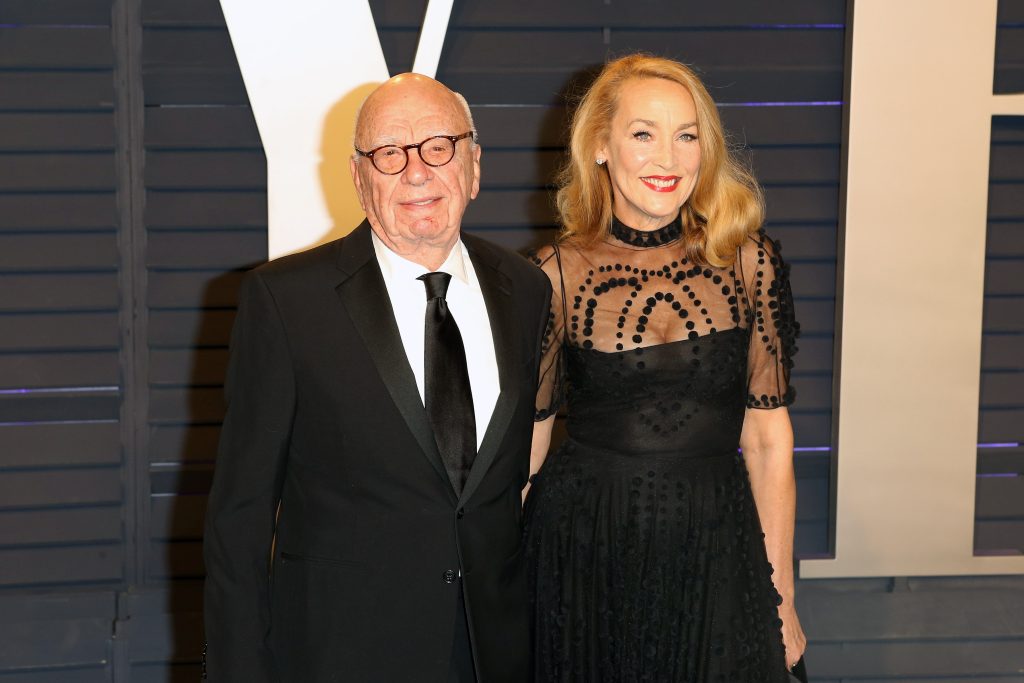 Fast-forward to the present, Hall tied the knot with Rupert Murdoch in 2016 after dating for two years. On the other hand, Mick Jagger got into a relationship with Melanie Hamrick in 2014, and the pair have been together ever since. The former model has appeared in a few theater productions and reality television shows.
Alana Hamilton – Rod Stewart: Then
Alana Hamilton, a former model and American actress, was already making waves in the industry before she met Rod Stewart. Stewart was, in fact, her second husband. Alana had previously been married to George Hamilton. The rocker and the actress got married in 1979.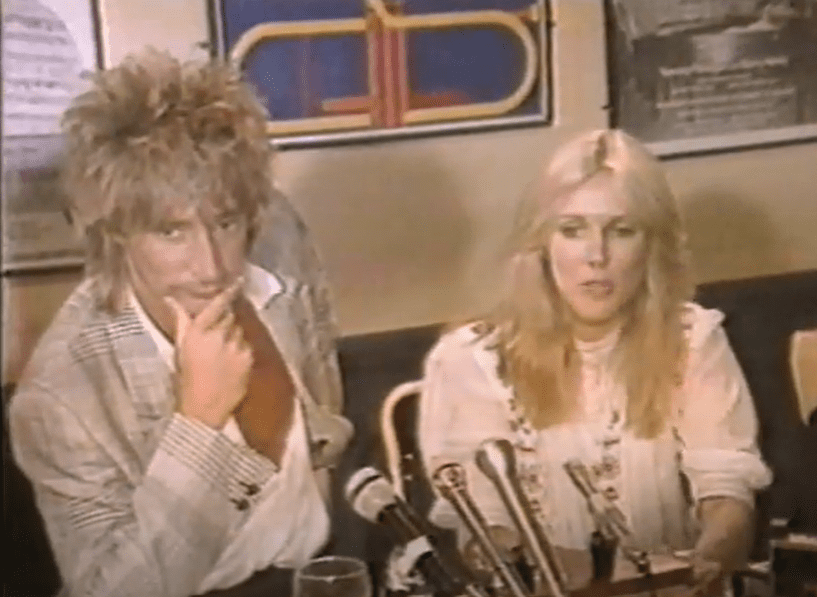 It may not come as a surprise given the record of musicians marrying more than once. Hamilton was Stewart's first of three wives. Relationships rarely go well in the entertainment industry, and theirs was no exception. By 1984, the couple had called it quits and gone their separate ways.
Alana Hamilton – Rod Stewart: Now
Alana Hamilton's maiden name was Alana Collins. She, however, decided to keep her surname from past marriages and now goes by Alana Hamilton Stewart. The couple had two children together, Sean and Kimberly. Kimberly followed in her mother's footsteps and became a model, while Sean takes no part in the entertainment industry.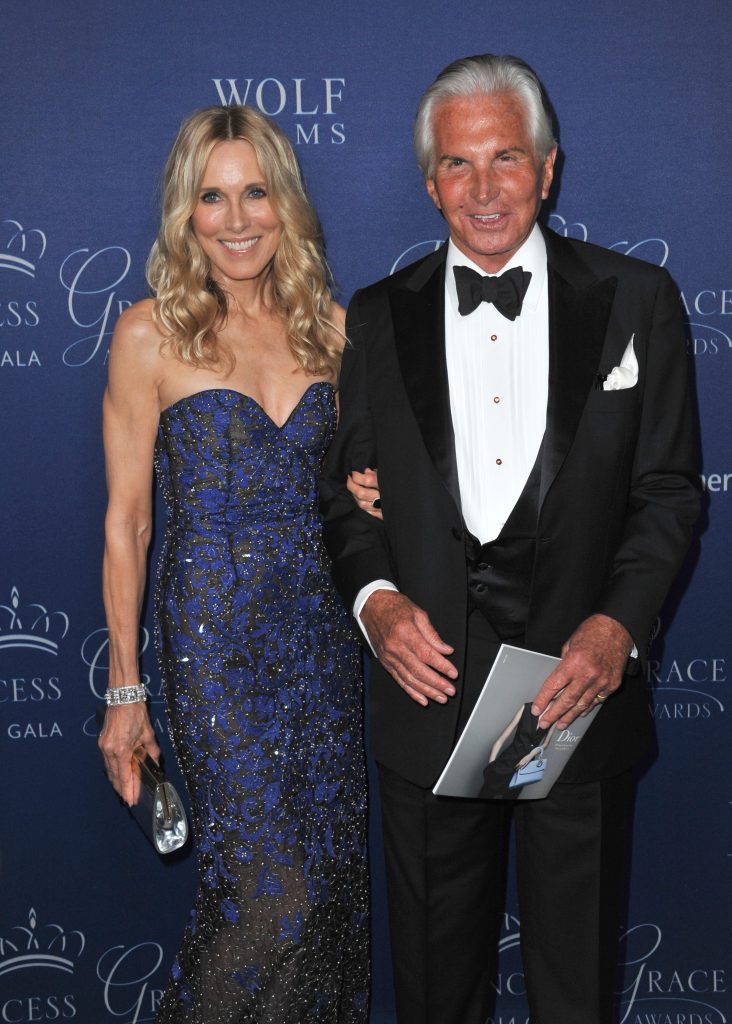 Following her divorce from Stewart, Hamilton worked on a few television projects. In 2003, she appeared in 'I'm a Celebrity… Get Me Out of Here.' She even featured her previous husband in a reality show with George Hamilton. She also got back with George in 2015, and the duo dated for a short period.
Barbara Bach – Ringo Starr: Then
This list wouldn't be complete without talking about one of history's most sought-after rock bands. Of course, you guessed right. It's the Beatles. Beatles' lead drummer Sir Richard Starkey, better known by his stage name Ringo Starr, has quite the share in the marriage market.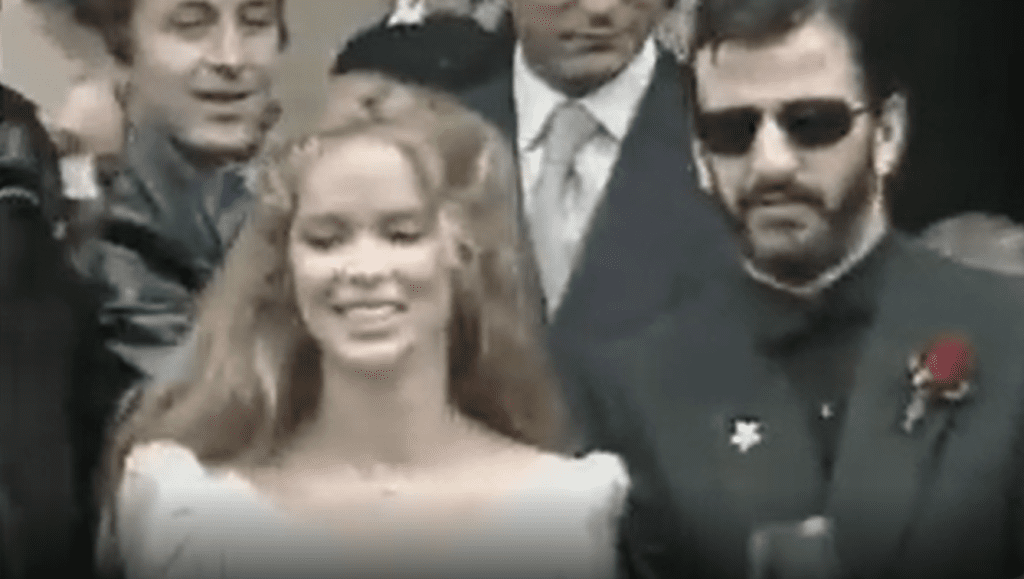 Starr got married not once but twice. He tied the knot with the stunning former bond girl Barbara Bach. Bach was a successful actress and model and made quite the name during the 70s. She has done popular movies like The Spy Who Loved Me, Force 10 From Navarone, Island of the Fishmen, and many more. The duo met while filming on the set of Caveman.
Barbara Bach – Ringo Starr: Now
Bach and Starr married in 1981, and you'll be pleased to know that they're still going strong and have been together for nearly three decades and couldn't be happier. Bach also enjoys accompanying her husband on tour. She's even appeared in a few of his music videos.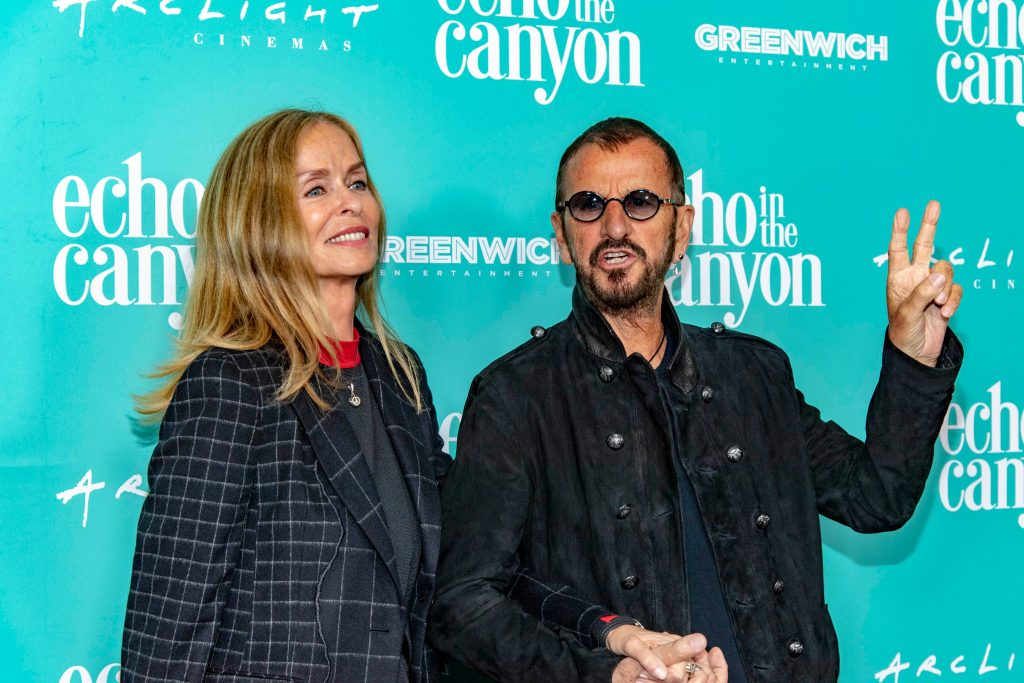 Although the pair has no children, Bach has two kids from his previous marriage. He has a son named Gianni and a daughter named Francisca. The couple is living a happy life in Cranleigh. They are also reportedly known to practice vegetarianism and a healthy lifestyle.
Dorothea Hurley – Jon Bon Jovi: Then
You'll be happy to know that Bon Jovi's frontman, Jon Bon Jovi found love in his high school sweetheart, Dorothea Hurley. Even though the musician is known for his rock anthems and powerful ballads, his romance story is also one to remember.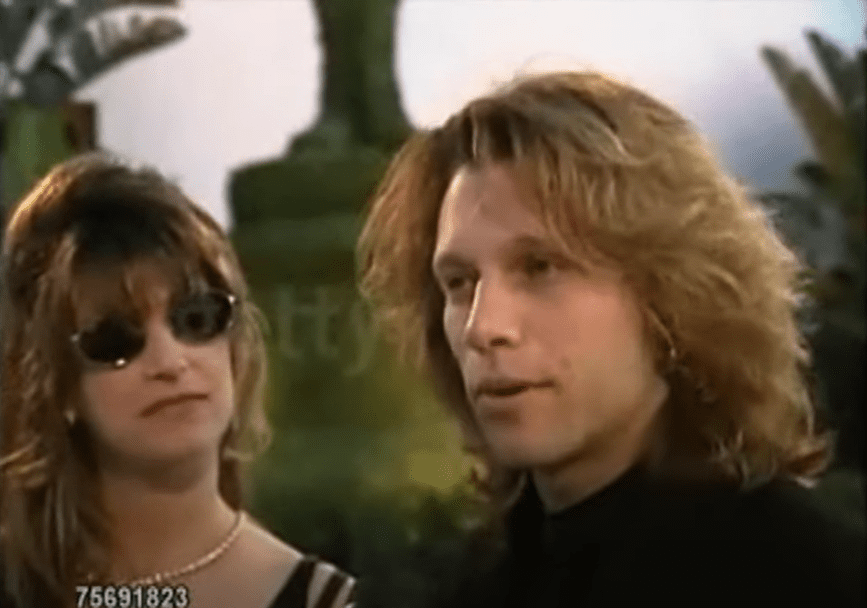 Both attended the same school and first met when the musician attempted to cheat on one of his tests by looking at Hurley's paper. The pair stayed friends for a few years before starting a relationship in their twenties. The couple decided to elope and marry in a private ceremony in Las Vegas.
Dorothea Hurley – Jon Bon Jovi: Now
The high school sweethearts are still together for three decades and have four children together, Jesse, Stephanie, Jacob, and Romeo. Many might not know that Dorothea was a junior karate champion when she was young. She then went on to become a karate instructor and co-owner of the JBJ Soul Kitchen restaurant chain.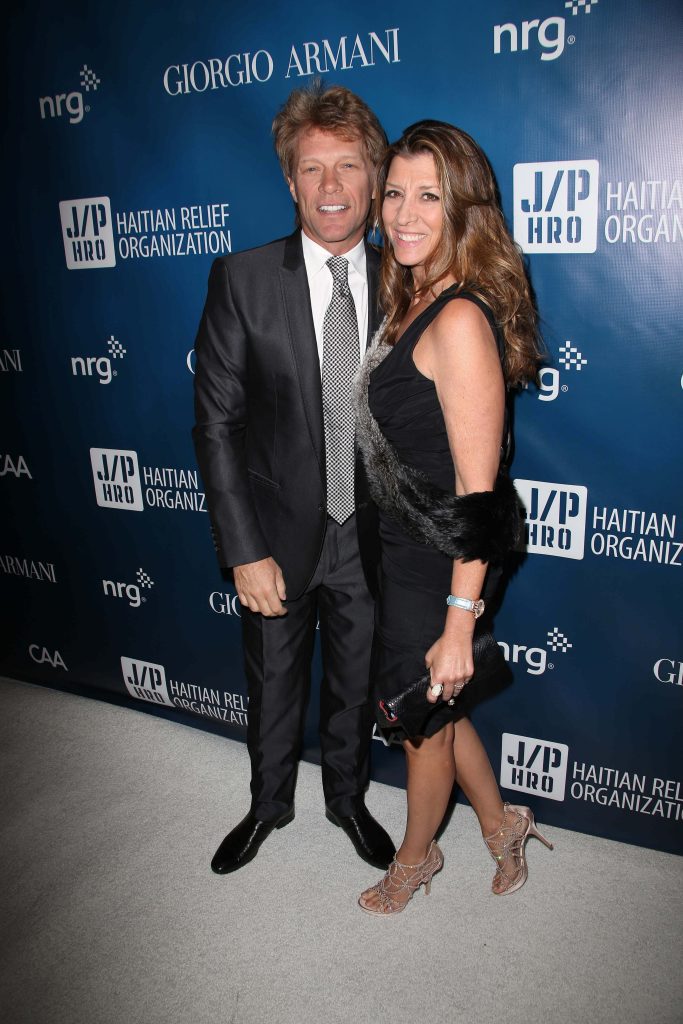 The couple were interviewed once and revealed the secret to their successful relationship of so many years is "Mutual Respect." Hurley admitted that she has a talent for spotting potential, which she instantly saw in Jon. Despite their celebrity status, the couple tries to maintain a simple lifestyle and prefers avoiding the industry's glitz and glamour.
Heather Locklear – Richie Sambora: Then
Richie Sambora, another elite band member of Bon Jovi, was the lead guitarist for over 30 years. In 1995, Sambora married the stunning actress Heather Locklear. However, You'll be surprised to know that Sambora wasn't the first rock musician Locklear was with.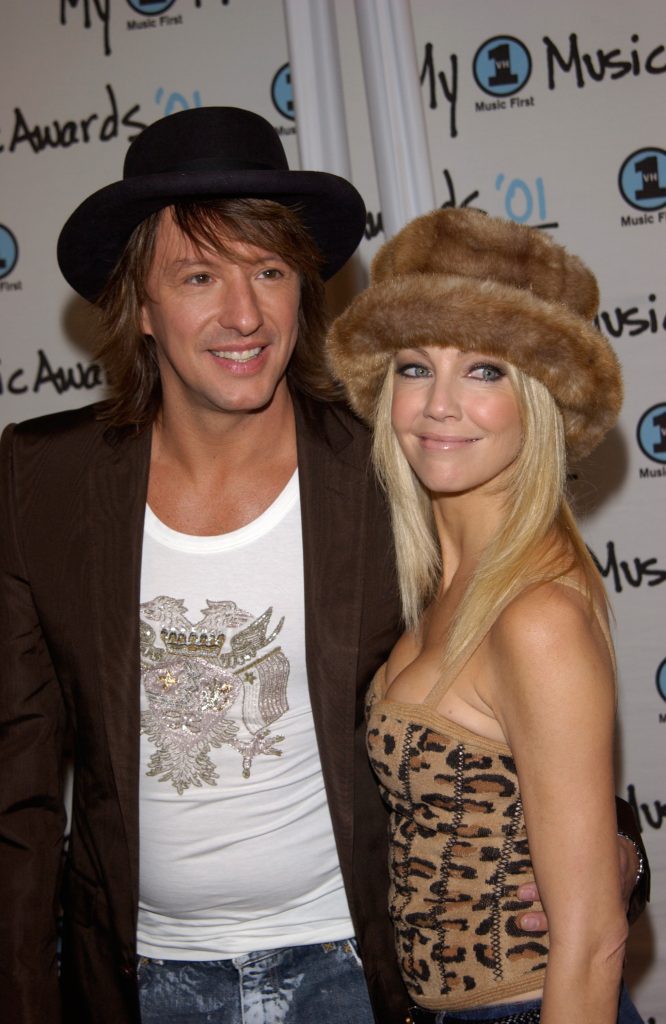 Locklear had a previous marriage with Mötley Crüe drummer Tommy Lee before she met Richie. They divorced in 1994, and she married the Bon Jovi member soon after. The couple even welcomed a beautiful baby girl in 1997 and named her Ava.
Heather Locklear – Richie Sambora: Now
Unfortunately, relationships in the industry are typically short-lived, and theirs was no exception. After 12 years together, Locklear and Sambora divorced in 2007. Sambora admitted that he and Locklear set aside their differences to focus on co-parenting their daughter Ava.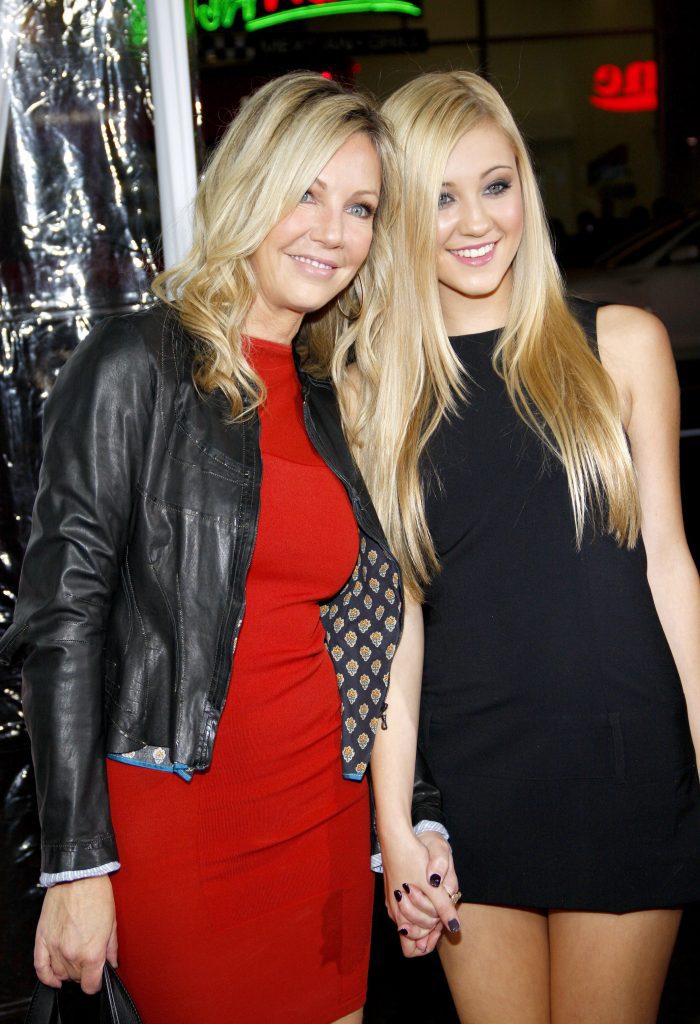 The pair is mostly spotted together celebrating holidays with their daughter. Whether it's Thanksgiving or Christmas, they don't miss the opportunity to spend it together. After their divorce, Heather was mostly focused on her career and landed a few roles. She had a recurring part on Melrose Place in 2009 and also had a guest appearance on an episode of Hannah Montana.
Pamela Anderson – Tommy Lee: Then
Canadian-American actress Pamela Anderson and Mötley Crüe band member Tommy Lee had quite the rocky romance tale. After only four days together, the two married — and their relationship was anything but easy. Lee and Anderson first met in December 1994 and went on vacation to Cancun six weeks later.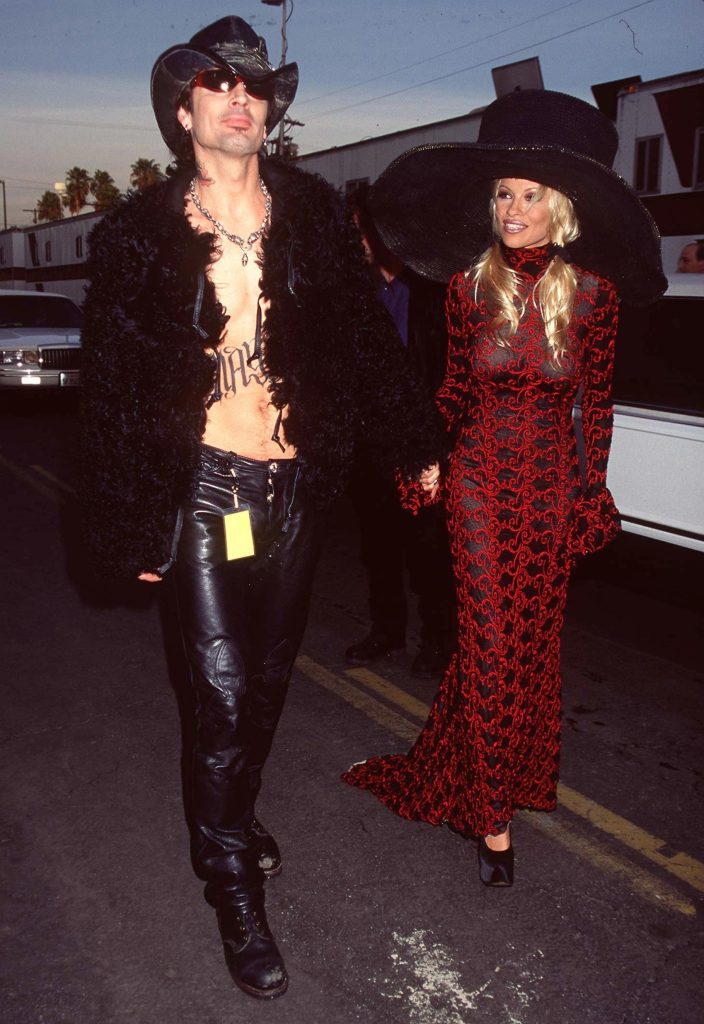 The pair got engaged and married just 96 hours into their vacation. They got married so quickly that Anderson had to forego the dress and bouquets in favor of a bikini. Their carefree romance, however, quickly soured when they returned to California.
Pamela Anderson – Tommy Lee: Now
"Great haste makes great waste," as the saying goes, and this is what Anderson and Lee may have experienced. Unfortunately, the couple's marriage did not last for long, and they also went through a tumultuous period. Before splitting up in 1998, the couple had two sons, Dylan and Brandon.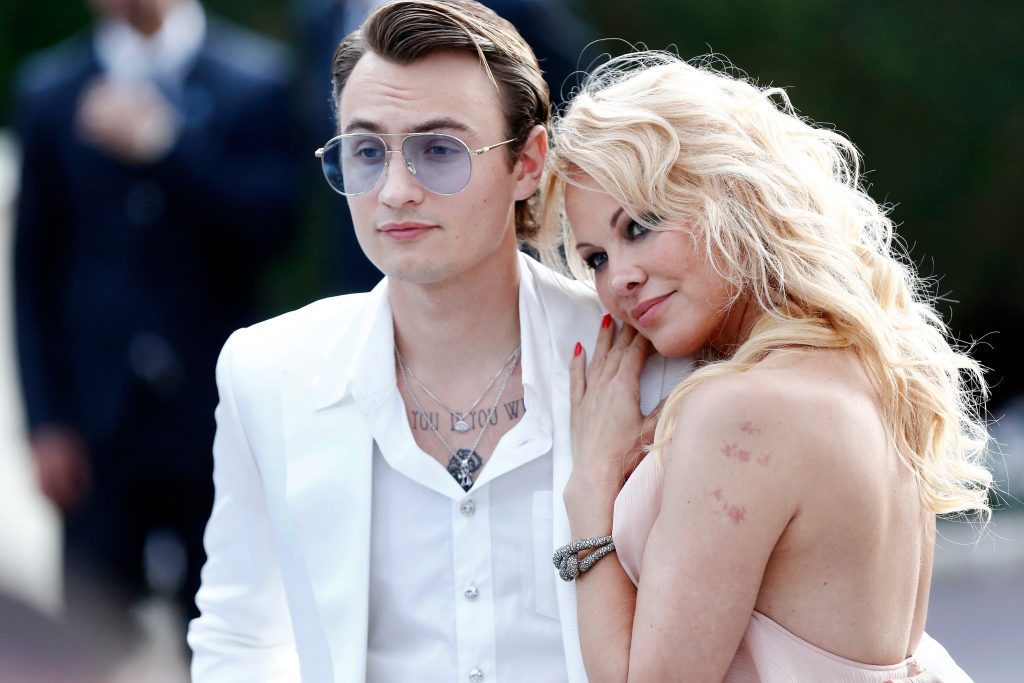 The rocker was even arrested following an alleged altercation with his then-wife and sentenced to 6 months in prison. Despite this, the couple attempted to rekindle their romance but failed to rekindle the flames. Anderson's most recent film appearance was as Jessica Fox in 'Nicky Larson et le Parfum de Cupidon.'
Teresa Barrick – Steven Tyler: Then
Aerosmith lead singer Steven Tyler is known for his excellent vocal range and for dating beautiful A-list celebrities. Tyler had a brief relationship with ex-model Bebe Buell, with whom he had his now-famous actress daughter Liv Tyler.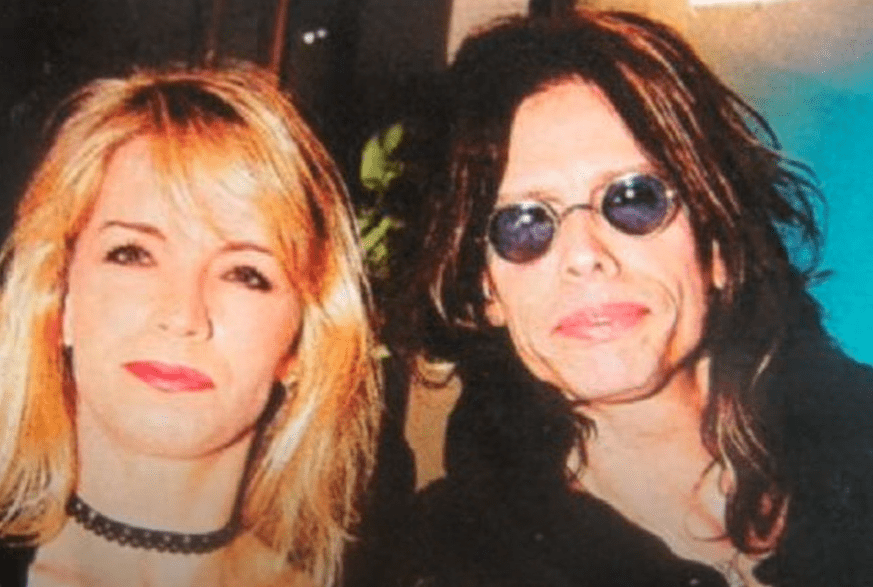 Tyler called it quits with his first wife, Cyinda Foxe, in 1987. He didn't waste time and remarried fashion designer Teresa Barrick in 1988. The couple also welcomed two children, son Taj and daughter Chelsea. This fairy-tale, however, didn't live to see its happy ending either.
Teresa Barrick – Steven Tyler: Now
After nearly 17 years of blissful marriage, Barrick and Tyler filed for divorce in 2005. The pair are still on good terms and have nothing negative to say about each other. Tyler's success even skyrocketed after the resurgence of Aerosmith.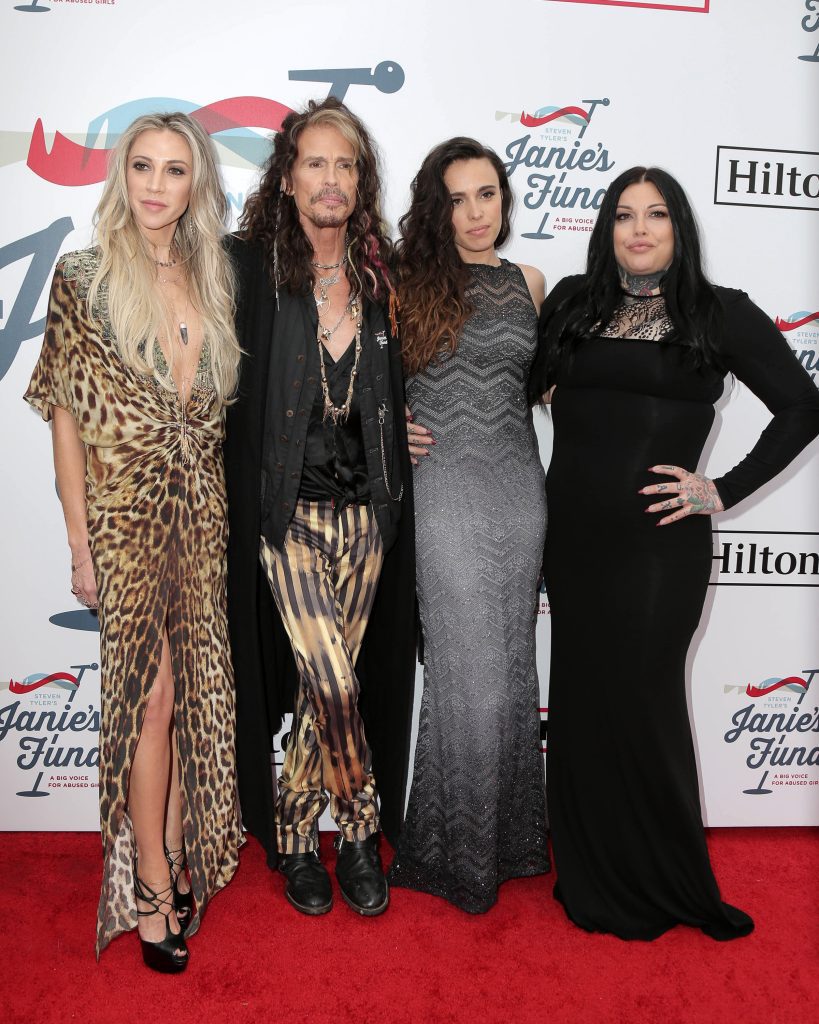 Tyler also pursued solo projects and collaborated with other artists on the side. He was also cast as a judge on American Idol and wrote a best-selling book in 2009. On the other hand, Teresa Barrick is still running her fashion design empire successfully. She still keeps in touch with the band and has been designing costumes for them since the 1990s.
Bobbie Brown – Jani Lane: Then
Warrant frontman Jani Lane married the "Cherry Pie" girl aka Bobbie Brown. Brown was an American actress, model, and a former beauty pageant contestant. She also appeared in Warrant's iconic "Cherry Pie" music video. The two met on the set of the music video and hit it off right away.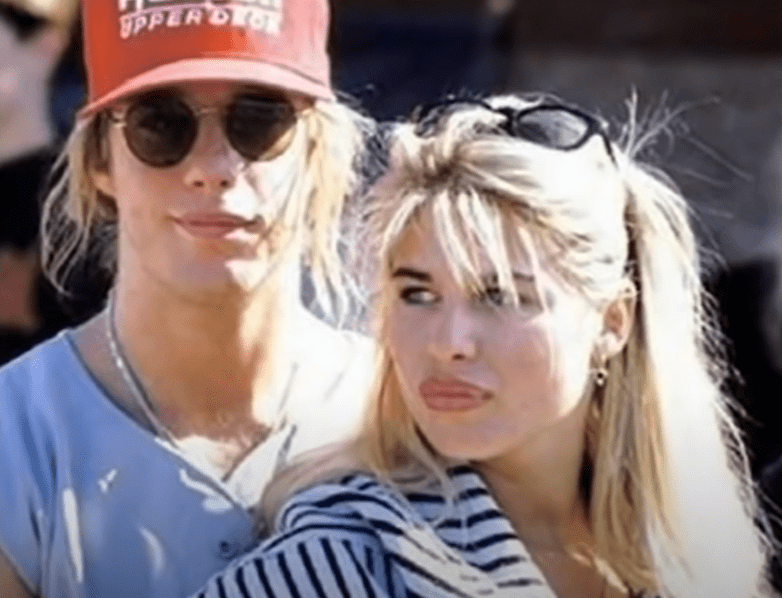 Although the musician and actress didn't appear to have much in common, it was precisely this that made them one of the most intriguing musical couples of the early 1990s. By 1991, the couple had married and welcomed a daughter into the world, Taylar Jayne Lane. However, their marriage ended up being quite brief.
Bobbie Brown – Jani Lane: Now
In 1993, Brown and Lane decided to call it quits and filed for divorce after being together for only two years. Brown then started dating another rock musician Tommy Lee from Mötley Crüe. However, that relationship didn't last long either, and the pair called it quit in 1995.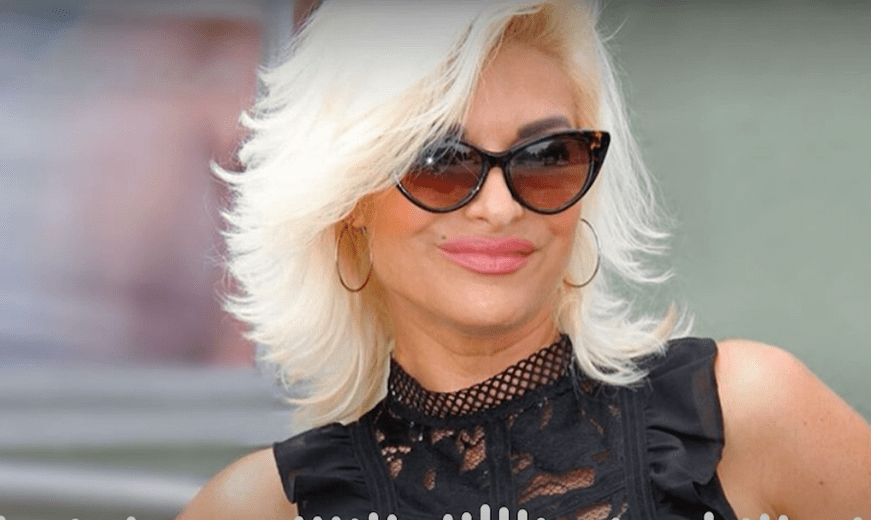 In 2012, Brown appeared on the reality show Ex-Wives of Rock, detailing her experience of being with men from the industry. She also came up with own her autobiography called Dirty Rocker Boys: Love and Lust on the Sunset Strip. Unfortunately, Lane passed away On August 11, 2011, due to substance poisoning at the age of 47.
Patti Hansen – Keith Richards: Then
Although it's pretty normal to be married once in a lifetime, it's usually not the case in the lives of these rock stars. However, you'll be amused to know that Rolling Stones' lead guitarist, Keith Richards, found everlasting love in former model Patti Hansen.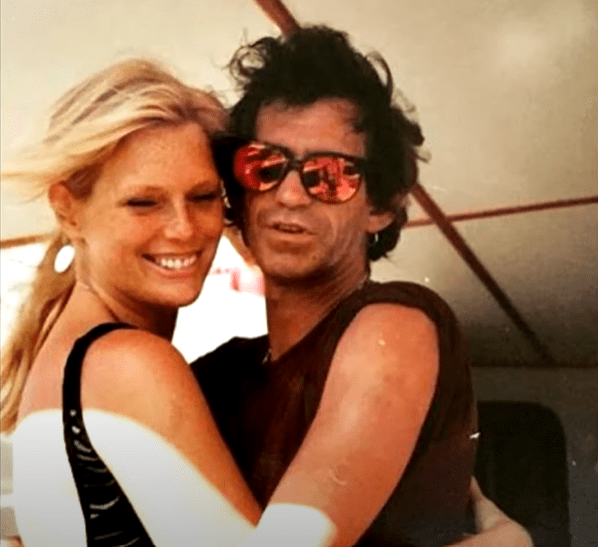 Patti Hansen was an A-lister model and appeared on the covers of countless popular magazines. On December 18, 1983, the couple got married in an intimate ceremony held in Cabo San Lucas, Mexico. Surprisingly, they got married on the rock star's 40th birthday.
Patti Hansen – Keith Richards: Now
You'll be happy to know that the power couple stuck by each other through the hardest of times and are still making it work. They also have two kids together, Theodora and Alexandra. Rock musicians are stereotypically expected to indulge in adultery in later life, but Richards has surprisingly been faithful to Hansen throughout their marriage.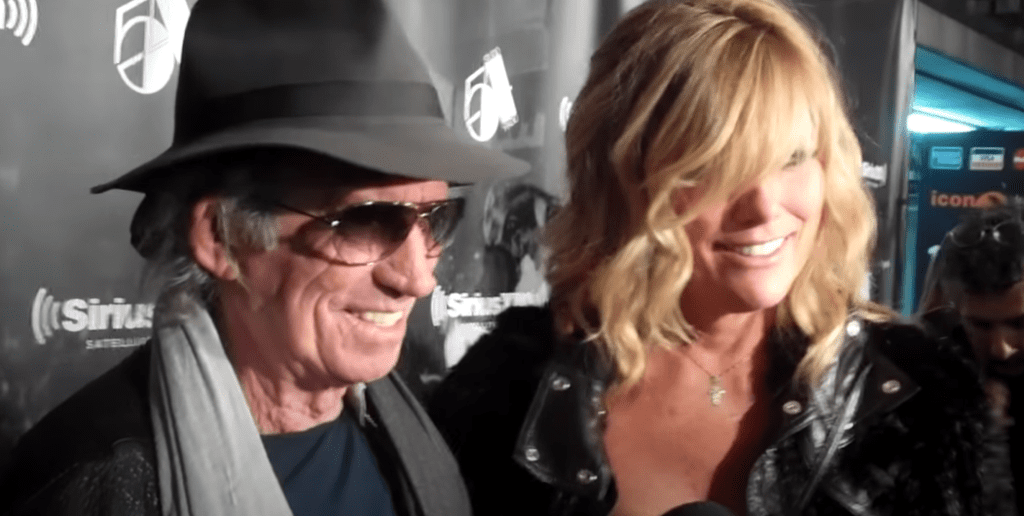 The couple has been together for almost four decades, and Richards credits Hansen for being a lifesaving anchor rescuing him from all the dark periods in his life. In 2004, Hansen was featured in a Guerlain perfume ad with her two beautiful daughters.
Maureen Santoro – Steve Van Zandt: Then
Steven Van Zandt, who also goes by the name of Little Steven or Miami Steve, is best known as a member of E Street Band. He has also played roles in several television drama series, and some of his notable work includes The Sopranos and Lilyhammer.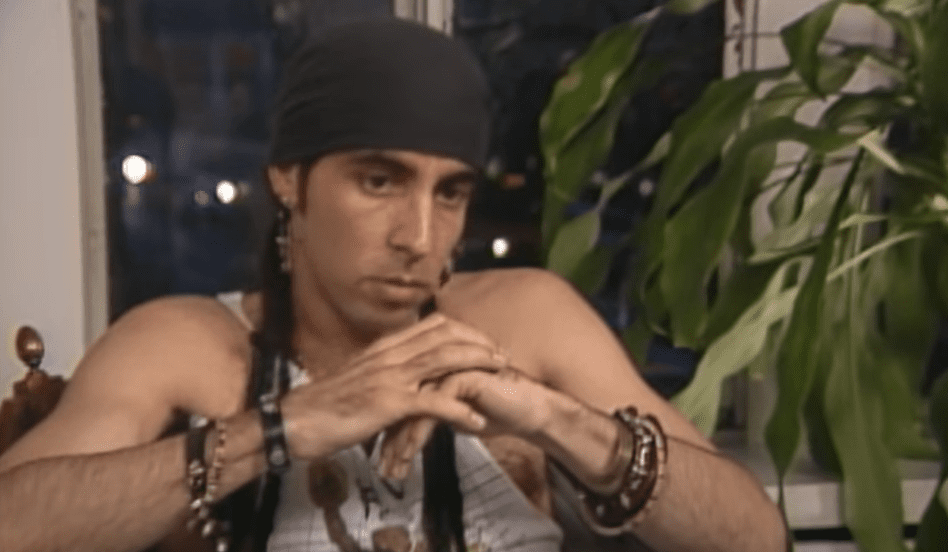 The musician married actress Maureen Santoro On New Year's Eve in 1982. Bruce Springsteen, a fellow E Street Band member, was present at the ceremony as his best man. Santoro and Van Zandt even starred in The Sopranos together. They played on-screen couples in the series.
Maureen Santoro – Steve Van Zandt: Now
Santoro and Van Zandt have been married for nearly 40 years and remain as happy as ever. Years of devotion, love, and loyalty undoubtedly have strengthened their bond. The couple has also not had any children together.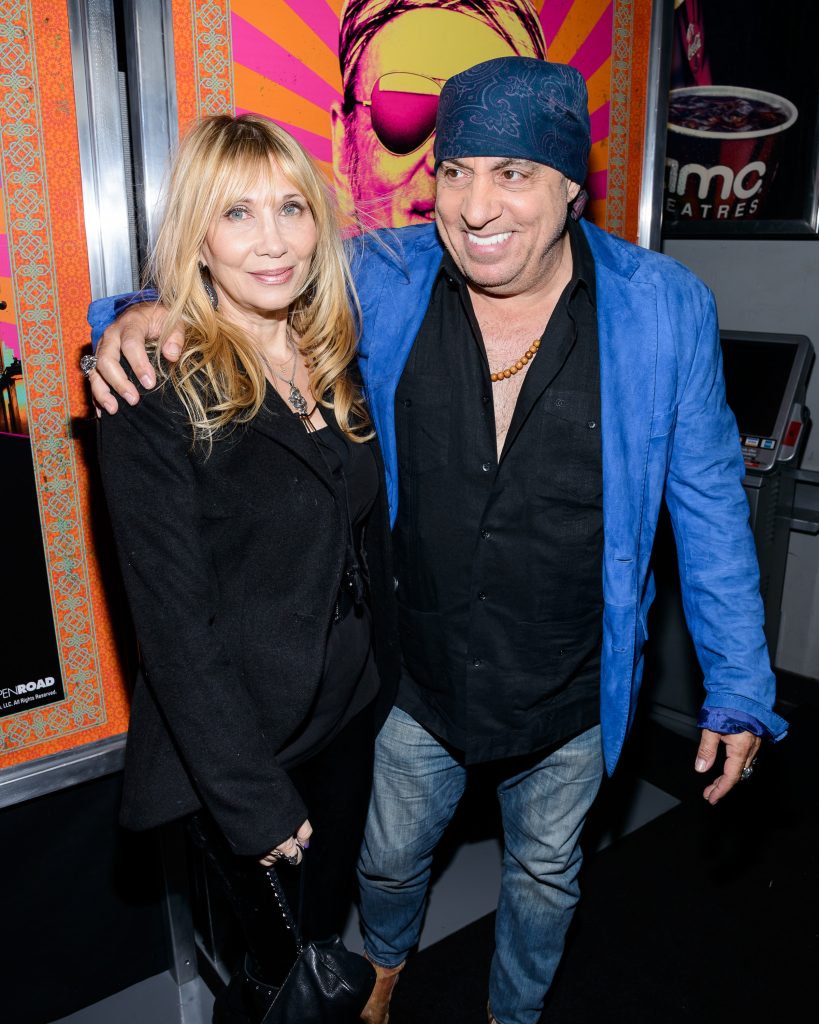 Aside from acting, the couple has collaborated in other fields of work, establishing the Rock and Roll Forever Foundation in 2007. The non-profit organization's mission is to educate people about the history of rock. The foundation introduces rich educational programs, such as the TeachRock initiative, that are entirely free of charge!
Pattie Boyd – Eric Clapton: Then
Eric Clapton, an 18-time Grammy winner, fell in love with dazzling British model Pattie Boyd while she was already married to fellow Beatle George Harrison. According to legend, Clapton fell in love with Boyd when he looked at her. He even dated her sister Paula for a short time.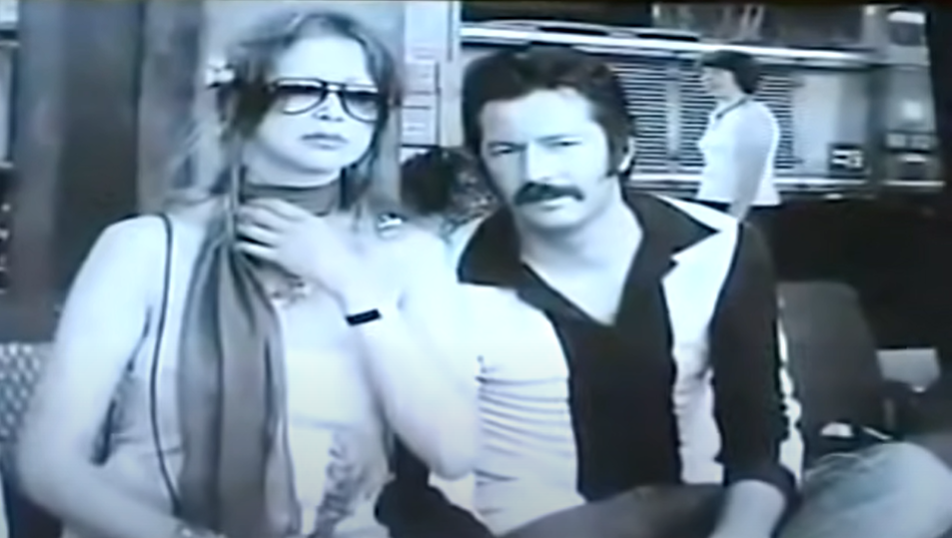 Boyd's marriage to Harrison soon fell apart. This, in turn, opened a window of opportunity for Clapton to pursue her. Clapton and Harrison had previously been friends, which is how he met Boyd. After a two-year divorce from Harrison, Boyd married Clapton in a beautiful ceremony in 1797.
Pattie Boyd – Eric Clapton: Now
The musician was so smitten with his wife that he even declared her to be his muse. Clapton even dedicated a song to her, Layla. The pair were the first to personify the well-known and beloved musician-and-model-muse relationship trope.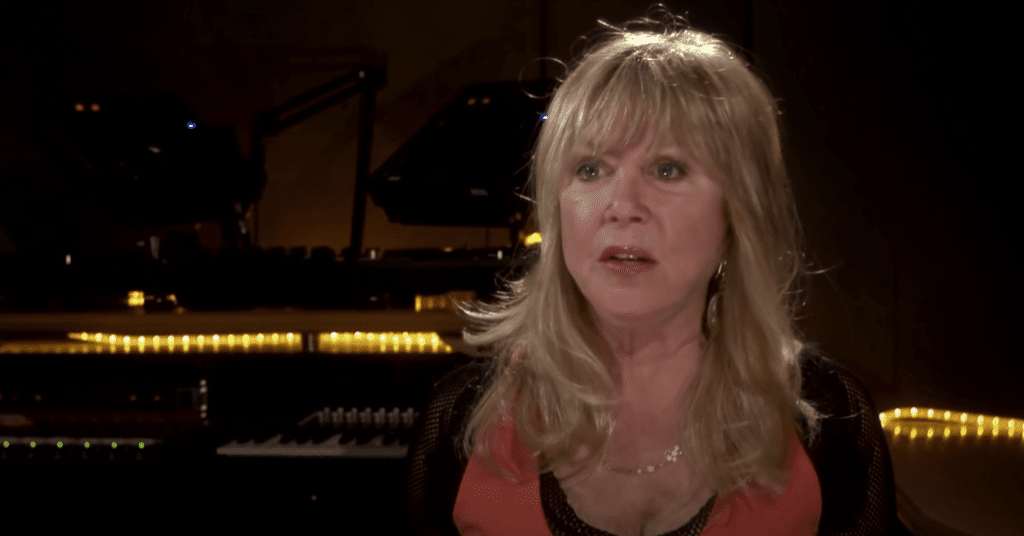 Unfortunately, things hit the brick due to the singer's substance addiction. Clapton was eventually found committing infidelity, which ended up being the final nail in the coffin. Boyd, however, didn't feel discouraged from the last two divorces and decided to remarry in 2015. She was also named a "legendary rock muse" by Rolling Stone in 2007, as she inspired many prominent rock musicians in the industry.
Suzette Snider – Dee Snider: Then
The lead vocalist and songwriter of metal band Twisted Sister, Dee Snider, was making waves in the 1980s. When he met his future wife, Suzette Snider, his band was at the top of the charts. Suzette had gone to one of Dee's shows expecting to see a girl band. Dee was immediately smitten when he caught his first glimpse of her.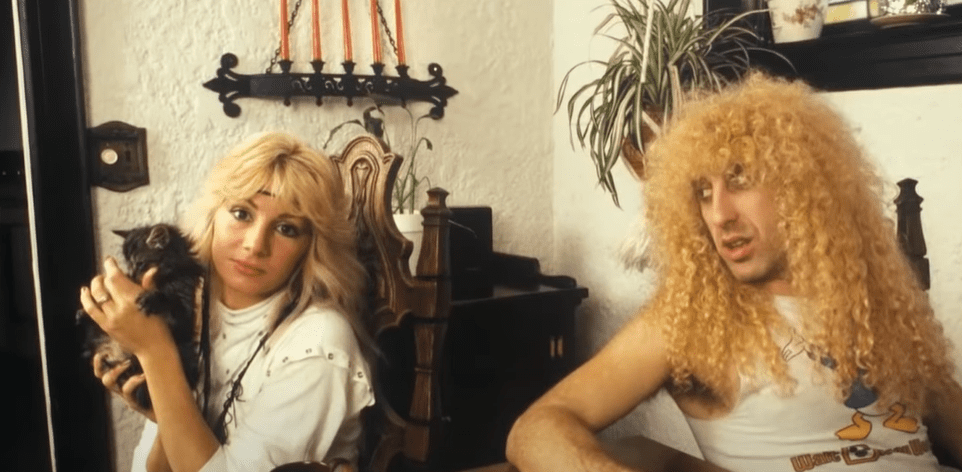 They married in 1981 and have been married for 45 years. The band was making headlines and topping charts at an alarming rate, and the fame got to Dee. This put a serious strain on the couple's relationship, and Dee even admitted to becoming a megalomaniac.
Suzette Snider – Dee Snider: Now
In 1984, Dee and Suzette were on the verge of filing for divorce. On the other hand, the musician realized what a colossal mistake he was making by losing the love of his life. Soon after, he made amends, and the two have been married for over 40 years.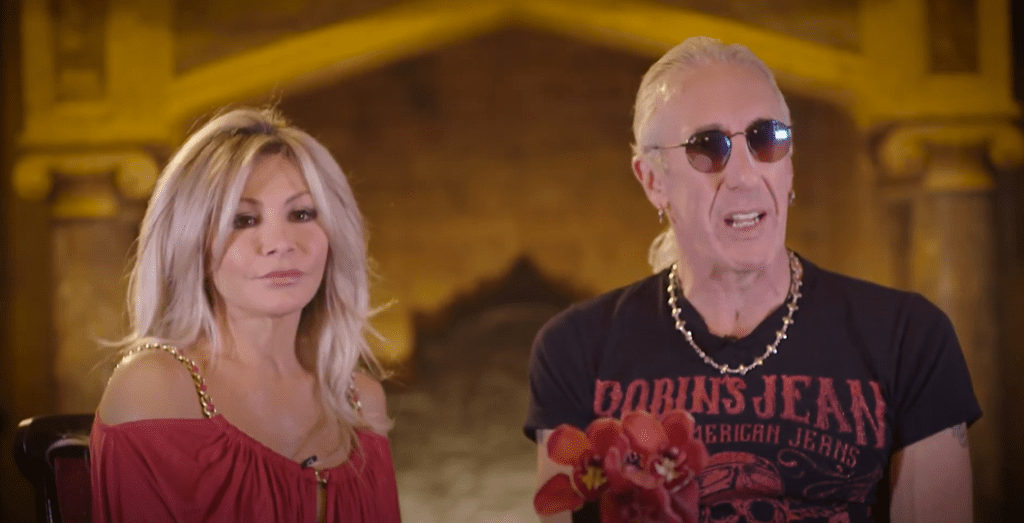 The happy couple is parents to four children, Cody, Cheyenne, Shane, and Jesse Blaze. Aside from balancing her life between motherhood and her roll-and-roll hubby, Suzette is also a costume designer. She has designed costumes for the band and other projects such as the 2013 movie Fool's Day and The Howard Stern Show.
Jane Benyo – Tom Petty: Then
American musician, singer, and songwriter Thomas Earl Petty who also goes by the stage name Tom Petty was born in the 1950s. It is either model/actresses or high school sweethearts for these rock fellas, and Tom went for the latter. The Heartbreakers lead singer fell in love with his high school sweetheart Jane Benyo.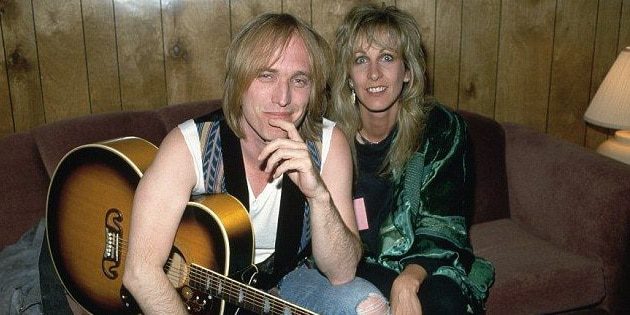 Before Petty even made it to the industry, he was already married to the beautiful blond Jane Benyo. The pair knew each other from their hometown, located in Gainesville, Florida. Petty and Benyo decided to tie the knot before they moved to Los Angeles with the sole goal of furthering the musician's career in the industry.
Jane Benyo – Tom Petty: Now
The couple married in 1974 but struggled to keep the marriage together. Benyo was suffering from drug addiction as well as mental illness. On the other hand, Petty fell into a deep depression and later became addicted to drugs. In 1996, they finally filed for divorce.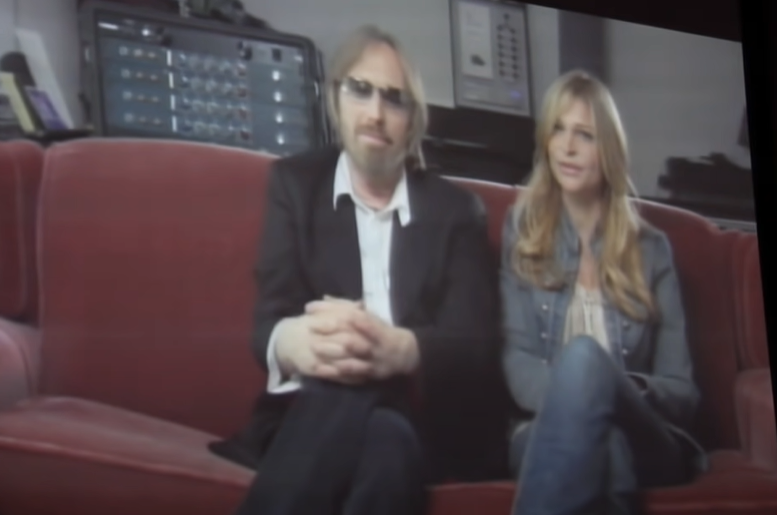 Throughout their volatile marriage, the couple had two daughters together, Adria and AnnaKim Violette. Petty even wrote a biography detailing their turbulent marriage. The musician married Dana York in 2001 after dating for five years. Unfortunately, on October 2, 2017, Petty passed away after cardiac arrest.
Sheryl Goddard – Alice Cooper: Then
Shock rocker Cooper, also known as Vincent Damon Furnier, was at the height of his stardom during the 70s. Copper was notorious for his outrageous stage stunts and grunge rock demeanor. Sheryl Goddard was a fellow dancer in his 1975 performances, and that is how they first met.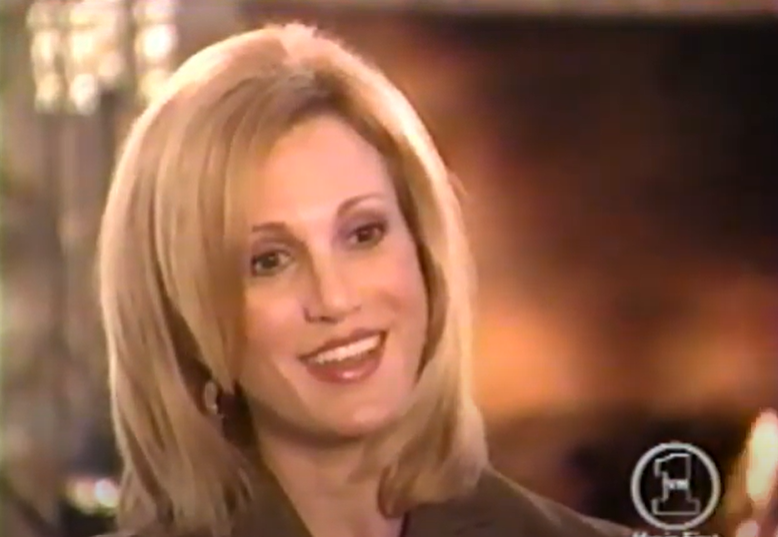 The singer was known to date industry A-listers, the most notable of whom was actress Raquel Welch. In 1976, Copper left his then actress girlfriend and married Goddard. The musician never misses an opportunity to praise his wife in public and has previously referred to her as the "greatest girl in the world."
Sheryl Goddard – Alice Cooper: Now
It may come as a surprise, but the musician is totally in love, and they have been together for over four decades. Goddard is a choreographer and a professional ballerina at the moment and tries to keep a low profile, even though her husband never fails to compliment her. They both hold similar religious beliefs.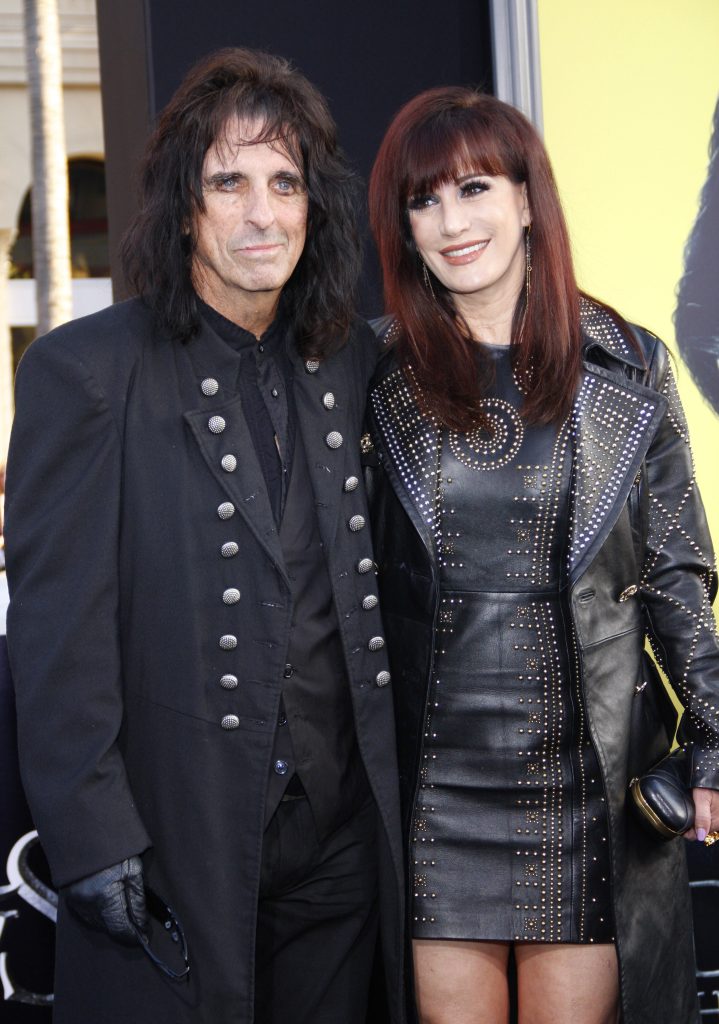 Every relationship, however, has its challenges to overcome. Cooper's drinking problems caused trouble in paradise, prompting Sheryl to leave and file for divorce due to his alcoholism. The turbulence was brief, and the couple reconnected after the musician promised to keep his sobriety in check. Calico, Dashiell, and Sonora are their three children together.
Courtney Love – Kurt Cobain: Then
Nirvana frontman Kurt Cobain and Courtney Love, the lead vocalist of grunge band Hole, were a couple in the 1990s. They truly captured the world's imagination at the time. They first met in a Portland nightclub in 1990. After seeing him perform the year before, Love had developed an instant crush on Cobain.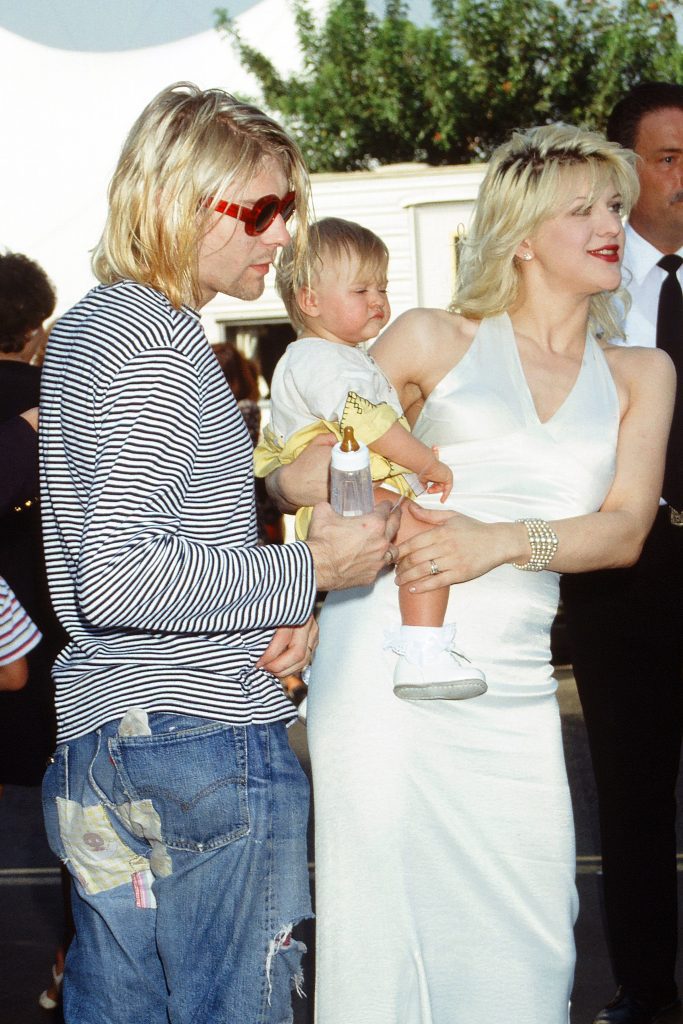 Cobain initially rejected Love's advances because he was trying to live a bachelor's life. However, he couldn't keep his affections for Courtney disguised for long. They married on Waikiki Beach in Hawaii on February 24, 1992, not long after they made their relationship official.
Courtney Love – Kurt Cobain: Now
Love was already pregnant with daughter Frances Bean Cobain and gave birth to her on August 18, 1992. Their daughter is famous in her own right as an artist and a musician. During their brief marriage, things quickly went off the rails due to Kurt's substance abuse problem.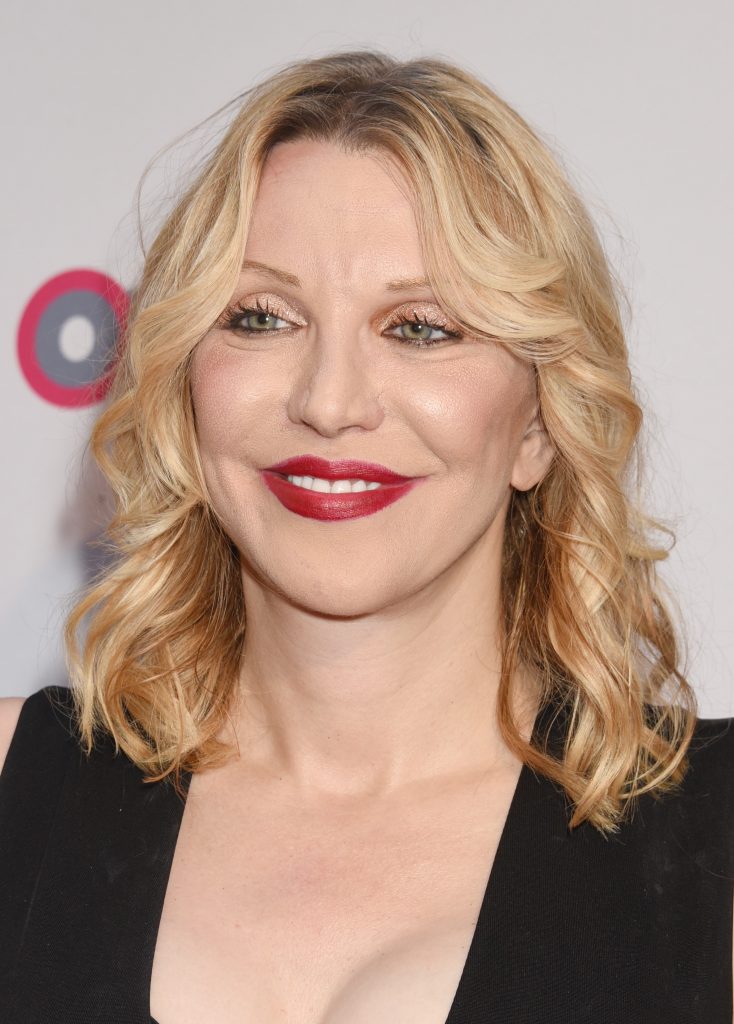 Unfortunately, the Nirvana frontman died tragically on April 5, 1994. Kurt's body was found at his residence at Lake Washington Boulevard. On the other hand, Courtney Love has been dealing with her own battle with mental health for many years. She even tried to kill herself once. She has dated a few people since Kurt's death for brief periods.
Trudie Styler – Sting: Then
Gordon Matthew Thomas Sumner, better known as Sting, and his wife Trudie Styler have been in it for the long haul. Before he found true love, the former lead singer of The Police was married to actress Frances Tomelty.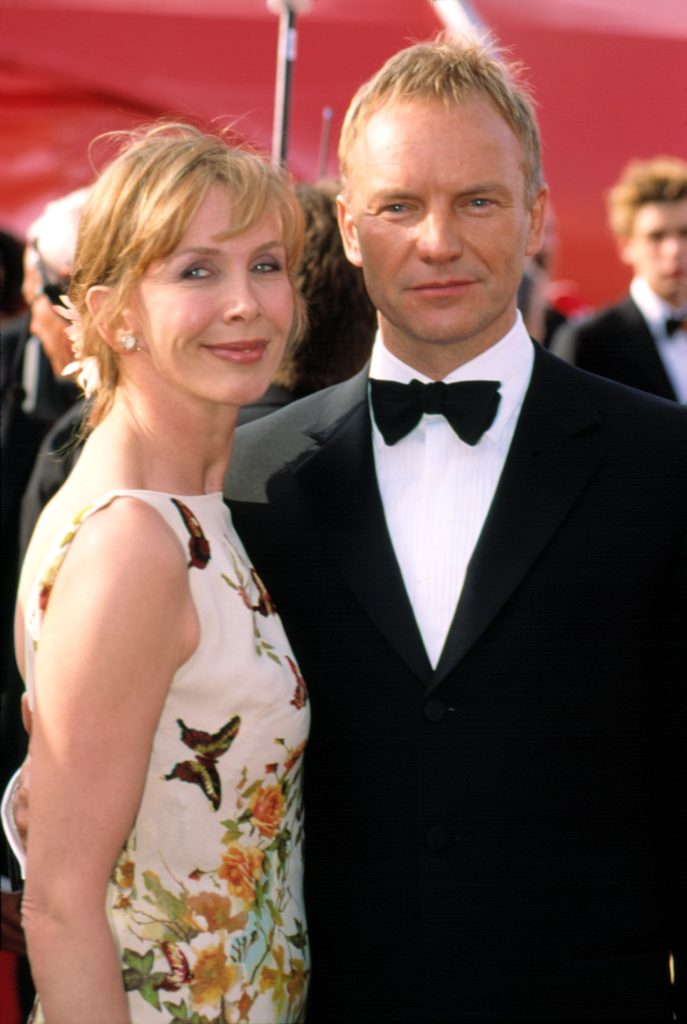 You'd be surprised to learn that Styler lived next door to Sting and his wife, and was her best friend. The singer's affair with his wife's best friend caused quite the stir. The musician filed for divorce in 1984 and soon began dating Styler.
Trudie Styler – Sting: Now
Styler and Sting stayed together for over ten years before officially putting a ring on it. They have been married for 25 years at present. This signifies that the couple has been married for 35 years and is still going strong. Sting even regards her as the light of his life.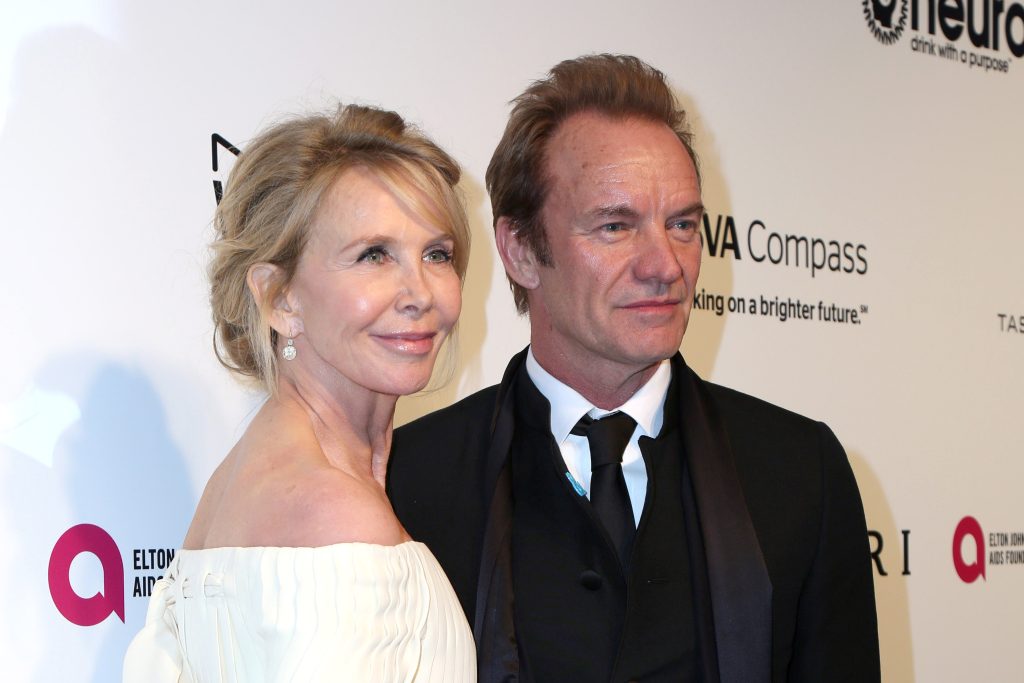 The pair are not just life partners but are work partners as well. The couple has collaborated on a number of projects, including the establishment of Xingu Film and their own production company. Sting has two children from his previous marriage. The couple also had four children, Trudie, Jake, Eliot, Mickey, and Giacomo Summer.